The Roblox logo is one of the most famous in the world of online gaming. It's was redesigned several times since its launch and almost always ends up kicking up a fuss. Some of the alterations have often been relatively insignificant, but many of its earliest logo designs are now unrecognizable to younger gamers.
Roblox is an online game that's been in existence for over 14 years, so it shouldn't come as a surprise that the Roblox logo has had many alterations over the years. Despite being that old, Roblox is a popular game among youngsters and remains very relevant and even innovative in many ways.
Even though the Roblox game was released back in 2006, the company itself was formed two years before by Erik Cassel and David Baszucki. That's when the duo revealed the company's first-ever logo.
Roblox Logo Evolution
2004
The first-ever Roblox logo is an excellent historical emblem that also emphasizes how far the company has come. While the varied colors look quite lively, the logo perhaps looks a little bit more like some of the earlier designs of Google. This logo didn't stick around for long, though, and a completely new look replaced it.
2005
The Roblox logo's first significant alteration was one of its most radical as well. Just take a quick look at that prominent red outline as well as the small accent above the "O." Of course, it's unmistakably mid-2000s, but it's very retro and distinct judging by today's trends that players can't help but love it!
2006
This version was another significant departure from the second one. It looks a lot more exciting and kid-friendly than the 2005 version, perhaps in a bid to keep younger players engrossed.
2015
This design was very iterative, refining the previous design without changing things drastically. Overall the Roblox logo looks a whole lot better than the third logo design.
2017
The 5th major Roblox logo version is the neatest redesign to date and was done in early 2017. With beautiful, blocky letters in red and a slanted "O," it's quite a modern logo with loads to like. In an official Roblox update, co-founder David Baszucki said that the logo was further evidence of the company's cross-platform vision, on top of their commitment to helping fire the imagination of younger gamers around the world, no matter their age.
2020
The current Roblox logo is yet another iterative redesign. It's more often than not white, but there are also black and graphite versions. The sloped "O" in Roblox continues to be used as Roblox's key icon.
Roblox Logo Design Elements
Font: The Roblox's logo typeface has was designed from scratch. The first "O" is the weirdest letter and resembles a tilted box. Moreover, the second "O" has a unique box-like shape. The rest of the letters are of solid sans-serif font with a little bit of retro feel.
Color: The Roblox logo has a simplistic color scheme, consisting of only white and red. It looks bright and vibrant.
The History of Roblox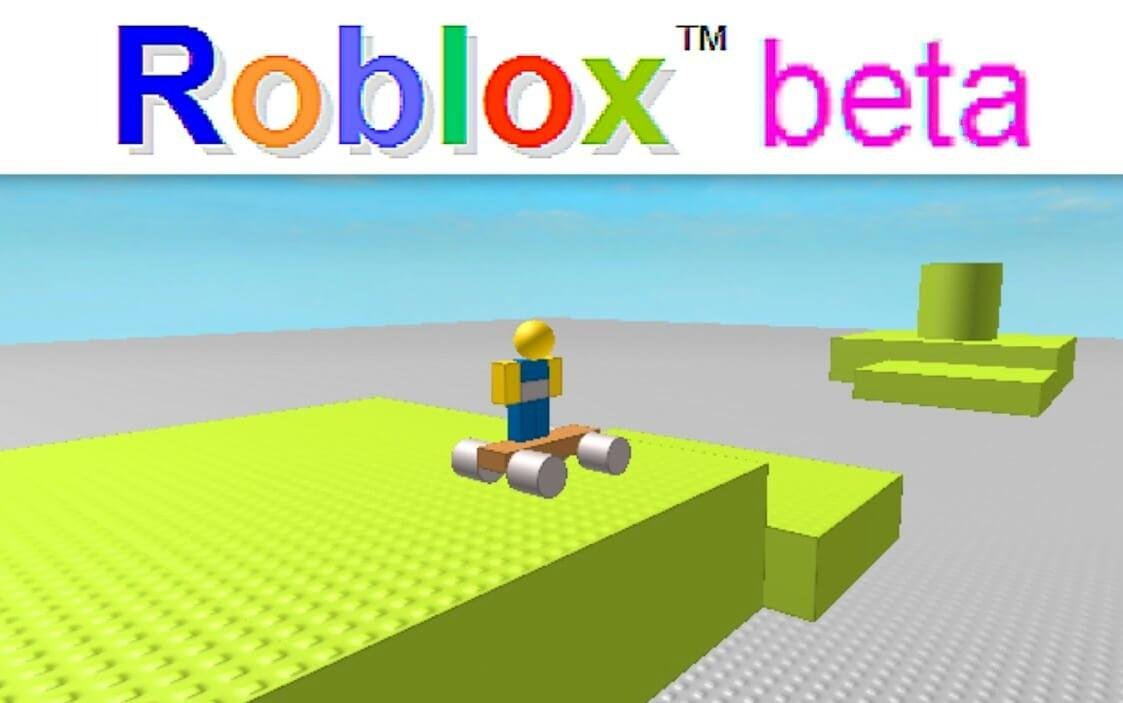 Roblox first entered the world of online gaming back in 2006, and it's still stronger than ever. Now it's more popular than ever before and is played by millions of players worldwide, no matter the age.
Today, Roblox is in direct competition with Minecraft for the number one spot in the MMOG gaming category. What makes the game special is that it's much more than a game—it's a game-building platform, too. This unique quality has made Roblox massively popular among kids because it lets them explore their creativity.
The Founder Of Roblox
Roblox was founded by David Baszucki and his sidekick Erik Cassel. This wasn't Baszucki's first project, though. He first developed a computer-based physics program, which lets users apply real-life physics in a controlled environment. It was a very successful venture because he flipped the company for $20 million.
When Baszucki saw kids doing wonderful and fun things on his system, he came up with the idea of Roblox. Baszucki began working on his Roblox idea in 2004. A year later, he completed the first Roblox version and presented it for beta testing. During its first testing phase, Roblox was known as DynaBlocks.
In 2006, the program passed beta testing and was renamed Roblox because DynaBlocks was quite challenging to remember. Given the massive success that Roblox enjoys today, renaming the program was certainly a smart marketing strategy.
How Does Roblox Game Currency Work?
The official Roblox currency is Robux, which can even be exchanged for real money. One of the factors that also fuels Roblox's massive popularity is the fact that players can monetize their gameplay.
In the initial stage, Roblox's official currency is called Roblox points, which players earned whenever they played a mini-game or logged in to the system daily. Later on, during the update stage, the currency was renamed Robux.
Is Roblox Safe?
Roblox is committed to keeping kids safe on the internet. As part of that commitment, the company has taken these precautions:
Roblox is COPPA-compliant
Roblox is TRUSTe-certified
Roblox has moderators that patrol the website round-the-clock, suspending accounts whenever it's necessary.
The Roblox site has a whole section dedicated to online safety resources.
Roblox boasts parental chat controls
Parents are often deeply concerned about their kids being exposed to video games. These concerns rise exponentially when the time comes to let their kids play multiplayer games online. Roblox developers understood this issue and ensured that the game received COPPA compliance certification in 2007.
This basically means that children under age 13 can engage with others only through predetermined messages that are picked from a menu. The extent of interaction is limited as a result. Roblox has a critical Safe Chat feature that made the game COPPA-compliant. Given that Roblox is much more popular among kids than Minecraft, the feature comes in handy.
Roblox Developer Program
The ability to monetize your creation is one of the things that make Roblox special. What it means is that a player can sell their creation and earn Robux in the game. Other games also boast this functionality, allowing you to earn currency and use it to buy other things within the game.
Roblox is a unique game that allows you to trade its currency for real money. This ability to monetize inspired players to get more creative since they could now earn a living from Roblox. Now called the Developer Exchange Program, this feature was first launched in 2013.
Roblox Compatibility Across Various Platforms
In the beginning, it was possible to play Roblox only on Mac and Windows operating systems. As of today, however, you can play the game on any major gaming platform, including PlayStation, Nintendo, and Xbox. Today, third-party service providers, including grabfreerobux.com, also ensure that Roblox's services are accessible across all top gaming platforms.
Roblox boasts a very large and strong community these days that you can quickly get the answer to any of your questions or issues. So, whatever platform you like, rest assured that you aren't alone, and the majority of problems that occur due to cross-platform challenges can be sorted out easily.
Why Roblox is Popular
Roblox is a smash hit with kids of both genders. 40% of its younger players are female. According to Kids Insight, over 1.5 million children in the UK are playing Roblox, with 24% of them being 10 to 12-year-olds.
This outscores Snapchat (20%) and TikTok (13%), although TikTok's popularity will have increased since that survey. The use of Roblox is quite similar to Instagram's use within this age bracket. 10 to 12-year-old UK children also spend more time on Roblox than watching traditional TV on Cartoon Network (8%), Nickelodeon (10%), and CBBC (11%).
Although kids love YouTube more than Roblox, the gaming company knows that YouTube is important for building their customer base. In the same manner that Twitch influencers share long videos of their recorded games via YouTube, Roblox players also share their recorded games through the video platform.
Roblox says that they get most of their customers through word of mouth. A youngster likes the game and then invites his/her mates to join. Once their mates join Roblox, they also invite other friends.
Remember, Roblox isn't merely a game to play in isolation, cooped up in your room. It's a game setting that allows players to connect with their pals in a social environment. Kids love Roblox as it now offers a wide game selection. You can track the games you're playing, create universes online, and collect badges. It has the same feel and looks as Lego and Minecraft.
Roblox Timeline
March 2007: Some security updates were done on the Roblox program. The gaming company added a Chat feature to their support team. In addition to that, they set an age limit and only users aged 13 or over are allowed to log in to the platform. According to the company, Roblox can negatively impact younger kids and lead them astray.
Moreover, due to the game's popularity, Roblox launched a premium subscription service to get extra revenue from users. While this subscription costs members a little extra cash, users continue to appreciate Roblox for its cutting-edge features.
Dec. 2011: Roblox put together an event to brainstorm ideas on how the company could reward each developer's contribution. This event was a massive success in terms of marketing the Roblox Corporation.
Dec. 2012: After being warmly received by Windows users, Roblox decided to branch out into iOS devices. This is because iOS users wanted a piece of the action and demanded that the company release its iOS version.
Oct. 2013: Roblox own official virtual currency, Robux, was introduced. From 2013, Roblox developers needed to transact in Robux and had to pay fees to exchange their Robux for real cash. Therefore, it was another avenue for Roblox to make money from its developers. Moreover, the company was already earning a commission from each developer on every profitable sale.
2015: This was quite a profitable and exciting year for Roblox Corporation. It introduced a new graphics feature that allowed developers to build engaging games. The company expanded a little more and launched its selective game's variant for Xbox users.
Apr. 2016: From very early on, Roblox was smart enough to make use of the latest technology. The company always watched new technologies and adapted them to stay ahead of other online gaming platforms.
In 2016, the company introduced virtual reality Roblox so that players can enjoy their games virtually. Apart from that, it was straightforward for developers to try out their newly created games with virtual reality technology.
Jan. 2017: Roblox teamed up with toymaker Jazwares to produce toy mini-figures of some of the most popular and most recognizable characters from Roblox games.
In 2017, Roblox's 1.7 million developers earned about $30 million in revenues, and all of them are projected to reach about $250 million throughout 2020. Roblox is worth $4 billion and has around 65 million active users per month who enjoy its various innovative features.
Summing Up Roblox
Roblox and the Roblox logo is a wildly popular online game, especially among younger players, since it allows them to play and create their 3D games. It was founded in 2006 and boasted about 65 million active players each month, with around 178 million user accounts on the gaming platform.
Roblox Corporation also holds events that enable local talents to showcase the games they've created. Traditionally, Roblox rewards its developers with some cash and a variety of certifications.
Roblox can be downloaded as an app both on Android and iOS and comes with a 13+ rating and Parental Guidance. You can also enjoy the game on your desktop computer, laptop, tablet, PlayStation, Amazon, or Xbox One device.
Ready to create your own amusement park from scratch? Or would you fancy playing an extreme hide-and-seek version? With Roblox, the possibilities are limitless! As always, talk to your child before they play online. Heck, you can even play one or two games together!