The CoComelon logo has undergone a few design updates since the YouTube channel was founded in 2006. After the CoComelon creators made serious sweeping changes to the online brand and show, YouTube's algorithm richly rewarded them, directing more viewers to the show than ever before.

CoComelon initially began as "ABC Kid TV," but the creators eventually settled on the name "CoComelon" as they thought it was more "exciting and universal for kids." They were right on the money!
That rebrand, alongside using 3D animation instead of the show's previous animation style, really worked a treat! According to Insider, CoComelon's popularity went through the roof once the creators cracked the code to success.
Evolution of the CoComelon Logo

Since CoComelon was established in 2006, its logo has been redesigned thrice. The three designs have one thing in common: a bright and powerful color scheme. This makes it more than relevant for a kids' educational channel.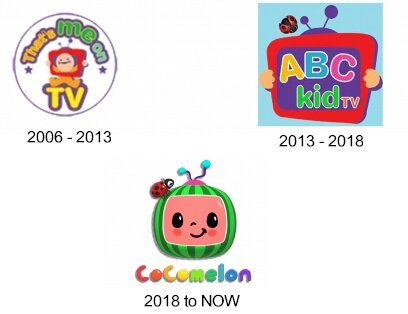 2006-2013
The first CoComelon logo was designed when the channel was known as "Checkgate" or "ThatsMEonTV." The symbol was a pink ring featuring the image of a child sitting on giant rounded letters "TV" with his head inside a red TV set. The letters were rendered in yellow and featured a purple outline.
The rest of the inscription "That'sMeOn" was written in a curve above the kid. Each part of the whole inscription used a different color, namely orange, green, blue, and yellow.

2013-2018
That'sMeoN was renamed "ABC Kids TV" in 2013. The logo was redesigned, but the main theme remained pretty much the same: a child holding a red TV in his yellow hands, with his face obscured from view.
The wordmark "ABC Kids TV" was rendered in round cartoonish characters inside the TV screen. There was also a ladybug above the TV in the top left corner.

2018-Present
In 2018, ABC Kids TV was rebranded as CoComelon, and the channel's logo was also updated. The TV became a stylized watermelon with a pink smiley face.

The watermelon now featured a pair of antennas above it, and the ladybug was placed on the top left corner. The antennas were drawn in sky blue and purple, while the lettering was done away it.
In addition, the wordmark "CoComelon" was placed below the graphic symbol. It uses lowercase characters that look like balloons, with each one having a distinct color—namely red, orange, yellow, green, sky blue, blue, and purple.

The History of CoComelon

CoComelon is arguably the world's most watched kids' entertainment and educational program. According to market measurement agency Nielsen, CoComelon had more views on YouTube in 2021 than the Netflix smash hits Bridgerton and Squid Game combined.

CoComelon has been under the management of an Orange County couple since 2006. According to Bloomberg, 55-year-old Jay Jeon is the co-founder of CoComelon alongside his missus, who wishes to stay anonymous.

CoComelon's Founding
In September 2006, Jay Jeon and his wife created CoComelon on YouTube to offer free entertainment and education for their kids. Then called "Checkgate," the couple uploaded two variants of the "ABC" song on the first day.
In April 2007, the CoComelon co-founders uploaded their third clip to YouTube. Most of the channel's videos taught kids the alphabet for one to two minutes.

After years of producing content for Jeon and his family, Treasure Studio started a new era in 2013 with the introduction of ABC Kids TV. The show had a new logo and intro to freshen up and expand the brand.
The ABC Kid TV started re-mastering older clips and transitioned from alphabet songs to longer videos and nursery rhymes. The channel launched computer animation within a few years, with Twinkle Twinkle Little Star using the channel's first 3D character in April 2016.

Twinkle Twinkle Little Star had a flying 3D star guiding 2D characters in the sky. By the close of 2016, ABC TV Kid's 3D animation videos become longer and more frequent, with some of them employing motion capture technology.
Music production and animation continued to advance, and a recurring character cast was established, with YoYo, TomTom, and J.J, among others, before the rebrand of 2018.

In the summer of 2018, ABC Kid TV was rebranded CoComelon, with all their videos featuring a new intro as well as outro. The channel also added the current stylized watermelon logo to look like a conventional TV set while keeping the ladybug in the introductory and closing stages.

In 2019, CoComelon's annual ad revenue was estimated to be $120 million by the Wall Street Journal. CoComelon added Spanish and Portuguese content in late 2020. In early 2021, the channel also added German, Arabic, and Mandarin Chinese content.

What's CoComelon and Why is It Very Popular?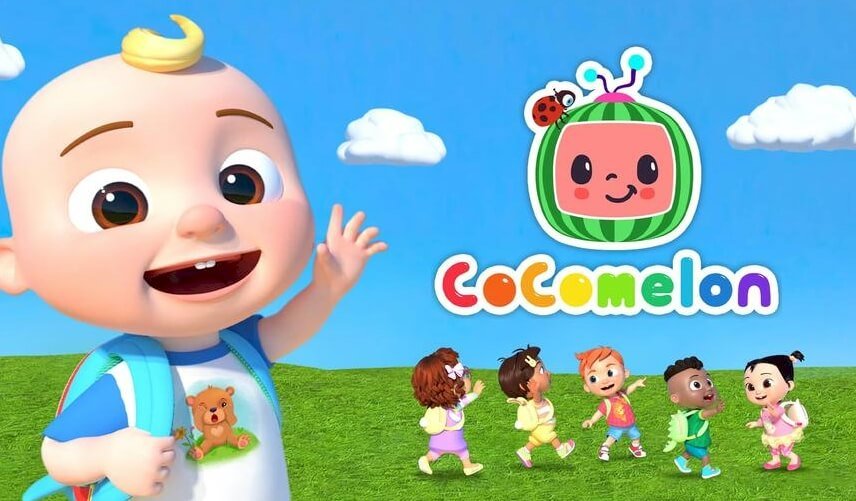 CoComelon is a sort of karaoke for children. It's a sing-along kids' series that revolves around JJ and his loved ones. Each episode lasts 60 minutes, with one season comprising three episodes.

CoComelon mostly revolves around children simply living their day-to-day lives, including playing at home and going to school. However, the show also tackles serious issues to some extent. For example, CoComelon stood by kids during the COVD-19 pandemic in 2020 by creating some relevant themed videos—including one about washing hands–among many others.
Each CoComelon episode features a mixture of popular nursery rhymes and original songs, with the lyrics popping up on the screen. This means children can join in the fun and have a great time!

CoComelon uses rough and ready 3D animation, which can be quite a shock for kids raised on a staple diet of Pixar animations like Toy Story, Monsters Inc., the Incredibles, and Inside Out. But kids don't seem fazed by it because they're as addicted to the show as some adults are to narcotics.

CoComelon is so popular for several reasons, including the music, colors, and unending cheer. The show heavily leverages the impact of repetition. As anyone with young kids will tell you, the quickest way to capture children's imagination is through repetition.

CoComelon also boasts lightning-quick transitions. Scenes constantly change with the music, giving kids little dopamine hits that leave them wanting more while feeling drained at the same time. It's similar to TikTok for toddlers.
Every Monday, CoComelon uploads a new episode on YouTube, often trying out new storylines, characters, or music. If an element of the episode resonates with the audience, the creative department will create more of it. Otherwise, they'll simply move on and work on something else.

Lately, CoComelon has also introduced additional characters of color. Apart from Cody, who's African-American, there's a Hispanic character called Nina Rodriguez, whose mother is a firefighter. This move has helped CoComelon attract new viewers. In fact, 56% of CoComelon's audience is composed of Hispanic, Asian American, and African-American homes.

CoComelon's Viewership
If you don't think a toddler's show like CoComelon could be more popular than adult shows, think again! It would be something of an understatement to state that CoComelon is very popular. With all its clips and shows, the kids' educational and entertainment brand has reigned supreme on streaming platforms for quite some time now. And there's no sign it's going to ease off any time soon.

After almost a decade on YouTube, CoComelon hit 1 million subscribers in May 2016. In early June that same year, the channel reached 1 billion views worldwide. The next two years saw CoComelon continue to grow, reaching 10 million subscribers and 7 billion total views.

Forbes estimates that CoComelon actually went beyond 100 million subscribers on YouTube in 2020, putting itself among the three most subscribed channels in the world. Moreover, CoComelon also surpassed 100 billion lifetime YouTube views, becoming one of the two most viewed YouTube channels.

That's not all! CoComelon videos also become popular outside of YouTube. In fact, CoComelon became the third most watched show on Netflix in September 2020. The channel also spent more than 100 days consecutively on Netflix's top 10 most watched shows.

CoComelon may not be your cup of tea, but all the children who watch it certainly keep going back for more. It's a certified smash hit for current and future generations.

Toys and Merchandise
CoComelon has enjoyed massive success since its launch in 2016. Therefore, it's only natural that the channel would expand to offer other things apart from just videos and shows online.
So, like Stranger Things, CoComelon also sells toys to children and those who love the show. At Amazon, Target, and other stores, you can purchase CoComelon merchandise that your children will really appreciate.

Romper.com claims that the most sought-after toy online during the festive season of 2020 was the CoComelon plush. In fact, CoComelon merchandise was so popular that folks were selling them for so much more than the regular price on eBay.
All in all, CoComelon merchandise has, of course, been in great demand. After all, any toddler would love to watch their favorite show while holding a toy from the same show. Yes, that's right! Kids love toys, of course, so CoComelon was wise enough to take advantage of that.

CoComelon vs. PewDiePie
In June 2020, Swedish content creator PewDiePie created his first video about CoComelon, discussing how his channel could eventually become the most popular on YouTube. He said he wanted to partner with T-Series to take on CoComelon. Moreover, he said he'd produce a "diss track" aimed at CoComelon like the ones T-Series made.

In PewDiePie's first clip about CoComelon, he outlined plans on how he aimed to match CoComelon's popularity and started creating parody CoComelon intros in his videos. The videos resembled the actual CoComelon intros but instead featured the content creator shouting his own stage name, "PewDiePie," in the same way CoComelon does.
Many PewDiePie's fans also made their contributions, creating their own animated logo parodies. As a result, numerous compilations of the intro parodies were created and became really popular.

In February 2021, PewDiePie dropped a spoof diss track about CoComelon dubbed "Coco." Like his other diss tracks about T-Series, Coco has satirical and joking references to CoComelon with no malice. However, the diss track's target was CoComelon, JK Rowling's controversial comments about transgender people, as well as PewDiePie's past spats with T-Series.
Although warmly received by PewDiePie's fans, the diss track became contentious due to PewDiePie's comments about CoComelon, including the channel's most popular video, "Bath Song," and the disproportionate ratio of the head to the body. He also took a pop at parents who allow their children to watch CoComelon, insinuating that they're letting YouTube babysit for them.

A few days later, YouTube took down PewDiePie's diss track on child bullying and harassment grounds. This was because PewDiePie appeared to use profanity while with kids and had them repeat the words. Despite that, many of his fans argued that the song never intended to do that.

In April 2021, CoComelon overtook PewDiePie in terms of subscriber numbers, nearly 11 months since their battle started. Today, CoComelon is second only to T-Series when it comes to YouTube subscriber numbers.
Wrapping Up the History of CoComelon
CoComelon is a YouTube channel that uses colorful animations and nursery rhymes to educate and entertain preschoolers. It began as a leisure activity for one southern California couple in 2006 after they made short animated videos to entertain their children.

Jay Jeon and his wife combined their talents to create the most-viewed YouTube channel in the United States, with over 3.5 billion views per month. CoComelon is the second most viewed YouTube channel, behind only T-Series—an Indian music streaming channel.

With over 128 billion views, CoComelon is the second most viewed YouTube channel ever and also the second highest subscribed channel with 135 million subscribers. CoComelon also has also 92 million subscribers in the US, making it the second-most subscribed channel in the country. In terms of subscriber numbers worldwide, the channel is only surpassed by T-Series.
In 2020, Netflix started streaming CoComelon. Currently, the show has been on Netflix's top 10 charts for the longest time (148 days), edging out Bridgerton, Tiger King, Ozark, and The Queen's Gambit.