The Hertz logo makes the globally renowned US car rental company easily recognizable thanks to its incredibly simple but stylish design.
The current Hertz logo leverages the company's classic yellow color, representing its 104-year legacy of innovation and service. While the previous logo design featured yellow font, the yellow is now even more pronounced.
The Hertz logo's modern look represents the company's determination to keep up with today's equipment and car rental customers. The font is now more modern, with rounded edges compared to the previous block-shaped font.
The current Hertz logo attempts to create a more modern corporate image that symbolizes Hertz's strong brand recognition. This matches the mentality of existing and potential customers who appreciate premium service, value, and personalized options.
Evolution of the Hertz Logo
The Hertz logo was introduced in 1918. Since then, it's only undergone two major redesigns, but the black and yellow color scheme has stuck.
1918 -1978
The first-ever Hertz logo was a "sheet" design that featured a basic but bright and outstanding emblem.
The black logotype "Hertz" with the phrase "rent a car" in uppercase italicized sans-serif font was enclosed in a parallelogram-shaped black frame, with the sides skewed to the right. The "rent a car" slogan used a more basic, thinner font.
1978 -2009
In 1978, the Hertz logo was redesigned into a more straightforward version comprising a single logotype. The logotype was now executed in an extra bold italicized block-shaped yellow font, with every letter featuring a black shadow.
The new title case wordmark appeared smooth and inviting, while its dazzling color scheme added a touch of professionalism and power to it.
2009-Present
The current Hertz visual identity was introduced in 2009 and has stayed the same since. The simple but stylish logo makes the global car rental service instantly recognizable all over the world.
It consists of an underlined logotype and uses a black and yellow color scheme. Black is the main color, while yellow adds an accent. While this logotype may seem basic and ordinary, it stands outs regardless.
The Hertz Logo Design Elements
Color: The Hertz logo uses a black and yellow theme against a white background. The color scheme represents professionalism and reliability, along with friendliness and vitality, as Hertz strives to provide its customers with a valuable, personalized, premium service.
Font: The Hertz logotype is executed in a sans-serif font, which looks modern and assured. The italicized letters have smooth, bold lines with distinct straight cuts. In addition, the last letter, "Z," features sharp angles that add a touch of professionalism and power.
Rendered in title case format, the font doesn't appear too formal or boring. Plus, the thick yellow underline only adds a sense of dynamism, showing Hertz's energy and progressiveness.
The History of Hertz
The Hertz Corporation initially called Rent-a-Car Inc, is a US car rental service that was established in 1918 by Water L. Jacobs, a Chicago, IL native. The company is now headquartered in Estero, Florida, and runs its namesake brand Hertz, along with brands like Thrifty Car Rental, Firefly Car Rental, and Dollar Rent A Car.
Hertz is one of three major rental car holding services in America with a market share of 36%, ahead of both Avis Budget Group and Enterprise Holdings. The company is one of the biggest global vehicle rental services in terms of fleet size, locations, and sales and has operations in 160 countries spread across the world.
Early History
Water L. Jacobs, a 22-year-old car salesman from Chicago, established a car rental service in his hometown with 12 Ford Model Ts in 1918. By 1923, Jacob had grown his fleet to 600, and his car rental agency DriveUrSelf was making almost 1 million per year.
Jacobs sold his company that same year to John Hertz, the owner of Yellow Truck and Yellow Cab. In 1925, Hertz sold Yellow Truck and his new company, now renamed Hertz DriveUrSelf, to General Motors.
General Motors renamed the company GM Hertz Drive-Ur-Self and opened the first Hertz car rental location at Midway Airport, Chicago, IL, in 1932. GM Hertz Drive-Ur-Self branched out into Canada and Europe in 1938 and 1950, respectively.
Development of the Hertz Corporation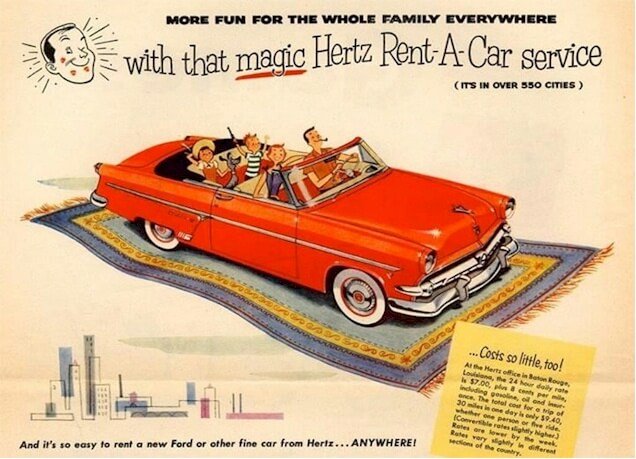 In 1953, John Hertz bought back GM Hertz Drive-Ur-Self via his truck and car rental service Omnibus Corporation, and he renamed the company the Hertz Corporation. The Hertz Corporation's stock started trading on the NYSE a year later, and the company bought Metropolitan Distribution, a New York truck leasing service with 4,000 trucks in its fleet.
With this acquisition, the Hertz Corporation ended up with a fleet of 12,900 passenger cars and 15,500 trucks. While under the ownership of General Motors, Hertz sold many of its local franchises to independent business owners.
With the financial support of investment bankers named Lehman Brothers, Hertz started to buy back its US franchises and then expanded worldwide. By 1965, Hertz was a household name in America, and its market capitalization hit $100 million, up from just $7 million 12 years earlier.
In 1961, the Hertz Corporation branched out into South America. Six years later, Radio Corporation of America acquired the Hertz Corporation. In 1985, the Hertz Corporation was acquired by UAL Corporation, later called Allegis Corporation, for $587.5 million. This buyout expanded Hertz's vehicle leasing and renting, with almost 400,000 trucks and cars in 120 countries around the world.
In summer 1987, Allegis Corporation announced it'd be selling Hertz owing to internal changes. In October of the same year, Ford Motor Company's subsidiary Park Ridge Corporation acquired Hertz for $1.3 billion. The following year, Hertz relocated to Park Ridge, NJ.
Hertz made its debut in China in 2002. In 2013, the company started partnering with China Auto Rental, China's biggest car rental service. In 2016, the company reduced its shareholding but announced a long-term commercial relationship until 2023.
By quarter two of 2005, Hertz contributed about 10% to Ford Motor Company's pre-tax profit. After owning the Hertz brand for 18 years, however, Ford announced it'd be selling the company to focus more on producing Ford trucks and cars. Private equity companies Merrill Lynch Global Private Equity, Clayton, the Carlyle Group, and Dubilier & Rice bought all common stock shares in Hertz for approximately $15 billion, including debt, in 2005.
In November 2006, the Dubilier & Rice, Clayton consortium took Hertz back to the NYSE, and the company started to expand all over Europe.
In September 2007, Hertz introduced the sub-brand "Simply Wheelz" for leisure and economy-minded audiences. By the following year, the sub-brand expanded to Las Vegas McCarran International Airport and airports in Florida and California. In the fall of 2009, Simply Wheelz became Advantage Rent-a-Car.
Towards the end of 2009, Hertz announced the purchase of British Car Auctions (BCA), a used car dealer, for approximately £390 million from London-based private equity company Montagu Private Equity.
Strategy 
Car rentals account for 67% of Hertz's revenues and are available under a wide range of plans. Customers can rent cars on a daily, weekly, monthly, or weekend basis with different limited or unlimited mileage rates or on a mileage charge plus time rate.
Car rental rates vary depending on cost and competitive factors associated with different markets. The customer almost always buys the gasoline consumed throughout the rental period.
Hertz's success strategy is hinged on its extensive global ownership of its branches, which significantly contributes to consistently high-quality service, fleet use and maintenance, competitive pricing, strict cost control, and the option to provide one-way rentals.
By the close of 2001, the company owned 95% of all cars in Hertz's fleet. From time to time, Hertz signs franchise deals to offer rental services. But such agreements are usually restricted to international operations, where Hertz partners with local rental services.
New Technologies
Hertz launched SiriusXM Satellite Radio in its North America vehicle rental fleet in 2000.
In 2007, the firm started trialing hourly vehicle rentals at three New York locations. In December 2008, it introduced a worldwide carsharing service named Connect by Hertz. The service served customers who paid an hourly rental fee in New York, Park Ridge, Orlando, Paris, London, and Sydney. Later rebranded as Hertz 24/7 and Hertz on Demand, the service was halted in the US in September 2015.
Hertz started trialing a photo technique to document damage to its fleet of rental cars in 2009.
In November 2011, the company launched ExpressRent Kiosk at multiple rental locations. This was the first time large-scale car rental kiosks were introduced in America, using video chat with a live agent.
Hertz announced it would add Polestar and Tesla electric vehicles to its rental fleet in 2022.
Modern Corporate Changes
In 2013, the governor of Florida, Rick Scott, announced that Hertz would shift its global headquarters to Estero, Southwest Florida. The relocation was necessary to condense company offices, influenced by the state's thriving tourism and travel industry, and to make Hertz Global brands more efficient. The relocation was finalized in 2015.
In November 2014, Hertz Global Holdings CEO and Chairman Mark P. Frissora left and was replaced in both capacities by John P. Tague. John Tague retired in late 2016 and was replaced by Kathryn V. Marinello, Stream Global Services' ex-CEO.
Bankruptcy
On 30th April 2020, due to the COVID-19 pandemic, Hertz announced it was seeking a financial bailout from its lenders in order to avoid bankruptcy. On 18th May 2020, Marinello quit as CEO and president and was replaced by Paul Stone. Stone was Hertz's former chief retail operations executive and vice president for North America.
Hertz filed for bankruptcy on 22nd May 2020 after failing to agree on a deal with leading lenders. Activist investor Carl Icahn held a 39% stake in Hertz when the company filed for bankruptcy. He also controlled three seats on the board. Between 2014 and 2020, Icahn invested $2.3 billion into the company.
Hertz financed itself mainly through loans taken out against its cars. If the cars' value dropped, Hertz's lenders were within their rights to demand an upfront payment. This reduced the loan amount, and lenders were still well covered by the now-reduced value of cars. Due to the bankruptcy crisis, Hertz's sales volumes and used-car values dropped sharply as most customers opted for other brands.
On 11th June 2020, despite filing for bankruptcy, Hertz announced it was looking to fundraise as much as $1 billion through new investment. Hertz raised $29 million before further sales were stopped by the Securities Exchange Commission. In October 2020, the Hertz stock was removed from the NYSE.
On 1st July 2021, Hertz overcame bankruptcy and renamed its HTZGQ ticker symbol HTZZ. Mark Fields was appointed Hertz's interim CEO, mainly in charge of forward-thinking investments. That same month, Fields announced Hertz's plans to acquire 100,000 Tesla vehicles, saying his goal was to have the firm own an entire fleet of electric vehicles.
In November 2021, Hertz went public again, trading with the ticker symbol HTZ on the NASDAQ.
Summing up the History of Hertz
The Hertz Corporation, simply known as Hertz, is the world's largest vehicle rental and leasing company. It's based in Estero, Florida, and owned by parent firm Hertz Global Holdings. The company has roughly 12,000 franchisees and corporate operations in 160 countries all over the world.
The Hertz Corporation has changed hands several times throughout its more than 100 years of existence. At various junctures in its long history, the company has been under the ownership of, among others, General Motors, RCA, and United Airlines.
Hertz's car rental lineup has comprised a range of vehicle makers, ranging from Mercedes, BYD, Cadillac, Infiniti, BMW, Land Rover, Porsche, Mazda, Jaguar, Toyota, Volvo, Lincoln, and Jeep, among many others.
In 2020, Hertz filed for bankruptcy due to a dramatic drop in revenue caused by the ongoing COVID-19 pandemic. It only emerged from bankruptcy in July 2021.
In the Fortune 500 list of 2020, Hertz was placed 326th.
By 31st December 2020, Hertz had assets worth $16.9 billion, revenues of $5.26 billion, and 24,000 employees all over the world.