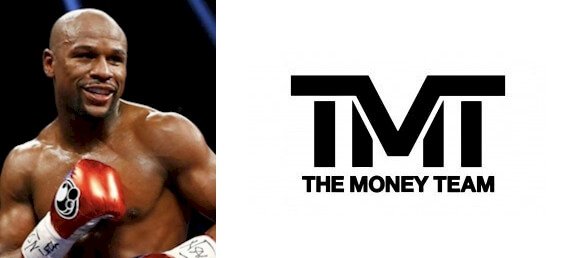 Let's get an insight into the Floyd Mayweather logo and some history behind the boxer.
Floyd Mayweather once said, "When fighters are facing me, they're facing the best. When I'm facing them, I'm just facing fighters." Luckily, he has proven this avowal repeatedly in the ring.
The undefeated champ, Floyd Mayweather Junior, has had an incredible run of fights, scoring 50–0. He stormed the professional ring in 1996, downing his first opponent, Roberto Apodaca. After this technical knockout, Mayweather has gone out to defeat 49 more opponents.
You can count Gustavo Cuello, Tony Pep, Oscar De La Hoya, Manny Pacquiao, etc. The road to stardom hadn't been easy, but he did it with smartness, braveness, and passion. Thankfully, the iconic fighter is indebted to his father and uncle, who once graced the canvas.
Graphically, Mayweather has an impressive logo. It's a monogram type featuring the initials—TMT above the caption—The Money Team. Again, you'll find a second emblem that features the initials in a circular frame. Aesthetically, both logos are simple, legible, and memorable.
Floyd Mayweather Logo Evolution

The decorated boxer, Floyd Mayweather Junior, has two logos representing his professional career. One is a monogram, and the other is an emblem. Both visual ambassadors are unique, eye-catching, readable, and easy to memorize. Similarly, both logos use monochrome colors.
Let's examine these logos further.
The Monogram Logo:
The pound-for-pound boxer, Floyd Mayweather, owns a monogram logo. This trademark comprises the initial—TMT above the inscription—The Money Team. Equally, these letters are in clear uppercase letters. Creatively, the initials have marks around their joints, signifying the usual cuts boxers sustain in the ring. The logo always fights in monochrome colors.
The Circular Logo:

The second Floyd Mayweather logo is a crown emblem. It houses the brand's initials, name, and quote. The quote reads—Tough times don't last, Tough people, do. Again, all the letters are in caps. Also, this black and white logo features three circles. It looks elegant and powerful!
Why Does the Floyd Mayweather Logo Work?
1. The Logo Is Classic:
The Floyd Mayweather logo is clean. Unlike other cluttered logos, it has fewer graphic elements. Yes, you'll spot letters over a neutral background. Every creative director aimed for this quality. Remember, people can quickly decode and recall simple trademarks. So, when crafting your own, avoid busy designs. Keeping it modest is a rule of thumb.
2. The Logo Is Readable:
Very few logos come without fonts—They are pretty essential. To print your brand's name in customers' minds, you must examine your font choice. That's precisely what the Floyd Mayweather logo has achieved. Regardless of the platform, it's clear enough for fans to see. Note, it doesn't pay to pick a fancy font that's hard to read. So, stick with the legible ones.
3. The Logo Is Memorable:
A logo that's distinct and simple will stand the vagaries of time. And since the Mayweather logo is modest and unlike others, it has gained a special status. Yes, its fans can quickly recall it after a quick encounter. And, that's the essence of designing a clean emblem—They are eternal!
4. The Logo Is Versatile:
The Floyd Mayweather logo is effective because it's versatile. This means it can spar in multiple gyms without getting tired. Take note; marketing channels are many. And shockingly, new ones are popping up quickly. So, to benefit from these mediums, your logo must be adaptable. Luckily, aiming for a clean layout would make your logo fit any promotional surface.
5. The Logo Is Unique:
Floyd Mayweather became a boxing legend by rising above his opponents. Similarly, his visual ambassador is no exception. It's distinct, bearing no likeness to any trademark in the industry. With this quality, it has built a strong following and brand recognition across the world.
Floyd Mayweather Logo Design Elements
When crafting the Floyd Mayweather trademark, the designer opted for the core graphic elements to tell its story. Significantly, the creative director went for a wordmark against a neutral background. This decision strictly adheres to the basic design rules. To understand the symbolism behind these design elements, let's enter into the gym for more.
Floyd Mayweather Logo Shape And Symbols
1. A Crown:
"Heavy is the crown. Can you handle it?" This is one of Mayweather's selling mantras. So, it's no wonder he has accepted to use a crown to represent his identity. A crown is a symbol for champions. Also, it signifies power, authority, and nobility. So, again, you can use a crown to convey the aura of wealth, glory, and dominance.
Does the undefeated boxer have these traits?
Floyd Mayweather Logo Colors
Colors allow you to tell your brand's story. Importantly, you can express any emotion with them. In the same light, the Mayweather logo tells its story using colors. To avoid an overly detailed design, the logo uses two neutral colors—black and white.
So, what do these balancing colors represent? Let's find out!
1. Black Color:
Black works like a two-edged sword. It can convey goodness and badness. At its positive end, it signifies power, strength, and authority. In contrast, black symbolizes fear, aggression, and rebellion. Looking at these emotions, the Floyd Mayweather logo favors black above others.
2. White Color:
White is the color of goodness. It's the second color for the logo. It works together with black to convey the brand's message to the boxing world. Its emotions include cleanliness, purity, and innocence. In other fields, the color of snow represents safety, humility, and protection.
Is TMT Copyrighted?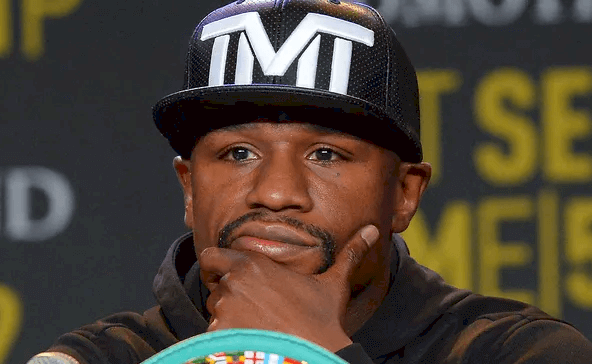 The iconic TMT, representing the iconic boxer and his stakeholders, is registered. According to the US Patent & Trademark, Mayweather Promotions applied on January 8, 2013. So, seek permission before trying to either use it for personal or commercial purposes.
Why Did Mayweather Change His Name?
Floyd Joy Sinclair was the maiden name for the pound-for-pound king. Sinclair was the mother's last name. However, to follow in the gloves of his father, he adopted his last name. His father, Mayweather Sr., was a welterweight contender who a gunshot threatened his career.
Mayweather earned the moniker—Pretty Boy from his amateur days. His ability to keep fresh from bruises inspired this nickname. Then, during his Pro era, he earned the new moniker – Money. At this time of his career, he thought he had overgrown his amateur name.
While jokily throwing cash into a camera, the moniker—Money popped up. Quickly, he adopted it heartily. Mayweather now called himself—TBE. These initials represent—The Best Ever. Well, examining his records in the boxing ring, he deserved such an iconic name.
Who Owns the TMT trademark?
Mayweather Promotions owns the Floyd Mayweather monogram—TMT. In 2007, the famous boxer, Mayweather, formed the promotion company in Las Vegas. Besides boxing, the organization promotes sporting events, live music, television, and movies. Since it started, it has worked and signed smart and talented individuals.
Who Created TMT?

The world recognizes Curtis Jackson (popularly called 50 Cent) and Floyd Mayweather as co-founders of TMT. These rhyming initials stand for The Money Team. Notably, Jackson announced the formation of TMT Promotions while Mayweather was serving a two-month jail term. However, after a brief working relationship, Jackson left to form SMS Promotions. Interestingly, this name is in line with this headphone product line, SMS Audio.
Biography Of Floyd Mayweather
Mayweather Junior once said, and I quote, "My goal has always been to be one of the best fighters who ever lived. My career and legacy are very important to me." Well, for almost two decades as a pro athlete, this mantra has earned its place in prophecy.
Who Is Floyd Mayweather?
Floyd Mayweather is an American former pro boxer. Today, the man fondly called Money is a professional boxing promoter. In Grand Rapids, Michigan, little Floyd was born on February 24, 1997. And his parents are Floyd Mayweather Senior and Deborah Sinclair.
At a tender age, Mayweather's father exposed him to life in the ring. He also got inspiration from his uncles—Roger and Jeff Mayweather, who were once boxing champions. So, with boxing flaming within him, he left Ottawa Hills High School to chase his dreams.
As an amateur athlete, Mayweather scored 84-8. In 1993, 1994, and 1996, he won the national Golden Gloves Championships, respectively. Then, in the 1996 Olympics, Atlanta, he settled for a bronze medal following a controversial decision.
Here, he fought in the featherweight division, facing Serafim Todorov in the semi-finals. Though the United States Olympic Team protested against the decision, it wasn't overturned. So now, immediately after returning from the Olympics, he began his professional career.
Fighting in the super featherweight division, he knocked out Roberto Apodaca in the second round. This took place on October 11, 1996, marking his maiden professional fight. Training under his uncle, Roger Mayweather, the Pretty Boy won all his battles.
However, after his 14th win, his father became his trainer. As a result, he learned more defensive skills. Then, in 1998, the promising star won his first world championship. Sadly, his foe, Genaro Hernandez, succumbed to a technical knockout in the eighth round, earning him the title.
Finally, at 21, he won the Ring's Fighter of the Year Award, ranking as the eighth pound-for-pound world's best boxer. Bravely, in 1999, Mayweather defended his title thrice.
He did it against Carlos Rico, Justin Juuko, and Carlos Gerena. By the close of the year, Mayweather ranked as the second-best pound-for-pound, a step behind Roy Jones Junior.
Now, let's leapfrog to 2021. Mayweather has kept a clean glove professionally. He has recorded fifty wins and zero losses. These victories didn't come cheap. He has fought the finest in the game. This includes Oscar De La Hoya, Ricky Hatton, and Juan Marquez.
His other bitter opponents were Shane Mosley, Victor Ortiz, Miguel Cotto, and Manny Pacquiao, to name a few. These were fights that lived to their billings. Mayweather's last fight was against Conor McGregor at T-Mobile Arena, Nevada, United States.
His Net Worth

With a spectacular career spanning almost twenty years, Mayweather has earned over a billion dollars. Today, he has a net worth of $450 million, making him the wealthiest boxer in the game. Similarly, he ranked as the fifth highest-paid sporting figure on earth.
He shares the top five with Michael Jordan, Tiger Woods, Arnold Palmer, and Jack Nicklaus. His achievements echo the American Dream. And it's a career worth emulating.
His Marriage, Wife, And Children
Despite achieving his dream in the ring, Mayweather is yet to honor the altar. However, he has four biological children—two girls and two boys. Melissa Brim, a television personality, is the mother of Iyanna Mayweather. The other three—Zion, Jirah, and Koraun have Josie Harris as their mum. Also, there's Devion Cromwell, his adopted son.
Is Floyd Mayweather Undefeated?
We can explore this question from two angles. That's from his amateur and professional eras. Professionally, Floyd Mayweather has had fifty fights, recording no loss. So, with this impressive record, he earned the bragging rights as the undefeated champ.
Now, let's look at the part his professional career has overshadowed. Before turning into a pro athlete, he had suffered some defeats. For instance, at the 1996 Olympics, he lost to Augie Sanchez and Serafim Todorov. Yet, these men would be happy to have his enviable reputation.
Interestingly, some critics believe he is undefeated professionally because he handpicked his opponent smartly. Whatever people say, his record stands at 50–0.
My Final Words On Floyd Mayweather Logo And Its History
Floyd Mayweather has fulfilled the boxing dreams of his family. Following the footprints of his dad and uncle, he has brought honor to the family's name–Mayweather. Again, he has made his uncle and father's teaching and pieces of advice count in the ring.
On October 11, 1996, he recorded his first professional win against Robert Apocada. He was nineteen years old. Then, his last fight came against Conor McGregor on August 26, 2017. This technical knockout came when he was forty years old.
Today, he is one of the richest sporting men in the world. But he attained this wealth through hard work and discipline. You must be exceptional to win 50 out of 50 professional fights. Since Mayweather did it, he deserved every accolade of a champion.
Honestly, he's the man of the gloves. And during his career, he has earned some names. You'll hear Pretty Boy, Money, and The Best Ever. Besides his fighting style, his logo has represented him well. Yes, the monochrome logotype is one of the most iconic logos in the sporting world.