The Family Dollar Logo and the History of the Company
Founded in 1959, Family Dollar has primarily kept its logo simple but bold and unforgettable. Starting with the first version, a minimalist inscription, the style has evolved and become more distinct, leading to the current bright and modern inscription.
Family Dollar is a U.S. company that runs discount retail stores, offering grocery products and clothing and household goods, and cleaning supplies. Today, the company operates more than 8,000 stores in 44 American states.
The Family Dollar Logo Evolution
1950s –1960s
The original Family Dollar logo consisted of a classic, strict inscription written in two separate lines.
The phrase "Family Dollar" was written inside a horizontal rectangular frame, while the word "Stores" was also written in a horizontal rectangular below "Family Dollar" with the same font. The word "Stores" was smaller compared to "Family Dollar."
The logo was well-balanced and appeared solid and professional.
1960s-1970s
The Family Dollar logo changed in the 1960s. Letters became cartoonish and lighthearted, which looked terrific in monochrome. In the upper part of the Family Dollar logo, the extra-bold sans-serif characters were overlapping each other, while the word "Stores" had sizable gaps between the letters and used a classic font.
1974 – 2005
Family Dollar created a new logo design, one that's still recognizable in the current logo. The leaping letters from the 1960s and 1970s design were now rendered in a very straight line and received a new color scheme—white outlined with red. The word "Stores" and the framing were removed.
2005 – Present
The 2005 redesign of the Family Dollar logo modified the color scheme by introducing a new orange shade. Another notable alteration was done to the graphical part of the logo—now it was the inscription "Family Dollar" featuring a bright, bold circle between the two words with an abstract family image in it.
The logo is rendered in red and orange against a white background, evoking a sense of love and friendliness.
The History of Family Dollar
Family Dollar is a U.S. discount variety store chain boasting more than 8,000 locations in almost all U.S states, except for Hawaii, Alaska, Washington, and Oregon. It was the 2nd largest variety store chain in the U.S. until it was bought in 2015 by Dollar Tree. The new owners moved its headquarters from Charlotte, North Carolina, to its current location in Norfolk, Virginia.
In mid-2014, majority and activist shareholder Carl Icahn called for the immediate sale of Family Dollar. Just over a month later, Dollar Tree announced it had agreed to acquire Family Dollar for about $8.5 billion.
As a result of the sale, Family Dollar's majority shareholder Carl Icahn received a windfall, barely a month after revealing his 9.4% stake in the company. In January 2015, the acquisition bid by Dollar Tree was approved by Family Dollar shareholders.
Family Dollar Origins
In 1958, Leon Levine was a 21-year-old entrepreneur engaged in merchandising. He became fascinated with the thought of running a budget self-service retail store. Levine believed his customers could get a variety of quality, valuable merchandise for less than $2. Since his family had previously run a retail store quite well, he understood the importance of quality, value, and making customers happy.
In November 1959, Levine opened his first Family Dollar retail store in Charlotte and started his journey toward becoming a retailing giant. Right from the off, he had a well-defined philosophy of what he hoped Family Dollar would become and how it'd be run—a philosophy his company has never strayed away from. The philosophy is quite simple, "customers call the shots, and you must keep them happy."
Levine designed a uniform floor plan in all his Family Dollar stores to easily let customers shop for their favorite items. With the stores designed and stocked uniformly, store managers were freed to focus on offering excellent customer service.
The idea of a cash-and-carry, self-service neighborhood budget store in low and middle-income neighborhoods became so successful that Family Dollar currently has more than 8,000 stores across America, stretching from California to Maine.
Family Dollar's Tough Time in the 1970s

In the 1960s, Family Dollar grew in leaps and bounds. According to Ourstate.com, it took a decade to launch 100 Family Dollar stores in the Southeast.
Family Dollar entered the 1970s with another milestone—the variety store chain became a company by going public, offering common shares at $14.50 per share. And while the young variety store chain had launched its 100th location by 1971, the company's first distribution location in Charlotte in 1974, and then its 200th location, the 1970s turned out to be a difficult period for the company.
By the mid-1970s, however, significant changes in the U.S. textile industry had a major impact on Family Dollar's customers in the Southeast. As employees in the textile, tobacco, and furniture industries were let go, the discount store started to experience dwindling sales, which dropped by up to 50% between 1974 and 1975.
The discount store chain decided to soldier on, regardless. It assembled a new marketing team, started to go slow on its idea of selling goods for under $3 (by then), and installed an electronic data processor. Things soon stabilized.
Eventually, Family Dollar survived the tough times and came out stronger. Annual sales soared past the $100 million mark by 1977, while the aforementioned common shares started trading on the NYSE to close out the 1970s.
Family Dollar in the 1980s, 1990s and Beyond
In 1981, Family Dollar opened its 400th store, following it up with its 500th and 700th stores in 1982 and 1983. The 1980s was a period of major expansion for Family Dollar, and 1,500 stores were operational by 1989.
But while Family Dollar was gaining greater presence nationally in the 1980s, it failed to watch out for increasing competition from rival Wal-Mart stores. Suddenly, total sales growth in its recently opened stores dipped from 9% in 1984 to a measly 2% in 1985. Total sales stayed the same in 1986 and then dipped by 10% in 1987.
Therefore, in 1987, the company implemented a new pricing strategy: they wouldn't be undersold. Within two months, sales increased by 10%. Evidently, the lower prices had kind of hurt the margins, but the company made up for that by slowing down its expansion.
By 1986, Family Dollar had 1,107 stores in 23 states. Simultaneously, Wal-Mart stores were making inroads in the rural Southeast, Family Dollar's stronghold. While Family Dollar was opening more stores with its profits, Wal-Mart was leveraging its purchasing power to slash prices.
The 1990s saw Family Dollar's expansion decline compared to the previous decade, with just 1,000 new stores opened. The firm opened distribution sites in Duncan, Oklahoma; West Memphis, Arkansas; and Front Royal, Virginia.
Since 2000, Family Dollar has expanded quite significantly, with around 3,500 new stores opened and new distribution centers in Rome, New York; Marianna, Florida; Morehead, Kentucky; Odessa, Texas; and Maquoketa, Iowa.
In 2002, Family Dollar joined the list of biggest publicly held companies in Fortune 500. In 2003, Leon Levine retired and was succeeded as CEO and Chairman by his son, Howard Levine. This ensured that this multibillion-dollar company remained under the family's control.
By August 2011, Family Dollar had 7,000 retail stores in 44 American states. According to the company's website in 2005, the company launched 500 new stores, a further 350 in 2006, as well as an extra 300 in 2007.
According to Family Dollar's 2013 Corporate Profile, the company launched 200 new stores in 2010, a further 300 stores in 2011, 475 stores in 2012, as well as an extra 500 stores in 2013. On the 3rd of October 2012, Family Dollar announced that it would launch 500 stores the following year. A day later, the company partnered up with Healthways.
The company runs 11 distribution centers—the newest of which was opened on the 16th October 2013 in St. George, Utah.
Buyout by Dollar Tree
In July 2014, Dollar Tree said that it would buy Family Dollar for around $8.5 billion and assume the company's debts to the tune of $1 billion, bringing the total acquisition sum to $9.5 billion. Family Dollar CEO Howard Levine was retained by Dollar Tree after the merger and was appointed to the company's board of directors.
In January 2015, Family Dollar investors approved Dollar Tree's bid to acquire the company.
One condition for the takeover required that several Family Dollar stores be sold. Sycamore Partners bought the discount stores under the brand name Dollar Express in 2014, but they continued operating under the name Family Dollar. In 2017, Dollar Express was acquired by Dollar General, and its stores were converted.
As a consequence of Dollar Tree acquiring Family Dollar, some Family Dollar discount stores have been launched in the same building and sometimes even next to Dollar Tree stores. In March 2019, Family Dollar announced that it'd close as many as 400 stores countrywide due to intense pressure from one of its activist shareholders. Most stores were either replaced by Dollar Tree store locations or shut down completely.
Family Dollar has implemented a newer store set-up called "H2" in renovated and recent locations, which have a greater focus on grocery items and include Dollar Tree products. In addition, the company has set up co-branded Dollar Tree/Family Dollar store locations in smaller markets.
Family Dollar employees are required to wear a red polo t-shirt while at work. Those who decide to put on jackets while working are free to wear any color. Many employees like to wear light pink jackets while working.
Family Dollar History Timeline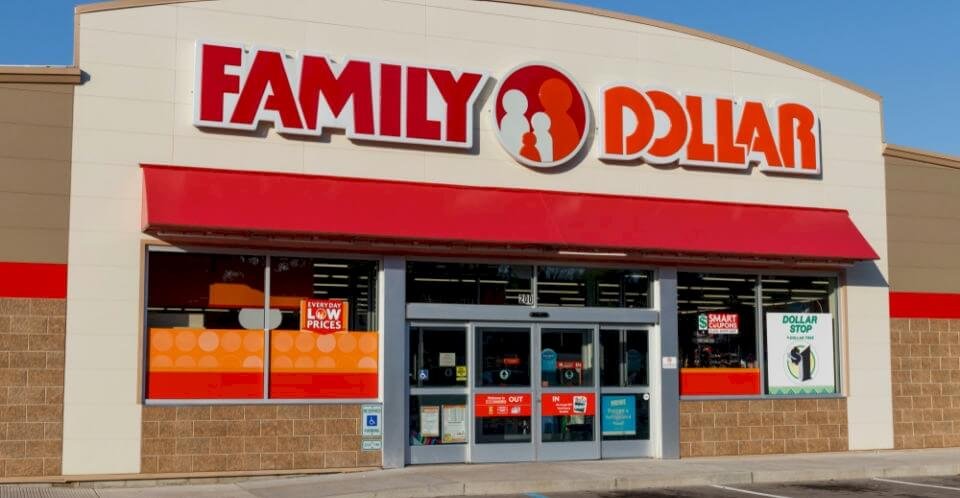 1959: In November, Leon Levine opened his first Family Dollar discount store in Matthews, Charlotte, NC.
1970: Family Dollar starts to sell its stock to the public at $14.50 a share.
1974: Family Dollar opens a distribution center in Matthews, Charlotte, NC.
1975: Family Dollar profits drop by 50%.
1979: Family Dollar is able to make $151 million worth of sales.
1987: With rival retail chain Wal-Mart slashing the prices of its goods, Family Dollar sales plummet by 10%.
1996: Family Dollar opens its second distribution location in West Memphis, AR. By 1996, there were over 2,500 Family Dollar stores operating in America.
2000: The pace of Family Dollar's expansion increases considerably, with the opening of around 3,500 new stores, along with new distribution centers in Odessa, Texas; Maquoketa, Iowa; Morehead, Kentucky; Rome, New York; and Marianna, Florida.
2002: Family Dollar makes the list of Fortune 500 companies.
2003: Leon Levine retires. He's succeeded as CEO and Chairman by his son Howard Levine, keeping the multibillion-dollar firm under the family's control.
2009: Family Dollar celebrates its 50th year of existence.
2011: In March, Family Dollar knocked back an acquisition bid by Trian Fund Management, owned by Nelson Peltz, reportedly at $55 to $60 per share.
2013: Family Dollar runs 11 distribution centers across the United States. The latest distribution center is opened in October in St. George, Utah.
2014: In June, activist shareholder Carl Icahn writes an open letter to the Family Dollar management, demanding that the company be immediately put up for sale. In July, Dollar Tree announced that it'd take over Family Dollar for about $8.5 billion.
The merger between Family Dollar and Dollar Tree was announced the same year and made official in 2015.
2017: Dollar General takes over Dollar Express and converts the stores.
2019: In March, Family Dollar announced that it would shut down at least 400 stores countrywide due to intense pressure from one of its activist investors.
Summing Up the Family Dollar History
Family Dollar is a discount variety store chain that offers low-cost merchandise for home and family needs to customers across America, in 44 states located mainly in the Southeastern, Northeastern, Northwestern, and Southwestern regions.
In 1959, Leon Levine opened the first Family Dollar discount store in Matthews, Charlotte, NC. Since the beginning, the company has expanded to over 8,000 locations with average annual sales of $4.75 billion.
Family Dollar stores are stocked with a wide range of merchandise, ranging from household items and food to linens and apparel—with most going for under $10. In 2003, founder Leone Levin retired, giving away the reins of the company to Howard Levine, his son.