The Lil Peep logo design looks like the tattoos that decorated the rap artist's body. Lil Peep was a real outlier in school—his face featured multiple drawings, and he dyed his mane pink to distance himself from a hostile society. As a result, the rapper and songwriter started his fashion style and promoted openness, honesty, and freedom.
The current Lil Peep logo didn't appear right away since Lil Peep was making music under the stage name Trap Goose early on in his career. He then decided to change his stage name to Lil Peep in 2015 when he released his first mixtape dubbed Lil Peep: Part One.
His new stage name had some nostalgia about it since he used to be called "Peep" by his mother while growing up. The artist's graphic has a handwritten nickname, and the letters' cases are hard to figure out. The "i" and "e" appear lowercase, while the two Ls and Ps appear uppercase.
Lil Peep Logo Design Elements
Symbol: The most famous Lil Peep cover belongs to the 4th Crybaby mixtape. It features a black-and-white bird image wrapped in a band named "Cry Baby." The flying bird flaps its wings, with teardrops dripping from its eye.
Font: The title of the Crybaby symbol is written in a stylish font that features decorative patterns. Lil Peep had the same symbol tattooed on the top of his right eyebrow to remind himself of his childhood, in which he often whined and saw himself as a crybaby.
The inscriptions on both the Lil Peep symbol of the album and the main logo use the same stylish font. It's possible that Lil Peep invented the font himself since he was such a creative individual. The rapper's name appears "scratched" with careless and uneven letters, which feature many short lines.

The name "Cry Baby" contrasts sharply with its background since it's written in tidy ornate handwriting.
Color: The Lil Peep logo has a very minimalistic color scheme: black and white.
The Life History of Lil Peep
Gustav Elijah Ahr, popularly known as Lil Peep, was an American rapper, singer, and songwriter, famously known for his first studio album dubbed "Come Over When You Are Sober." The rapper was one of the best artists of a hip-hop and rock style known as "post-emo revival."
His Mother and Father were graduates of Harvard University, but they divorced when Peep was a teenager. Naturally, this had an adverse effect on Peep's identity. Consequently, he expressed himself via his lyrics and constantly looked like a loner and manic depressive lad.
Lil Peep started his music career aged 17 in Los Angeles. He released his first mixtape in 2015, dubbed "Lil Peep: Part 1". Due to not finding the right record label, and he launched his debut album over the internet.
One of the songs from his debut album, "Beamer Boy," subsequently became a smash hit and made Lil Peep famous all over America. After releasing several mixtures, he launched his first studio album in 2017, which went on to become a commercial and critical success. In November of the same year, 21-year-old Lil Peep died from a drug overdose.
Early Life
Gustav Elijah Ahr, aka Lil Peep, was born in Allentown, Pennsylvania, on the 1st of November 1996, to Karl Johan Ahr and Liza Wormack. He was brought up in a comfortable middle-class lifestyle, with both of his parents being tutors. His mother was a first grade teacher, and his father taught at the university. He also had a brother, Karl "Oskar" Ahr.
However, his parents' schooling didn't guarantee young Gustav a trouble-free life. While growing up, he regularly witnessed friction between his parents, which negatively affected his identity. Soon after being born, the Gustav family relocated to Long Island, NY, which was quite a new environment for young Gustav. He found this move hard to take as he already had developed socializing challenges.
At the age of 14, Gustav's parents divorced. This resulted in him becoming more introverted. He found it hard to talk to people in person and primarily interacted with his friends online.
While he was good at academics, he disliked attending school due to his introverted personality. Despite that, he attended elementary school and then proceeded to high school. Despite poor attendance, Gustav got good grades, and his tutors believed he was something special.
Gustav eventually didn't graduate high school, so he took a few courses online to complete his high school diploma. In addition, he completed a number of computer courses. Gustav had by then gained a serious interest in pursuing a music career and had begun uploading his tracks on SoundCloud and YouTube. At age 17, Gustav left for Los Angeles to chase his dream of becoming a musician.
Career

Gustav assumed the stage name "Lil Peep" in Los Angeles. He had always looked up to underground acts like rapper iLoveMakonnen and the group Seshhollowwaterboyz. Within months of relocating to Los Angeles, Lil Peep went broke and spent several nights out on the streets.
When Lil Peep lived in New York, he had lots of followers on social media that he began meeting in person as soon as he arrived in Los Angeles. Things started looking up for him once he got in contact with a few rappers, including Craig Xen and Ghostemane, as well as a music producer called JGRXXN. He also stayed at their homes for the most part. A few months later, Lil Peep joined the group called "Schemaposse."
With the help of his new music group, Lil Peep launched his debut mixtape named "Lil Peep: Part 1" in 2015 on SoundCloud. The album didn't get the response he hoped for and was played just 4,000 times in the first week of its release. However, it gradually gained some momentum as more and more people warmed up to it.
Shortly after launching his first mixtape, he launched an EP named "Feelz" as well as another mixtape dubbed "Live Forever." Since his sound didn't follow a specific genre and was so unique, he didn't get widespread success immediately. His music had influences of trap music, dream pop, and punk music. The lyrics were gloomy but highly expressive, which most critics and listeners didn't warm up to.
Eventually, a single from Lil Peep's debut mixtape titled "Star Shopping" became a massive success. It also became a surprise success in the world of underground hip-hop. However, Lil Peep achieved serious mainstream success after releasing the hit single "Beamer Boy." The song's immense success led to the rapper embarking on his first tour with Schemaposse in Tucson, AZ.
As more Schemaposse rappers started gaining fame and fortune, the group broke up. However, they all stayed friends and worked on one another's future projects occasionally. Lil Peep went on to join another rap group known as "GothBoiClique." With the group, he launched his debut complete album named "Crybaby" in 2016.
This was when Lil Peep began to enjoy true mainstream success. He earned even wider popularity by releasing another mixtape titled "Hellboy." His hits were released on SoundCloud and YouTube and garnered millions of hits and views. Two tracks from "Hellboy," titled "Girls" and "OMFG" became massively successful.
Lil Peep was embroiled in a minor storm when he was accused of lifting some lyrics from the band "Mineral" for his track "Hollywood Dreaming." But he defended himself, claiming that he did that as his own way of paying homage to Mineral and their music.
Lil Peep launched his debut studio album titled "Come Over When You Are Sober" on the 15th of August 2017. The album made its debut at #168 on Billboard 200. The album peaked at #38, and the rapper announced a tour to promote the album. However, Lil Peep sadly passed away in the middle of this tour on the 15th of November 2017.
Following his death, many of his unreleased tracks were released to the public, including hits like "Falling Down," "Awful Things," "Spotlight," "4 Gold Chains", and "Spotlight." Columbia Records acquired the rights to his tracks after his death.
Style of Music
Lil Peep was said to be producing lo-fi rap and was considered an "emo rapper" and an "emo-trap heartthrob." Music journalists routinely likened Lil Peep to guitarist and singer-songwriter Kurt Cobain. According to music reviewer Jon Caramanica of the New York Times, Lil Peep was the Kurt Cobain version of lo-fi rap, thanks to his music being dark and devilishly melodic.
On his part, Lil Peep encouraged the link and personality in his lyrical and musical content, claiming he wanted to emulate Kurt Cobain.
According to AllMusic, Lil Peep's music was a blend of rock and hip-hop influences along with dream pop, punk, and trap music. His songs were generally inspired by Southern rap's triple-time hi-hats as well as the angsty soul-searching of post-hardcore. Lil Peep combined aspects of pop-punk and emo into rap music, delivering a new perspective about the genre. As result, he was declared the "future of emo" by Pitchfork's Steven J. Horowitz.
As a budding artist, Lil Peep garnered a considerable amount of popularity in the world of alternative hip-hop, carving out his own platform to talk to fans about various issues, including mental health. His musical themes included drug use, depression, suicidal thoughts, as well as past relationships, and fused alternative rock, third-wave emo, dream pop, and pop-punk with hip-hop and trap music.
According to his close friend, who also helped produce "Come Over When You Are Sober," Lil Peep wanted to speak on behalf of those who suffer from depression and anxiety, those who've been bullied and abused, and those who were misunderstood just like him. Lil Peep had his own demons, and he faced them by making music.
Personal Life and Death
On many occasions, Lil Peep had revealed that he had a difficult upbringing and that he'd been a loner all his life. Most of the time, he was depressed, and that's why he had the word "Crybaby" permanently etched on his face. And even after beating the odds and becoming famous, he couldn't shake his depression off and often sang about it in his music.
On Nov 15th 2017, Lil Peep was found dead by his manager in their tour bus. He'd been slated to perform somewhere in Tucson, Arizona. He'd taken cocaine, marijuana, and a number of other drugs.
At about 5 pm on the day he died, he'd gone into the bus to have a nap. His manager woke him up twice and said he was breathing okay. But when he tried to wake Lil Peep up the third time, the manager discovered he'd stopped breathing. After a thorough examination, Lil Peep was found to have died of a drug overdose.
At the time of his passing, he'd been going out with Instagram model Arzaylea Rodriguez.
Summing Up the Life History of Lil Peep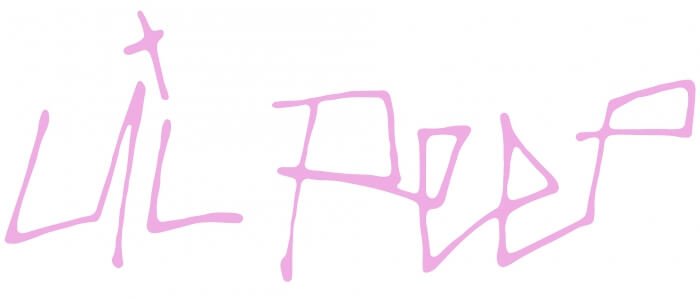 Gustav Elijah Ahr, more commonly known as Lil Peep (Nov 1, 1996-Nov 15, 2017), was an American songwriter, rapper, singer, and model. Born to Harvard University graduates who split up when he was 14, Gustav included working-class themes in his music despite his comfortable background.
He was part of the emo-rap group GothBoiClique. Having helped establish an emo revival-version of rock and rap music, Lil Peep is credited as the godfather of the mid to late 2010s emo-rap circles who went on to inspire youth subcultures and outcasts.
Born in Allentown, PA, and brought up in Long Island, NY, Lil Peep started releasing songs in 2014 on SoundCloud, using the stage name Lil Peep because he'd been called "Peep" by his mother since childhood.
Lil Peep soon became popular on SoundCloud for his various mixtapes: Lil Peep: Part I, Live Forever, Crybaby, and Hellboy, as well as his duets with Lil Tracy. In fact, Hellboy's immense success resulted in him announcing his maiden solo tour across America.
Lil Peep made his problems with substance abuse, bipolar disorder, and depression a frequent subject in his music. A fortnight after his 21st birthday, Lil Peep passed away in the middle of his U.S. tour of an accidental Xanax/Fentanyl overdose before a planned performance somewhere in Tucson, Arizona.