The first Cartoon Network logo was designed in 1992 and began as "Cartoon Network." The original logo was meant to look fun and playful. The word "Cartoon" appeared on top, while the word "Network" was below it.
The words were placed against a black and white checkerboard background. Both words were placed horizontally, with individual letters placed in each square on the checkerboard. When the letter was black, the square would be white and vice versa. The "Cartoon Network" wordmark was written with a sans serif font with some slab thickness.
Cartoon Network recreated its logo in 2004 with a more minimalistic look. The checkerboard, font, and colors stayed the same. However, the pay-TV network only changed one part of the logo and used the letters C and N to represent its brand name. The squares were rotated as well to create movement and cast a shadow behind them.
Cartoon Network opted to come up with a different idea for their logo in 2010. While they retained the initials "C" and "N," they made them look more basic. They used the CN Bold font, which the network itself created.
Cartoon Network teamed up with Brand New School (a design and animation company) to design the new logo. The logo they came up with looks really fresh and lively. Cartoon Network wanted the logo to look that way to prove that the network could switch from animated to live-action programming.
Cartoon Network Logo History and Evolution

Cartoon Network symbol has a simple yet stylish visual identity. The logo was designed in 1992 and has undergone just three changes since then. However, the logo has always retained its original style as well as the black-and-white color scheme. It's an ideal color scheme for complementing colorful animations of various genres.
1992-2004
In 1992, Corey McPherson Nash designed the original Cartoon Network logo. It was a rectangle placed horizontally with a black-and-white checkerboard background, and each square contained a thick letter written in sans serif font. The black letters were placed on white squares while the white ones were on black squares.
The logo became instantly recognizable and symbolized high-quality animation content, making the network stand out from the rest of its competitors.
The original logo's wordmark was written in uppercase letters in a bold, modern sans serif font, which closely resembles the Eagle font due to its sharp angles and strong lines.
2004-2010
In 2004, the Cartoon Network logo was redesigned in-house, in conjunction with a Sydney-based graphic design company named Animal Logic Studio. The bright, massive emblem made way for two overlapping squares and a gray shadow.
A white "C" features on the left black square, while a black "N" features on the right white square. The wordmark "Cartoon Network" in bold uppercase letters was placed under the symbol. The logo's font and color scheme stayed the same, without any drastic changes.
2010-Present
In 2020, Cartoon Network's in-house design team and Brand New School worked together to design a new visual identity. This saw the well-known chess theme return to the network—two-dimensional, well-structured, and strict.
This design was first used for advertising screensavers bearing the Chewbacca image. In this version, the "N" is written in a different style to the previous one. The elongated corners and sharp elements are gone—instead, the "N" is straight, appearing trimmed at the bottom to form a stable platform.
Cartoon Network Logo Design Elements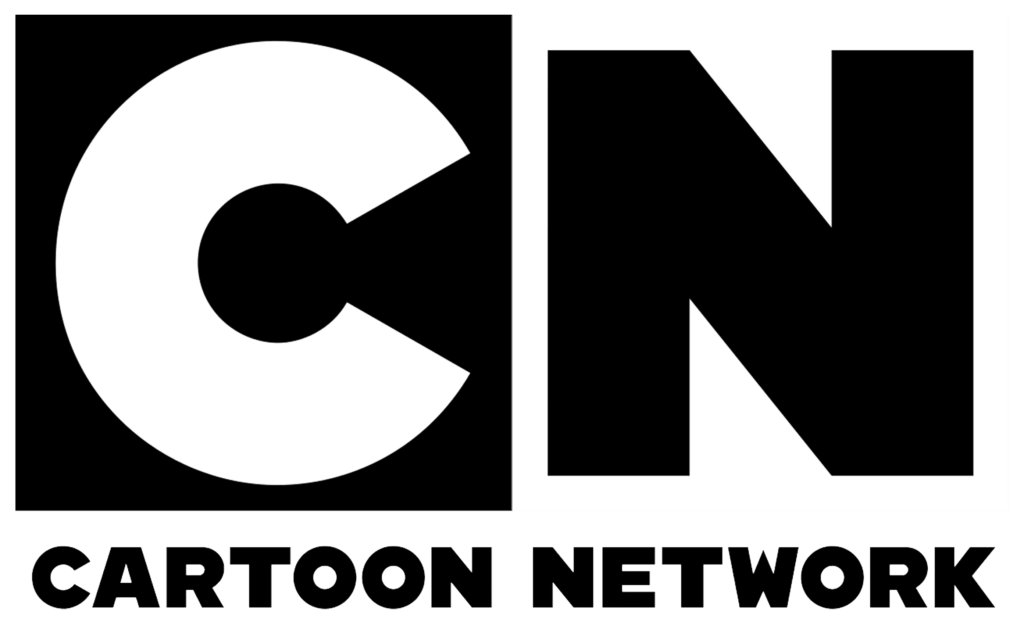 Symbol: The current Cartoon Network logo retains the cubes motif from its predecessor while eliminating the 3D effect. The logo is now flat and features the letters C and N in white and black, respectively, inside a black square and a white square. The letters' shape has been significantly changed, while the font used for the brand name below has remained the same.
Shape: The current logo version was introduced in 2004. It's made up of two squares containing each initial of the network, with the full company name written below. Cartoon Network's in-house designers redesigned it in conjunction with Animal Logic Studio, a renowned Australian graphic design firm.
The original Cartoon Network logo was unveiled in October 1992. It consisted of a seven by two checkerboard with black and white squares.
Font: The company name and its initials are written in the network's signature playful custom font, which has existed since the business was formed.
Colors: Cartoon Network's logo is designed in the eternal black and white color scheme. Black stands for courage, determination, excellence, and prestige, while white symbolizes purity, kindness, and a positive attitude.
The History of Cartoon Network

Cartoon Network (or CN for short since 2004) is a United States children and youth pay-TV network with its studio, cartoon, and film programs. It was established by Betty Cohen in October 1992 and belonged to the TV multinational giant Warner Bros. Entertainment. 
It's now a giant broadcasting service, split into two sections—a children's segment that runs from 6 am until 10 pm and an adult segment that mostly broadcasts commercials at night. By March 2021, about 94 million American homes with pay-TV were watching Cartoon Network.
Cartoon Network was founded in October 1992 after Ted Turner bought Hanna-Barbera Productions, an animation studio, in 1991. It initially acted as a 24-hour channel for classic animation content from the Turner Broadcasting System collection for all ages. However, the network now serves as an outlet for the up-and-coming animation content, with various programs entertaining both child and adult audiences.
The network also broadcasts numerous shows, ranging from animated comedy to action. The original series began with The Moxy Show in 1993, alongside Cartoon Cartoons' original programs like Johnny Bravo, Dexter's Laboratory, I.M. Weasel, Courage the Cowardly Dog, Cow and Chicken, Ed, Edd n Eddy, and The Powerpuff Girls. In 2005, the network began airing live-action programs, including movies from New Line Cinema and Warner Bros.
Betty Cohen was the brains behind Cartoon Network. She was the network's president until 2001 when Jim Samples replaced her. Samples served as president until 2007 when he was replaced by Stuart Snyder, who Christian Miller succeeded in 2014. In 2019, Michael Ouweleen succeeded Miller for an interim period and was then replaced by Tom Ascheim.
The Start of a Dream
Ted Turner had a dream in 1976. After years of blood, sweat, and tears, Turner founded the first-ever 24-hour news channel that's today known as CNN in 1980. Many predicted that Turner's project would fail. At that time, people couldn't receive news around the clock. To know what was going on worldwide, one had to wait until the evening for news.
Turner Broadcasting purchased MGM in 1986 due to the latter company being in serious debt. However, Turner Broadcasting was forced to flip the company back to its owner Kirk Kerkorian but kept a big chunk of MGM's cartoon collection.
Turner Broadcasting bought Hanna-Barbera Productions in 1991 for $320 million. At the time, Hanna-Barbera boasted some of the most popular shows around, including Popeye and Looney Toons, while Turner Broadcasting had cartoon shows running for more than 8,500 hours.
After buying Hanna-Barbera Productions, Turner Broadcasting announced that it intended to establish a 24-hour cartoon network. Again, people thought the idea was a non-starter. While technology was beginning to develop, most people owned just one TV. Children primarily played outdoors after school while adults hogged the TV. To cut a long story short, Cartoon Network was established on Oct. 1, 1992.
Transforming the TV Industry

In 1994, Hanna-Barbera Productions started working on a show called What a Cartoon. This project got through to independent animators, paving the way for shows like The Powerpuff Girls, Dexter's Laboratory, Cow and Chicken, and Johnny Bravo.
The project was led by Cartoon Network management. Fred Seibert and John Kricfalusi served as the project's advisers. This was a big deal because the two were previously the movers and shakers behind Nicktoons from rival channel Nickelodeon.
Cartoon Network founded an afternoon segment called Toonami in 1997. Toonami hosted a bunch of action-packed cartoons, mostly Japanese animations like Gundam Wing, Tenchi Muyo, Sailor Moon, and Dragon Ball Z. In fact, it's safe to say that Toonami is the reason why America has millions of anime devotees today.
Boomerang was launched by Cartoon Network in 2000. Boomerang is a TV channel that airs classic cartoons 24/7. This channel attracts many adult viewers. Ted Turner even claimed in one TV interview that Cartoon Network boasted more adult fans than CNN, which is also his own channel.
Cartoon Network's sensitive late-night segment, Adult Swim, starts at 10 pm and concludes at 6 am. The segment has made a name for itself in late-night cable programming with cult cartoons like Space Ghost, The Venture Bros, Coast to Coast (which parodies late-night talk shows), and Robot Chicken.
Also, Adult Swim is in part responsible for reviving the popular TV drama Family Guy, which was very successful in syndication following its cancellation by FOX. Adult Swim, along with Comedy Central, has become the leading cable platform for mature animation.
Signature Programming
Animation is, of course, Cartoon Network's trademark programming since the channel's inception up until today. Cartoon Network began airing older classics from the Hanna-Barbera collection, but started its evolution toward more authentic programming in 1995 by showing The Moxy Show, Coast to Coast, and Space Ghost.
The new collection of shows, including The Powerpuff Girls, Johnny Bravo, and Dexter's Laboratory, became the network's staples. These cartoon shows have since finished, and newer cartoons have taken their place, such as Teen Titans and Ben 10: Ultimate Alien.
Cartoon Network also airs several Japanese manga shows in its current programmings, such as Beyblade Metal Fusion and Bakugan Gundalian Invaders. While the channel continues to derive its primary identity from cartoons, the channel has started to try out other types of television more recently.
CN Real
Cartoon Network founded a sub-brand named CN Real in 2009, an all-encompassing term for its fresh, original live-action programs, including reality and scripted shows targeted at the channel's younger audience.
Tower Prep and Unnatural History are two-hour-long, scripted dramas, while What Would Happen and Destroy Build Destroy & Dude are structured like popular American reality TV shows like Mythbusters and Junkyard Wars. The newest show from CN Real is Hole in the Wall. It's based on the Japanese TV game show called Nokabe.
Ownership and Conglomeration
Turner Broadcasting System (TBS), under the Time Warner conglomerate, runs Cartoon Network. Cartoon Network aside, TBS, Inc. also operates the CNN Network and the entertainment networks TCM, TNT, TBS, Boomerang, Adult Swim, Peachtree TV, truTV, and many more international channels.
Before founding TBS, Inc, R.E Turner bought a little UHF station named WJRJ-Atlanta and rebranded it to WTCG for his parent firm, Turner Communications Group. After excellent guidance from Turner, WTCG invented the "superstation" idea in 1976, transmitting programming to cable systems through satellite.
In 1976, WTCG was renamed Turner Broadcasting Systems, Inc. The company then formed CNN in 1980. CNN was the first 24-hour news-only network and a pioneering way for how people viewed breaking news. Today, Turner Broadcasting System is one of the leading programming providers for the cable TV industry, with networks spread worldwide.
The Takeaway
Cartoon Network, a Turner Broadcasting Systems creation, is a cable pay-TV channel dedicated to airing cartoons and animated series for kids, including popular TV shows such as Ben 10, Peppa Pig, The Flintstones, Ninjago, Cow and Kitchen, I.M. Weasel, The Moxy Show, Johnny Bravo, Big Bag, Dexter's Laboratory, and The Powerpuff Girls just to name a few.
During the day, the main audience of Cartoon Network is children between the ages of 7 and 15, while at night, its Adult Swim segment airs animations for adults.
Cartoon Network has for long been popular for edgy, boundary-pushing kids' programming. As such, this came in the shape of Steven Universe in 2015. Steven Universe is a fantastic coming-of-age story that features various LGBT themes and an analysis of sexuality and gender roles.
With such innovative production and presentation, the channel is more than ready to cater to an entirely new generation of fans.