This is a list of the best logo makers online to help you create your own custom logo design in less than 10 minutes. Starting your own business can definitely have its challenges. We have found some great options for you below when it comes time to have your company logo made.
Compared to times past, now is an excellent time to be a business owner in need of a professional-looking, effective logo. Thanks to online platforms designed to connect business owners with talented freelance designers, creating a great new logo are now easier and more affordable than ever before.
If, however, you are someone who prefers to go the DIY route, the internet has made it possible to create your great-looking logo design even if you don't have any advanced design skills. Of course, the biggest factor when it comes to determining how good of a logo you can create is the online logo maker that you make use of. With that in mind, we thought we'd take the time to detail the top ten online logo makers that the internet has to offer. If you would like to design your own logo, consider using one of these ten great tools:
LogoMyWay is an online logo design platform best known for its innovative logo design contests. Recently, though, LogoMyWay introduced what is considered to be one of the best online logo makers available today, giving their customers even more flexibility to create a professional logo design in a way that is both convenient and affordable. With the LogoMyWay online logo maker, you are able to choose from a vast library of templates, fonts, and color schemes in order to piece together a great-looking, one-of-a-kind logo in a way that takes only a few minutes and doesn't require any kind of design expertise. If you are searching for a well-rounded online logo maker that is easy to use while also delivering eye-catching, professional results, you can't go wrong with the LogoMyWay online logo maker.
You can select from many logo makers including, gaming logos, coffee logos, car logos, technology logos, farm logos, music logos, restaurant logos, cleaning logos, construction logos, real estate logos, travel logos, school logos, and many many more.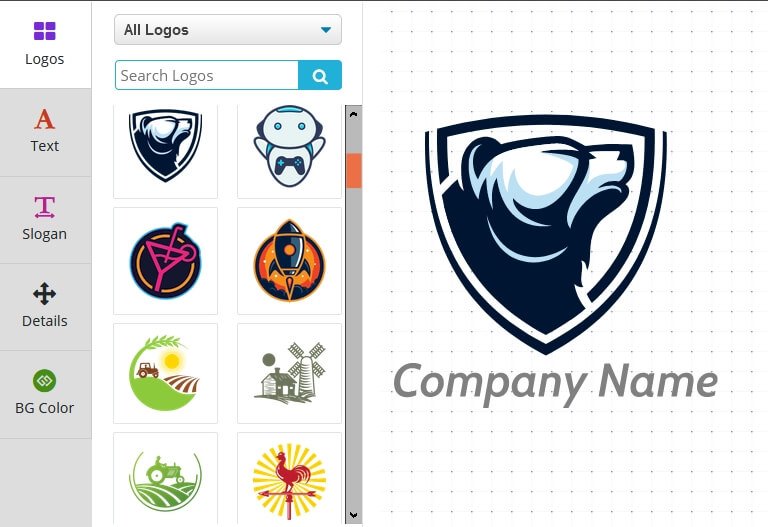 Shopify Logo Maker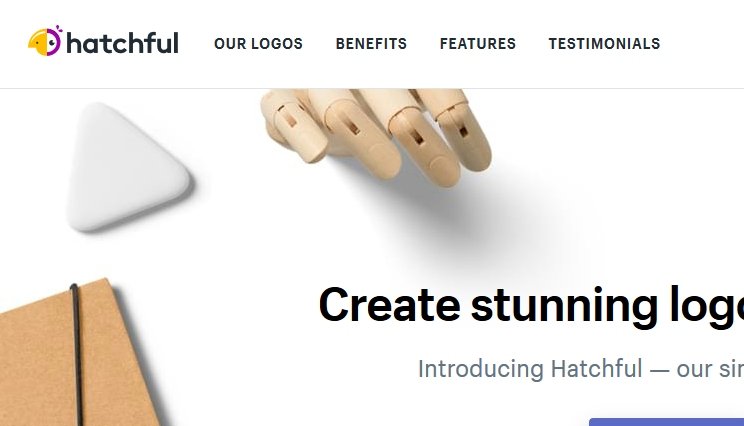 As one of the world's leading eCommerce platforms, Shopify is dedicated to providing business owners with a wide range of helpful tools that they can use to grow their online sales. While most of these tools are centered around gathering data and marketing products in your Shopify store, Shopify also offers an online logo maker as well. The Shopify online logo maker comes with an extensive library of stock images that can be meshed together to create a unique and professional-looking logo.



Logaster
Logaster is an online logo maker that takes all of the work out of designing your own logo. If you are looking for an option that requires as little hands-on input as possible, the Logaster online logo maker may be the right choice for you. To use this innovative logo maker, all you need to do is enter a little information about your brand. The online logo maker then uses AI software to generate a number of unique logo designs with a push of a button – no design work on your part required. Once you've found one of the automatically-generated designs that you like, you are then able to make certain edits to the design before finalizing it and downloading the file.



Designmantic Logo Maker
Like Logaster, the Designmantic logo maker is an online logo maker that makes use of AI technology in order to automatically generate a wide range of unique designs based on the information about your brand that you input into the software. This means that the Designmantic logo maker is able to provide you with numerous designs to choose from and all you have to do is complete a few simple steps – none of which require any design work on your part. As AI grows more and more advanced, online logo makers such as Logaster and the Designmantic logo maker are becoming more and more effective. For now, such AI-driven logo makers still aren't quite able to compete with human-driven design in terms of creating a one-of-a-kind design that accurately reflects the brand in question. With that said, though, these logo makers are indeed quite good at what they do, and the Designmantic logo maker is a great option to consider if you are looking for the easiest way possible to design your own logo.



DesignEvo Free Logo Maker
The DesignEvo free logo maker has two main qualities going for it that make it an attractive option for business owners looking to create their own logo – its massive library of available templates and fonts and the fact that it is free to use. For being a free online logo maker, the DesignEvo logo maker is certainly a comprehensive and well-built tool. It's entirely possible to design an attractive, unique, and professional logo using this logo maker without having to spend a dime – and that is a fact that makes the DesignEvo free logo maker a tempting option to explore.



Fotor Logo Maker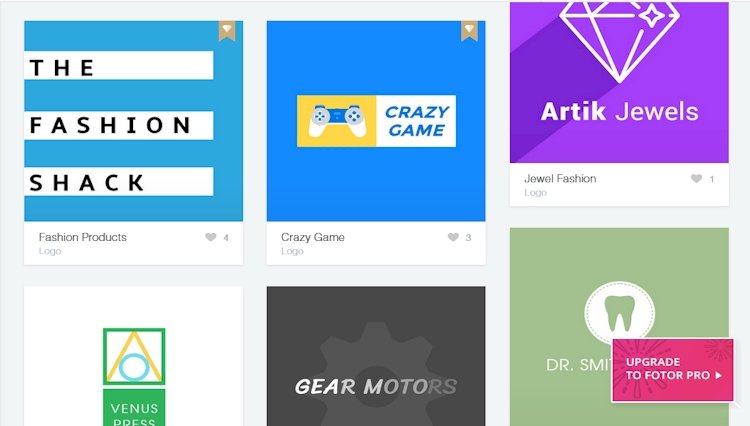 If you are looking for a professional tool that will enable you to create a truly one-of-a-kind logo design, the Fotor logo maker is a tool that is worth checking into. This well-designed online logo maker gives you the power to create a fully customized logo design without requiring any photoshop or graphic design skills on your part. Thanks to the drag-and-drop interface of the Fotor logo maker, anyone can use this tool to create a great-looking, unique logo in only a matter of minutes.



Free Logo Services
Free Logo Services is a platform that allows you to choose from thousands of logo design templates completely free of charge. To start out using this tool, all you need to do is enter a little information about your business. Based on the information that you enter, Free Logo Services will recommend the best design templates for you to choose from. Once you've found a template you like, you are able to make changes to the design and save your new logo design to the cloud.



GraphicSprings Logo Editor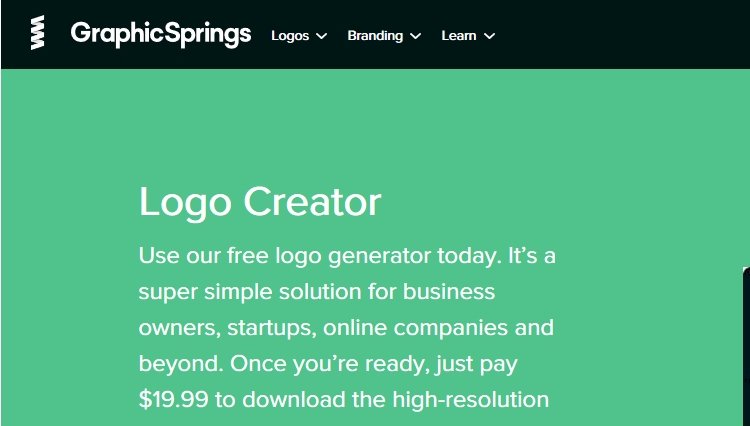 If plenty of room for customization is your number one priority, the GraphicSprings logo editor is an excellent tool to consider. This comprehensive online logo maker allows you to create a truly one-of-a-kind logo design by giving you the ability to add an incredibly wide range of images into your design. Unlike many logo makers on our lists, though, the GraphicSprings logo editor is not free to use. However, you may find the small charge that comes when you download your final design to be well worth it in the end.



Wix Logo Maker
Like several great online logo makers that earned a spot on our list, the Wix logo maker is a tool that will automatically suggest templates to you based on your answers to a few simple questions about your brand. Once you've chosen the template that you would like to use, you are then able to perform a wide range of edits and customizations using the Wix logo maker's comprehensive yet intuitive interface. Best of all, the Wix logo maker is completely free to use so long as you have a Wix account. All things considered, anyone looking for an online logo maker that is free to use while also effective at producing attractive and unique logo designs will find a lot to like about the Wix logo maker.



Squarespace Logo Creator
Squarespace is a platform that is known for making the process of designing a great-looking website easier than ever before, thanks to its intuitive yet comprehensive drag-and-drop design system. Now, Squarespace has brought this same proven design system to the world of online logo design – and the result has been fantastic. Squarespace is a platform that simply has a knack for simplifying complex design work in a way that makes it possible for almost anyone to create complex, professional-looking designs without a large learning curve – and the Squarespace logo creator is certainly no exception.



Tailor Brands Logo Maker



This logo maker is relatively simple, but you have to go through a lot of steps to see different designs to choose from. Once you do get through the process, you have to signup to see the selections. I'm not a big fan of joining sites before I can see what they deliver. I do understand. However, they want to follow up with you via email to give you discounts, etc.. Overall, I would say they are a good option for a logo maker—prices for each logo range from $19 to $59.



NameCheap Logo Maker
This logo maker is free but limited to what files you get. It's mostly text with icons next to the words when they generate a logo example. The logo is free to download, but they do charge for business cards.



Turbologo Maker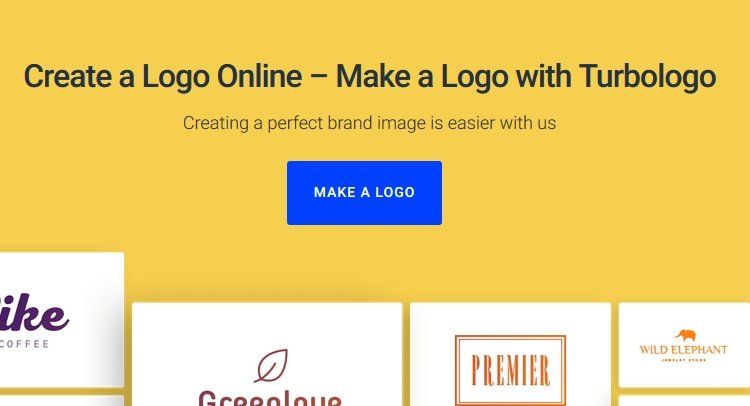 You have to go through several steps to see different logos. You enter your company name, select the fonts and colors you like, and it will generate logo ideas. Once you pick one, you want you can edit the logo a little before you purchase. This logo maker also makes you sign up with your email to see the different options.



Placeit Logo Maker
This logo maker has some good options. Plenty of designs to choose from and lots of logo templates. They have a lot of different industries to meet your business needs. You do not have to sign up to see the logo options. The pricing to download and use your logo is a one time charge for $39.95 or a monthly fee of $14.95, which gives you 50% off any other logos you decide to purchase. If you are buying multiple logos, the monthly deal is probably your best option.



Looka Logo Maker
Looka was formerly Logojoy in 2016 before it was converted to a logo maker. You have to go through about 6 different steps before you can generate logo ideas. You can select the font you like, colors, and different clip art designs. Once you get through that process, you can see the different logos to choose from. You will get a pop up asking you to join the site before you can see the logos. If you want to view the logos, It's best to create an account with Looka.



Logo.com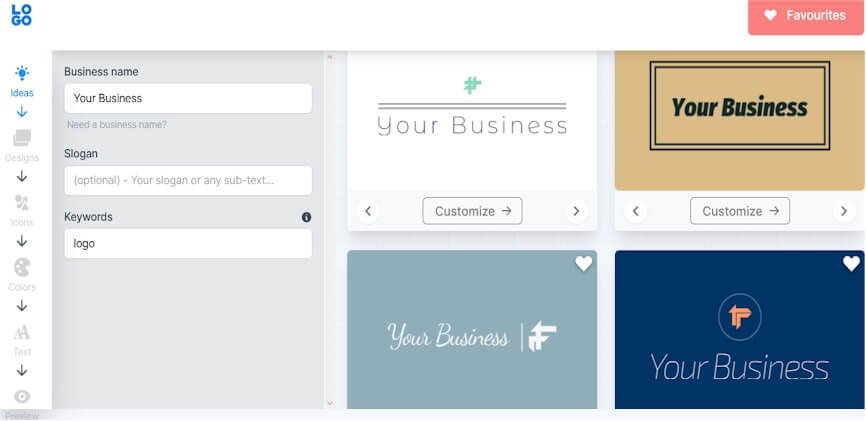 Logo.com came on the scene late in 2020. It looks like they did a complete overhaul of functions and logo templates to select from. When making your logo they have Icons and different designs you can preselect before purchasing your final logo. You can change the basics of the logo altering the colors, icons, and text with their logo editor. Once you design your logo you have the option to pay a monthly subscription or purchase different packages paying a one-time fee ranging from $19.99 to$99.99.
Conclusion
One thing is for sure – there is definitely no shortage of great logo makers available online today. Whether you are looking for a free to use logo maker, a logo maker that will suggest designs based on the information you input, a logo maker that offers a vast library of templates, images, and fonts, or anything in-between, you should have no trouble finding an online logo maker that is ideal for you and your business.
We hope that you've found this list of the best online logo makers to be useful, and we wish you the best of luck, creating a logo that will serve as a helpful marketing tool to help set your brand apart from the competition.