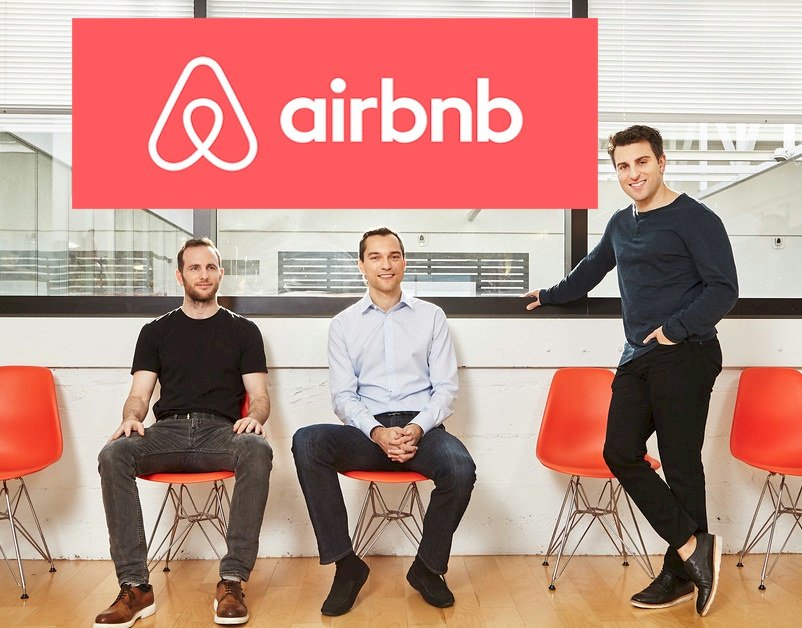 This is the Airbnb Logo and the history of the company. The Airbnb app and logo are recognized and used by millions of travelers worldwide.
The birth of the sharing economy has given rise to numerous new industries and a wide range of new companies, several of which have revolutionized transportation, food delivery, travel, and more. Today, few companies are a better example of the sharing economy model than Airbnb. In this article, we'll explore the brief yet eventful history of the unique Airbnb Logo and the role that it has played in Airbnb's worldwide popularity.
What is Airbnb?
If you haven't yet had the opportunity to use Airbnb's services, then you may not fully understand what those services even are. In essence, Airbnb is an online marketplace that is designed to connect individuals looking for a place to stay while on vacation or business travel with individuals who are renting out homes, rooms, apartments, and other forms of lodging.
In the same way that Uber empowers anyone with a vehicle to essentially work as a taxi driver, Airbnb empowers anyone with an available living space to work as their own bed and breakfast or hotel owner. Travelers, meanwhile, are able to benefit from the wide range of lodging options offered by Airbnb that span the spectrum in terms of cost, location, type of lodging, included services, and more.
This high degree of flexibility is the calling card of the sharing economy and is the cornerstone behind Airbnb's success. However, you may be surprised to learn that a company which today enjoys international popularity and is upheld as a shining example of the sharing economy's ripe potential started out with one of the humblest beginnings imaginable.
The History of Airbnb
After moving to San Francisco in 2007, roommates Brian Chesky and Joe Gebbia were looking for a way to make a little extra money. The idea that they eventually came up with was to place an air mattress in their living room and turn the room into a bed and breakfast. In 2008, Chesky's former roommate Nathan Blecharczyk joined the venture as the company's third co-founder, at which point the company was named AirBed and Breakfast. The three of them then built a website called Airbedandbreakfast.com and marketed their service toward business travelers who were unable to find lodging in the saturated San Francisco hotel market.
In the summer of 2008, AirBed and Breakfast booked their first customers during the Industrial Design Conference held by the Industrial Designers Society of America. With the demand for lodging in the area outweighing the supply, business travelers determined to make the conference were all too happy to take any lodging that they could find – even an air mattress in the living room of two roommates.
It didn't take long for the three founders of AirBed and Breakfast to recognize that the website they had built and the untapped market they had found presented far more opportunity than simply renting out a single bed in their living room. In 2009, the founders of the AirBed and Breakfast were invited by Paul Graham's winter training session of his startup incubator, Y Combinator, in exchange for a small interest in the company. Over the course of this training session, the founders were able to receive the training and funding that they would soon use to turn AirBed and Breakfast into the massively successful company we know today. Armed with a business plan that leveraged the then-brand-new idea of the sharing economy, Gebbia, Chesky, and Blecharczyk were able to return to San Francisco and present their business to West Coast investors. By March 2009, the AirBed and Breakfast website had 10,000 users and 2,500 listings from people looking to rent out temporary lodging. It was also in March 2009 that the name of the company was shortened to Airbnb.
What started as a platform designed to market shared spaces and air mattresses quickly transitioned into a platform that lists an incredibly broad range of lodging arrangements. Today, people all over the world can use Airbnb to rent out apartments, rooms, condominiums, and even entire houses, providing an excellent alternative to travelers whose needs were not being adequately met by the hotel and travel industry.
In addition to lodging, Airbnb today provides several other noteworthy services as well. For example, Airbnb Experiences is a service that enables customers to book experiences in the location where they are staying, such as cooking classes and guided tours. Airbnb Collections, meanwhile, is a service that allows customers to book venues for events such as parties, weddings, family reunions, and conferences.
Through these various services, Airbnb has quickly risen to be one of the most recognizable brands across the world, and in 2017 Airbnb recorded a whopping $2.6 billion in revenue. Given the humble beginnings of Airbnb, this number is truly astounding. It serves as a testament that incredible results are possible when you have the right idea no matter how small or unimpressive your company's origins might be.
The Secret Behind Airbnb's Success

All of the services provided by Airbnb made possible thanks to the sharing economy. This is a term we've already thrown around a lot over the course of discussing Airbnb and their history, but it is an important term to explore further in order to fully understand the factors that made it possible for a trio of friends to turn the idea of renting out an air mattress into a multi-billion-dollar brand.
According to Investopedia, the sharing economy is defined as "an economic model defined as a peer-to-peer (P2P) based activity of acquiring, providing, or sharing access to goods and services that is often facilitated by a community-based online platform."
In layman's terms, the sharing economy entails enabling private individuals to offer services to other private individuals in a way that is both convenient and profitable. Of course, the sharing economy model is only possible if there is a well-polished platform to connect customers with individuals who are providing the service that they are looking for. Anyone can take their car out and charge people for rides, for example. Still, it's Uber and its platform that makes ridesharing a viable option both as a service for those needing rides as well as a career for the individuals willing to provide them.
By the same token, the founders of Airbnb soon realized that there were people all over the world willing to rent out lodging in order to make extra money as well as people all over the world whose lodging needs were not adequately being met by the hotel industry alone. All that these two groups of people needed to begin exchanging money and services in a way that benefits them both was the right platform.
By providing a secure, convenient, and effective platform for people to buy and sell temporary lodging, Airbnb was able to create a brand new industry in only a matter of years undoubtedly taking a small portion of every transaction that is completed on the platform, Airbnb leveraged the sharing economy in order to turn an air mattress in a living room into a highly profitable, international company.
The Role that the Airbnb Logo has Played in the Company's Success
There's no denying the fact that Airbnb's innovative approach to lodging arrangements and their ability to capture the wave of the sharing economy has been the cornerstone of their success. As with any brand, though, the Airbnb logo has undoubtedly played a role in the company's success as well.
For Airbnb, the importance of creating awareness about their brand was especially critical, given the fact that Airbnb was essentially creating a brand new industry. Successfully creating a brand new industry means that you will need to educate customers about the industry you are creating and why they need your new services, and this requires a larger degree of brand awareness and publicity.
Airbnb took a multi-faceted approach to raise awareness about their brand that was primarily centered around digital advertising – and the company's well-designed logo has served as a cornerstone for their digital advertising efforts. Thanks in no small part to the recognizability of their logo design, Airbnb was able to quickly grow the level of online interest and awareness necessary to springboard the launch of an all-new industry.
The Airbnb Logo

A lot has changed about Airbnb over the years, and their logo design is no exception. Initially, the Airbnb logo was simply the text "AirBed and Breakfast" in red and blue bubble letters. When the name of the company was changed from AirBed and Breakfast to Airbnb, the logo changed as well to a design that spelled out "Airbnb" in a slightly fancier and more stylized font. Finally, in 2014 the Airbnb logo was updated to the design we now know today – a design that features a unique and recognizable symbol alongside the name of the company.
Since 2014, this is the design that Airbnb has used across its website, social media platforms, and online advertising efforts to represent the company and create a symbol that the world has come to associate with the Airbnb brand.
Design Elements of the Airbnb Logo


The interesting looking symbol that makes up the bulk of the current Airbnb logo design is actually a combination of four other symbols. The teardrop shape at the center of the symbol is meant to be a person's head, conveying the idea that Airbnb is a people-oriented company. This same teardrop shape is also meant to represent the shape of a location icon – a symbol that people associate with travel and destinations.
In the same way that the inner teardrop of the Airbnb logo design is meant to represent two different things, the outer upside-down-heart shape of the logo is meant to represent two different things as well. For one, it stands for the "A" in Airbnb. In addition to mimicking the first letter in the company's name, the heart-shaped design of the outward symbol is also meant to be just what it looks like – a heart symbol that conveys the idea of love and compassion.
While the vast majority of people who see the Airbnb logo won't necessarily catch these subtle meanings behind the design, what Airbnb has successfully done is create a unique and attractive logo design that is both easy to remember as well as meaningful to the core mission of the company and the services that they provide. Today, even those who haven't taken the time to research the meaning behind the Airbnb logo design are still able to quickly recognize the Airbnb logo and associate it with the brand. This high level of recognizability has made the Airbnb logo a useful tool that the company continues to use to grow brand awareness and position itself as a leader in the travel industry.
Conclusion
Airbnb is a company unlike any other, comparable only to the handful of other sharing economy companies that currently enjoy international popularity. Even companies that are revolutionizing an industry and doing things in a way that they have never been done before, though, still require a professional-looking logo in order to reach their goals. Since settling on their current logo design in 2014, Airbnb has used their logo in a wide range of practical ways to boost awareness and grow its base of customers and service providers alike.
If you, too, are in the process of starting a brand-new company unlike any the world has ever seen, an attractive, meaningful logo is undoubtedly something that you will need as well. Thankfully, LogoMyWay makes it incredibly easy for business owners across the world to acquire a great-looking logo for their brand. Whether you create an online logo contest that allows you to receive hundreds of custom design submissions from dozens of talented designers or you create your own logo using our travel logo maker. We at LogoMyWay are ready and able to provide you with a professional-looking, effective logo that you need to turn your new startup into a worldwide successful travel brand.