The Zillow logo has evolved alongside the company and its website.
Early on, the visual identity was minimalistic, and it then became overcrowded with details before every insignificant detail was done away with. Ultimately, the graphic feature in the shape of a house or upward-pointing arrow and the company's name remained.
The current Zillow logo was unveiled in 2019. While it wasn't a complete departure from its previous version, the real estate firm did freshen up and simplified its visual identity.
The revamped design removed the square to the left of "Zillow" and reversed the color of the house graphic to a white "Z" inside a blue house shape. Now, "Zillow" is written in a bright shade of blue with a thicker font. All in all, however, the Zillow logo still resembles a house containing a "Z."
According to Zillow, the revamp was designed to "bring joy and simplicity to the home search process ."The online real estate platform has also introduced its own mortgage lending app Zillow Home Loans and remodeled its website with bigger listing images and a new logo.
Evolution of the Zillow Logo
The Zillow logo has been redesigned three times since the online real estate platform was established in 2004. Here are the four versions of the Zillow visual identity.
2004 – 2006
Zillow's first logo was designed before the company was even launched. It only has the name of the company, Zillow. The company's name is rendered in slim black lines, and the letters are arranged freely, with a sizable distance between the characters.
The black text against a white background enhances readability. The second segment of the firm's name, "LLC" is on the right and is separated by a comma. LLC is written in gray letters and represents the company's legal status.
2006 – 2008
In 2006, the "Z house" symbol first popped up on the Zillow logo. In the original "Z house" logo design, the house was split into two parts by the "Z"—a blue top part and a greenish lower part.
The company's website Zillow.com was placed to the right of the "Z house" emblem, the Beta indicator, and the motto "Your Edge in Real Estate ."This logo version had a bolder font than the previous one.
2008 – 2019
The next version just about recreates its predecessor, except for the absence of the .com internet domain and the enlarged size of all letters. In addition, the designers removed the sign that this was a beta version.
2019 – Present
The present Zillow logo design is even cleaner thanks to its brand new color scheme. A bright blue shade replaced the grayish-blue and green color scheme. The house was made straighter, while the font became simpler. For example, the diagonal tops of the "I" and "Ls" were ditched in favor of flat ones.
The Zillow Logo Design Elements

Color: The current Zillow logotype is rendered in a bright blue and white color scheme. Previously, the color scheme comprised pastel blue and green.
Font: The Zillow logo's font may look quite generic on first viewing. However, it stands out thanks to the acute angles on the tips of the letter "Z," as well as the diagonal tops of letters "I" and "L."
Although the font used varies with Zillow logo versions, they all use a variant of sans serif. The bizarre lettering appears harmonious as the wide sans serif characters look stable.
The History of Zillow
Zillow is a web-based real estate firm whose mission is to help real estate agents, buyers, home marketers, sellers, renters, landlords, property managers, and mortgage professionals find and share vital information about homes, real estate, mortgages, and home improvement.
The Zillow brand also runs many other departments, with Zillow.com, Zillow Rentals, Zillow Mortgage Marketplace, Zillow Digs, and Zillow Mobile being among the most popular ones.
The Zillow portal contains data and information on numerous homes in the United States and Canada. In July 2011, Zillow entered the NASDAQ Stock Exchange.
Early History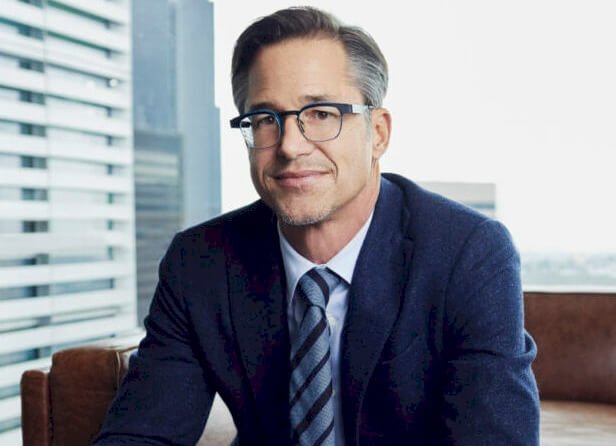 While working at Microsoft, Rich Barton found out that the real estate industry needed to be transformed, which inspired him to seek funding for Zillow. Zillow was incorporated in December 2004, but it wasn't until February 2006 that its website was launched. Spencer Rascoff was named Zillow's CEO in 2010, with Barton remaining as executive chairman.
With Zillow Offers, Zillow entered the property buying market in 2018. That same year, Zillow and Century 21 Canada signed a deal to list Canadian home locations on Zillow's website. Canada became the first nation outside of the US to be featured on this website.
Although Zillow has experienced notable highs in the property buying market, the firm has also faced some low moments. In 2020, Zillow's shares went 18 percent up after falling for four years. When the COVID-19 pandemic struck in March of the same year, Zillow's CEO announced a 25 percent cut in expenses as well as a freeze on hiring.
In 2018/2019, Zillow started buying homes to become a market leader. In November 2021, Rich Barton announced that Zillow would lay off 25% of its staff, sell its inventory, and shut down the online buying part of the company.
When Zillow announced that it'd stop buying homes, it owned around 7,000 houses. Zillow Offers, the department in charge of buying and selling homes, caused the company to lose $420 million in quarter 3 of 2021.
The Zillow Business Model
Zillow calls itself a media firm that makes money by offering advertising on its official site. In April 2009, the company announced a collaboration to lease its real estate/property search engine to websites of over 180 US newspapers as part of a corporation known as Zillow Newspaper Consortium. The company shares advertising income from the co-branded websites with the papers and increases its penetration of local markets.
Zillow signed an exclusive partnership agreement with Yahoo! Real Estate in February 2011, creating the biggest real estate ad network online, reports comScore Media Metrix.
Zillow lets renters pay rent to their landlords online for properties listed on Zillow Rental Manager. Renters are charged a transaction fee once they use credit or debit cards to pay rent. However, renters also can pay rent without fees if they use ACH.
In 2018, the company started a blanket referral-fee program with no upfront cost known as Zillow Flex. When brokers close a property transaction with a customer, they pay Zillow a referral fee via escrow. Blanket referral fees received by Zillow Group aren't revealed to customers but are probably in the range of 30% to 40% of the whole broker's commission. Real estate brokers who are in the Zillow Flex network must be willing to cough up a blanket referral fee when they complete a transaction.
Website Features
Zillow contains data on approximately 110 million homes all over the US. The company offers various features, including estimated values of homes, value fluctuations of every home within a given period of time, prices of similar homes in the neighborhood, and aerial views of properties.
It also has basic information about any given home, including the number of bathrooms and bedrooms and square footage. Users can also find estimates of properties that have gone through significant improvements, including a remodeled kitchen.
Towards the end of 2006, Zillow introduced features that allowed users to put homes on sale online and set a price and a real estate online encyclopedia. In the same year, Zillow partnered with Microsoft to provide a feature that displays aerial photos known as Microsoft Virtual Earth.
Zillow widened its listings in December 2009 by adding rental homes.
Towards the end of 2013, Zillow started running AOL Real Estate. Zillow also took control of the MSN Real Estate portal the following year. In October 2017, the company announced plans to include 3D tours to capture 360° photos of properties customers want to buy or rent.
Zillow launched a tool for potential renters to send an eviction history and credit check report to landlords in July 2018.
In January 2019, the company reportedly received 36 million exclusive visitors on its website.
Zillow Mortgage Marketplace
In April 2008, Zillow introduced a service known as Zillow Mortgage Marketplace. The service enables borrowers to receive personalized loan quotes without disclosing their personal identification information.
Zillow Advice
In December 2008, Zillow introduced Zillow Advice, which allows individuals to ask any real estate-related questions online and receive replies from the site's expert community.
Zillow Mobile
With Zillow Mobile apps, users can view homes nearby depending on their location.
Real Estate Market Information
Zillow produces property value information for more than 130 metropolitan statistical regions and the rest of the United States. Zillow's home value reports categorize market trends, such as negative equity, foreclosure transactions, short sales, and 5 to 10-year annualized change.
In addition, Zillow releases a survey to gauge homeowner confidence. Done by Harris Interactive, the survey measures the perceptions of homeowners about home value fluctuations of the local market and their own home.
Neighborhood Boundary Maps
Zillow's data department has designed a database of almost 7,544 neighborhood borders in America's largest cities and made them accessible through the Sharealike license.
Zillow's Acquisitions
Zillow acquired Postlets in April 2011. Postlets is a web-based real estate list-making and distribution platform. Zillow didn't publicly disclose the terms of the sale.
Zillow bought Diverse Solutions in November 2011 for $7.8 million.
Zillow bought RentJuice in May 2012 for $40 million. RentJuice is a Saas company that lets property managers and landlords lease and sell their rental properties via a bunch of online tools.
Zillow bought real estate collaboration and shopping platform Buyfolio in October 2012.
In November 2012, Zillow took over Mortech, a Lincoln, Nebraska mortgage technology firm, for $17 million.
In November 2012, Zillow bought HotPads in a $16 million deal. Established in 2005, HotPads lists rental and real estate listings on an online map-based interface.
Zillow took over StreetEasy in a $50 million deal in August 2013.
In July 2014, Zillow took over Retsly—a Canada-based startup company that enables developers to get real estate data from various listing services.
Also, in July 2014, Zillow acquired Trulia in a $3.5 billion deal. In February the following year, the company completed its takeover of Trulia and launched the Zillow Group company portfolio.
In July 2015, Zillow Group took over Dotloop in a $108 million deal.
In January 2016, Zillow Group bought Naked Apartments in a $13 million deal.
In August 2016, Zillow Group bought Bridge Interactive.
Zillow Group announced that it'd agreed on a deal to buy ShowingTime in February 2021. ShowingTime itself had bought Showing Suite in a $500 million deal.
Over 35 million users have accessed the Zillow website and mobile app since its introduction. With the addition of new and better features, more and more people visit the company's website and app. Many of them regularly check out the site and app to find out new updates and features.
Summing Up the History of Zillow
Zillow was founded in 2006 by ex-Microsoft executives Lloyd Frink and Rich Barton alongside their colleagues Spencer Rascoff, David Beitel, and Kristin Acker. Frink and Barton had also founded Expedia while working at Microsoft. Spencer Rascoff served as Zillow CEO for almost a decade, but Rich Barton returned to the company as CEO in 2019.
Zillow is among the most visited online companies in the United States. In May 2014, the company shattered all sorts of records when people viewed more than 480 million homes on its mobile app. As such, Zillow is considered one of the world's top real estate apps.
Today, Zillow has about 110 million home/property listings on its site. Despite the numerous listings, the Zillow website also boasts extra features to help streamline the process of buying a home. Features such as aerial views of homes, the estimated value of a home, fluctuation in a property's value over time, and so on are included on the website.