This is a look at the Twitch Logo and some History behind the Business
The Twitch logo has undergone two significant changes since 2009. In 2012, a more distinctive wordmark replaced the live streaming video platform's brand identity. And to make the logo even more memorable, a favicon was added to it.
History of Twitch Logo
Twitch.tv was founded as a separate gaming content section on Justin.tv. Twitch's founders, Justin Kan, Kyle Vogt, Emmet Shear, and Michael Seibel, opted to develop the gaming content as it was the most in-demand product.
When the founders launched the project, they used a wordmark symbol featuring the light grey inscription "Twitch." Because of the gradient, the symbol had some depth. The first "T" featured an extended end and owing, and the letter appeared to be lying lower than all the other glyphs. The "H" had the same effect, although it didn't lay low like the "T."
The emblem "TV" was next to the inscription, inside a 3-dimensional square with rounded corners symbolizing a TV screen. A deep grayish-green, which was, in fact, the most "colorful" part of the emblem, filled the box. The Twitch emblem was often placed above a dark grey background, making the metallic shade noticeable.
The Twitch Logo Evolution
Initially, the live streaming video service was launched as Justin.tv channel's platform. Therefore, when it was launched, it soon had an emblem featuring the inscription "TwitchTV." Its status then changed, along with the look of the decal. Overall, throughout the existence of Twitch, there have been three logo designs.
2011-2012
The first Twitch logo design had the inscription "Twitch" in light gray. It's a mixed-format—the majority of letters are in ALL CAPS while the "i" is in lowercase characters. The first letter, "T," has an extended leg, so it stretches beyond the margin and looks bigger than the rest of the letters. The same effect is used on "H," but the leg is relatively shorter than that of "T."
The "TV" icon is placed to the right side of the inscription, inside a round square that portrays the TV screen. The color displayed is dark gray.
2012-2019
Twitch changed its name in 2012, removing the part associated with TV. Twitch is now resourcefully centered around collaborative processes executed in real-time, providing customers with the ability to view and take part in gaming. NX World designed the updated logo.
The emblem portrays the company's name in the shape of a mix of graphics and text. These are big geometric symbols forming the word "Twitch." The emblem is made up of white lowercase characters with purple shadows.
While the letters "t," "c," and "w" featured a beveled bottom edge on the left, the letter "h" features a top-right corner. An unfamiliar shadow-like edge represents glitches or split picture and creates some sort of 3D effect.
2019-Present
Twitch's current logo is similar to the previous version. The only difference is that the letters have narrowed gaps, and the color is changed to light purple. The updated design was done by Collins Studio and was introduced in late September 2019.
The designers of the current Twitch logo pointed out that they planned to create a distinct font and make the style friendlier and add a bit of emotion to the graphics, which would draw users to the new brand identity.
The Twitch Logo Design Elements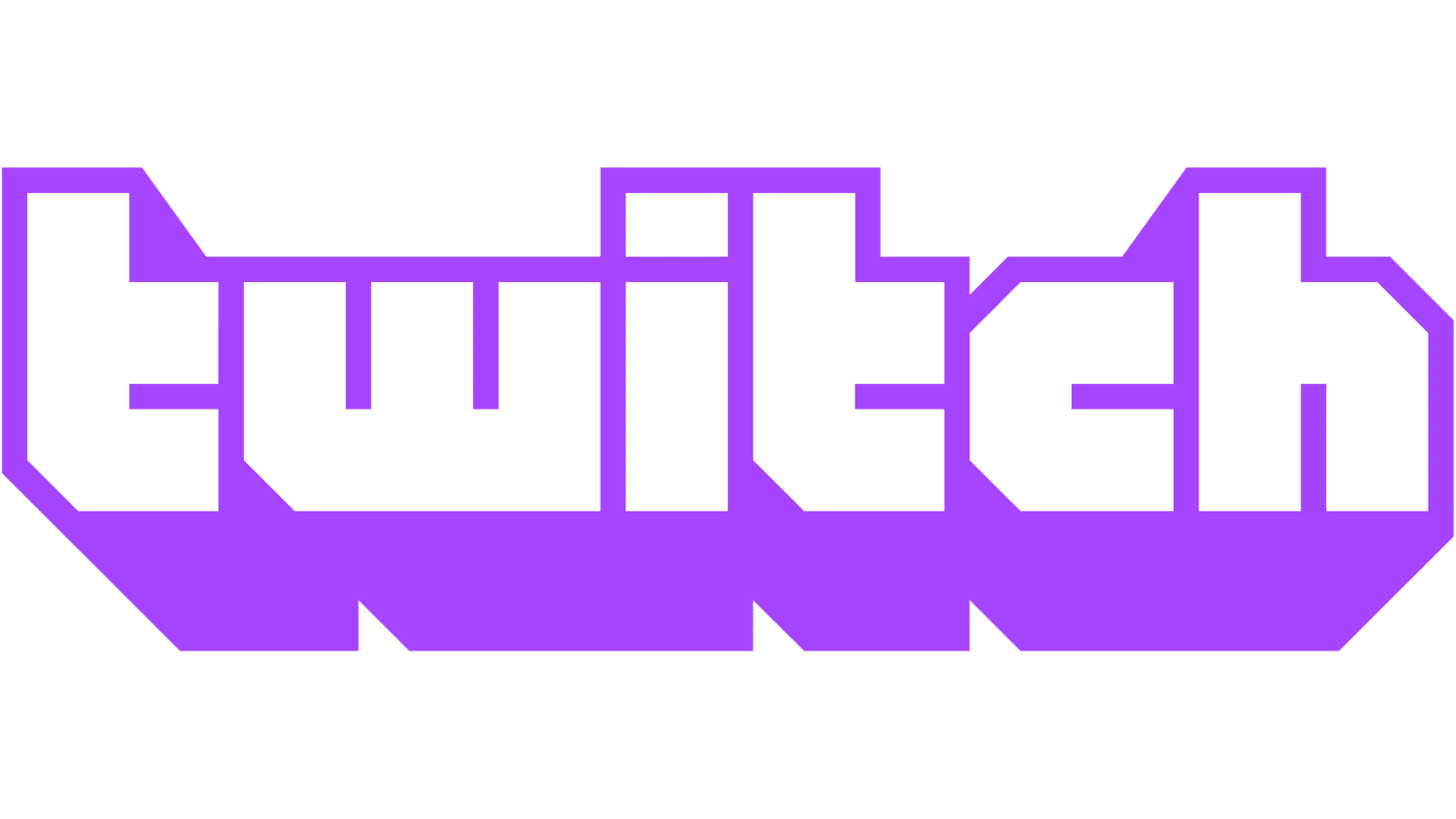 What is the Twitch Font? There are various fonts with similarities to the Twitch inscription. For example, the font known as Dimitri also features the unique "cut" angles as well the "t" missing half of the top bar. Also, there are lots of differences in how the glyphs are depicted, and in the entire design, customers can't even know for certain whether the logo creator had experience with this font type.
Twitch Logo Color: The Twitch logo color scheme is made up of a distinctive purple shade (Hex: #6441A4) against a white background.
Twitch symbol: The Twitch logo underwent a major update in 2012. The logo's shape and palette were changed, and even the brand name was slightly tweaked (the inscription "TV" vanished).  
The present logo is made up of two parts. First, there's an inscription, which is normally used as a separate logo. And then there's a little icon above the inscription. The inscription features the "twitch" text in white lowercase characters, with a purple silhouette creating a 3-dimensional effect.
Chatbox Twitch emblem: The "TV screen" in the first Twitch logo probably inspired the icon. Twitch claimed that it's the company's mascot named Glitch. On closer inspection, you'll probably conclude that the icon is a two-eyed chatbox.
The History of Twitch
When Twitch was founded in 2011, it came out as a new feature of Justin.tv, which was a live streaming service founded by Justin Kan in 2007 with a 24/7 stream of his activities. By 2020, Twitch was the one-stop-shop for video game content streaming online, boasting more than 9.7 million active streamers every month. 
On average, each Twitch user views 106 minutes of video game-related content daily. Audiences spend plenty of time interacting with the live streaming service, making Twitch a livestreaming giant and offering both influencers and marketers a massive opportunity.
With Twitch's focus on a sizable, engaged audience, as well as an evolving monetization structure, the company may not be a popular as YouTube, but its influence is enormous.
Early Twitch History 

When Justin Kan started streaming on his platform in 2007 (Justin.tv), Twitch was still several years away from its foundation. Co-founded by Justin Kan, Kyle Vogt, Emmet Shear, and Michael Seibel, Justin.tv started out as a service where users could air live streams and was introduced to the public in October 2007.
In some ways, Justin.tv came way before its time. In fact, it arrived during the infancy of Facebook and Twitter. Even for major social media platforms, live streaming is still in its infancy. Justin.tv was ahead in the live streaming world in 2007, and that was probably what led to the astronomical success of Twitch years later.
Justin.tv boasted various categories and gave users the ability to air a wide range of content, from events to live streams to how-to content. But it saw something special in the gaming fraternity on the service, and it created a gaming section on the website in 2011, naming it Twitch.tv.
Twitch and Justin.tv's parent company rebranded in 2014, becoming Twitch Interactive. The new company shut down Justin.tv to work on Twitch and the gaming live streaming fraternity.
Since Twitch's launch, the platform has established a Partner Program that allows streamers to make money from their streams, established corporate and publisher partnerships, launched TwitchCon (a primer Twitch tier) and introduced tens of features for streamers and viewers.
Now, Twitch gets more than 2 million different streamers every month and has registered more than 17,000 streamers in its partner program. Also, around half of Twitch users spend at least 20 hours on the platform each week.
Twitch has added new features, including Pulse—a kind of Twitter-Esque text of content, photos, and video from Twitch users—as well as a new purchase feature that'll let viewers purchase games directly via a streamer's channel.
How Does Twitch Work?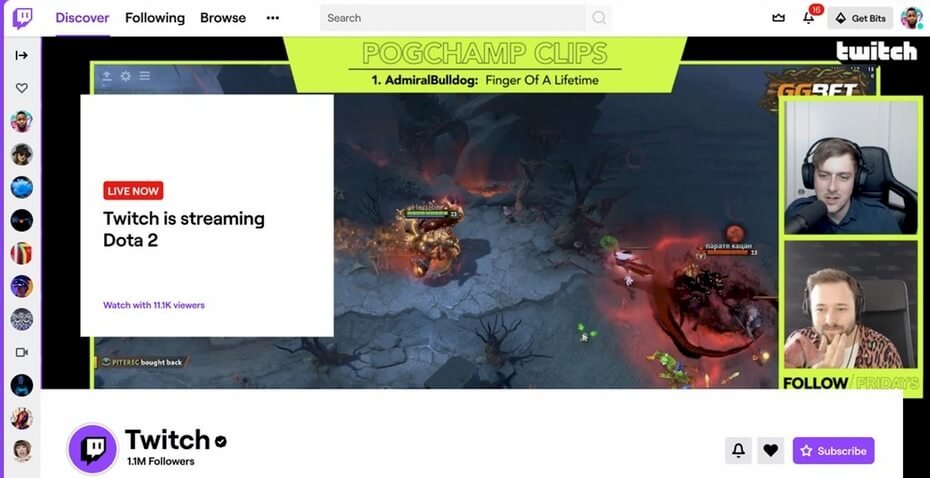 Most Twitch streamers create video game-related content of some sort. While you have opportunities to live stream things like music, painting, and illustration, games are the main focus of Twitch.
Many Twitch live streams feature players playing live games (typically with live footage of themselves in a corner) while interacting with their audiences via chat. That's usually the typical format of Twitch, but the service can also be used to air e-sports competitions and things like gaming talk shows.
Inside gaming, streamers serve dozens of markets and niche interests, whether it's a certain game such as League of Legends or Hero Zero Dawn, or a kind of gameplay like first playthroughs or speed-running.
Viewers watch Twitch streams for various reasons, but normally because one streamer either has a compelling personality while playing onscreen (e.g., by offering considered commentary, being humorous, or sparking conversation) or is particularly skilled.
Accessing Twitch
You don't need to register to view games on Twitch. To broadcast and chat, you need to register, and it's free of charge. The live interactive chatting capability makes Twitch a genuine social experience on the internet. Many broadcasters forge a personal relationship with their audience through live interactive chatting. In addition, broadcasters can always archive videos, storing them for viewing later.
You can access Twitch content through multiple mediums and devices, including personal computers, mobile devices, and gaming consoles. Twitch provides access through dedicated Twitch apps and a web browser. It also offers dedicated applications for better streaming of videos.
Also, Twitch offers an application programming interface and software development kit to integrate the live streaming platform with website, web applications, and game devices. For instance, with the Twitch application programming interface, many gamers can play a specific game by giving commands via chat. This leads to increased Twitch subscriptions and millions of page views.
How Twitch Makes Money
Twitch generates its revenue through subscription fees and advertising. Twitch offers a subscription to Turbo for $8.99 a month, which lets uses view Twitch content without ads and access other enhanced Twitch features.
Advertisers on Twitch include various gaming firms, game developers, game portals, and game tournament organizers with a highly targeted fan base that's basically addicted to gaming.
Twitch's revenue-sharing model with streamers is an amazing option that draws lots of talented video gamers into the platform. This ultimately increases revenue for the live streaming platform.
How Twitch Users Earn Money
Twitch users can submit applications to join the Partner Program, which allows them to receive a share of the subscription and advertisement revenue made by Twitch. You need approval to be accepted into the program, which includes meeting certain requirements such as having a specific number of broadcasts each week and having a specific number of viewers.
Twitch has also teamed up with game development firms that give outstanding gamers various rewards, including scholarships. The Twitch platform regularly hosts e-tournaments, which allows winning players to receive a variety of rewards.
Twitch also lets users take PayPal donations from fellow users, which they can get for sharing hacks, game tips, and cheats.
Twitch's Competitors
While Twitch still remains a top live streaming platform, it has its own fair share of competitors. Although there are numerous live streaming services out there, the most popular ones include Facebook Gaming, YouTube Gaming, and Mixer.
Twitch's Key Timelines
2006: Justin.tv, Twitch's parent company is founded.
2007: Justin.tv receives $8 million in its first serious venture capital funding.
2011: Justin.tv develops its gaming section named Twitch, which officially starts in public beta.
2011: Twitch introduces its Partner Program, where content creators get a share of the advertising revenue that their streams generate.
2013: Hitbox.tv, a live streaming service like Twitch is launched.
2014: Justin.tv Inc., Twitch's parent company, is rebranded Twitch Interactive, signifying the raised status of Twitch as the main business of the company.
2014: Google holds talks with Twitch Interactive about the potential acquisition of Twitch.
2014: Amazon acquires Twitch Interactive for $970 million.
2015: A French startup, Dailymotion, begins live streaming live video games.
2015: Twitch is allegedly hacked, causing the leakage of users' passwords.
2015: Twitch launches a private messaging platform known as Whispers, which lets users send private chats without exiting their present chat.
2015: YouTube rolls out YouTube Gaming, launching full streaming on YouTube.
2016: Twitch introduces a new feature known as "Friends."
Wrapping Up the History of Twitch
Many people have always watched gamers playing video games. Viewers would sit around the TV, watching gamers take on each other, or they'd visit the local casino to watch the gamers. Twitch brings that leisurely activity into the modern era by enabling users to Livestream video games to people wanting to view them.
There's more to Twitch than viewing a video game. As the action is live, watchers can engage with the gamer and help guide the content. Some viewers get the chance to take on broadcasters with the stream running on one screen and their game running on another. Twitch has evolved into a society that grows and thrives day after day.