Salesforce is one of the largest and most profitable cloud computing providers in the world, so it needs a logo that stands out on every platform, from promotional t-shirts to small phone screens. It took quite some time for the company to design an effective visual identity, but it was able to create one in 2014.
The Salesforce logo is primarily inspired by other major online-based companies. It definitely looks more like the Skype emblem, with its aqua blue, fizzing cloud shape featuring white sans serif wordmark inside it. The logo also has the same color as the Twitter and Vimeo logos.
While the Salesforce logo may not be the most unique of emblems, the choice of color helps make it look welcoming, friendly, trustworthy, and reliable.
While the Salesforce logo is simple, it's perfectly created to market the online company. The logo's weird cloud shape makes it recognizable even though it's minuscule, while the aqua blue is both gracious and trustworthy. This elegantly understated logo helps the company foster brand recognition while maintaining the focus on its original products.
The Salesforce Logo Evolution

The Salesforce platform has a very stable visual identity. Throughout the company's history, it has had just two emblems—the original one that was designed in 1999 and the current updated version designed in 2014. In terms of design, they're identical as they both have a cloud that features the "Salesforce" inscription within it.
1999-2014
The original Salesforce logo contained the company's name within a cloud, which looked almost real because of the 3D effect. The designers created a 3D effect with a radial oval gradient where colors flowed well from white (center) to aqua blue (around the margins).
Also, the thin outline around the cloud appeared three-dimensional thanks to the uneven color scheme—shadows and highlights created an impression of spatial presence.
Inside the cloud was the name of the cloud computing company written in lowercase characters. The word "Salesforce" was visually split into two halves. The left side had the "Sales" part in gray, while the right had the "force" part in black. In addition, the designers wrote the "f" in italic font; this letter looks like it delimits the two halves of the wordmark.
2014-Present
Fifteen years after Salesforce's founding, the company tweaked its logo slightly. While all elements stayed put in the same areas, they started to look different.
Now, the developers followed the principles of simplicity, which focus on two-dimensional graphics. Therefore, the gradient that created the 3D effect in the cloud was done away with. At the same time, too, the cloud lost its "convex" outline.
In addition, the font was simplified. A more well-defined sans serif font replaced the previous serif font. The new letters had a clear shape, although the lines remained smooth. The color scheme was also altered: now, the wordmark "Salesforce" is entirely white. This is another evidence of the brand's stylish simplicity.
The Salesforce Logo Design Elements
Symbol: Since Salesforce is a major player in the cloud computing world, its logo is aptly shaped. It resembles a lush cloud made up of six circles with different diameters.
Furthermore, the style of choice looks more like that of kids' drawing than contemporary computer graphics. The symbol was originally three-dimensional, but the company then ditched the 3D style in favor of a minimalist two-dimensional design.
Color: The original Salesforce logo design was rendered in various colors; while the cloud had a dramatic color shift from bright blue to white, the wordmark placed inside the cloud featured a gray-and-black color scheme.
The redesigned Salesforce logo of 2014 is easy on the eye as the designers decided to limit the color scheme to bright blue and white. As a result, the logo looks well-balanced and professional.
Font: The dominant font in the Salesforce logo closely resembles the Aller Regular font, while the "f' is the italicized variant of the same typeface. Aller Regular is a type of sans serif font that was created by Dalton Maag.
The History of Salesforce
Salesforce is one of the world's biggest software companies. Headquartered in San Francisco, the company reportedly earned $13.28 billion in revenues in 2019, becoming one of the world's biggest income earners in the software industry. That's no mean feat for a firm that's only been in existence for just over two decades.
So how did the company rise to become one of the top cloud-based software providers in the world? It's a fascinating story for everyone who wants to work for a software company or start their own software company.
Early History
Marc Benioff started Salesforce in 1990. At the time, Benioff was a sales manager at one of the world's largest software companies, Oracle.
Benioff founded Salesforce on one bold premise—that the masses should be able to access software 24 hours a day, seven days a week, through a worldwide computing infrastructure. Companies would no longer need to bring in costly software companies such as Oracle or SAP to set up individual computer systems inside their premises at an immense cost.
A prescient Benioff saw the future where any company in the world could purchase software programs outside of its own premises, at a lower price and equal or higher efficiency, and have everything safely stored on an outside cloud.
That singular idea was derided by the world's top software providers who never saw Salesforce as a threat to their business. But Benioff and Salesforce went on to become revolutionaries in the computing world. They made their critics eat humble pie by coming up with a single innovation—a customer relationship management platform—around one idea—creating products that companies could use on the cloud.
Benioff's idea had companies seeking software products and services to make it simpler and much more efficient for employees to use software whenever and however they saw fit. In particular, Salesforce's customer relationship management (CRM) software would be extremely affordable, easy to install, user-friendly. It would effortlessly assimilate with existing software systems and "run faster than lightning," according to Salesforce.
The Rise of Salesforce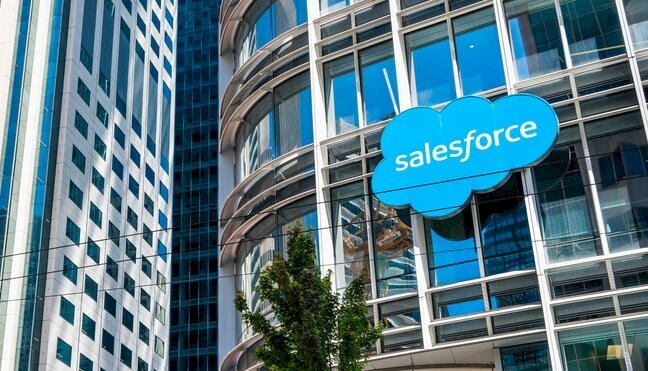 After launching Salesforce in typical Silicon Valley fashion, Benioff created his new company's blueprint in his tiny apartment in Telegraph Hill near the San Francisco city center.
He built the blueprint with three business associates, Dave Moellenhoff, Frank Dominquez, Parker Harris, Larry Ellison, Halsey Minor, and other investors providing the original funding. At the time, Ellison was the founder and CEO of Oracle, while Halsey Minor was the founder of CNET.
Salesforce took quite a while to get off the ground, but the firm turned the corner following its first Dreamforce annual convention in 2003, held at San Francisco's Westin Hotel, which pulled thousands of potential customers.
With the Salesforce brand name being widely recognized by numerous potential customers and investors, the company held an IPO in 2004, which helped raise $110 million. The company's stock price on the first day stood at $17.25 per share—currently, the company's stock price is at $203 a share.
Salesforce continued to grow, and by 2009, it had made over $1 billion in annual revenues, alongside a record 55,000 customers within ten years. Within two years, the company nearly doubled its customer base and grew in profile after Forbes declared it "the most innovative company in the world."
More growth was recorded in 2013 and 2014, along with more acquisitions. In 2013, Salesforce acquired ExactTarget's email service provider for $2.5 billion. ExactTarget later became The Marketing Cloud, its main product and service line, providing crucial software marketing automation systems and tools for its growing customers.
Shortly afterward, Salesforce expanded into six new industries worldwide, including the lucrative and high-profile life sciences and healthcare sector, further boosting its global brand. The company would soon successfully get its existing and new customers into its growing Health Cloud software environment.
Other cloud-based ventures followed, and Salesforce was recording annual revenues of $8.3 billion by 2017. In 2018, business was so good that Benioff and his management team moved Salesforce's operations to a skyscraper known as the Salesforce Tower that dominates the skyline in San Francisco. That year, revenues rose to $10.4 billion.
Salesforce would top that achievement off with its biggest-ever acquisition—a $6.5 billion stake in MuleSoft, a leading cloud computer-integration provider with major customers such as Coca-Cola, Unilever, and Barclays.
Salesforce's employees were happy as well. In fact, Fortune ranked Salesforce as one of the best firms to work at in America in 2018 and 2019.
In February 2020, Salesforce co-CEO Keith Block quit his role in the firm. Marc Benioff stayed put as both CEO and Chairman. In December that year, Salesforce announced that it'd buy Slack for $27.7 billion. It finalized the takeover in July 2021.
In February 2021, it was announced that Salesforce chief financial officer Mark Hawkins would be resigning after working for the company for over six years; however, he would remain as honorary CFO until October. The company appointed Amy Weaver as his replacement.
Salesforce's Lows
Salesforce has gone through highs and lows throughout its history like any other company.
In 2007, an email phishing attack struck Salesforce, leading to cyber criminals accessing the contact details of Salesforce customers. It was reported that one of the company's salespersons had unintentionally provided log-in details to a cyber thief.
In 2019, Salesforce found itself in hot soup on the cultural and tax fronts. That year, Salesforce was reported as one of numerous Fortune 500 firms that effectively paid a 0% US tax rate or less, although it did so lawfully.
Still, in 2019, 50 women filed a civil lawsuit against Salesforce, accusing a Salesforce client, Backpage.com, of facilitating rape, abuse, and sex trafficking with the company's full knowledge. In late 2019, a judge dismissed the lawsuit, and Salesforce was cleared.
Salesforce Today and Into the Future
By 2020, Salesforce was one of the world's most popular computer software companies, with a $156 billion market capitalization as well as an estimated stock price of $203 a share.
Many well-informed investors cite Salesforce as a big growth stock, with an overwhelming majority of technology industry analysts calling the CRM either an "investment" or "overweight," according to a 2010 research report by FactSet.com.
That's quite an impressive point of view for a business that was once ridiculed as a "picnic ant."
But Salesforce is a top dog today. In the world of cloud computing, it helped establish and has bossed it for the last two decades.
Wrapping Up the History of Salesforce
Salesforce is a US cloud-based software provider headquartered in the Salesforce Tower, San Francisco, California. The company offers customer relationship management software service as well as enterprise applications centered around customer service, application development, analytics, and market automation.
Salesforce was founded in February 1999 by ex-Oracle sales executive Marc Benioff, alongside Frank Dominguez, Dave Moellenhoff, and Parker Harris as a Software as a Service (SaaS) provider and was publicly launched from September to November 1999.
Salesforce has a regional head office in Morges, Switzerland (serving Europe, Africa, the Middle East, and Singapore), India (serving Asia Pacific except for Japan), and Tokyo (serving Japan). Other notable Salesforce offices are in Chicago, Toronto, New York, San Mateo, London, Sydney, Dublin, Hyderabad, Indianapolis, Vancouver, and Hillsboro, Oregon.
The company's services have been translated into 16 various languages, and it had more than 2.1 million subscribers and 104,000 customers by the end of July 2011. In 2017, Salesforce shifted its Midwest regional base to Indianapolis.
In June 2014, Salesforce held its IPO on the NYSE and raised $110 million under the CRM stock symbol. Early investors include Halsey Minor, Larry Ellison, Magdalena Yesil, Mark Iscaro, Stewart Henderson, and Igor Sill, one of the founders of Geneva Venture Partners.
Salesforce continues to lead the way in SaaS innovation today and into the future. Between 2006 and 2019, Salesforce acquired no fewer than 52 companies, changing many of them to become key products in the company's suite.
The company continues to make significant acquisitions even today. It has branched out to horizontal markets such as e-commerce thanks to its acquisition of Demandware, a firm that offers B2C enterprise cloud software solutions for retail stores.