Let's get an insight into the Berkshire Hathaway logo and some history behind the company.
The Berkshire Hathaway logo was unveiled in 1939. And since then, it has remained unchanged. It's a dark blue logotype with a neutral background. By using New Times Roman, the wordmark is modest and legible from any distance. Also, its color choice emphasizes a sense of loyalty.
The logo represents one of the most successful investment firms worldwide. And it's led by Warren Buffett, the iconic investor nicknamed—the Oracle of Omaha. Though the company began as a textile-making brand, it started focusing on insurance and other investments.
Over the years, it has invested in rail transport, energy, and retailing, to mention a few. Berkshire Hathaway controls about sixty companies. Also, it has invested in other major publicly traded brands. Here, you can name Apple, Coca-Cola, and American Express, among others.
Berkshire has its head office in Omaha, Nebraska. Also, it has a global presence with over 360,000 workers. Today, Warren Buffett still doubled as CEO and chairperson of the company.
Berkshire Hathaway Logo Evolution

The Berkshire Hathaway logo is almost 183 years old. And for over eighteen decades, it has kept a modest logotype with no update. Because of keeping the same identity, the brand has become timeless. In addition, it has become trustworthy and highly recognizable worldwide.
Now, let's explore it.
1839—Present:
The Berkshire Hathaway logo may look basic. However, it evokes the spirit of professionalism. The logo features only the brand's name in dark blue. And it's written in capital letters in a retro font style. Yet, its letter—B and H are slightly bigger than the rest. Overall, the logo looks traditional, serious, and reliable. These values represent the company's philosophy.
Alternatively, there's a second emblem that represents Berkshire Hathaway Home Services. It's a roundel logo comprising the letters—BHHS and its name. The designer encircled the brand's name around the initials to add a bit of creativity. Also, you'll find the company's name below the emblem. Finally, the logo comes in a white and purple color scheme.
Berkshire Hathaway Logo Design Elements


The Berkshire Hathaway logo has only two elements to convey seriousness and nothing else. So, you'll see letterings and a dark blue color. Though it may look ordinary to people, it's still effective. It's clean, readable, and scalable, meeting the basic traits of a good logo. But the emblem representing the Berkshire Hathaway Home Services has a circle and texts.
Now, let's study these graphic elements one at a time.
Berkshire Hathaway Logo Shape And Symbols
1. A Circle:
A circle marks the personality of the Berkshire Hathaway Home Services logo. Most people regard it as a universal, sacred, and divine shape with various emotions. So, in most cases, it signifies inclusiveness, wholeness, and unity. Again, it can mean eternity and perfection.
Berkshire Hathaway Logo Colors
1. A White Color:
The Berkshire Hathaway logo uses a white color. And depending on the medium, it can feature either the background or the other elements. White, the color of snow, symbolizes safety, cleanliness, and purity. Also, it evokes the feeling of trust, humility, and possibility. White is a well-chosen color for the investment company, emphasizing its ideals.
2. A Blue Color:
Blue is the next color. It's another suitable color for the Berkshire Hathaway brand. Amazingly, most investment brands favored the color of the ocean. It's associated with freedom, loyalty, and inspiration. Again, blue signifies confidence, stability, and intelligence.
3. A Purple Color:
The energies of blue and red result in the purple color. Therefore, it carries their emotions. People associate purple with power, luxury, and royalty in most cultures. Also, it represents wealth, dignity, and wisdom. However, it can also convey sadness and frustrations. Overall, purple is a sacred color that aligns people with the planet and its elements.
What Font Is the Berkshire Hathaway Logo?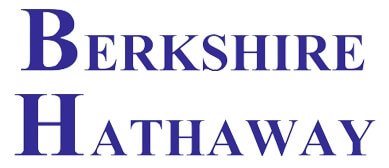 Times New Roman rules the generic personality of the Berkshire Hathaway logo. It's a serif typeface designed by Stanley Morison and Victor Lardent. In 1931, The Times, a British newspaper, commissioned it. In addition, Monotype, an American digital typesetting and typeface designer, published it. It's a clean, classic, and readable font.
Does Berkshire Hathaway Have A Logo?
Berkshire Hathaway has a simple yet influential logo: A minimalist wordmark written in New Times Roman font. The dark blue logotype sits on a neutral white background. It's clean, readable, consistent, and memorable.
What Is Berkshire Hathaway Slogan?
In 2014, Berkshire Hathaway Home Services was launched. It's a national real estate franchise with a tie to Warren Buffett. Then, in the year's last quarter, the company unveiled its marketing campaign with the tagline—Good to Know. And it was on TV and newspaper advertisements. Interestingly, the slogan references the brand's approval from Warren Buffett, a trusted investor.
What Is Berkshire Hathaway Named After?
Though, today, Berkshire is an investment company. It traces its name to a textile manufacturing firm formed in 1839. The company, founded by Oliver Chace, was based in Valley Falls, Rhode Island. Then, in 1964, Warren Buffett purchased it, sticking with the name.
Who Owns Most of Berkshire Hathaway?
Warren Buffett is well-known to be the owner, chairperson, and CEO of the company. But other top investors are also profiting from Berkshire Hathaway. You can name The Vanguard Group, SSgA Fund Management, BlackRock Fund Advisors, and Bill & Melinda Gates Foundation. Again, others include Geode Capital Management, Norges Bank Investment Management, etc.
What Are Berkshire Hathaway's Colors?
Berkshire Hathaway has three official colors. These are white, dark blue, and purple. Together, these colors signify the brand's values. And these include loyalty, simplicity, and reliability. Again, they convey the spirit of nobility, safety, and humility.
How Did Warren Buffett Get Rich?
So you want to know how the man nicknamed—the Oracle of Omaha became wealthy? As a teen, he started by reading business books and selling goods. For instance, he sold chewing gum, stamps, Coca-Cola bottles, magazines, and newspapers, to name a few.
At about eleven years, he bought his first stock in an oil company. Interestingly, at $38 per share, he bought three. Then, he sold the stock at $40 per share, making $6 in profit. However, he learned the power of patience when the same stock rose to $200 per share later.
Warren Buffett invested $1,200 in a 40-acre Nebraska farm when he was fifteen. He raised this amount by delivering newspapers for the Washington Post. He educated himself by attending universities and reading more business books to deepen his business knowledge.
After gaining some practical business skills, Buffett started his investment company. He financed the company by raising funds from relatives and loved ones. In addition, Warren invested $100. He continued his investments, eventually taking ownership of Berkshire Hathaway.
By 1985, Warren had turned Berkshire Hathaway into a holding firm. Today, this multinational conglomerate makes him billions in revenue and profit. Therefore, he has become one of the most successful investors, controlling about sixty companies via Berkshire Hathaway.
Why Does Berkshire Have Two Stocks?
Berkshire Hathaway has two stock options—Class A and B. This gives many investors the flexibility to choose the stock that aligns with their risk tolerance. Between the two stocks, price is one major difference. While the Class A stock is premium priced, the Class B is moderate.
Originally, the company offered a single class of stock. And it was highly-priced to attract like-minded investors with a long-term focus. However, in the year 1996, the company issued Class B to meet the demand for a lower-priced stock. So, they offered 517,500 Class B shares to the public.
Compared to the Class A stock, the Class B comes with lower voting rights. But, again, you can't convert a Class B share into Class A. To do that, you must sell it and then buy the Class A stock. Yet, on the flip side, the Class A stock is easily convertible into a Class B stock.
Who Is Warren Buffett?
Warren Buffett is an American entrepreneur, investor, and philanthropist. On August 30, 1930, Howard and Leila Buffett gave birth to him in Omaha, Nebraska. He attended Rose Hill Elementary School and Alice Deal Junior High School.
Then later, he graduated from Woodrow Wilson High School. As a young man, he developed a keen interest in business and investment. So at seven, he borrowed the book—One Thousand Ways to Make $1000 from the Omaha public library.
Interestingly, this book inspired him to love entrepreneurship. And some of his earliest businesses include selling chewing gums, Coca-Cola bottles, magazines, and newspapers. Also, he once worked in his grandfather's grocery store.
In 1947, Warren enrolled at the Wharton School of the University of Pennsylvania. However, he transferred to the University of Nebraska, where he graduated finally. Also, Warren is a graduate of the Columbia Business School. In 1951, he earned his Master of Science in Economics there.
Again, Warren developed his investment ideology around value investing, a concept pioneered by Benjamin Graham. After his master's at this prestigious school, he also attended and graduated from the New York Institute of Finance.
His professional career began in 1951, working at Buffett-Falk & Co. He worked as an investment salesperson until 1954. Then, from 1954 to 1956, he worked as a securities analyst at Graham-New Corp. Also, he worked as a general partner at Buffett Partnership until 1969.
In 1965, Warren took over Berkshire Hathaway, a textile manufacturing company. Then, at a board meeting, he named Ken Chace, the firm's new president. However, he shut down the partnership in 1966, focusing on insurance and other investments.
Then finally, in 1970, he became the chairperson and CEO of Berkshire Hathaway, Inc. Under his leadership, the company has grown into an empire, expanding into several businesses. As of March 2022, Warren Buffett is worth $117 billion, thanks to Berkshire Hathaway.
Today, he ranks as the world's sixth-richest person. In 1952, Warren Buffett married Susan Thompson at the Dundee Presbyterian Church. Then, they welcomed Susan Alice Buffett, their first child, the following year. Howard Graham Buffett and Peter Buffett then followed later.
Sadly, his wife died in 2004, allowing him to marry Astrid Menks two years later.
What Is the History of Berkshire Hathaway?

Berkshire Hathaway, Inc. is an American multinational holding company. Primarily, it serves as Warren Buffett's investment vehicle. It has its head office in Omaha, Nebraska. Today, the company owns several iconic brands across different industries.
And notable mentions are BNSF, Dairy Queen, Duracell, GEICO, Fruit of the Loom, and NetJets. Berkshire Hathaway's history began with two textile firms: Hathaway Manufacturing Company and Berkshire Cotton Manufacturing Company.
In 1955, Berkshire Cotton, which had become Berkshire Fine Spinning Associates, merged with Hathaway Manufacturing Company to form Berkshire Hathaway, Inc. The new company had 15 plants, $120 million in revenue, and over 12,000 employees.
In 1962, an investment group led by Warren Buffett started buying stocks in Berkshire Hathaway. Eventually, in 1965, they took over the control of the company. Then, in 1985, they finally closed down their textile operations, focusing on insurance and other investments.
The National Indemnity Company was the first insurance company bought by Berkshire Hathaway. Then, the National Fire & Marine Insurance Company followed. Berkshire bought these two companies in 1967. Also, it added GEICO in 1996 and General Reinsurance in 1998.
Buffett and his associates follow a systematic plan. They identify shares in undervalued companies, acquire most of them, and make them autonomous. They have bought several brands with this strategy, diversifying Berkshire Hathaway's portfolio.
However, besides taking control of businesses, Berkshire Hathaway has shares in other brands it doesn't control. For instance, it has invested in Apple, American Express, Bank of America, Coca-Cola, etc. Warren Buffett remains its chairperson and CEO.
The company has two classes of shares—Class A and B. Class A is pricey, and it's directed towards investors with long-term investment goals. However, Class B is aimed at investors who can't afford the premium shares but are interested in investing in Berkshire Hathaway.
Today, Berkshire Hathaway has over 360,000 working staff and revenue of about $268 billion as of 2021. And among the Fortune 500 companies, Fortune ranks it at number six.
Who Is the Richest Stock Investor?
Daily, the stock market attracts a myriad of people globally. And there are several reasons people take part in the stock market. Interestingly, chief among these reasons is becoming rich. Well, it has made and continues to make participants wealthy.
Now, Warren Buffett is the most successful and richest stock investor alive. He started investing as a teenager, becoming a millionaire at 30. Today, he is a billionaire with a net worth of about $117 billion. Also, Carl Icahn, Jim Simons, George Soros, and Steve Cohen are a few examples.
However, despite these people making huge money from the stock market, it comes with some element of risk. Therefore, acquire some training before participating in it.
Final Words On the Berkshire Hathaway Logo And Its History
Berkshire Hathaway originated from the merger of two textile firms in 1955. And they were Hathaway Manufacturing Company and Berkshire Cotton Manufacturing Company. Then, ten years later, Warren Buffett bought the company's majority shares.
However, realizing the decline in the textile market, he made a smart move. Gradually, he expanded into insurance and other lucrative businesses. Finally, in 1985, he discontinued the company's textile operations, establishing Berkshire Hathaway as a holding company.
Today, the company controls about six companies. And these brands cut across several industries. For instance, it's into retail, transportation, media, real estate, etc. Besides these investments, Berkshire holds shares in other companies like Apple, Coca-Cola, etc.
Initially, Berkshire Hathaway offered a single class of shares. However, the demand for lower shares created a second one. So, it began offering two classes of shares—Class A and B. Interestingly, in the US investing history, Berkshire Hathaway offers the most expensive stock.
Finally, though the Berkshire Hathaway logo may look ordinary, it's clean and recognizable.