The Rolling Stones' "Tongue-and-Lips" or "Big Red Mouth" logo is definitely one of the most widely recognized and iconic symbols on the planet. The Rolling Stone logo was designed by the renowned British art designer John Pasche in 1971, reportedly for £50. 
Pasche has bagged many awards for this trailblazing project, and the Rolling Stones band was very pleased with his work that they handed him an extra £200 some years later. When Pasche auctioned the original design in 2006, he earned a huge amount of money, reportedly £400,000.
The Rolling Stones emblem was actually designed in tribute to the Hindu goddess of energy and empowerment, Kali. The red and black tongue-and-lips emblem typified rock 'n' roll's power of free articulation and the awesome raw energy it portrays. The logo firmly resembles Mick Jagger's iconic lips and his fiery mouth.
The products featuring the "Big Red Mouth" are also incredibly well-respected and well-liked, and the Rolling Stones iconic logo features on almost anything you can buy, including caps, t-shirts, wallets, posters, bags, and various other merchandise.
History of the Rolling Stones Logo

The iconic Rolling Stones "Big Red Mouth" is UK's favorite t-shirt design. So, who designed it?
When it comes to commercial branding, the Rolling Stones logo is unbeatable. For 50 years, the wide-open mouth and tongue insignia has embodied the world's number one rock 'n' roll band. A 2018 poll named the iconic 1970s logo as the most classic t-shirt design ever.
When you come across it, you can expect rock, riffs, and something quite risqué. The Rolling Stones emblem has featured on everything from baseball caps to t-shirts to silk ties.
The tongue-and-lips is, of course, inspired by the famous face of Stones lead vocalist Mick Jagger, right? Well, not really!
In 1970, John Pasche was an art student at London's Royal College of Art. A call came in seeking an artist to create a poster for the Rolling Stones tour. Jagger was aware of Pasche's designs that year and gave him the gig.
Happy with Pasche's work, Jagger hired him to design an emblem for the new company named Rolling Stones Records. The company was preparing to release Stones' work after they had ditched their first company Decca.
At first, the project was for a symbol or logo which could feature on notepaper, used as a press book cover, and as a program cover.
Jagger was inspired by a newspaper cutting he'd seen that had the Indian goddess of energy and empowerment Kali, with a sharp tongue hanging down. According to Hindu mythology, Kali embodies time and death but is a strong feminine figure as well.
The design originally appeared on the Sticky Fingers album in April 1971. It's been in use ever since.
Pasche believes that the design has remained timeless because it's a universal statement. Put simply, sticking your tongue out at something is extremely anti-authority, basically a protest. Various generations have taken that up.
Rolling Stones Logo Design Elements
Logo Shape: It's safe to assume that the "tongue-and-lips" symbol represents Mick Jagger's defiant and fiery mouth. It's originally a nod to the Indian goddess of eternal energy Kali and exalts rock 'n' roll's power of free communication. The Rolling Stones icon sets itself apart from other rock band symbols due to its uniqueness, jollity, and the manner in which it brings about certain emotions when listening to rock 'n' roll music.

Logo Font: The Rolling Stones logo is unique because it's never used a font with the words "Rolling Stones." The band says that the mouth alone is powerful enough to express the strong message to its followers and fans. Even after 50 years, the Stones logo stands out as a very attractive and popular symbol of rock 'n' roll for fans worldwide. It's definitely one of the most recognizable and popular logos of all time.
Logo Color: The Rolling Stones red mouth logo portrays a sensuous look and gives an audacious touch. It embodies the passion that's contained in the band's compositions. 
The History of the Rolling Stones
The Rolling Stones is a British rock 'n' roll band established in 1962, influenced by American R & R&B artists such as Fats Domino, Chuck Berry, and Little Richard, plus jazz composer Miles Davis. But the Rolling Stones finally created a sound of their own by writing R&B combined with rock 'n' roll and experimenting with instruments.
When the Beatles shot to international prominence in 1963, hot on their heels were the Rolling Stones. While the Beatles were referred to as the nice-guy band (inspiring pop-rock), the opposite was the case with the Rolling Stones. They were referred to as the bad-guy band (inspiring hard rock, blues-rock, and grunge bands).
Key Friendships
Mick Jagger and Keith Richards were classmates in the early 1950s in Kent until Jagger left for another school.
Almost ten years later, they rekindled their friendship after a chance meeting in 1960. While Richards was going back to Sidcup Art School, where was learning graphic art, Jagger was commuting to the London School of Economics, in which he was learning accounting.
Finding the Music
Jagger had two Muddy Waters and Chuck Berry tracks in his possession when they met, so the talk naturally turned to music. The pair found out that since age 14, Richards had been strumming the guitar while Jagger had been crooning teen "heartbreak" songs in London's underground clubs.
The two young lads rekindled their friendship, founding a company that's kept the band together for decades. Seeking an outlet to give their musical talent a go, Jagger and Richards and another young singer called Brian Jones started to play in the Blues Incorporated band from time to time. Blues Incorporated was the first electric rhythm and blues band in the UK, formed in 1961 by Alexis Korner.
The band welcomed up-and-coming young musicians interested in R&B, letting them make cameo appearances. In one of their cameo performances, Jagger and Richards came across Charlie Watts, who played the drum for Blues Incorporated.
Establishing the Rolling Stones
Soon, Brian Jones opted to establish a band of his own. To get started, he placed an ad in Jazz News in May of 1962, inviting aspiring musicians for an audition to join the newly formed R&B group. The first person to join the group was pianist Ian Stewart. Then Jagger, Richards, drummer Tony Chapman, and bass guitarist Dick Taylor followed suit.
According to Richards, the band was named by Jones while on a call trying to secure a gig. When asked for a name for the band, Jones saw a track dubbed "Rollin' Stone Blues" in a Muddy Waters album and named the band "Rollin' Stones."
The newly-formed band, dubbed Rollin' Stones and headed by Jones, performed for the first time at Marquee Club, London, in July of 1962. The band soon found a home at Crawdaddy Club, attracting younger audiences who wanted something fresh and exhilarating.
This new music, a rebirth of blues played by young British singers, had youngsters standing on tables, dancing, rocking, and hollering to the hum of electric guitars played by a provocative singer.
In December 1962, Bill Wyman (backing vocals, bass guitar) joined Rollin' Stones in place of Dick Taylor, who returned to college. While Wyman wasn't the band's first choice, he had one thing going for him—an amplifier that the band wanted. Drummer Charlie Watts joined the next January, in place of Tony Chapman, who joined another band.
Rolling into America

By early 1964, the Rolling Stones had become too big to restrict themselves to clubs. Therefore, they embarked on a tour of Britain. In June 1964, they rolled into the United States to perform at concerts as well as record at Hollywood RCA Studios and Chicago's Chess Studios, where they got the lively, earthy sound they wanted thanks to better sound quality. 
Their U.S. gig in San Bernardino, CA, was warmly received by screaming schoolgirls and excited schoolboys, even without a notable hit song in America. But the Midwest gigs weren't successful since nobody had heard of the band. Crowds improved once again at a concert in New York.
Once back home in England, the Rolling Stones unveiled their fourth single, "It's All Over Now" by Bobby Womack, which they'd recorded at Chess Studios in America. Soon, a fanatical Rolling Stones cult started to form thanks to the song topping the UK music charts. This was their first-ever number one hit.
Jagger and Richards Begin Writing Songs
Jagger and Richards were urged to start writing songs of their own, but the duo realized that composing blues was more difficult than it appeared. Instead, they wound up writing a morphed blues-rock version, a blues hybrid with a heavier tune than improvisation.
In October 1964, the Rolling Stones toured America for the second time and performed on a TV show named Ed Sullivan. Still, in October, they featured in the concert movie the T.A.M.I Show with the Supremes, James Brown, the Beach Boys, and Chuck Berry.
The tour significantly improved their exposure in America and Jagger started to mimic James Brown's moves.
The Stones Mega-Hit

In 1965, the Rolling Stones released their mega-hit "Satisfaction," which topped the music charts worldwide, with Richards' fuzz-guitar melody designed to mimic the chime of a part of the horn. Their musical stance, a mixture of defiance and reverence using tribal drums, urgent guitars, forceful harmonicas, as well as sexually tensed vocals alarmed the old but seduced the young.
The following year, the Rolling Stones got another chart-topping track, "Paint it Black," and started to cement their rock-star eminence. While Brian Jones was the one who founded the band, the reigns shifted to Richards and Jagger once they'd proven to be a formidable songwriting duo.
The Rolling Stones Tread Water in the 1970s through to the 1990s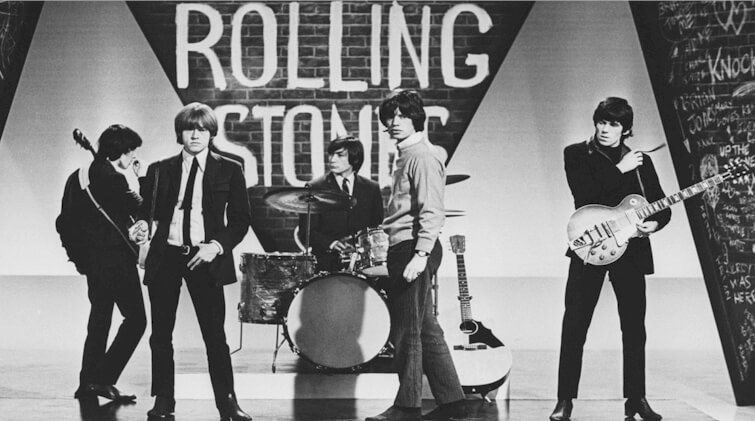 By the beginning of the 1970s, the Stones were an infamous band, exiled from the UK in 1971 for failure to pay their taxes and banned from entering many countries. The band axed its manager Allen Klein and launched their own music label named Rolling Stones Records Inc.
The Stones continued to compose and record music, adding in disco and punk genres inspired by Ron Woods, a new band member. Richards was apprehended for heroin trafficking in Toronto, resulting in an 18-month legal limbo. He was then sentenced to perform for the blind. And then he quit heroin.
At the beginning of the 1980s, the Rolling Stones tried out the new-wave genre of music, but band members started to go it alone because of creative differences. Richards wanted to continue with blues, while Jagger wanted to keep trying out contemporary sounds.
In 1985, Ian Stewart died of a heart attack. In the late 80s, the band reckoned that they were better together. They decided to come back together and unveiled a new album. In 1989, the Stones were named one of the most popular rock 'n' roll bands in America.
Bill Wyman retired in 1993. In 1995, Voodoo Lounge album by the Rolling Stones won a Grammy for the Best Rock Album and set off a global tour. Richards and Jagger said that their slide in the 1980s led to their triumph in the 1990s. They believe that if they'd stuck together, they'd have split up.
The Stones Continue Rolling into the 21st Century
Throughout their history, the popularity of the Rolling Stones has waxed and waned. While members of the band are now well into their 60s and 70s in the 21st century, they still record, perform, and tour.
In 2003, Jagger became Sir Michael Jagger, triggering another spat with Richards, especially because the band's message has forever been anti-establishment. Also, there was a public uproar over whether it was appropriate to knight a former tax exile.
Documentaries about the band's remarkably long and eventful career encapsulate the counterculture movement, with the band flamboyantly entertaining live audiences and perfecting the art of recording music.
The band's "lips-and-tongue" or "big red mouth" symbol, designed in 1971 by John Pasche (symbolizing their anti-establishment message), remains one of the most recognizable band logos in the world.
Final Thoughts
The Rolling Stones logo and the band is quite simply one of the greatest and most popular rock and roll bands ever. It was established in 1962 when harmonica player and guitarist Brian Jones, vocalist Mick Jagger, pianist Ian Stewart, guitarist Keith Richards, drummer Charlie Watts, and bassist Bill Wyman teamed up with the aim of producing some exciting music.
The Stones have an iconic reputation as one of the most adored touring bands in the world. They have regularly performed at sports arenas and made record ticket sales, helping them attract record corporate sponsorships.
As such, the band has accumulated massive fame and wealth. The Rolling Stones will forever be remembered for hits like "Satisfaction," "Brown Sugar," "Paint it Black," "Gimme Shelter," and "Sympathy for the Devil."