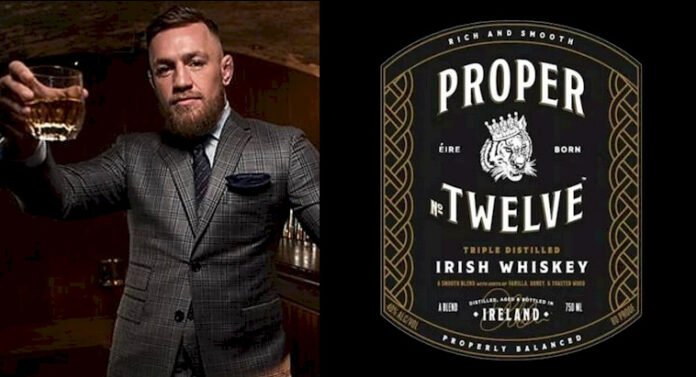 Let's get an insight into the Proper Twelve logo and some history behind the Irish whiskey.
McGregor launched Proper Twelve in 2018. Also, the logo escorted it in the same year. This trademark has both letterings and a symbol. So, the Proper Twelve logo comprises the brand's name, its origin, and a fearsome head of a tiger above its wordmark.  
Besides this design, there's another label. This brand identity has the tigers head between the two words: proper and twelve. Often, it carries the personality of the bottle housing the liquor. The tigers logo is the visual diplomat of Proper Twelve whiskey.
This spirited beverage is a mixture of golden grain and malt. Additionally, it has a blend of honey, vanilla, and toasted wood. Inspired by his love for country and whiskey, McGregor produced Proper Twelve. He did this in partnership with David Elder, a master distiller.
Before settling on the current taste, the former Guinness distiller and McGregor sampled about a hundred blends. Then, McGregor chose a special name to elevate his hometown's name. It reads—Proper Twelve, referencing the area code of his birthplace.
That's Crumlin, Dublin in Ireland. Further, Ireland is a place of whiskey. So, using "Proper" shows McGregor's liquor is the ultimate best. Eire Born Spirits produces this plain brown whiskey, which resonates with the founder's high standards.
Today, Proper Number Twelve is one of the most successful whiskey brands globally.
Proper Twelve Logo Evolution
Since it began, the Proper Twelve logo hasn't changed. This may be because it's extremely young or the owners like it. Yet, some critics think it's boring and generic. Again, these critics believe the logo doesn't reflect the personality of its founder, Conor McGregor. If the managers listen to these comments, you can expect some updates in the future. But, until then, the brand's stakeholders see nothing wrong with their visual diplomat.
2018 – Present:
The Proper Twelve logo comes in black and white. It comprises a wordmark inside two horizontal lines. Also, you'll see a tigers head above the line, dividing it into two parts. The tigers head features a fluffy mane, wild whiskers, and a crown. Again, it has Irish whiskey below the second line in uppercase letters. Finally, it features the abbreviation—No. besides the letter—Twelve. Overall, the logo is bold, readable, and mysterious.  
Proper Twelve Logo Design Elements
The Proper Twelve logo is clean. This results from the required use of design elements. Without going overboard, the designer chose a line, neutral colors, letters, and an icon. Blending these graphic elements, he created an emblem that's courageous. Now, let's study them further.
Proper Twelve Logo Shape And Symbols
1.      A Tiger:

The Proper Twelve logo features a tigers head. It's the only symbol on the trademark. Many regard this wild beast as the king of the jungle. So, it symbolizes courage, royalty, and majesty. Again, it represents loyalty, strength, and fearlessness, giving the brand a mighty look.
2. A-Line:
Lines carry both physical and spiritual meanings. And though there are different types, the Proper Twelve logo settled on two horizontal ones. Moving from left to right, these lines signify distances, stability, and width of objects. They also show calmness, emotion, and motion.
3. A Crown:
A crown is a mark of rulership. So, the tiger with a crown on the logo confirms the fighter's ring supremacy. It highlights McGregor's intent of being the king of the octagon. Also, a crown signifies power, authority, and dominance. More so, it symbolizes royalty, wealth, and glory.
Proper Number Twelve Logo Colors
1. A Black Color:
Black is the next color after the white color. This color of darkness mystifies, seduces, and intimidates people. It marks both the letters and the king of beasts. Its positive symbolism includes power, elegance, and wealth. In contrast, it signifies fear and sadness.
2. A White Color:
White is one of the two colors carrying the values of the trademark. Therefore, it serves as the background color of the logo. Regarded as the color of heaven, white symbolizes safety and illumination. Also, it signifies the spirit of perfection, humility, and cleanliness.
Why Is Proper Twelve So Popular?

Proper Twelve whiskey is a mixture of the finest golden grain and single malt. It's made from the oldest distillery site, which is noted for its pure spring water and rich soil. For less than four years, the brand has grown in popularity. So some people wonder about the secrets behind its growth.
Surely, some factors are driving the success of the brand. First, you can think of the personality behind it. Conor McGregor, the co-founder of the brand, is a celebrated fighter. On June 14, 2017, he took the chance to hint at his upcoming whiskey named—Notorious Irish Whiskey.
He did this after co-starring in one of the largest pay-per-view events. It was the second selling event in American Sporting history. Though the product was launched a year later, it created expectations among the millions of fans who watched across the world.
Second, the controversial fighter has massive social media followers. He promotes his spirited brand to about 50 million fans across his social handles. On his feed, the bottle of Proper Twelve has a tremendous presence. So, it's no surprise the brand is enjoying amazing publicity.
Again, in October 2018, he enjoyed a staggering promotion during the build-up to UFC 229. The event attracted 2.4 million pay-per-viewers, becoming the most-watched event in sports history. Interestingly, it confirmed his earlier sign of unveiling a whiskey brand.
Finally, his press conferences during this event heightened fans' curiosity for the flavored drink.
What Is The Meaning Behind Proper Twelve?
To some people, the liquor's name sounds strange. Yet, there is a profound meaning behind it. The founder, McGregor, chose the name to honor his hometown. As an Irishman, he grew up in Crumlin in Dublin, Ireland. So, to show his unconditional love for his hometown, he adopted the area postcode 12. During the launch, he had this to say, revealing the brand's meaning:
"I come from a place called Crumlin, in Dublin 12. It's a place dear to my heart. It's where I learned how to fight; it made me who I am today. It's a place I'm still very much a part of every single day of my life. So, that's where the name came from. It's proper Irish whiskey, and twelve is my hometown."
Who Invented Proper Twelve?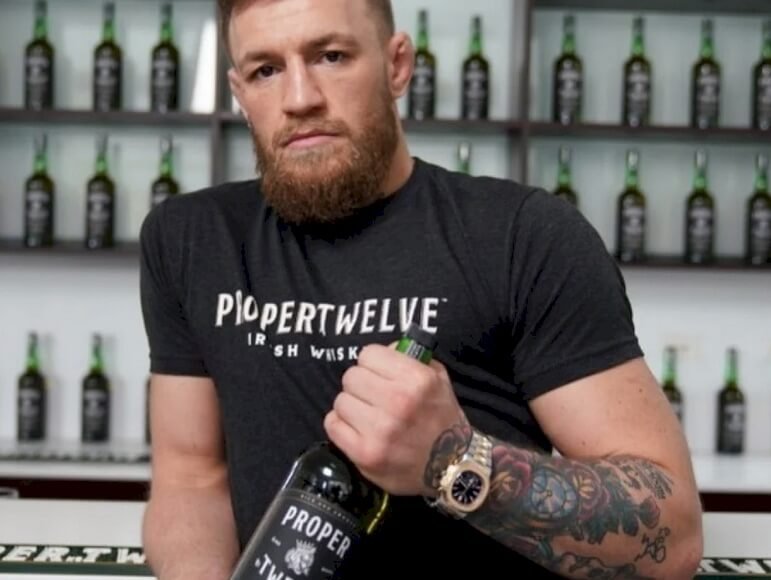 Conor McGregor has long been a whiskey lover. However, the unveiling of his liquor brand in 2018 shows why he ignored endorsing the Irish whiskey brands that reached out. So, to hatch his whiskey idea, he worked with David Elder.
David is a renowned master distiller who has worked with Guinness. Together, they came up with the blend that has taken the industry by storm. While working on this project, they sampled about a hundred recipes. So, they are proud of Proper Twelve, describing it as incredible.
Does Conor Still Own Proper Twelve?
Conor McGregor and his co-founders unveiled the vanilla whiskey on September 17, 2018. Until April 2021, he and his team held the majority shares of the brand. However, this changed on April 28, 2021, when they sold their stakes.
For about $600 million, Conor and his partners sold majority shares to Proximo Spirits. Proximo Spirits are now the majority owner, leaving Conor with a little stake. Proximo also owns other spirited brands, including Bushmills and Jose Cuervo.
Notwithstanding this deal, the fighter will continue to collaborate and remain the brand's spokesperson. Also, the sale has brought the UFC superstar enough cash, increasing his fortune.
Where Does Proper Twelve Come From?
Originally, Conor planned to name his liquor—Notorious Irish Whiskey. However, he changed his mind before the launch day. The whiskey is made from the oldest whiskey distillery in Ireland. So, we can conclude the drink is Irish-brewed, adding to the country's signature liquors.
Brief History of Proper Number Twelve Whiskey
Proper Number Twelve is an Irish whiskey brand developed by Conor McGregor, an Irish mixed martial fighter. To have his signature whiskey, he worked with David Elder, an expert distiller. Then, they settled on the current blend from about a hundred samples.
The spirited beverage is a triple-distilled blend of malt and grain. Also, it offers hints of honey, vanilla, and toasted oak. These add to its 3-year bourbon barrels presence, giving it a unique fruity and flora flavor.
However, Conor and his partners searched for an exceptional place and people before creating the recipe. Finally, he found the oldest whiskey distillery on the Isle of Ireland. This historical area is renowned for its rich soil and pure spring water.
In June 2017, he created anticipation by telling the world of his upcoming liquor. Then, in September 2018, he released it in Ireland and the United States. The beverage took its name from his hometown's postcode, Dublin 12.
Besides the UFC fighter, Eire Born Spirits has Audie Attar and Ken Austin as co-founders. To achieve success, he promoted the drink heavily on social media and the UFC events. That's why the brand sold hundreds of thousands of bottles shortly after its launch.
In 2021, Proximo Spirits bought most of the brand's stakes. The deal is estimated to be around $600 million. Proximo Spirits has been involved with the brand since it began, owning 49% initially. Today, Proper Twelve is in Australia, New Zealand, Russia, and the UK.
Who Is Conor McGregor?
The controversial fighter is the founder of Eire Born Spirits, producers of Proper Twelve whiskey. On July 14, 1988, he was born in Crumlin, Dublin, Ireland. Mr. Tony and Mrs. Margaret McGregor are his parents.
Conor had his primary schooling at the Gaelscoil Scoil Mológa in Harold's Cross. Afterward, he attended Gaelcholáiste Coláiste de hÍde in Tallaght for secondary education. He developed his football talent at this school, allowing him to play for Lourdes Celtic Football Club.
He started learning to box at the Crumlin Boxing Club to defend himself. Also, he began this training to raise his self-confidence when he was 12 years. Then, in 2006, his parents moved to Lucan, Dublin. He met Tom Egan, a potential UFC fighter, who started training with him.
Conor McGregor began his amateur career in February 2007: His first opponent was Kieran Campbell, winning by technical knockout. This fight was for the Irish Ring of Truth promotion. After this win, the Irish Cage of Truth promotion signed him, starting his professional journey.
A year later, he began training under John Kavanagh at the Straight Blast Gym in Dublin. Then, on March 9, 2008, he tasted his maiden professional bout. Fighting in the lightweight division, he defeated Gary Morris. Interestingly, he won in the second round via technical knockout.
Also, he won his second bout against Mo Taylor and then moved to the featherweight division. However, Conor lost his first fight at this level to Artemij Sitenkov. After his loss, he won his next two bouts against Stephen Bailey and Connor Dillon.
After these two victories, Conor returned to the lightweight division. At this period, he fought Joseph Duffy, losing via an arm-triangle choke submission. He learned from these defeats, which showed in his subsequent fights. So, he went on eight-fight winning streaks from 2011 to 2012.
These wins included the CWFC Featherweight and Lightweight championships. He became the first European mixed martial fighter to hold these titles jointly. In 2013, Dana White, president of UFC, visited Ireland to receive a medal of honor.
This visit opened a brand new chapter for the Irish fighter. This is because the Ultimate Fighting Championship signed a multiple-fight deal with him. He became the second Irish fighter after Tom Egan to sign for UFC. On April 6, 2013, he had his first UFC bout against Marcus Brimage.
After his maiden UFC win, Conor McGregor fought several bouts. Max Holloway, Diego Brandão, Dustin Poirier, and Dennis Siver were opponents. Also, you can recall Chad Mendes, José Aldo, and Nate Diaz, among others.
Conor McGregor prides himself as a catholic. He has two sisters – Erin and Aoife. Also, he has three children with his fiancée, Dee Devlin. The children are Conor Jr, Croía, and Rían. The notorious fighter loves football, supporting PSG, Celtic, and Manchester United.
The aggressive Irish fighter, nicknamed – Notorious, is worth $200 million.
My Final Thoughts On The Proper Twelve Logo And Its History
McGregor, an influential Irish fighter, has received some endorsement offers. However, despite his love for country and whiskey, he ignored these offers. Yet, in 2017, he made a startling revelation in front of millions of viewers.
Here, he pre-endorsed his brand of whiskey. Then, in September 2018, McGregor launched his signature whiskey through his company, Eire Born Spirits. Excitedly, he named the spirited beverage—Proper Number Twelve. This moniker pays homage to his hometown, Dublin 12.
McGregor and his team looked for the best place and people to produce the finest quality. Finally, they found the oldest distillery in Ireland. In addition, they worked with David Elder, a master whiskey brewer. Then, working together, they sample about a hundred blends.
McGregor promoted the whiskey heavily on his social media channels to ensure the brand's success. Again, he used every event of the UFC to market his signature liquor. This accounted for the hundreds of thousands of bottles sold within the first year.
Today, Proximo Spirits holds the largest stake in Proper Twelve. Initially, it held 49% before paying $600 million in 2021 for most shares. The brand has a presence in the United Kingdom, Russia, New Zealand, Ireland, and the United States.
Finally, despite the criticism of the logo, I think it's effective in representing the brand.