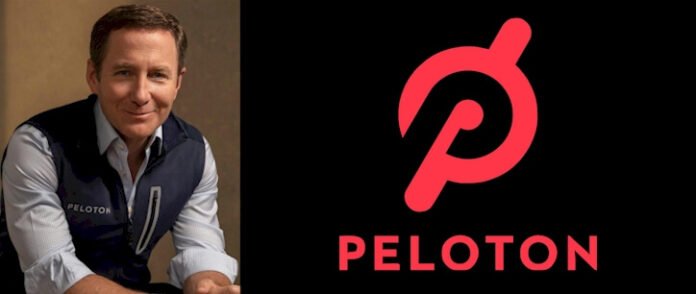 Let's get an insight into the Peloton logo and some history behind the fitness brand.
Peloton, an interactive-at-home fitness brand, began in January 2012. John Foley, the idea's origin, shared his vision with his friends. These friends—Tom, Graham, Hisao, and Yony eventually become co-founders. Together, they set out on an uncharted market.
And because the concept was new, investors weren't interested in funding it. So, the founders received several rejections from potential funders. Yet, each rejection strengthens their faith in the novel concept. So, in 2013, they launched a campaign on Kickstarter.
Eventually, they raised over $300,000. More so, the crowdfunding platform offers the brand free advertising. With this validation, Peloton received $10.5 million in funding a year later. This financial support helped it modify its bike, and it never looked back.
Today, Peloton makes home gym equipment, a guide, and a digital app. Also, you'll find Peloton bike accessories. These include weights, headphones, shoes, mats, and a heart rate monitor. In addition, the company also sells quality sporting apparel.
The Peloton logo is attractive—It was unveiled at the same period as the business. The logo comprises a stylized letter—P and the company's name. Interestingly, the name has a French origin, and it means—a group of riders. To keep a calm personality, the logo uses neutral colors.
And because of its modesty, it has become one of the most recognizable logos in the world.
Peloton Logo Evolution And Its History

The Peloton logo is ten years old. However, it hasn't changed since they released it. This accounts in part for why it's impactful. In addition, it has built an emotional attachment with its fans to keep a consistent personality. So, with little ado, let's explore it further.
2012—Present:
Peloton has a visually pleasing logo. It comprises two parts—a graphic and text. Artistically, the designer fused the letter—P and an abstract pedal in crafting the symbol. This icon quickly conveys the brand's aim of providing cycling and fitness products to customers.
Often, the petal-like symbol walks with a wordmark. This readable logotype can feature either on the right or below the graphic mark. Again, the trademark trains in a monochrome color scheme. However, you're likely to find colorful versions—fuchsia or coral.
Whenever the logo dazzles in black and white, it feels calm, confident, and loyal. In contrast, its bright editions evoke the spirit of passion, energy, and willpower. Overall, the Peloton logo is attractive, legible, modern, and minimalist.
Why Does Peloton Logo Work?
1. The Peloton Logo Is Unique:
The Peloton logo is a custom visual identity. Therefore, it has set its brand apart from the competition. With this attribute, customers can easily recognize it with no confusion. There are several brands in your space, so having a distinct logo would be extremely beneficial. Avoid using templates, stock images, and clip arts when aiming for a unique logo.
2. The Peloton Logo Is Simple:
The Peloton logo is simple, limiting its design elements to the bare minimum. The designer focused on the brand's core personality in creating the logo. So, the emblem is classic, noticeable, and conveys its message concisely. Always remember, simple logos are unforgettable.
3. The Peloton Logo Is Memorable:
Can you paint an image in the minds of your customers? Earnestly, I know you can! With a simple and unique logo, it's easy to permeate the minds of your audience. Because the Peloton logo is clean and exceptional, it has captured its customers' minds. In effect, it has left an indelible impression on them. In crafting your logo, always aim for retention.
4. The Peloton Logo Is Relevant:
To ensure quick recognition, a logo should relate to its market. Thankfully, you can use fonts, colors, shapes, etc., to convey this quality. Using the stylized symbol, customers can easily see the market Peloton serves—the sporting niche. A relevant logo gives a hint about its business.
5. The Peloton Logo Is Versatile:
The Peloton trademark can exercise on several applications. This is because of its minimalist layout. Without losing its sharpness, it can fit websites, social media channels, flyers, banners, etc. Always remember the vast array of marketing platforms that host your audience.
Peloton Logo Design Elements

Eric Hwang, the brain behind the logo, honored the logo's fundamental principles. He thoughtfully picked the graphic elements that convey the brand's core message. He settled for monochrome colors, a readable wordmark, and a stylized symbol aligned with fitness.
Practically, you can't ignore the logo but admire its personality. So, let's explore it further.
Peloton Logo Shape And Symbols
1. A Bike Pedal:
The graphical part of the Peloton logo is a pedal. It comprises a circle and two diagonal lines. A circle signifies community, wholeness, totality, and timelessness as a geometrical shape. In addition, the diagonal lines stand for direction, action, and tension. Together, the shapes form a pedal which symbolizes movement, direction, and excitement.
Peloton Logo Colors
1. A Black Color:
The color black has earned the enviable title as the color of mystery. It's one of the custom colors beautifying the logo's personality. This intimidating color signifies sadness, anger, and fear. However, it's not always in a bad mood. Therefore, it can represent positive energies like power, elegance, wealth, and formality.
2. A White Color:
The color white promotes a sense of purity, simplicity, peace, and humility. It's the other official brand color, contrasting the logo's effect. Across the world, the snow color is seen as the color of goodness. Yet, too much white can cause blurring of one's sight.
3. A Fuchsia Color:
Fuchsia marks the face of Peloton's secondary logo. In plain language, it's a purplish-red color. So, it enjoys some emotions of the color of sunshine. In design, fuchsia symbolizes confidence, maturity, and assurance. Again, it can convey a sense of cheerfulness.
Who Designed the Peloton Logo?
Peloton owes its stylized logo to Eric Hwang. He is a graphic designer and a photographer living and working in New York. Besides the Peloton emblem, he has other eye-catching designs to his name. These brands are Unite Us, Access Opportunity, Hummingbird, and Pronto.
What Font Is the Peloton Logo?
Peloton has an engaging wordmark: It's clean, bold, distinct, and all caps. It's a custom typeface designed by Eric Hwang, a graphic designer. He took inspiration from Futura and Brandon Grotesque texts. The resulting font is a sans-serif typeface that resembles Radikal Bold. Other similar typefaces are Noah Head Extra Bold and Orqquidea Sans Demi Bold.
Is Peloton Logo Copyrighted?
The Peloton logo, including its other visual identities, is the exclusive asset of Peloton Interactive, Inc. So, you need permission before using them for personal or commercial purposes.
How Did Peloton Get Its Name?
Though the brand is American, its name was French-inspired. The Peloton name came from the French word—platoon, meaning a group of riders in a race. Interestingly, the founder, Foley, is a passionate supporter of cycling together. Also, in the seventh century, it was a term for a small group of soldiers. Again, in the same language, it means a small ball. However, in Finnish, it represents fearlessness. It's a suitable name for the brand of action and fitness.
What Does the Peloton Logo Represent?
The Peloton logo is a fusion of the letter—P and a pedal. The letter represents the brand's name, and it echoes with a group of people racing together. In addition, the pedal conveys the spirit of movement and growth in the sporting niche the company is serving. Overall, the Peloton logo represents a cluster of racers, movement, fitness, and innovation.
What Color Is the Peloton Logo?
The Peloton logo trains in black and white to keep a clean personality. Though it sometimes warms up in brighter colors, these are its official colors. The black color symbolizes wealth, elegance, prestige, and mystery. However, the white color speaks of humility, safety, and trust.
Are Classes Included With Peloton?
The quickest answer to this question is it depends on the plan. First, you can stick to the no subscription plan. Then, besides the Peloton Bike, you get access to three pre-recorded classes. Also, you have access to your metric—speed, cadence, and resistance.
However, it would help if you were on the subscription plan to access all live classes. It costs $39 per month. And it gives you access to over 20,000 content classes, live stream events, and programs. Also, it allows you to create a member profile to see all your activity history.
This includes daily logs, badges, achievements, and rides. Another benefit is that you can create unlimited profiles for others. Interestingly, you can track everybody's data individually. Alternatively, you can try the Peloton Digital for $12.99 after the 30-day trial.
A Brief History of Peloton Interactive, Inc.
Peloton is an American fitness equipment maker and media-focused company based in New York City. Some people regard it as the "Netflix for fitness" because it fuses training equipment and interactive media to offer live workout sessions to several people at home.
John Foley and his four other friends founded the company on January 3, 2012. However, John Foley had the idea in 2011. The desire to marry technology and equipment to offer live fitness classes to busy people at their homes gave birth to Peloton.
This was the idea John shared with Tom Cortese, a friend, and a co-founder. Graham Stanton, Hisao Kushi, and Yony Feng are the other founders. With the friends embracing the idea, they designed the prototype bike in 2013. Though not perfect, it was worth the effort and the idea.
To raise money and get free publicity, the founders created a campaign on Kickstarter. With a target of $250,000, they raised a little over $307,000. Luckily, in 2014, they got $10.5 million in Series B funding. With this money, they changed the bike, making it consumer-friendly.
The initial price for the bike was $1200, making it affordable for most people. However, sales were unexpectedly low. Thinking consumers associated the original price with a poor-quality bike, the founders raised the price to $2245. It worked, and sales soared higher.
They opened a studio in Manhattan's Chelsea area within the same year. Here, instructors began recording their classes. Then, in 2015, the partners solved delivery issues increased retail locations and bike production. To finance these activities, the company raised $30 million.
In addition, the company received $75 million to expand its software engineering team. Then, in January 2018, the company released Tread+ at the annual Consumer Electronics Show in Las Vegas. Also, classes began streaming on a 32-inch screen with a sound bar attached to it.
With the brand widely accepted, Peloton went public on September 26, 2019. It raised $1.6 billion and is now trading on NASDAQ. The year 2020 was a historical period for the brand. The pandemic melted down several companies, but Peloton gained significantly.
With demand soaring, Peloton released Bike+, a high-end edition of the stationary bike. Afterward, the company reduced the price for the older bikes. Also, it unveiled Tread, a lower-end treadmill. Besides the US, Peloton operates in the U K, Canada, Germany, and Taiwan.
Also, its major products include bikes, treadmills, guides, digital membership, and sports apparel. The revenue for the brand was slightly over $4 billion by 2021. Also, it has over 6000 employees worldwide. Finally, Barry McCarthy is the current chief executive officer.
My Final Thoughts On Peloton Logo And Its History
Five friends, led by John Foley, founded Peloton in 2012. It's an American company specializing in home gym equipment and interactive fitness training. In 2013, it produced its maiden bike, a prototype version. The same year, the brand raised over $300,000 on Kickstarter.
It was the period that no one trusted the idea except the partners. However, after the crowdfunding, investors began financing it. For instance, in 2014, Peloton received about $10.5 million in Series B funding. Then, it was followed by $75 million, helping the brand expand.
In 2019, the company went public, raising $1.6 billion. Then, in 2020, the brand's fortune changed. Thus, the impact of COVID-19 kept people at home. And this increased the demand for home gym equipment and indoor workouts. Who profited? Peloton, the innovators!
Besides selling the gym equipment, the company also makes money via subscriptions. It's $39 per month, giving subscribers over thousands of content to enjoy. Also, you join live with several other fitness enthusiasts to encourage each other. Most people find this rewarding and fun!
Today, the company still uses the same logo it started with. It's a black and white trademark that conveys the brand's message without distortion. Artistically, it has two parts: an inscription and a stylized icon. Together, they give Peloton a pleasing brand persona envious of some rivals.
Thanks to Eric Hwang, a graphic designer living in New York, for this iconic logo.