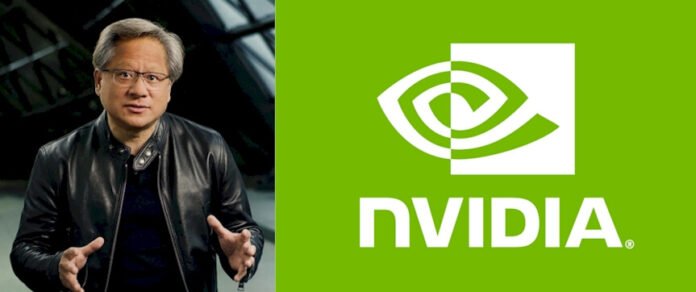 NVIDIA's first-ever logo featured a black and green theme. The company went for the "all-seeing eye" graphic, symbolizing NVIDIA's vision and the eternal quest for innovation.
In NVIDIA's visual identity, half of the all-seeing eye is white and black while the remaining half is white, with a green square above it. In 2006, NVIDIA tweaked its logo a little—green replaced black in one half while the other half stayed white. The square stayed green but with a darker shade.
In addition, the wordmark was altered so that the "N" wasn't italicized anymore. All the other letters remained capitalized. While the first NVIDIA logo was written in a serif typeface, the new version was written in a sans serif typeface, and it hasn't been changed ever since.
If you're into mythology, you probably have heard of the term "Invidia," which means "sense for envy" in Latin. In Greek mythology, a titan named Nemesis was known to be in control of black magicians and witches. When Italians seized Greece, they were left speechless by the beauty of Nemesis—thus, they christened her "Invidia" and portrayed her aptly dressed in green.
The NVIDIA Logo Evolution
NVIDIA's visual identity is modeled around a theoretical graphical symbol, representing the popular symbolic "all-seeing eye ." While the font and color scheme of the inscription have been altered throughout the logo's history, the main concept has stayed the same.
1993-2006
The first NVIDIA logo was introduced in 1993. This is when its main visual symbol—an all-seeing eye—was adopted. This logo design has lots of history and usually represents the "eye of the Almighty," who sees everything. In this context, however, the eye has a different metaphoric meaning. The "all-seeing eye" of INVIDIA is endlessly in search of innovation as well as the future.
The original NVIDIA symbols had two halves—one black and the other white. The white half had a green square placed on top of it. The wordmark featured an "n" written in unique italics.
2006–Today
NVIDIA redesigned its symbol and wordmark in 2006. Black was no longer on the "all-seeing" eye, while the font changed shape and became bolder. A capital letter has since replaced the "n" that was in italics.
The NVIDIA Logo Design Elements
Symbol: The name NVIDIA is inspired by "Videre," the Latin word for see or perceive. The company's logo includes a stylized "elliptical eye," which also looks like the character "e ." It's been speculated that the symbol is probably a nod to Horus, the solar god in Ancient Egypt "who reigned with two eyes." 
Color: The green in the NVIDIA symbol represents originality, uniqueness, and growth, while the white represents elegance, perfection, and charm.
Font: The customized uppercase font for the wordmark is obvious and readable. It was specifically designed for the company. The first wordmark version had a serif typeface, while the second had a sans serif font.
The History of NVIDIA

NVIDIA was founded by its current CEO, Jensen Huang, a Taiwanese-American, Chris Malachowsky, and Curtis Priem in April 1993. 
Huang previously designed microprocessors at AMD (Advanced Micro Devices) and was CoreWare director at LSI Logic, while Malachowsky was an electrical engineer at Sun Microsystems. Priem previously worked as a graphics chip designer and senior staff engineer at Sun Microsystems as well.
The three co-founders figured that graphics-based or accelerated computing was the right way for the next generation of computing since it could solve issues that were impossible for general-purpose computing to solve. They also believed that video gaming was at the same time one of the most difficult computational dilemmas and would have incredibly high sales volume.
Video gaming became NVIDIA's flywheel to penetrate big markets and help fund large-scale research and development to solve gargantuan computational challenges. With just $40,000, NVIDIA was born. NVIDIA subsequently secured venture capital funding worth $20 million from several investors, including Sequoia Capital.
At first, NVIDIA was nameless, and the three co-founders had all their files named NV, meaning "Next Version ." Due to the need to register the company, the co-founders were prompted to review every word containing the letters N and V. This led them to "INVIDIA," which means "envy" in Latin. In January 1999, NVIDIA went public.
NVIDIA's Releases and Acquisitions
In 1998, NVIDIA released RIVA TNT, cementing its reputation for developing good graphic adapters. The company introduced the GeForce 256 in late 1999, most notably launching onboard lighting and transformation in customer 3D hardware.
Featuring 4-pixel pipelines and operating at 120 MHz, this feature executed advanced video acceleration, hardware sub-image alpha blending, and motion compensation. The GeForce by far outperformed existing products.
Due to NVIDIA's products' popularity, the company won the deal to develop Microsoft Xbox's graphics hardware, earning $200 million in advance. Unfortunately, however, the undertaking took many of the company's top engineers away from their own projects. This didn't matter in the short-term, though, and the summer of 2000 saw the release of the GeForce2 GTS.
In December the same year, NVIDIA reached a deal to buy the intellectual properties of 3 DFX, its one-time competitor and pioneer in customer 3D graphics technology from the mid-1990s. The acquisition was completed in April 2002.
NVIDIA took over Exluna for an unspecified sum in July 2002. Exluna developed software-providing tools, and the employees were absorbed by the Cg project. A year later, NVIDIA took over MediaQ for around $70 million.
In April 2004, NVIDIA took over iReady, also a high-performance iSCSI and TCP/IP solutions provider. In December the same year, NVIDIA took over ULI Electronics, which supplied third-party southbridge chipset components to its competitor ATI.
NVIDIA took over Hybrid Graphics in March 2006. In December the same year, NVIDIA, along with its main competitor in the graphics market AMD (which had taken over ATI), received a court summons from the Department of Justice concerning possible antitrust breaches in the video graphics industry.
In January 2007, NVIDIA took over PortalPlayer, Inc., following it up with the acquisition of Ageia a year later. Ageia developed the PhysX physics processing unit and physics engine. The company announced that all its future GPU merchandise would come equipped with the PhysX technology.
In November 2011, NVIDIA introduced its Tegra III ARM system for mobile gadgets. The company said that the chip included the world's first quad-core mobile CPU. Earlier in May 2011, NVIDIA had signed a deal to take over Icera, a UK-based baseband chip manufacturer, for $367 million.
NVIDIA introduced the Tegra 4 and the NVIDIA Shield (a handheld Android-based gaming console powered by the Tegra 4) in January 2013. In July the same year, NVIDIA announced its acquisition of PGI from STMicroelectronics.
NVIDIA has branched out since 2014, focusing on three industries: gaming, mobile devices, and automotive electronics.
In May 2016, NVIDIA introduced the first graphics processing units of its GeForce 10 range, the GTX 1070 and GTX 1080, based on the firm's new Pascal microarchitecture. The models incorporate GDDR5 and GDDR5X memory, respectively, and employ a 16nm manufacturing method. In addition, the Pascal microarchitecture works with a new hardware component called Simultaneous Multi-projection, which helps enhance the quality of virtual reality and multi-monitor rendering.
NVIDIA announced a collaboration deal with Toyota in May 2017. Toyota would use NVIDIA's Drive PX-range artificial intelligence system for its autonomous driving vehicles in this deal. In July the same year, NVIDIA announced an extensive AI partnership with Chinese search engine giant Baidoo, including autonomous driving, cloud computing, Baidoo's open-source AI platform PaddlePaddle, and consumer devices.
NVIDIA's Titan 5 was officially released on the 7th of December 2017.
NVIDIA officially introduced the NVIDIA Quadro GV100 in March 2018. In September the same year, the company unveiled the RTX 2080 graphics processing units. The same year still, Google announced that the Tesla P IV graphic cards by NVIDIA would be incorporated into the AI platform of Google Cloud Service.
In March 2019, NVIDIA disclosed a $6.9 billion deal to acquire Mellanox Technologies to significantly expand its reach in the competitive high-performance computing market. Two months later, the company unveiled RTX Studio laptops, which the creators claimed would be seven times quicker than a high-end Core i9 MacBook Pro and Radeon Pro Vega 20 GPUs in apps such as RedCine-X Pro and Maya.
In August 2019, it unveiled Minecraft RTX, a patch it officially developed for Minecraft, bringing real-time DXR raytracing solely to the game's Windows 10 version. According to NVIDIA, the entire game is revamped with path tracing, dramatically affecting the manner in which light, shadows, and reflections work inside the system.
In May 2020, top scientists from NVIDIA developed a free-to-use ventilator to ease the shortage caused by the global COVID-19 pandemic. The same month, NVIDIA officially unveiled its A100 GPU accelerator and Ampere GPU microarchitecture. In July 2020, NVIDIA announced it was negotiating with the SoftBank Group to acquire Arm, a British-based chip manufacturer, for $32 billion.
In September 2020, NVIDIA unveiled the GeForce 30 range based on the firm's new Ampere microarchitecture. Still, in the same month, it was revealed that NVIDIA would acquire SoftBank Group's Arm Holdings for $40 billion, of course, subject to the standard scrutiny. SoftBank would retain a 10% stake in NVIDIA.
NVIDIA announced plans to design the most powerful supercomputer in Cambridge, United Kingdom, named Cambridge-1, in October 2020. The computer would use artificial intelligence to help with healthcare research and was expected to be completed by the close of 2020, costing roughly £40 million. Announcing the plan, NVIDIA CEO Jensen Huang said, "The Cambridge-1 will be the center of innovation for Britain, and also the pioneering work being carried out by England's researchers in critical drug discovery and healthcare".
Also, in the same month, along with the unveiling of the NVIDIA RTX A6000, the company announced it was withdrawing its workstation GPU Quadro, opting to name future company products NVIDIA RTX and manufacturing them based on the company's new Ampere architecture.
The proposed acquisition of Arm Holdings stalled in August 2021, after Britain's Competition and Markets Body raised "serious competition fears ." In October of the same year, the European Commission opened a competition inquiry into the takeover.
The Commission said that NVIDIA's purchase could limit the ability of competitors to access Arm's products and give NVIDIA too much inside information on its rivals due to their agreements with Arm. The probe is expected to conclude by mid-March 2022.
NVIDIA's Product Families
NVIDIA product offerings include graphics, PC processors, wireless communication, and automobile hardware and software. Here are some of NVIDIA's product families:
NVIDIA RTX, which replaced Quadro, comprises professional visual computer graphics processing products.
GeForce refers to consumer-centered graphics processing products.
Tesla is a dedicated multiuse GPU for top-end image generation apps in scientific and professional fields.
Tegra is a system-on-a-chip product series for mobile gadgets.
nForce is an NVIDIA-developed motherboard chipset for Intel (Core 2, Pentium, and Celeron) and AMD (Duron and Athlon) microprocessors.
NVS is a multi-display commercial graphics solution.
NVIDIA Drive Automobile Solutions is a range of software and hardware products for manufacturers and designers of autonomous vehicles. The Driveworks is an OS for driverless cars, while the Drive PX-range is a high-performance computer system geared towards autonomous driving via deep learning.
NVIDIA Shield is an array of gaming hardware from NVIDIA, such as the Shield Tablet, Shield Android TV, and Shield Portable.
NVIDIA Grid is NVIDIA's set of services and hardware for graphics virtualization.
BlueField is an array of NVIDIA's data processing units, originally inherited from Mellanox Technologies' takeover.
Codenamed NVIDIA Grace, NVIDIA Server Class CPU/Datacenter is set to be unveiled in 2023.
Wrapping Up the History of NVIDIA
NVIDIA is a top American technology corporation that develops high-end graphics processing units for the professional and gaming markets. Based in Santa Clara, CA, the company was established in 1993 by Jensen Huang, Curtis Priem, and Chris Malachowsky.
NVIDIA is renowned for manufacturing integrated circuits (ICs) used by all electronics, including personal computers (PCs) and game consoles.
As well as products for the video game industry, NVIDIA's extensive range of computing technology products includes the Tegra range for mobile phones, the Tesla range for top-of-the-range scientific research and business computers, and the GeForce range for multimedia purposes.
As of 2012, NVIDIA had total assets worth $5.55 billion and employed 7,133 people worldwide.