Let's get an insight into the Home Depot logo and some history behind the superstore.
The Home Depot logo is among the world's minimalist trademarks. It appeared in 1978, keeping its personality over four decades and counting. Though some experts criticized its generic outlook, the logo is still legible, memorable, and widely recognizable.
Interestingly, the Home Depot logo has two nicknames: Stencil and Big Orange. The logo earned the Stencil name because of its font style. Its vibrant color preference also awarded it the Big Orange name.
The Home Depot emblem comprised a white inscription over an orange background. To imprint some creativity in the logo, the designer slanted the wordmark. As a result, from corner to corner, the company's name stands at an angle of 450.
The Home Depot logo represents America's largest home improvement superstore. Currently, it's leading a brand that has about 2,300 stores across some territories. This includes the US, Canada, Guam, Mexico, Puerto Rico, and US Virgin Islands.
As the largest home improvement store in America, Home Depot offers a one-stop shop for customers. Its products cover home appliances, builders' hardware, lumber, paints, etc. Today, the orange logo is the face of a brand (Home Depot) with a net worth of $120 billion.
Home Depot Logo Evolution
The Home Depot logo has never changed, and it's often called the Stencil or Big Orange. Since starting in 1978, the company has kept its modest emblem, idolizing it passionately. So let's look at the logo that has divided opinions concerning its personality without wasting time.
1978—Present:
The official trademark for Home Depot is modest and highly noticeable. It comprises a bold inscription on an orange square. The confident brand's name, written in caps, is positioned diagonally. Creatively, the white wordmark stretches from corner to corner, rotating at an angle of forty-five (450) degrees. Also, the retailer's logo features the registered trademark—®. And based on the font choice, the logo is nicknamed—the Stencil.
Why Does Home Depot Logo work?
1. The Logo Is Readable:
There are fewer logos without texts. This confirms the importance of fonts in logo creation. However, all fonts aren't created the same. A good font choice will amplify your brand's image while helping your audience identify and read your company's name. Alternatively, a bad font choice will adversely affect your branding strategy. Luckily, the Home Depot logo is legible, achieving higher visibility regardless of size or distance.
2. The Logo Is Modest:
The Home Depot logo is clean. It avoids complex design elements, making it instantly recognizable. Again, because it has fewer graphic elements, it's memorable. With simplicity in your logo design, you'll rarely update your visual diplomat. This will be a substantial investment in the long run.
3. The Logo Is Memorable:
Memorability is one key part of effective logos. So, to keep your brand in customers' minds, you need to follow some design strategies. Importantly, one such strategy is to craft a unique and simple logo. Fortunately, Home Depot has met this essential characteristic, helping it build a connection with its audience. Therefore, its customers can remember and relate to it.
4. The Logo Is Versatile:
The Home Depot trademark has passed the scalability test with a simple personality. This means it can sell on multiple marketing channels irrespective of the screen size. Additionally, it can dress in several colors without distorting its persona. It's important to note that a versatile logo gives you more options to target your audience. So, to achieve this aim, go for a minimalist logo.
5. The Logo Is Timeless:
The Home Depot logo has achieved the status of timelessness. That's why it has stayed for over forty years without changing its personality. So you might wonder how to make a timeless logo. Though it isn't straightforward, you can create such a logo by following some rules.
First, avoid trendy design elements—with this, your logo wouldn't stay out of style. Second, your logo will stay timeless when you keep it modest.
The Home Depot Logo Design Elements

In graphic design, elements of designs are the building blocks for all creative projects. So, to create the Home Depot emblem, the designer opted for three graphic features. These are color, shape, and font. Blending these elements, Home Depot had one of the simplest trademarks in the world. To understand these elements further, let's examine their emotions.
Home Depot Logo Shape And Symbols
1. A Square:
A square is the sole symbol holding the personality of the Home Depot corporate identity. Because of its four sides, most experts associate it with the elements of the world. These are the earth, water, air, and fire. Also, as a geometric shape, it represents security, logic, balance, and direction. This square frame is painted orange, conveying cheerfulness and happiness.
Home Depot Logo Colors
1. An Orange Color:
Home Depot has orange as one of its custom colors. It's a blend of red and yellow, conveying the sun's energy. The orange color stands for joy, warmth, and fun. Also, it signifies freedom, expression, and creativity. Overall, the color of heat is stimulating, vibrant, and striking.
2. A White Color:
Home Depot has white as its second official color. White, the color of purity, marks the personality of the company's name. White represents safety, goodness, and humility. Some brands also used this neutral color to convey cleanliness, perfection, and innocence.
What Font Is The Home Depot Logo?
Undoubtedly, Home Depot has a readable wordmark. And instead of a custom font, the retailer settled on a standard one. Interestingly, it's called Stencil and part of the Microsoft Office Series Typefaces. Also, this bold font projects its charisma by having serifs at the ends of its letters.
What Is the Meaning of the Home Depot Logo?
The Home Depot logo is often called the—Big Orange. This was coined from its color personality. Interestingly, it symbolizes success and the desire for more. In the same light, the orange logo stimulates and promotes action. Funny enough, crates used to transport freight inspired this simple yet recognizable emblem.
Where Did Home Depot Orange Come From?
For over forty years, Home Depot continued to pay tribute to the orange color. As a result, the attention-grabbing color has become synonymous with the brand. The hue came from discarded circus tents used for the beginning signage. Regarding its positive emotion, the color promotes cheerfulness, energy, creativity, and happiness.
Why Is Orange the Color of Home Depot?
To create a distinctive brand identity, the company's founders worked with Don Watt: a renowned Canadian brand designer. With his years of experience in color psychology, he chose orange. The celebrated designer picked this vibrant color for two reasons.
First, he wanted customers to perceive the brand as standing for value and energy. And second, to ensure the workers wearing aprons stand out 'Like Beacons' in the stores. Initially, Bernie Marcus was doubtful about the color choice. Yet, he grew to love it!
What Is the Home Depot Slogan?
Slogans are essential in marketing. For instance, a catchy phrase will project a brand's name and make it memorable. To create an emotional connection with customers, Home Depot, over the years, has used several slogans to sell its products. On December 5, 2019, Home Depot introduced its newest slogan—How Doers Get More Done.
This catchphrase replaced the previous one—More Saving, More Doing. The retailer's other slogans include "You Can Do It, We Can Help," "The Home Depot, Low Prices Are Just the Beginning," and "the Home Depot: First In Home Improvement," to name a few.
Who Founded the Home Depot?
In 1978 and at a coffee shop in Los Angeles, Bernie Marcus and Arthur Blank came up with the Home Depot idea. These high-profiled executives got inspired after they were fired from Handy Dan Home Improvement Center.
They dreamed of a one-stop superstore with various products at affordable prices and with a highly trained workforce. The other founders who pushed the idea to fruition are Ken Langone (investment banker), Pat Farrah (merchandise expert), and Ron Brill (retail executive).
What Was Home Depot's First Name?
The two initial partners—Bernie Marcus and Arthur Blank, brainstormed on the name to give to their company. Therefore, before opening the first two stores, they considered several options. Interestingly, they settled for "Bad Bernie's Buildall." However, Marjorie Buckley, an early investor, disliked the name. So, taking inspiration from a train depot turned into a restaurant, Mrs. Buckley coined the name—The Home Depot. Bernie and Arthur accepted it without regret.
Brief History About Home Depot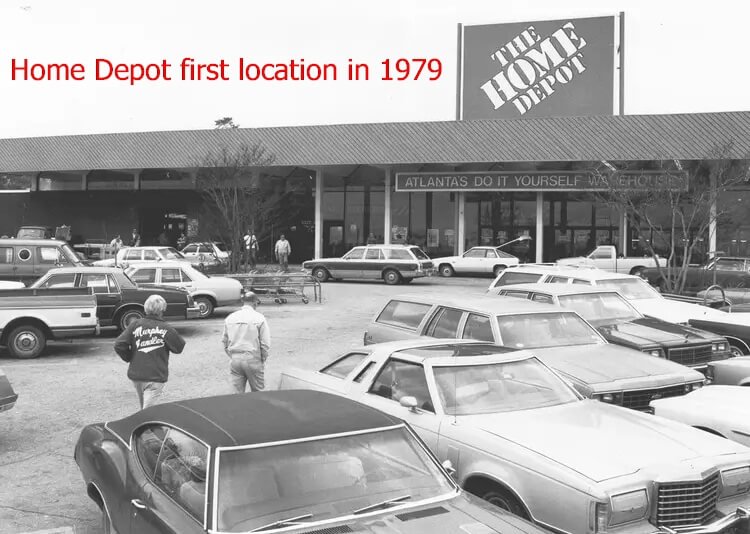 Home Depot is an American home improvement superstore. It's America's largest home improvement retailer store that sells tools, construction items, and services. It has about 70 distribution centers across the United States. Also, it has stores in Canada and Mexico.
The company began when Bernie Marcus and Arthur Blank were laid off from Handy Dan Home Improvement Centers. They got the idea to start a business at a coffee shop in Los Angeles. This dream led to the birth of Home Depot, Inc in 1978.
The partners set a big goal for themselves. That's creating a superstore that offers a massive variety of goods at unbeatable prices. Also, they want to keep their values alive—respecting people, excellent customer service, and giving back to their communities.
On June 22, 1979, Bernie and Arthur opened their first two stores in Atlanta, Georgia. They got help from Ken Langone, an investment banker, and Pat Farrah, a merchandise expert, to open these stores. Along with Ron Brill, they became the founders of Home Depot.
A year later, the founders added four stores in the metropolitan Atlanta area. Then, to attract more funds for expansion, Home Depot went public on September 22, 1981. Trading on the Nasdaq Stock Market, Home Depot raised $4.093 million.
After going public, Home Depot expanded its stores to Florida. After adding two stores to the existing four in 1982, it earned $100 million in revenue. Then, on April 19, 1984, it joined the New York Stock Exchange.
On October 31, 1984, Home Depot bought Bowater Home Center for $40 million. This allowed it to expand into the Dallas market. And by the end of 1984, the retailer had 19 stores, earning $256 million. To control its finances, Home Depot unveiled only ten stores in 1986.
Also, it offered 2.99 million shares, selling at $17 per share. This investment plan helped it to restructure its debts. Three years later, it overtook Lowe's, becoming the United States' largest home improvement retailer.
In 1994, Home Depot bought Aikenhead's Hardware for $150 million with 75% shares. And by the close of 1995, it was operating 350 stores, bagging $10 billion in sales. In addition, to assist athletes, Home Depot unveiled its Olympic Job Opportunity Program in 1992.
And for 17 years, the program employed nearly 570 Olympic athletes. But, unfortunately, the retailer halted the program in 2009. To fulfill its charity plans, Home Depot allocated $12.5 million in 1998. This fund supports affordable housing, environmental causes, and at-risk youth.
In 2000, Robert Nardelli, former General Electric executive, became Home Depot's CEO and president. Two years later, Home Depot branched into Mexico. Here, it bought Del Norte, a home improvement chain. Also, it built stores in Mexicali and Tijuana.
Fast forward to 2014, and Craig Menear became the company's CEO. He replaced Frank Blake on November 1, 2014. Today, Home Depot can brag of 2,312 stores. This covers the United States, Canada, Mexico, Guam, and Puerto Rico.
My Final Thoughts On Home Depot Logo History
Home Depot's birth confirms that "necessity is the mother of invention." Of course, the company wouldn't have been born without the firing of its founders. The idea to start Home Depot occurred in 1978. It was the period Bernie and Arthur got fired from their previous jobs.
With years of experience, the two men set out to change the retailing landscape. So, in 1979, they opened the first two stores in Atlanta. After nearly two years, Home Depot went public, trading on the Nasdaq Stock Exchange. Then, in 1984, it joined the New York Stock Exchange.
In 1981, The Home Depot entered Florida, opening Hollywood and Ft. Lauderdale stores. Then, on October 31, 1984, the company bought Bowater Home Center for $40 million. This purchase led Home Depot into Dallas.
And during this period, Home Depot operates 19 stores, generating over $256 million in sales. In 1989, The Home Depot became America's largest home improvement store, surpassing Lowe's. Thanks in part to its co-founders—Bernie, Arthur, Ron, Pat, and Ken.
Also, the company's logo has played its primary role effectively. It has positioned the brand as a household name among its audience—craftsmen, builders, do-it-yourself fans, etc. Similarly, via its foundation, the company has committed to its social responsibilities.
Today, the company headed by Craig Menear has about 500,000 and is worth $120 billion.