The FaZe logo was introduced in 2010 and has undergone several modifications and tweaks since then. Conceived by Faze Temper, the logo was created by Joe "Ferox" Ricciuto, a former graphic designer for FaZe Clan. 
FaZe Logo Meaning and History
The FaZe Clan and logo started in 2010. Intriguingly enough, FaZe gained its popularity on YouTube. The organization was started with the goal of posting Call of Duty's trick shots on YouTube.
The Faze logo shape is the overlapping letters F and C, with the F reversed. This represents the gaming organization's initials, with some people believing that its colors portray the country of origin of some team members.
FaZe Clan Logo Design Elements
Faze Symbol: Although on first viewing, the Faze symbol looks like just a random mix of bars with varying lengths, the unusual shape of the FaZe logo actually has a logical meaning. The symbol portrays overlapping letters F and C, with the F reversed. The original symbol was red against a white background.
The Faze emblem was slightly modified in 2016. The iconic shape didn't change, but the color scheme got richer thanks to the use of new colors, including yellow, dark blue, as well as black for the margin.
Color: The current Faze symbol combines a saturated, bright red hue with rather discreet yellow and dark blue shades. There are several potential explanations for this color scheme. Some sources say that the colors depict the countries from which some team members come.

Faze Font: It's almost impossible to discuss Faze font when it comes to the FaZe logo since it's really simply an emblem. But considering that the FaZe symbol is, in fact, a combination of overlapping letters F and C, we can say a thing or two about their unique features. 
Both Faze letters have strictly straight angles, even if there are no curves at all in the C. In both letters, the bottom bar is shorter than the top one.
Also, a Faze wordmark can be used in some cases in place of the symbol. The old wordmark rendered in red against a white background features a custom font, in which each letter has been designed from scratch. The Faze font looks weird due to the different bar lengths, angles, and other design elements.
The History of Faze Clan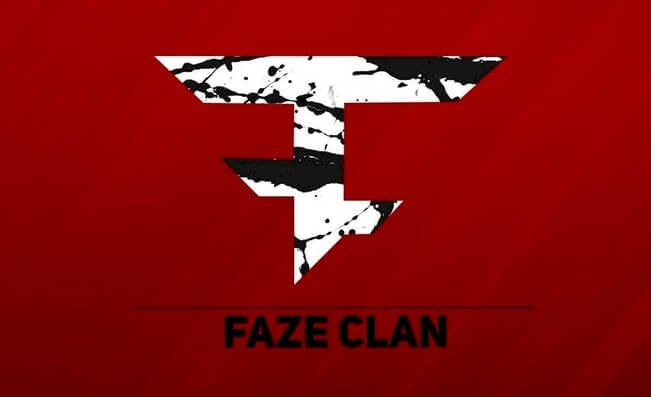 FaZe is the most popular professional eSports and professional gaming organization in the world. Since its launch in 2010 as a clan of Call of Duty, the organization has broadened its scope to include more than 80 professional content creators and gamers, focusing on titles that include Call of Duty, Fortnite, FIFA, Rainbow Six Siege, Valorant, PUBG, and CSGO.
Known for its hyper-loyal fanbase and disruptive original content, FaZe Clan boasts celebrities like musicians Lil Yachty and Offset as well as NFL idol JuJu Smith-Schuster among its members. As gaming gets more and more mainstream today, FaZe is setting the pace.
Early History
FaZe Sniping was launched in May 2010 on YouTube. Originally, the group was founded for Call of Duty fans by three players, Ben "Resistance" Christensen, Jeff "House Cat" Emann (currently known as "Timid"), and Eric "CLipZ" Rivera. The trio earned a reputation for inventing trick shotting in Call of Duty: Modern Warfare II.
Ted "Fakie" joined FaZe Clan, leading to its YouTube content taking off. Then FaZe introduced ILLCAMS, its YouTube channel's most popular series. FaZe's focus on a social media/personality and trick shotting approach resulted in the organization becoming among the first popular video game channels on YouTube, compared to other channels that focused on winning tournaments.
By 2012, FaZe Clan had 1 million subscribers and started to expand into eSports competitions. Under the FaZe brand, teams started taking part in competitions like Counter-Strike: Global Offensive and Call of Duty Championships, which were in direct competition with FaZe's YouTube content creators, dividing FaZe Clan members into two largely autonomous groups.
Originally, FaZe Clan lacked a corporate structure, but the first CEO was Thomas "Temperrr" Oliveira, a Brazilian national who had been at the organization since the age of 16. Oliveira and Chief Operating Officer Richard "Banks" Bengston built the first FaZe Clan shared home in Plainview, New York, in 2014, where they could add lifestyle content to their gaming content.
Former social media network Hubrick, managed by Norwegian capitalist Sebastian Guerts, opted to fund FaZe Clan in 2015. Hubrick appointed Lee Trink as CEO. In early 2016, FaZe Clan bought the international lineup of European eSports team Counter-Strike: Global Offensive. In 2017, Bengston started a new shared residence with YouTubers known as the Clout House in Los Angeles.
Greg Selkoe, who founded streetwear web store Karmaloop, became FaZe Clan's president, with Lee Trink becoming full-time CEO. In late 2018, the Clan opened its first round of funding.
Throughout 2019, musicians DJ Paul, Ray J, Offset, Swae Lee, Pitbull, Disco Fries, and Yo Gotti; basketball players Ben Simmons, Josh Hart, Jamal Murray, and Meyers Leonard; soccer player Gregory van der Wiel; radio presenter Big Boy; skateboarder Nyjah Huston; actor Chris O'Donnell; and music executives Guy Oseary, Troy Carter, and Sylvia Rhone bought into FaZe Clan.
In December 2019, the Clan ended its first round of funding led by mobile e-commerce organization NTWRK and entrepreneur Jimmy Iovine. One month later, FaZe Clan got an investment loan worth $22.7 million from Canadian financial company Canaccord Genuity.
In June 2020, FaZe Clan became co-owners of food supplement company CTRL. In June 2021, FaZe was the first-ever eSports team to feature on the Sports Illustrated magazine cover.
Red Reserve
In December 2014, FaZe announced the formation of a subdivision named Red Deserve. The subdivision went on to upload similar content to FaZe's until June 2016, when they left FaZe to try out other opportunities independently.
FaZe Studios

FaZe Clan partnered with Michael Sugar (TV and film producer and Sugar23 founder) to launch FaZe studios. This studio would specialize in creating scripted TV series and feature films. 
The plan picked up the pace due to no content being generated by traditional channels during the COVID-19 pandemic. The first movie, Crimson, was released in late October 2020, led by stars including Brian "Rug" Awadis.
Current Call of Duty Divisions
FaZe France: In September 2013, FaZe launched FaZe eSniping. It was Call of Duty's competitive sniping division, with Kevin "RanbOw," Elliot "Hyspe," and Raphael "Zydar" joining, led by Anil Brancaleoni. In April 2014, FaZe eSpining was rebranded to FaZe France.
RanbOw left the Clan after 18 months and was replaced by Antony "Toto." In May 2015, FaZe France's players and staff stated that they were unhappy with the Clan's plans and quit to form their own firm.
Atlanta FaZe: In May 2019, Atlanta Esports Ventures bought one of the five first franchise berths for the league of Call of Duty. ESPN reported that Atlanta Esports Ventures was aiming to sell berths for about $25 million per team. FaZe Clan and AEV partnered up for the venture and named the team Atlanta FaZe in October 2019.
FaZe Partners and Sponsors
FaZe partners with several well-known brands and companies, including:
G FUEL, Esports Official Energy Drink: FaZe has one of the longest-running partnerships in eSports with G FUEL. Since 2012, G FUEL has sponsored FaZe. At the moment, it'd be hard to delink the refreshingly energizing energy drink from this top-tier gaming organization—particularly with FaZe's custom flavors being so delicious!
Scuf Gaming: Since 2013, FaZe has partnered with Scuf Gaming (a custom controller manufacturer for various consoles and gaming supplies) to sell FaZe-rebranded controllers as well as provide bespoke hardware to members of FaZe Clan's competing teams.
SteelSeries: FaZe Clan has worked with one of the best Danish gaming accessories manufacturers, SteelSeries, since 2018. SteelSeries offers a range of FaZe-rebranded accessories, including a stylish mouse pad branded with the FaZe logo.
Nissan: Since 2019, FaZe Clan and Nissan have worked together. By venturing into the eSports industry for the first time, the Japanese car manufacturer's mission was to bring the next crop of gaming drivers into the driving seat.
HTC Gaming: FaZe Clan partnered up with Taiwanese consumer electronics manufacturer's gaming division, HTC Gaming, in 2019. While HTC has been a gaming stakeholder for quite some time, it took its involvement in gaming to the next level through this partnership. Be sure to check out FaZe Clan streams for virtual reality technology from HTC.
Wix: In 2019, Wix became the official website design and development partner of FaZe Clan. Wix offers cloud-based website design and development services to people looking to create their own websites.
Manchester City: Still in 2019, FaZe Clan partnered with Manchester City, a storied English football club playing in the Premier League. The two organizations even unveiled a very cool collaborative jacket to bridge the gap between conventional and electronic sports.
The NFL: In early 2020, FaZe announced its second partnership with the NFL, a major player in traditional sports. To popularize the NFL draft, the Clan and NFL teamed up to sell a special line of merchandise as well as host a crossover watch party live dubbed "Draft-A-Thon."
Beats: In partnership with FaZe Clan, Beats by Dre unveiled four new colors for its wireless Powerbeats Pro earphones.
G-SHOCK: In late 2020, FaZe Clan and G-SHOCK announced a limited-edition collaborative hand watch that comes in the organization's trademark black and red camo pattern.
Corona Hand Seltzer: In April 2020, FaZe Clan partnered up with Corona Hand Seltzer. According to a press release by Corona Hand Seltzer, they came together to bring a stimulatingly relaxed perspective to the eSports industry.
Pop-up Shop Collaborations

In addition to its partnerships with brands, FaZe collaborates with several individuals and companies to bring its magic to merchandise sales or one-off events. Other examples of the organization's pop-up shop collaborations include collaborations with Juice WRLD, Lyrical Lemonade, Love Sac, CLOT, Kappa, and G FUEL, of course. 
How to Get into FaZe Clan
With its star-studded roster and a $240 million valuation, it's no wonder that FaZe is one of the hottest eSports organizations around for budding professional gamers and influencers. FaZe Clan currently supports more than 80 content creators and gamers, but the organization is constantly looking for fresh and inspiring gamers to help push the Clan to new heights.
Want to join FaZe? If yes, here's how you can get into the team:
Gaming skill is paramount: FaZe Clan is always looking to top talent no matter where you are or your background.
The signup process varies depending on the game: For longer-running game titles like Call of Duty, the Clan seeks to sign on tried-and-tested talent. For newer games such as Fortnite, however, skilled players are on the same level as established professionals.
Passion is more important than clout: While having an established following certainly won't hurt the prospects of a potential FaZe Clan member, a truly skilled and dedicated gamer will trounce a less passionate gamer any day, even if he or she has a larger following on social media.
Sign up as a competitor or content creator: FaZe Clan signs on two kinds of members: entertaining content creators and high-level pro gamers. If you don't have the reaction time to cut it in Call of Duty, have no fear—you can create content instead!
Wrapping Up the FaZe Logo and Its History
FaZe is the most popular eSports and professional gaming organization in the world. It's also in a long-term partnership with the official eSports energy drink G FUEL. While FaZe Clan is headquartered in Los Angeles, its members live all over the world.
The FaZe Logo and Faze has become popular all over the world since their launch in 2010 and has evolved from a standard YouTube channel to several game streaming sites.
FaZe Clan is owned by a number of famous and not-so-famous people, including Thomas "Temperrr" Oliveira, Offset, Jimmy Iovine, Nick "NICKMERCS" Kolcheff, Alexander "Adapt" Prynkiewicz, Richard "Banks" Bengston, Brian "Rug" Awadis, Nordan "Rain" Shat, and Yousef "Apex" Abdelfattah.
Two categories of members can join FaZe: engaging content creators and top-level professional gamers. For longer-running eSports titles like Call of Duty, FaZe usually goes for the finished article. For newer eSports titles like Fornite, talented online gamers are at the same level as seasoned pro gamers.