A look at the eBay Logo and the History Behind the Company.
eBay is the number one online marketplace on the planet. Their logo design and brand is recognized by millions of people all over the world. You'll find just about anything you want on eBay, with sellers ranging from small mom and pop businesses to giant retailers such as Macy's and Dick's sporting goods. As of today, eBay boasts more than 162 million active users all over the world, with at least 800 million items listed for sale at any given time.
History of eBay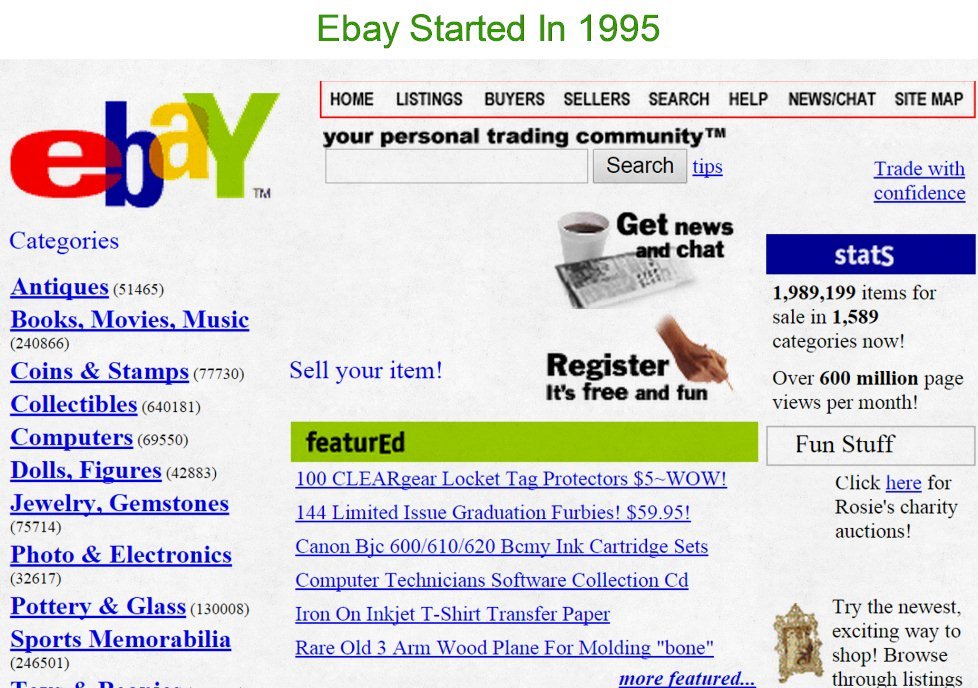 eBay sprang up from one man's vision in 1995, of a platform that would enable collectors to trade their Pez dispensers. It actually started as a favor that the founder, Pierre Omidyar, was working on for his girlfriend. As the idea began to take shape, Pierre saw the potential in it to become an international marketplace to serve both buyers' and sellers' needs. That was around September 1995.
Omidyar then joined forces with his friend Jeff Skoll and later convinced Meg Whitman, an acquaintance from Harvard Business School, to get on board. Whitman was valued for his knowledge in marketing and branding, and would later become eBay's CEO and president.
Within just the first three years of operation, eBay had about 30 employees and had managed to generate nearly $5 million in revenue, with over half a million website visitors. Pierre and Jeff became billionaires within seven months of eBay going public.
From early on, the three founders we keen on developing partnerships with some of the top merchandising brands at the time, such as General Motors and Disney. That's because in the early days, eBay's main goal was to connect business people with merchandising and supplying opportunities.
At the time, the three founders had no idea of the impact eBay would have on nearly everybody's approach toward buying and selling. From large corporation CEOs to your average next-door neighbor, everyone seemed to love eBay's new style of commerce.
eBay's basic design and business model was to promote and offer a place where anybody interested in selling something could list their item for sale. Then, anyone interested in purchasing such items could browse the listings on eBay. All of this was to happen in a fully automated manner, giving both buyers and sellers great independence.
Items were arranged by topic or category and the seller could define a starting price for the item, initiate an online auction for that item, and then sell to the highest bidder after a specific period of time.
It's probably safe to assume that Pierre and his founding partners had no idea that their business model would go on to become one of the most profitable and well-known marketplaces on the planet.
It's also worth noting that eBay has literally transformed the face of both domestic and international trade. Today, eBay's multi-billion-dollar venture has operations in over 40 countries across the globe. In the United States alone, eBay had raked in more than 9 billion dollars by 2010 and was worth more than $22 billion. While eBay's processes and functions have evolved over the years, it still continues to provide one of its original services: connecting buyers and sellers.
From trading broken kitchen appliances to old and new electronics, eBay has now become an international marketplace where you can find almost anything you're looking for. Each day, millions of transactions happen on the platform and it's no surprise that eBay is among the 20 most trafficked websites in the world.
Plenty of startups all over the world have attempted to replicate eBay's success, giving rise to a plethora of auction platforms and purchasing platforms that cater to the specific niches or localities.
The eBay slogan, "Connecting Buyers and Sellers Globally," rings as true this day as it did back in 1995 when the company was established. A few other slogans have been formulated over the years to further personify and convey the success of their business model, including "Buy it, sell, love it," and "Whatever it is, you can get it on eBay."
As of 2008, eBay had a workforce of more than 15,000 employees and boasted several hundred million users. Since then, the company has diversified its portfolio with the purchase of a few large internet companies, as well as created several other specialty websites.
One of the most notable among these was PayPal, which later on became an independent company. PayPal was an instant hit from the onset as it enabled users to send and receive money, and to make online purchases without having to deal with the money transfer complexities of the traditional banks.
Key eBay Timelines
1995: Pierre Omidyar starts the company, calling it "Auction Web." It manages the very first sale in September, with Omidyar's broken printer getting auctioned off for $14.83.
1996 – Jeff Skoll joins as the first business partner, with Meg Whitman to join later in 1998, the same year that the company went public.
1997: eBay sells its one-millionth item in the second quarter of the year. In September of the same year, the company changes its name from Auction Web to eBay.
2002 – eBay merges with PayPal, with Rajiv Dutta installed as President of PayPal. This acquisition was valued at $1.5 billion.
2008 – Revenues rise to $7.7 billion, and Skype is sold to Microsoft for $2.7 billion. In the same year, the company wins the National Technology and Innovation Medal. 
One significant landmark for eBay was when the then President, George W. Bush, recognized eBay with this prestigious award, in honor of their "outstanding growth in technology and innovation."
2010 – eBay gets slapped with a $3.8 billion lawsuit by XPRT Ventures, having been accused of stealing privately-shared information by the inventors of XPRT's own patents.
2011 – PayPal hits 100 million users.
2012 – The company's yearly charity auction for a power lunch with Warren Buffett is sold for a record $3.46 million.
2014 – Rare Superman comic book sells on the platform for a record $3.2 million.
2017 – eBay launches a "guaranteed delivery" policy to buyers.
2019 – eBay is included in the list of "Top U.S. Workplaces" by Indeed.com, as Scott Schenkel is named the interim CEO.
The eBay Logo and Its History

eBay has not changed its logo so often. Over the twenty years since its inception, they have only made a couple of changes to their logo. The company's original logo was a basic motif that displayed the logo on a white and black sloped bar. The logo was called the "Death Bar".
The present eBay logo was made by Bill Cleary, a designer in a California-based graphic design agency known as the CKS Group. The logo was picked from a number of logos that were created.
eBay's Original symbol

When Pierre Omidyar established the company in 1995, he didn't really think much about the logo. There was, in fact, no logo in real sense, but just the text "eBay" written in plain black. This hints at the fact that he probably did not think so much of his idea, maybe not until it became incredibly successful.
Still in 1995, eBay introduced an improved version of the original logo featuring transparent, overlapping letters in a different font. One of the key changes was the color pallet, with each of the letters having its own color. Additionally, the letters were each of a different width and height and were arranged in a casual, non-linear manner.
Although the company's name always used a capital "B", the designers used the lowercase version in the logo. The "B", they felt, was "kind of a roadblock," and so they decided to use and uppercase "Y" instead, an effect that made it look even more quirky. Overall, the eBay logo is a great example of how a logo can still look creative even when it's only a wordmark.
The overlapping effect of the letters in the eBay logo was meant to convey the strong connections within the eBay community. The logo's color palette points to a fun-filled shopping experience, as well as the fact that the site is accessible and user-friendly.
Current eBay Logo

It would take more than a decade and a half until eBay users would get to see the second iteration of the company's logo. The latest update, from 2012, was managed by Lippincott and came with changes to the colors and typeface. Although the color palette changes were hard to spot at first sight, the logo did undergo a major overhaul.
In a letter introducing the new logo, company President Devin Wenig acknowledged that the eBay symbol was well known the world over, which is why altering it was not a decision they arrived at lightly. He then presented the new look as a balanced reflection between eBay's colorful history and the company's vision toward a "cleaner" and "more contemporary and consistent experience."
eBay Logo Design Elements
Shape: In the current logo, the letters are no longer overlapping. They are also all lowercase letters of equal width and lined up.
While the new arrangement is more straight-laced and rigid than the last one, the letters are touching, just like before. This is meant as a subtle hint that the eBay community is diverse and connected. This can be proven by the fact that the website continues to serve hundreds of millions of users each month.
Color: The letter "e" utilizes a darker shade of red. The "b" was also altered from indigo to blue, but the last two letters retain their previous color. The basic colors of the logo represent entertainment, enthusiasm, and candid energy.
Font: For the new iteration, eBay opted for font Univers Extended®. The choice of a simple font was seen by some as reminiscent of the then Microsoft's newest logo iteration, which had been released only a month earlier.