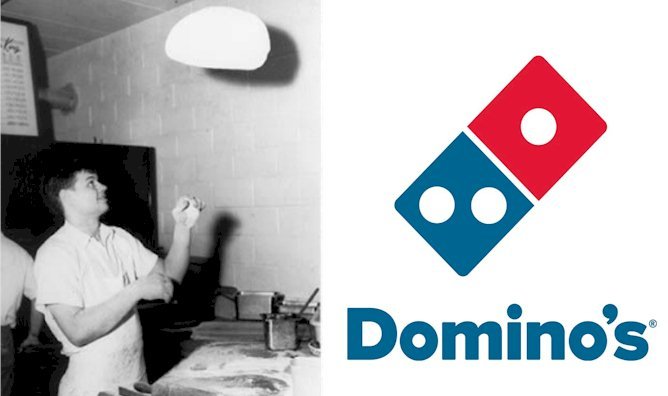 This is a look at Domino's Logo and its History. Their massive brand and logo is plastered all over pizza boxes, restaurants, automobiles and apparel all across the world.
Can you relate to this scenario? Anne powered her mini laptop, launched a sleek website with her profile details. And with a click on a button, she placed an order for Pizza. She sat silently close to her friends while admiring the online tracker performing its magic: Bella puts her Pizza in the oven. Cynthia performs the qualities check. Danny carries it to the car and brings it to her in a matter of thirty-minutes.
This scenario is a typical ordering experience at Domino's, the world's pizza delivery leader, which serves more than one million customers worldwide. Its founder, Tom Monaghan, prevailed despite the numerous setbacks he faced to turn a small pizza store into one of the most recognizable brands worldwide with 17,100 stores in more than 90 countries.
The success of Domino's Pizza is indisputable, as it has one of the most creative and delicious pizzas in the world. Also, its delivery system and iconic logo are assets that aided its dominance. Let's take a trip down memory lane to explore the history of Domino Pizza, the evolution of its logo, and how the logo has helped it to become one of the most recognizable brands in the world.
History of Domino's Pizza
On March 25, 1937, Francis Monaghan and Anna Monaghan gave birth to Tom Monaghan. The family lived in a small farmhouse in Ann Arbor, Michigan. In 1941, Christmas Eve, when Tom was four years old, the father died of peritonitis. At the age of 6, Tom's mom took him and his brother to a foster home. They stayed for almost 7years before reuniting with their mother.
With no support to attend college, Tom joined the Marines and served there for three years. He saved some money from the marine duties for his college plans, but unfortunately, he lost $2000 in a business scam. His persistence desire to study at Michigan University finally paid off in 1960, but he dropped out after only three weeks.
In 1960, Tom and his little brother, James borrowed $500 to buy a small pizza store at Ypsilanti, Michigan. To efficiently run the business, the Monaghan brothers plan to share the tasks equally. But after eight months, James sold his share for a Volkswagen Beetle, the company's van for delivery. He couldn't afford to leave his full-time job for a business whose future is uncertain.

Tom Monaghan had three pizza stores in 1965 after buying two extra. To maintain the same branding for all the three stores, he talked to Dominick Divarti, the first store owner. But Dominick refused to allow him to take that initiative. Fortunately enough, Jim Kennedy, an employee, suggested the name 'Domino's' to him. He loved the name because his customers can still relate to it. So, he officially adopted the name Domino's Pizza, Inc. in the same year.
Tom Monaghan sold his first franchise in 1967 after learning the industry's best practices and inventing his unique model to upscale his business. By 1978, Tom had 200 stores. In 1973, the company launched the 30 Minute Delivery System, guaranteeing that customers would get their orders within thirty minutes of placing an order.
Amstar Corporation, the manufacturer of Domino sugar, sued Domino Pizza for trademark violation in 1975. However, Tom won the legal battle in 1980. Domino's Pizza launched its first international store in Manitoba, Canada, while celebrating its 100th store, the first in Vancouver, Washington. These two events took place in 1983. By 1985, Domino's launched its first store in Luton, United Kingdom, and first store in Tokyo, Japan.
The company's famous 30-minutes delivery initiative caused a lot of challenges. For instance, in 1992, the company paid $2.8 million in compensation for killing an Indiana woman. The company also paid $15 million in court settlement for colliding and injuring another woman in 1993.
The company moved to China in 1995, reaching its 1000th international locations, and two years after, it celebrated its 1,500th international location by concurrently opening seven stores in five continents within a day. What an ambitious achievement!
In 1998, Tom Monaghan sold 93% of his ownership to Bain Capital, Inc. for about $1 billion, so the new board appointed Dave Brandon as CEO. After 44 years as a privately held company, Domino's Pizza started trading on the New York Stock Exchange.
In January 2006, Domino's Pizza celebrated its 5000th US Store in Huntley, Illinois, and its 3000th international store in Panama City, Panama, making 8000 total stores. Taiwan's Jinghua Hotel Group, in December 2006, acquired the rights to own Domino's Pizza in Taiwan and Beijing for the sum of $500 million.
In August 2006, Domino's Tallaght branch, Ireland, became the first store in its history to hit $3 million sales volume per annum. By September 2006, Domino's had 8,200 plus stores worldwide, totaling $1.4 billion in gross income.
Domino's launched its computer and mobile ordering services as well as the Dream Franchising Program in 2007. The Pizza Tracker followed them in 2008, an online application that allows customers to view their order's status in real-time.
To further enhance its credibility, Domino's launched a billboard advertising in New York in 2011 to display comments from customers. In August 2012, Domino's Pizza changed its name to simply Domino's.
By 2014, the company had grown to 6000 locations outside the United States, before opening its Milan, Italy store in 2015, followed by the unveiling of a 'Pizza Car' that can carry 80 pizzas at a time. This car consumes less fuel.
In 2016, the company used self-driving robots to deliver Pizzas in some cities in German and Holland. Also, in the same year, it had Pizza delivered by drone in New Zealand. Another innovation followed in February 2017 when it launched its wedding registry, which provides pizza-loving couples gifts.
Domino's launched 'Paving for Pizza' in June 2018, an initiative to repair potholes in the United States to save its Pizzas from damage during delivery. A year later, Domino's announced a partnership with Nuro to launch self-driving Pizza delivery cars.

Aside from Pizza, Domino's now serves pasta, bread bowls, an oven-baked sandwich, buffalo chicken kickers, white-meat fillets, specialty chicken, and Parmesan bread bites.
The History of Domino's Logo

As of 2020, Domino's Inc. is sixty years. Can a company stay for this long without a tweak in its branding strategies? It's quite rare or impossible to find a company existing for about six decades without modifying its corporate image to meet the times' changing needs.
Tom Monaghan and his successors knew very well that they must adapt their branding strategies to stay at the top of the business game. From 1960 to 2013, Domino's logo design has seen four phases, reflecting the industry's needs and that of the company.
When Jim Kennedy suggested Domino's name, Tom had no objection, as he believes it echoes well with the former name. This name was the beginning of the original logo: a Domino with two horizontal parts. The emblem featured two red squares above a blue rectangle with the inscription 'Domino's Pizza.
The red squares above contain three white dots, two on the left and one on the right: the two red squares plus the single blue rectangle combined to form an outstanding squared-emblem with rounded edges. David Stribley, a graphic artist from Ypsilanti, was the designer.
The second logo saw some minor modifications. This time, the designer rotated the logo 90 degrees anticlockwise, giving it a vertical appeal. The red and three dots formed the left quadrant, and the blue and the company's name included in the right quadrant. The colors were brighter and darker. The rounded edges freed, the company's inscription took on uppercase letters, and two new white squares outlined the dots.
With the third logo, the company went in for the original logo again but with some new tweaks. Instead of the horizontal parts, the new design featured the original logo flipped on its edge, portraying a kite-shaped emblem. The rounded edges and the company's previous letterings were brought back with some good color schemes.
The company took a bold step in 2012 to modify its name to just Domino's. This change also affected the new logo. With the company having various foods to sell, it was a good idea to exclude Pizza from the name. The new logo features only two rounded squares with the three dots. The red shape has a single dot while the blue has two dots. The company's name now rests under the slanted emblem.
The Element of the Domino's Logo Design

The Domino's logo combined several design elements in the most creative way to make it more outstanding: squares, dots, colors, font, and rectangle. The three dots represent the first three stores that Tom acquired.
The font choice is legible enough to be noticed from afar, and it combines well with the other elements. As a proud American company, it isn't surprising to see red, blue, and white playing significant roles in the logo design. The red represents passion, love, and energy. The blue signifies unity and integrity, while the white communicates purity, cleanliness, and safety.
The square shape signifies the Pizza box. Also, the traditional game called Domino represents fun and excitement. In line with this idea, Domino's represents a company that brings joy and happiness in people's lives – parties, weddings, etc.
The Popularity of the Domino's Logo
The popularity of Domino's is by choice. The company has a well-organized marketing system that uses billboards, television, magazines, sporting deals, and talent shows to magnify its brand and sales revenue. The company is also a big fan of Twitter, Facebook, Instagram, YouTube, and Celebrities in creating visibility for its brand.
British Got Talent is one of the most-watched programs in the world. Domino's has taken advantage of its viewership to reach out to more people. Also, Domino's became the title sponsor of Ligue 2, the second-tier soccer league in France. The four-year sponsorship deal was a massive boost to its brand publicity.
A quote from Nicolas Degeraud, marketing director in France for Domino's, read 'The Domino's Ligue 2 will undoubtedly strengthen our bonds with consumers, increase our brand awareness, and grow our sales.'
That's it, Domino's objective is clear.
As an entrepreneur, you must take your logo design seriously. It's the ambassador that will do the silent marketing for you. When you are ready to have a logo design for you, turn your focus to the industry's number one creative agency, LogoMyWay.
At LogoMyWay, our topmost priority is your logo design. That is why we give you three different options: our in-house professional logo designers, or our famous logo contest, or our interactive logo maker interface that aids you in doing it yourself.