Like the Calvin Klein brand itself, the Calvin Klein logo has a rich history and legacy. While it has gone through a makeover and refreshed its whole look, the Calvin Klein emblem still carries that elegance and class that Calvin Klein is known to bring about.
In early 2017, the fashion house revealed a fresh new logo on Instagram. This design highlights the heritage and history of Calvin Klein while still conveying class and luxury. It walks the thin line between minimal and modern, as well as majestic and classic.
Calvin Klein got its bang on with its logo redesign. It still symbolizes the brand in general while also giving its identity a whole new layer, making it stand out from all its competitors.
Calvin Klein is an awesome logo design that seemingly knows how to keep up with the times.
Calvin Klein Logo History and Evolution
The CK emblem is one of the best fashion labels of all time has always kept the principle of minimalism and clarity at the forefront. The Calvin Klein logotype is written in lightweight sans-serif font since the brand's launch because the people were the main focus.
Celebrity advertising campaigns have always been one of the highlights of the brand, where the Calvin Klein emblem works as a high-quality symbol, and the fashion label's slogans are the main highlight.
1968 — 1975
Calvin Klein introduced its first-ever logo in 1968, consisting of a delicate and lightweight title case logotype in a monochrome theme. The black lettering on a white background looked very elegant and fresh. However, it was rendered in a very basic and conservative sans-serif, which closely resembles the Hess Gothic Round NF and Kontora Light fonts.
1975 — 1992
In 1975, Calvin Klein's visual identity was redesigned, making the logotype stronger and bolder by thickening the thin letter lines and switching the font to a more intense and solid one. The logo was rendered in a font that's similar to OL Round Gothic-Bold and ITC Avant-Garde Gothic Pro Book.
1992 — 2017
In 1992, the font was once again changed to something between the first two variants, but the style and shapes stayed the same. During the period, Calvin Klein actively used "CK" in lowercase characters as the emblem. The new font of Calvin Klein's logotype looked very much like the Bambino Light font.
2017 — Today
The 2017 makeover of the Calvin Klein logo introduced something fresh to the visual identity—the logo now has capitalized letters. They are rendered in the ITC Avant-Garde Gothic Pro Book font that the fashion label used for its inscription in the 1980s. The letters are so close to one another, making them appear slightly condensed but strong and solid.
Calvin Klein Logo Design Elements
Shape: Calvin Klein has a highly minimalistic logo, which is quite consistent with the logo strategy of many renowned fashion labels. It's the initials of the company name written below.
The logo is often ostentatiously placed in a conspicuous area on the brand's attire and other products.
Font: Written in Futura font, the name "Calvin Klein" is just above the "CK" emblem itself.
Color: Calvin Klein's visual identity is rendered in black, white, and grey. The black variant is commonly seen in the Haute Couture range, the white version is commonly found on sportswear, and the grey one commonly appears on regular apparel. The colors symbolize sophistication and elegance, purity and charm, as well as perseverance and grace.
The History of Calvin Klein
Founded by Calvin Klein, Calvin Klein Inc. is a world-famous fashion label that's arguably popular for its range of undergarments, jeans, and perfumes. The company also sells other products, including shoes, bags, towels, and jewelry. Customers can also buy accessories like belts, sunglasses, and wallets in many different colors and styles.
Early History
In the fall of 1960, Calvin Klein joined the Fashion Institute of Technology. In 1961, he got his first full role in fashion as a copybook author at Women's Wear Daily.
After he graduated with a Degree in Fine Arts in January 1963, he started working for a firm that specialized in designing dresses using a fabric known as "whipped cream." After three months, Klein became dissatisfied with his job and demanded a $100 raise. When his boss turned him down, he resigned.
He soon found a sketcher role at coat maker Dan Millstein. According to Klein, this role was a baptism of fire for him. Accompanying his boss to various Paris Haute Couture events, Klein was asked to copy the outfits showcased at the events.
Despite enjoying the experiences of Paris Fashion Week, Klein was frustrated by Millstein as he was known to be difficult and volatile. For that and other reasons, Klein soon plotted his exit. He soon found a job at a fake-fur outwears manufacturer, Halldon Limited. It was this job that first got him mentioned in the press in 1967.
But he soon grew tired of this job, too. He got in touch with an old pal named Abe Morenstein, with whom he worked at coat maker Dan Millstein. Morenstein also wanted to launch his own business and worked out that the business required $25,000 to start.
The duo tried and ultimately failed to raise capital. And when Klein was just about to give up, his childhood pal Barry lent them $2,000, which was enough to start making samples. Klein gradually started using Schwartz's money regularly, though Morenstein claimed he never knew where the funds came from.
After putting together an apparel line with Klein, Morenstein wanted to partner up with Klein and incorporate a company. But Klein, then aged 25, had already beaten him to the punch. He had already incorporated Calvin Klein Ltd, leaving Morenstein out and taking on a new partner in Barry Schwartz.
He officially started the company in late December 1967, but Morenstein claims that Klein didn't let him know about this until early 1968. As a result, Klein and Morenstein never spoke to one another for 24 years.
Calvin Klein in the 1970s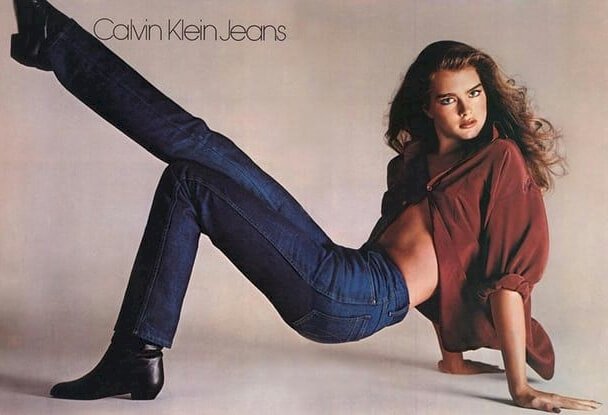 Calvin Klein took his business to new heights in the 1970s. In 1971, he started to introduce new lines to Calvin Klein, including women's lingerie, sportswear, and jackets.
From 1973 to 1975, he bagged three consecutive Coty American Fashion Critics' Awards.
By 1977, the Calvin Klein brand had an income of $30 million. This was as a result of increased advertising and sales, as well as the introduction of shoes, sunglasses, furs, scarves, and other items to the market. With more items on sale, they were able to reach a broader market.
Calvin Klein had by then been selling products designed for women. But during the 1970s, they began selling menswear as well. They also started selling jeans, which has made Calvin Klein wildly popular even today. Within just a week, they had sold more than 200 000 pieces of jeans.
The famous Calvin Klein logo, which is the company's name printed on the jeans' back pocket, also appeared at this time and began a logo trend that has carried on ever since. Naturally, other jeans brands also copied the trend.
Cosmetics and Fragrances

In the late 1970s, Calvin Klein started selling fragrances and cosmetics, but these products didn't catch on as the attire and accessories had throughout the same decade.
As a result, Calvin Klein suffered massive financial losses, making them recall all cosmetic and fragrance products from the market.
For the next few years, Calvin Klein focused on marketing its ever-popular jeans, so it didn't introduce any new products to the market.
CK in the 1980s
In the 1980s, jeans were generally the in thing among young people, but Calvin Klein also introduced both men's and women's underwear.
The new underwear lines alone raked in $70 million within just a year and the company heavily advertised them throughout the 1990s using huge billboards and other advertising media. Mark Wahlberg, a famous pop singer at the time, became the face of CK during this period. Men's underwear soon came to be known widely as "Calvin's."
The Role of Advertising in Calvin Klein's Success
Advertising and branding have always played a key role in making Calvin Klein the successful brand we know today. This is especially true with the undergarment collections.
Calvin Klein used celebrities to take the brand to another level in the world of fashion. In the 1980s, Brooke Shields was among the famous faces that modeled Calvin Klein underwear and got people discussing the brand even more.
More stores were opened not just in the United States but also in many other countries all over the world. A total of over 12,000 stores sold Calvin Klein apparel, including several in the United Kingdom, Ireland, Japan, and Australia.
Calvin Klein was "America's Best Designer" in 1993, but the brand was put on sale by 1999. Several other fashion labels, including LVMH and Tommy Hilfiger, expressed interest in buying Calvin Klein. Still, at $1 billion, the asking price was too high, and none of the labels made a decent enough offer.
The Faces of CK
Justin Bieber was made the new brand ambassador for Calvin Klein's men's underwear, with Kendall Jenner becoming the new face of CK's women's underwear. The endorsement of these two famous faces caused Calvin Klein underwear sales to soar, making the brand even more popular than it was previously.
Ironically, Calvin Klein's founder didn't think it'd be wise to use either celebrity to promote the underwear collections, but it proved to be an advertising masterstroke for the business.
In 2016, Calvin Klein ran a successful promotional campaign to showcase all their collections at the same time, since that was where their customers could interact with each other by revealing what they get up to in their Calvin's.
This campaign was inspired by celebrities like Kendall Jenner, Justin Bieber, Shawn Mendes, Cameron Mendes, Fetty Wap, and Noah Centineo. It very quickly took social media by storm, with CK customers sharing their photos while wearing Calvin Kleins underwear.
Calvin Klein's Obsession
Popular Calvin Klein fragrances in the 2000s include Obsession, Escape, and Eternity.
Although suggestive ads were banned or canceled for many of Calvin Klein apparel, many of them were still used for the scents.
Although there were several complaints about the use of the ads, the images seemed to boost fragrance sales, so the company took no further action to stop using provocative advertising methods.
Every year, fans and fashion critics keep an eye out for the new collections and lines being introduced by Calvin Klein. With Calvin Klein adding new products and designs to their ever-expanding stores, the brand definitely knows how to attract and keep new customers.
Calvin Klein 2002 Sale
Towards the turn of the millennium, Calvin Klein was fully in charge of his massive empire, with retail stores in America, Europe, Asia, and the Middle East.
In 1999, Klein and his partner Schwartz announced that they were putting their company up for sale. At the time, the company made sales worth $170 million but cashed in $5 billion from licensing agreements. Klein wanted to sell the firm but still remain in complete control, so it took almost three years for the company to find a buyer in Phillips-Van Heusen.
Klein remained on board but had no title.
Last Word on the Calvin Klein History
Calvin Klein Ltd is an elite fashion label that was founded by Calvin Klein, a famous U.S. fashion designer, in 1968. With its headquarters in Manhattan, New York, the company is today owned by the giant fashion brand PVH Corp.
Calvin Klein produces modern, classy styles for men and women, including apparel, footwear, handbags, underwear, home furnishings, and fragrances. It's a global fashion brand that epitomizes bold, progressive ideals as well as a seductive and sometimes minimal aesthetic.
The brand and the CK logo have forged a solid reputation as a pacesetter in the global fashion industry thanks to their innovative designs and clean aesthetic. It's an instantly recognizable brand—from its fashion to its logo design and more.
PVH Corp bought Calvin Klein in 2002 and has focused not only on growing the brand's reach worldwide but also its recognition, prestige, and relevance. In 2020, worldwide sales of products associated with the Calvin Klein brand were around $6.2 billion.