This is a look at the Tory Burch logo and some history behind the fashion label.
2004 brought to light a new fashion label with a motherly heart and touch. It sprung out of New York City and was named after its versatile founder, Tory Burch. This clothing brand that designs solely for the female market began on a kitchen table.
In choosing a logo to represent her brand, Tory Burch went for a distinct emblem that resonates with her passions and interests. She went for things that inspired her. Out of two hundred designs brought before her, she chose a modest one with powerful emotions.
The honored logo featured a frame of a circle with two stylized letters—T engraved in it. The designer mirrored the second—T on top of the first one. In effect, they looked like reflected alphabets with authority. The layout of the design ensures that it can take on various colors.
The Tory Burch logo has remained the same because it's still the megastar on the runway. It is on anything designed by the fashion empress. Also, it's a supermodel on billboards, business cards, television shows, websites, social mediums, and other marketing networks. It's just active!
History of the Tory Burch Logo

The only trademark that the fashion label has had since 2004 took inspiration from a reigning logo in the 1960s and 70s. This logo was owned by David Hicks, a Moroccan interior designer. Tory Burch was represented with about two hundred designs before settling on the iconic—T.
The–T Logo Design–2004
The Burch logo comprising a thick circular frame contains some unique double—Ts. The designer placed one letter on top of the other and reflected it through an angle of 180 degrees. The wordmark inside the circle looks like a stylized cross with some cut–off parts. And below the emblem is the brand's name—Tory Burch in uppercase letters. This recognizable logo design comes in various color schemes. It's easy to find white, orange, and dark blue.
What Does the Tory Burch Logo Mean?
The most apparent design element in the Burch logo design is the iconic letters. In the strictest sense, the emblem that looks like a decorated cross has no hidden meaning. Instead, the twin—Ts refers to the fashion designer's first name, Tory. We can link the letters to the founder's interests—travel and interior decor on the flip side. Yes, her passions reflect in her logo style.
What Font Is Burch's Logo Using?

The Tory Burch logo comes with both an emblem and a brand's name. The signature name is the designer's full name, which featured a simple decorative font from the sans–serif family. It's a custom font that is close to HWT Tuscan Extended designed by Hamilton Wood. Despite its intricate style, it looks attractive, clean, and readable.
Why Does the Burch Logo Works?
1. The Burch Logo Is Consistent:
Over time, customers build an emotional connection to promotional messages that are directed at them continuously. For nearly seventeen years, the Burch logo has remained unchanged. Because of its value proposition and appearance, it has won the hearts of many customers. Also, the consistency of its trademark has made customers have confidence in its products.
2.      The Tory Burch Logo Is Simple:
The Burch logo has met the essential requirement of simplicity. This is because it's modest in its layout and outlook. From every sign, the designer has employed fewer graphic elements to create a unique visual identity that evokes the Burch brand's charisma.
3.      The Tory Burch Logo Is Versatile:
The purpose of scalability is defeated when your logo can't fit on multiple channels. So Graphic Artists put much effort into ensuring that the logo they create has the flexibility to reach the target audience on different marketing mediums. The Burch logo can model on any promotional channel in line with this requirement because it has a classic and minimalist layout.
4.      The Tory Burch Logo Is Legible:
What do you stand to gain when your logo design is unreadable? A logo that is easy to read wins more hearts and communicates effortlessly with its targeted audience. The Burch logo, with its clarity and fewer design elements, is easy to read and understand. Therefore, it's one of the recognizable trademarks in the world.
5. The Burch Logo Is Memorable:
How easy and quick can customers recall your trademark? Both actual and prospective clients can remember the Burch logo whenever they come into contact with it. It's unique, elegant, and clean, making it convenient for people to capture it in their mind with less effort.
The Tory Burch Logo Design Elements

Graphic elements are the backbone of any logo design. They set the plan in perspective and bring out the abstract ideas into the light. The Tory Burch logo uses fewer and unique design elements to tell its story. Without wasting time, let's look at the features that make its logo shine:  
Tory Burch Logo Shape and Symbols
1. A Letter T:
Most people would relate the letter—T to the owner's name. The twentieth letter of the English alphabet has other energies that it emits. It resonates with trust, teamwork, travel, and timelessness. These are just a few of its vibes.
2. A Cross:
The emblem looked like a crucifixion cross with two stands—one upward and the other downward. As a sacred symbol in Christianity, it resonates with the suffering and death of Jesus Christ. This, according to Christians, brought salvation to humanity. It also highlights the message of love, humility, and fulfilled prophecy to followers of Christ.
3. A Circle:
The shape of a circle goes with eternity, perfection, and totality. It can also evoke the energy of timelessness and wholeness. As a circular frame in the Burch logo design, it holds the iconic letters in position and enhances their personalities.
Tory Burch Logo Colors

1. Orange Color:
Orange formed the background color of the Tory Burch emblem. Heat and sunshine are two elements that give us a good idea of this color of creativity. It stands for joy, warmth, and enthusiasm. This youthful hue can also radiate success, freedom, and happiness.
2. White Color:
The color white beautifies part of the Tory Burch logo. It often comes with the brand's name and the outline of the rounded frame. The color conveys the message of purity, goodness, and innocence. White, the color of light and heaven, also symbolizes humility, cleanliness, and softness.  
3. Dark Blue Color:
This is the color closest to the sky and sea. The trademark sometimes uses dark blue to evoke its personality. Blue symbolizes trust, loyalty, and wisdom. It can also convey other emotions like confidence, stability, and serenity. It's the most popular color in the world.
4. Black Color:
The color black mainly works together with the white hue. They provide potent emotions and clarity. Some emotions emitted by black are strength, power, and authority. The Burch logo uses this as an outline or background color and can also speak of formality, elegance, and prestige.
Brief History of Tory Burch LLC
Tory Burch LLC derived its name from its founder—Tory Burch, and it's a United States-based fashion brand in New York City. It got started about seventeen years ago, precisely in February 2004, and currently has a presence worldwide.
The maiden retail store was unveiled in Manhattan. By this time, the company goes by the name—Tory by TRB. The brand had a successful first business day as fashion lovers rushed for most of its products on offer. It was a sign of massive validation.
In April 2005, Tory Burch enjoyed the power of celebrity endorsement. From no other person but Oprah Winfrey, arguably one of the influential women and television personalities gave her brand the nod. This was broadcast on her widely watched show—The Oprah Winfrey Show.
As expected, the next day, Tory Burch received about eight million visitors to her business website. This endorsement established her brand as authentic, quality, and luxurious in the minds of millions of people, and it paved the way for its future successes.
With these immediate achievements, Fashion Group International awarded Tory Burch with the 2005 Rising Star Award for Best New Retail Concept. This recognition led the brand to other meritorious awards for its excellence in the fashion industry.
Mexican equity firm Tresalia Capital, in 2009, bought a minority share in the company. But after nine years, Tory Burch bought back its stake from Tresalia Capital. Initially, the company had plans to raise funds through an IPO; however, the idea was boycotted and announced in 2015.
Well, design exhibitions and model walks are an integral part of the fashion world. So in September 2011, Tory Burch had her first debut runway fashion show in New York. Since then, each fashion season is shown at the New York Fashion Week.
Tory Burch continued with her aspiration of having several products. In 2013, and with Estée Lauder, she unveiled her maiden fragrance and beauty capsule collections. A year later, she ventured into wearable technology, becoming the first major fashion label to have done that.
In July 2015, Tory Burch launched its first boutique in Paris. This came after it unveiled its largest store in Shanghai, China, in 2014. With these openings, the company boasts of about 250 stores worldwide. You can find some of them in London, Los Angeles, Rome, Tokyo, and Seoul.
Tory Burch added activewear to her range of inventories in September 2015. It's famously called Tory Sport. These collections include designs for tennis, running, swimming, and workouts. With a long-term partnership with Shiseido, the company has Pierre–Yves Roussel as its current CEO and Thibault Villet as the Asia–Pacific Region's president.
Who Is Tory Burch?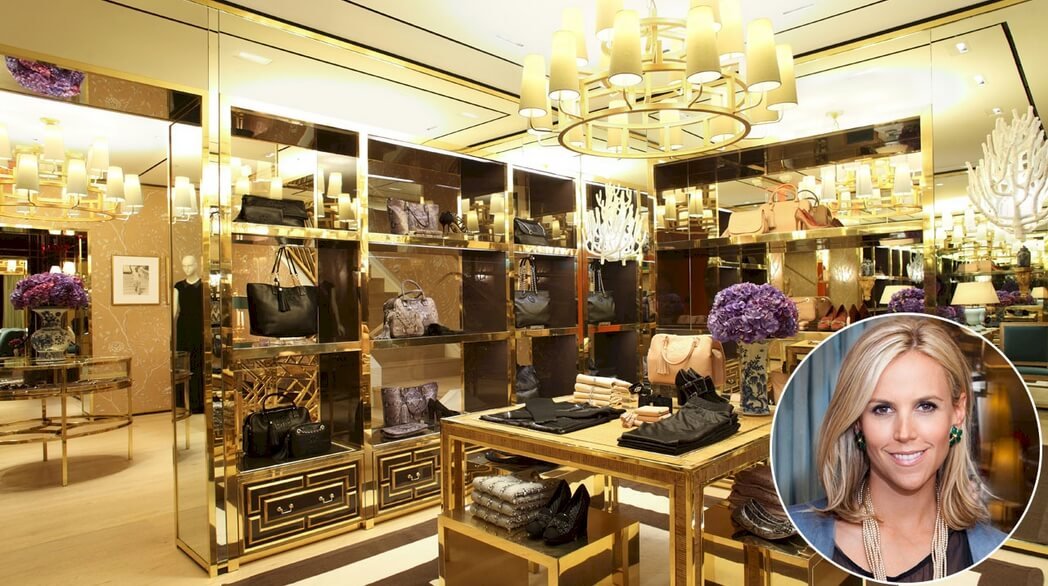 Tory Robinson is an American fashion designer born to parents—Ira Robinson and Reva Schapira. She also doubled as an entrepreneur and a philanthropist, born on 17th June 1966 at Valley Forge, Pennsylvania. Burch is the name of her second husband, J. Christopher Burch.
Along with her three brothers, she was raised by her Jewish mother and wealthy father in a 250–year–old farmhouse near Valley Forge National Historical Park. She attended the Agnes Irwin School in Rosemont, and in 1988 graduated with art history from the University of Pennsylvania.
Tory Burch got her first work experience from the King of Prussia Mall. After graduating from college, she worked for Zoran in New York City. Then to Harper's Bazaar magazine before working in various capacities at Vera Wang, Loewe, and Polo Ralph Lauren.
The fashion queen in 1993 got married to William Macklowe. The union that was celebrated happily couldn't last beyond its first anniversary. They divorced! After nearly three years in the spinster's league, she married J. Christopher Burch, an investor in Internet Capital Group.
This marriage produced three children—Henry, Nicholas, and Sawyer. Unluckily, in 2006, the couples filed for divorce. In November 2018, she married Pierre–Yves Roussel, who became her CEO in 2019. Tory Burch, as of 2019, has a net worth of $850 million.
How Big Is Tory Burch?
Tory Burch, the American clothing brand, designs and sells quality and prestigious apparel mainly for women and girls. Some of its line of fashionable designs are handbags, shoes, watches, and accessories. Others include fragrance, footwear, home décor, and eyewear.
The travel and interior inspired brand have about two hundred and fifty locations in major cities worldwide. Paris, London, New York City, and Shanghai are few examples. Also, you can find its inventories in about three thousand departmental and specialty stores worldwide.
Nearly three thousand, seven hundred and fifty employees managed these global outlets and stores. The impact of this staffing strength on the brand's 2020 annual revenue was reported to be about $318.42 million.
The brand and its owner are influential in the fashion world. With this as a clear indicator, Forbes in 2020 couldn't meddle with words as they ranked her the 88th most powerful woman in the entire world. It's, therefore, no surprise to see women and young girls yearning to wear its brand.
Summary of Tory Burch Logo
Rules are there to guide us to do the right things. The Tory Burch logo shows us the need to abide by the branding regulations. Her logo design is not the first to aim for simplicity, but almost all iconic logos worldwide. You can further explore the likes of Nike, Apple, and Chanel.
The Tory Burch logo is everywhere because it's classic, attractive, and relevant to the industry it serves. Its design layout is also adaptable—meaning it can take on several colors and fit any marketing medium without compromising its message and quality.
Finally, as an entrepreneur, you should define the market you want to serve. Tory Burch's target market is women. She has become an adept designer and rich, targeting this unique niche. No matter your skills, experience, and financial strength, it's not prudent to serve the entire market.