This is a look at the Taco Bell Logo And the History Behind the Company.
The most daring and innovative people on earth, the Americans, can be credited to many inventions across different industries. Today, as we get closer to the National Taco Day in October, I want my readers to start thinking of the gift they will send to their loved ones. For me, I will send a parcel of tacos to my Mom and Dad.
In case you don't know what a taco is, there you have it – a hot and grilling Mexican dish consisting of small folded corn tortilla filled with shredded meat, onions, chicken, spicy sauce, and beans. Cilantro, fresh line, and queso fresco are also added.
If taco is a Mexican native dish, why do most people associate it with the Americans? Well, this write-up will lay the foundation. People associate the origin of the taco with terms like silver miners, taquerias, gunpowder, and chili queens. These terms refer to Mexican immigrants. But who made taco part of the mainstream American culture?
Glen Bell was the businessman who promoted Taco Bell so well that he turned a non-native American food into an accepted brand that earns a place in our national holidays – October 4th each year. Glen Bell tweaked the original recipe, gave it an American flavor, and promoted it as one of the tastiest and healthiest foods worldwide.
So, Glen Bell became famed with taco via its famous brand Taco Bell. This fast-food chain operates about 7383 restaurants across 30 countries and serves more than two billion tacos and more than a million burritos each year—furthermore, the brand boasts over 350 franchises across the globe.
This fascinating history of the Mexican-inspired food is worth exploring, so let's take some time to learn the history of the company, the evolution of its logo, and how the logo has helped it to become one of the most identifiable brands in the world.
History of Taco Bell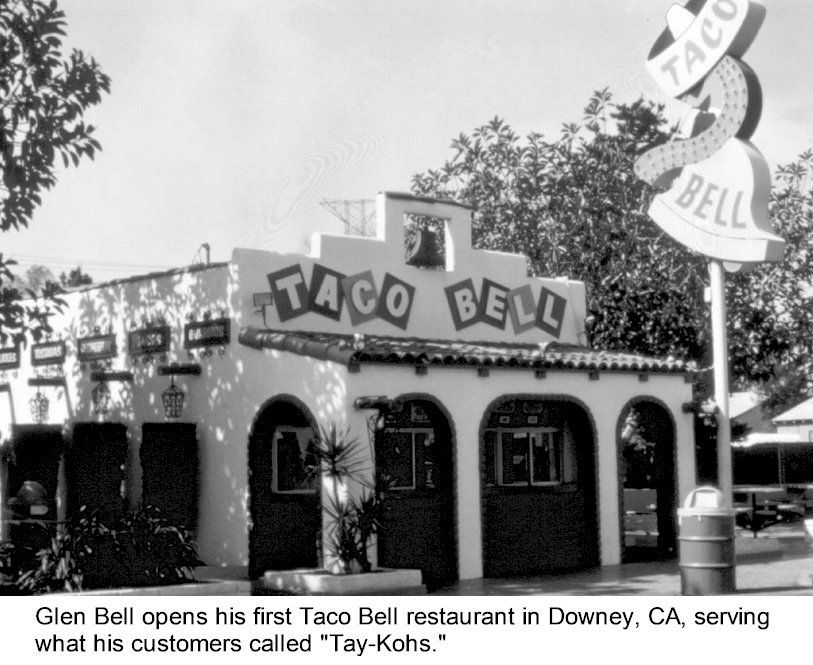 Glen Bell, an entrepreneur who owns Bell's Drive-In – a hot dog and hamburger stand in San Bernardino, California in 1948, is the originator of Taco Bell. As a smart entrepreneur living in a Mexican neighborhood, he saw how people queued for the hot traditional Mexican taco. So, he also decided to profit from this exotic dish.
Glen Bell then approached the owner of Mitla Café – a Mexican restaurant that sells the original tacos, located across the street to learn how the recipe is made. Afterward, he tweaked the recipe and came up with a crunchy version that is mass-produced and immersed with the American taste.
Glen Bella claimed to have invented the crunchy-shelled tacos in the 1950s. But there is a patent registered for this same version linked to a Mexican in the 1940s. Still, Glenn Bell changed his brand from the first one to Taco-Tai, El Taco, and finally to Taco Bell in 1962, located at Downey, California.
Kermit Becky, a retired Los Angeles policeman, acquired the first franchise in 1964 and located it at Torrance, California. And in three years, Taco Bell launched its 100th restaurants at South Brookhurst, Anaheim. Also, Taco Bell established the Springfield, Ohio branch a year later, making Taco Bell one of the fastest-growing brands in the country.

Taco Bell went public in 1970 with 325 restaurants within eight years. Though Glen Bell's admiration for the famed taco is well known, in the 1960s, the dish also caught other prestigious companies' attention. Paramount among these admiring companies is PepsiCo.
PepsiCo purchased the Midwestern franchise, Taco Boy, and renamed it Taco Kid under the Pizza Hut brand's management to be a strong competitor. Since Taco Kid couldn't stand the competition, PepsiCo's planned to buy Taco Bell. The opportunity came in 1978 when Glen Bell sold Taco Bell to PepsiCo for $ 125 million. With this business deal, PepsiCo, Inc. got 868 Taco Bell restaurants.
Taco Bell expanded into Australia in 1981. But Taco Bell's Casa, another restaurant operating in Sydney with a similar name, sued Taco Bell for brand identity. Thus, this event caused Taco Bell to change its mission in Australia. Taco Bell tried again in 1997 but met with another failure. In 2017, Taco Bell was able to launch seven stores in Australia. Now, Taco Bell has nearly 100 stores in Australia.
Taco Bell, in 1991, launched Taco Bell Express in San Francisco, a delivery service in shopping malls, convenience stores, and airports. With its strong presence in the United States, Taco Bell made an inroad to Mexico, launching Taco Bell next to several KFC restaurants in Mexico City. Unfortunately, the Mexican's couldn't accept the crispy taco served by Taco Bell over their native soft corn tortilla. From 1992 to 1994, Taco Bell had to close all its locations in Mexico.
Taco Bell entered into strategic partnerships with other fast-food chains to magnify its brand. In 1995, Taco Bell started a co-branding initiative with KFC in Clayton, North Carolina. Later in the years, it did the same with Long John Silver and Pizza Hut.
In 2000, Starlink's traces, a genetically modified corn, were found in the Taco Bells' shells. So, the company withdrew all the affected tacos from the market, valued at about $50 million. In 2001, the company launched a campaign to give free tacos to every citizen of the United States if Mir, a Soviet Space, hits a target placed in the Pacific Ocean.
Taco Bell Grande in Shanghai, China, was launched in 2003. The company launched three different Taco Bell Grande restaurants in China before their closures in 2008. Yet, in 2015, the company opened a new one at Pudong, Shanghai.
In 2004, the company launched Mountain Dew Baja Blast. This drink was made possible by a partnership deal with Mountain Dew Soda. Customers could only buy the beverage at Taco Bell stores. On October 30th, the same year, Taco Bell opened a branch at Cubao City, Philippines. Here, Taco Bell occupied two floors at the Gateway Mall, one on the ground and the other on the fourth.
A group known as Immokalee Workers (CIW) staged a nationwide boycott against Taco Bell for human right violation. This strike occurred in March 2005 and lasted for four years, forcing Taco Bell to agree to provide better conditions of service to its workers in the supply chain. The agreement was known as the CIW – Yum Agreement.
Taco Bell replaced McDonald's as the official fast food sponsor of the National Basketball Association (NBA) in 2009. The company introduced a mobile ordering and payment app – the first of a kind in the fast-food sector in 2014. And in 2015, Taco Bell launched its vegan and vegetarian menu, offering a limited-service delivery in the United States. Chicago became its first vegan and the vegetarian branch that sold alcohol.
Taco Bell launched its Cantina flagship restaurant in the Las Vegas strip in 2016. The restaurant serves food alongside alcohol and music. It operates a 24-hour service with additional locations in San Francisco, Berkley, Chicago, Austin, Fayetteville, Cincinnati, Cleveland, Atlanta, Newport Beach, and San Diego.
Yum is the current owner of Taco Bell. Aside from the taco dish, the restaurant serves burritos, quesadillas, nachos, veggies, and combos.
The History of Taco Bell Logo
Taco Bell logo design has evolved, undergoing five modifications after its first launch in 1962. The first logo design had three distinctive elements – squares, a color scheme, and a blocky wordmark that laid horizontal.
The colors range from red, green, orange, and yellow. Each color scheme represents two alphabets and two squares. The logo design featured a blocky wordmark in a flowing or dancing style. This emblem served Taco Bell for about ten years.
Taco Bell used the second logo design from 1972 to 1985. The company discarded the previous logo design for a standalone wordmark with a dark shade. This design, though simple, had an artistic feel.
The third logo design took effect from 1984 to 1992, and it featured a colorful bell on top of a stylized-blocky wordmark in a dark color scheme. The innovation brought back Taco Bell's cultural identity. The bell's color scheme also captured the crunchy taco more pleasingly – red for the sauce, yellow for the shell, and orange for the cheese.
The fourth logo design was a completely new one. In 1992, it featured a tone version of the bell with the color scheme wholly changed. The bell tilted on top of a vertical-blocky wordmark. Orange and purple were the colors adopted for this design.
Taco Bell launched yet another logo design in 1995. This logo design is an enhancement from the previous one. It featured a brighter color scheme, and the bell and the wordmark became even sharper.
The current logo design came with the company's Cantina flagship restaurant launch in 2016 at Las Vegas. The design is more minimalistic, giving restaurant owners the flexibility to customize it to meet their preferences. Lippincott designed the new logo.
The Element of Taco Bell's Logo Design

A festive bell, four-color scheme, and typeface are the elements in the Taco logo design. The current logo design signifies simplicity and flexibility. The purple color scheme is modern and unique, and the sans-serif font choice: Helvetica, is not bad either.
The bell stands for the founder's surname. The bell is also a symbol of sound that attracts new customers. To Taco Bell, every day is a festive season, and the bell makes it loud. The original color schemes are mouth-watering elements of food.
The red represents sauce and appetite. The yellow signifies cheese, hot oil, and friendliness, and the green for the freshness of vegetables and nature. And not surprising, the color choice is also an appreciation for the Mexican-inspired native food that has become part of American pop culture.
The Popularity of Taco Bell's Logo
Besides its massive spending on television advertising, Taco Bell has been famous amongst its millennial demographic because of its product innovation, creative social media campaigns, and health-conscious product lines.
For a brand to outspend its rivals by investing $64 million in television advertising shows its intent to increase its brand value, reach out to more people, and increase sales. Taco Bell is an advertising addict.
Taco Bell is an expert in social media campaigns. It creates comic, original, personal, and engaging content to reach out to its millennial demographic target on twitter and Snapchat. After Facebook, Snapchat is the second most used social media channel among 18 to 24-year-olds. Taco Bell was able to reach 224 million millennials with its Cinco de Mayo sponsored Snapchat filter.
Taco Bell's delicious taste, affordability, and ever-evolving logo design contribute to its fame worldwide. The logo designs have been highly recognizable across all media.
Every business needs a professional logo design. When you are ready to have a logo design for your business, turn your focus to the number one creative agency, LogoMyWay.
At LogoMyWay, our topmost priority is your logo design. That is why we give you three different options: our in-house professional logo designers, or our famous logo contest, or our interactive logo maker interface that aids you in doing it yourself.