Even if you have no clue of what Stranger Things is, you've probably spotted the TV series' iconic logo. Today, the Stranger Things logo is nearly as popular as the science-fiction horror-drama TV show itself.
Look everywhere, and you'll probably see decorations, accessories, and clothes emblazoned with the popular emblem. In fact, there are even tools online that can help you make the Stranger Things logo on your own.
So what makes the symbol so unforgettable? Well, like any effective business's visual identity, the Stranger Things emblem conjures up important ideas and feelings to arouse deeper emotions about the series.
From the virtually shimmering red typeface to the lines dividing the words, this emblem's design aims to grab the attention of its audience.
The Stranger Things symbol was designed by a graphic design team comprising the Duffer brothers, Jacob Boghosian, and Imaginary Forces. Since the TV show is set in the 1980s, the designers were wise enough to research some common designs of the era when creating the wordmark logo.
Clearly, the Duffer brothers really loved storytelling, as proven by their feat of creating such a captivating storyline for Stranger Things. They were largely inspired by the 1980s novels.
The design team wanted the Stranger Things symbol to look unique to grab people's attention while still employing aspects of the 1980s imagery and typography.
According to the designers from Imaginary Forces, the resulting typeface was meant to be a mixture of the font used by the title series of the movie Alien and one used by a Stephen King novel.
The Duffer brothers gave Boghosian a bunch of Steven King novels to check out, and more than 20 symbol options were considered being the Stranger Things logo was designed.
History and Evolution of the Stranger Things Logo

The Stranger Things logo and symbol were designed in 2016 through the collaboration between Ross and Matt Duffer and Imaginary Forces, an American creative firm. This was one of the several Netflix projects that Imaginary Forces had undertaken. That said, here's a quick look at how the Stranger Things wordmark has evolved so far.
2016
The symbol for Season 1 of Stranger Things is in the form of a wordmark. There are no graphics since the title is where the focus is, emphasizing the oddity of the events. The directors chose the ITC Benguiat typeface to depict the atmosphere of style, horror, and phantom of the 1980s.
The words "Stranger Things" are written in two rows, with the word "Stranger" placed above the word "Things." In addition, a double bar highlights the "Stranger" part of the phrase. The characters themselves are contour—solid outside and hollow inside—and the "S" and "R" characters are much bigger than all the other characters.
2017
Season 2 of Stranger Things is first highlighted by the apt numeral "2". It's fully painted and positioned behind the "translucent" phrase "Stranger Things." A red fog surrounding the "Stranger Things" phrase conveys an atmosphere of mysticism.
2019
A new Stranger Things logo appeared with the unveiling of Season 3 of Stranger Things. The words "Stranger Things" were repainted black and had a red outline to emphasize the tragic storyline. 
The numeral three is rendered in a crimson gradient with darker edges. The font used is ITC Benguiat in uppercase, and it accentuates the "S" and "R" in "Stranger." In addition, the logo's lines were made solid.
2021
Season 4 of Stranger Things didn't see drastic changes in the logo, but the numeral four was placed in front of the phrase "Stranger Things." The mysticism of the events unfolding are highlighted by grey characters with a lean red outline. 
The Stranger Things Logo Design Elements
Font: The font used for the "Stranger Things" wordmark was ITC Benguiat, which has a bold but decorative aesthetic. The serif-style typeface gives a hint of the retro horror Stephen King's novels, but it's also highly readable and modern. The font conveys the 1980s atmosphere like nothing else.
There are some minor changes to the font of the Stranger Things logo, though. The first letters of the word "Stranger," S and R, are stylized and extended. The serifs' shape is also a bit different. A few slight changes can be noticed in the shape and kerning of different letters.
Color: Each season of Stranger Things logo had its own color scheme. Initially, it was red characters against a white background, and then the letters were changed to black. In the final season, the letters were hollow with a red outline, which made the wordmark resemble the neon signs seen in hotels and shops during the 1980s.
The History of Stranger Things
Stranger Things unfolds in fictional Hawkins, a rural town in Indiana, in the early 1980s. 
The Hawkins National Library in the neighborhood allegedly carries out scientific research for the Department of Energy while also secretly doing experiments involving the supernatural and paranormal, including those on human subjects.
They have inadvertently built a gateway to a separate alternate dimension known as "the Upside Down." As a result, the Upside Down begins to affect the unsuspecting Hawkins population in disastrous ways.
Season 1 starts in November 1983 as Will Byers is kidnapped by a creature found in the Upside Down. The town's chief of police, Jim Hopper, and Will's mother go searching for him. At the same time, a young psychokinetic woman named Eleven escapes from the Hawkins National Library and helps Will's mates Lucas, Dustin, and Mike in their own mission to locate Will.
Season 2 is set in October 1984, when Will has been saved, but not many people know about the events leading up to his abduction. When it's discovered that creatures in the Upside Down still have an influence on Will, his family and friends find that the Upside Down is a huge threat to their world.
Season 3 is set months later, just a few days to the Independence Day holiday in 1985. The newly-opened Starcourt Mall is now the center of attraction for residents of Hawkins, leading to the closure of most other stores.
Hopper gets increasingly worried about the relationship between Eleven and Mike while still attempting to look after Joyce. Unbeknown to Hawkins, a secret Soviet lab under Starcourt Mall aims to open the doorway to the alternate dimension is also known as the Upside Down, letting the creatures from this world possess residents of Hawkins and create a new type of horror to sort out.
Stranger Things' Cast and Characters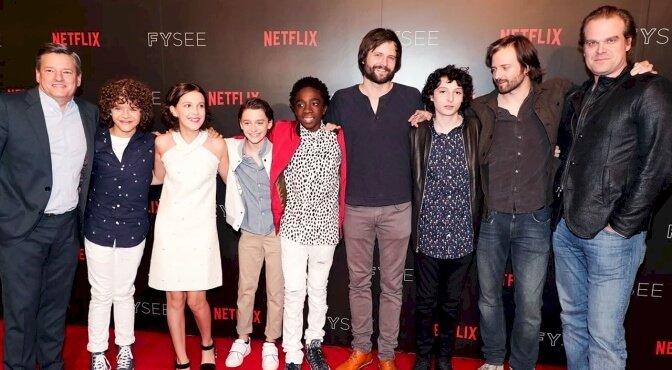 Joyce Byers (played by Winona Ryder) is the mother of Jonathan and Will Byers. Her ex-husband is Lonnie Byers. In the second season, she's dating Bob, her high school classmate, who later dies in the season. Joyce and Hopper are suspected to have the hots for each other.
Will Byers (played by Noah Schnapp) is Jonathan Byers' younger brother and son to Lonnie and Joyce Byers. He's abducted by a monstrous creature from the world of the Upside Down, an alternate dimension discovered by scientists from the Hawkins National Library.
Mike Wheeler (played by Finn Wolfhard) is the middle kid of Ted and Karen Wheeler and brother to Holly and Nancy. He's also one of Will Byers' three friends. He's a smart and meticulous student who's loyal to his pals. He starts to like Eleven.
Jim Hopper (played by David Harbour) became the head of the Hawkins Police Department after the death of his young daughter Sara from cancer, Hopper got divorced and drifted into alcoholism. He eventually turns his life around and becomes responsible, rescuing Will Byers and adopting Eleven as his daughter. It's suggested that he and Will's mother have romantic feelings for one another.
Jane Hopper/Eleven (played by Millie Bobby Brown) is a young woman with psychokinetic and telepathic abilities but with a limited vocabulary. Eleven's real name is Jane, and her biological father is Terry Ives.
After fleeing from Hawkins National Laboratory, where she was undergoing experiments, she befriends Will's friends Lucas, Dustin, and Mike. She starts liking Mike. In the Season 2 finale, she's adopted by Hopper. In Season 3, she and her adoptive father grow close, and Hopper starts to see her more like his own daughter.
Jonathan Byers (played by Charlie Heaton) is Will Byers' older brother and Joyce Byers' son. He's a reclusive, quiet high school teenager who aspires to be a photographer. He's close to his mum and brother and starts dating Nancy Wheeler.
Dustin Henderson (played by Gaten Matarazzo) is one of Will's three friends. His lisp is caused by his cleidocranial dysplasia. In Season 2, Dustin develops feelings for Max and likes his brand new front teeth. In the third season, he starts dating Suzie (played by Gabriella Pizzolo) after meeting her at Camp Know Where. They share just one scene together in the Season 3 finale.
Lucas Sinclair (Caleb McLaughlin) is one of Will's three friends. He doesn't trust Eleven but befriends her later. In Season 2, Lucas is one of those eyeing Max romantically, and he eventually starts dating her in Season 3.
Max Mayfield (Sadie Sink) is the younger stepsister of Billy. She's also a tomboy and both Lucas' and Dustin's love interest and eventually ends up picking Lucas.
Billy Hargrove (played by Dacre Montgomery) is Max's unpredictable, abusive, and violent stepbrother. He challenges the popularity of Steve.
Steve Harrington (played by Joe Keery) is Nancy Wheeler's boyfriend and a well-liked high school student. He snubs Jonathan Byers but befriends him later. He breaks up with Nancy in Season 2.
Nancy Wheeler (played by Natalia Dyer) is Ted and Karen's daughter and Mike's and Holly's older sister. Obedient and studious, Nancy discovers another side to herself while probing the death of her pal Barbara and investigating the Hawkins Laboratory itself. In Seasons 1 and 2, she's dating Steve Harrington and eventually breaks up with him. She then goes on to date Jonathan Byers'.
Karen Wheeler (Cara Buono) is the mother of teenager Nancy, middle-schooler Mike, as well as toddler Holly.
Bob Newby (played by Sean Astin) is Joyce's and Hopper's former schoolmate. He's dating Joyce, alienating Hopper. He also manages the Hawkins RadioShack.
Sam Owens (played by Paul Reiser) is an executive from the Department of Energy who takes over as Hawkins Laboratory director. He's fiercely dedicated to scientific research and stubborn but also empathetic to Hawkins residents.
Martin Brenner (played by Matthew Modine) is the scientist running Hawkins Laboratory. Aloof and manipulative, he leads his team in the search for Eleven.
Robin Buckley (Maya Hawke) is a young woman in the alternate dimension world of the Upside Down who works with Steve at Starcourt Mall, selling ice cream.
Erica Sinclair (played by Priah Ferguson) is Lucas' younger sister. She's ten years old.
Murray Bauman (played by Brett Gelman) is a private investigator, conspiracy theorist, and Jim Hopper's long-time friend.
Jamie Campbell Bower portrays Peter Ballad.
Joseph Quinn portrays Eddie Munson
Eduardo Franco portrays Argyle
Wrapping the History of Stranger Things
Stranger Things is a US science-fiction drama horror TV series streaming on Netflix and created by the brother duo of Ross and Matt Duffer. The Duffer brothers are the series' showrunners and also it's executive producers alongside Dan Cohen and Shawn Levy. The show premiered on the 15th of July 2016 on Netflix.
Set in fictional Hawkins, a rural town in Indiana, Season 1 focuses on the probe regarding the disappearance of youngster Will Byers while supernatural events unfold around Hawkins, including the emergence of a young girl with psychokinetic telepathic abilities named Eleven.
Season 3 focuses on the side effects of Will's time in the alternate dimension named the Upside Down, whose creatures are creeping into the world. Season 3 focuses on Mike and Evelen's relationship as the children continue to fight against the entities from the Upside down.
Stranger Things' cast features a collection of actors, including Winona Ryder, Millie Bobby Brown, David Harbour, Gaten Matarazzo, Finn Wolfhard, Caleb McLaughlin, Sadie Sink, Noah Schnapp, Charlie Heaton, Natalia Dyer, Cara Buono, Dacre Montgomery, and Joe Keery. 
Stranger Things has an active, wide, and international fan base and has attracted a record number of viewers on Netflix. Critics have lauded the series for its characterization, atmosphere, acting, pacing, directing, writing, soundtrack, and tributes to the 1980s movies.
Stranger Things has been renewed for Season 4 in September 2019 and will premiere in the summer of 2022. According to the Duffer brothers, the series is likely to come to an end after Season 4 or 5.