On a daily basis, millions of users see the Snapchat logo on their mobile devices, but not many know how it came about. In this post, we'll go over the fascinating history of the Snapchat logo, as well as how the business was established.
Founded in 2011 and centered around the Picaboo project, Snapchat is a mobile app developed by Evan Spiegel and Bobby Murphy and designed to make photo and video sharing more convenient. Therefore, senders can determine the duration of viewing videos or photos from one to ten seconds, after which the multimedia content vanishes for good from the recipient's mobile phone.
The History of the Snapchat Logo
According to Evan Spiegel, Snapchat's iconic ghostly logo was conceived even before its founding. The first Snapchat incarnation was a vanishing image messaging app known appropriately enough as "Picaboo." It's unclear whether the name inspired the logo or the logo inspired the name.
It's reported that Spiegel chose the ghostly image to represent the fleeting nature of the images taken via the app—seen only once and before the recipient knows it—they've vanished into thin air in the manner of the friendly ghost that the logo represents.
Spiegel reportedly took only one evening to come up with the logo. After browsing through countless logos of other popular apps to determine what would work and wouldn't, it eventually dawned on him that all logos had one particular trait regardless of the app. There was none rendered in yellow. As such, he thought there could be no better color to use for his own design.
After selecting the white and cheery yellow theme, he drew the last design on his computer, giving birth to an iconic logo in the process. When Snapchat replaced Picaboo in 2011, it replaced many of Picaboo's features and shifted the focus from branding to technicality and usability. But one thing stayed intact, though: the phantom-like logo.
The Evolution of the Snapchat Logo

Snapchat wasn't always called Snapchat in the beginning. It was known as "Picaboo," which also hints at a disappearing image. When the word is divided into logical segments, it will read "Pic a Boo." Translated into Spanish, "Pic a Boo" means "Photo of a Ghost." That's how "Picaboo" and later Snapchat came about. 
Snapchat CEO and co-founder Evan Spiegel called the logo Ghostface Chilian in tribute to U.S. rapper Ghostface Killah, a gangster rap group member of Wu-Tang Clan. Since Spiegel himself is a dedicated rap follower and artist, the name is no surprise at all.
2011-2013
Snapchat's first-ever logo looks like the Picaboo icon, depicting a grinning ghost with a round head, protruding tongue, an uneven base, and two short arms. It resembles a traditional Halloween sheet outfit.
2013-2019
The ghost appears faceless in the new version. According to the owners of Snapchat, this suggests that every user is the symbol of Snapchat. However, skeptics suspect that the logo was redesigned for completely different reasons. In their view, the graphic sign was changed after one of Picaboo's designers filed a lawsuit, alleging that his copyright was violated by Snapchat.
2019-Present
Many Snapchat users remember 2019 as the year when the most infamous redesign of the logo took place. The designers thickened and darkened the ghost's outline, leading to a barrage of criticism as the company didn't announce the changes. Unexpectedly for users, an updated version of Snapchat appeared in the iPhone App store, with an unusual icon and bug fixes.
This was supposed to go down unnoticed, but Snapchat users immediately saw the image. They started filing complaints, filing petitions, and writing bad reviews on the iOS store. Many people uninstalled Snapchat from their phones due to, in their view, the ugly badge. In response, Snapchat executives stated that the thick border makes the ghost logo more attractive and visible.
Snapchat Logo Design Elements

Snapchat emblem: Picaboo is the inspiration behind the Ghostface Chilian emblem. If you divide Picaboo into logical sections, you'll have "Pic a Boo," which means a photo of a ghost in Spanish. 
Using a cartoon image, Snapchat logo designers originally included the idea of "fading shots." While it's important to note that the multimedia content isn't completely cleared from the app, it's kept in memory, but you can't access it anymore. The ghost logo states: If you do not see something, it doesn't mean that it's not there.

Snapchat logo Colors: A yellow square with round corners contains a white ghost image with a thick black outline. In the beginning, the logo had a gradient background with three-dimensional backlighting and shading. Then it turned bright and uniform. After checking out the logos of numerous competitors, the Snapchat logo designers settled on the Pantone Yellow U shade. 
But the current version of the Snapchat logo utilizes a slightly different yellow shade. It's brighter, almost acidic. And in the previous logo, there was a small red patch (depicting the ghost showing its tongue).
The Meaning and History of Snapchat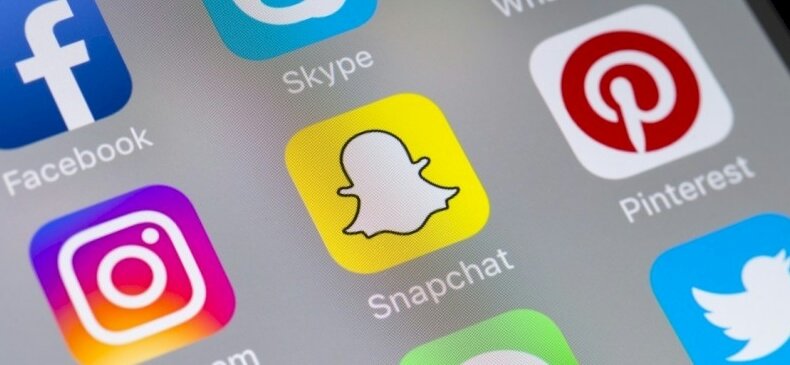 Snapchat is a group and one-to-one messaging app that allows users to send multimedia messages that vanish within seconds. By 2016, the app was being used by approximately 150 million people every day, consuming about 800 video hours per second. That's similar to watching all "Game of Thrones" episodes 13 times, every second. 
As well as its messaging functionality, Snapchat contains Stories (video or picture messages that users can replay for 24 hours), stickers to garnish messages, and Memories (saved pictures for sharing later on).
Snapchat has been adopted widely, particularly by teenagers and young adults. A survey showed that 26% of people aged between 12 and 24 used the app the most, with only Facebook being the most used app. 
Now that you're a little up to speed with Snapchat, let's look at the origins of the app, some of its major achievements and milestones over the years, as well as what the future holds for this social media giant.
History Of Snapchat
Snapchat's origins can be traced back to 2011 when a couple of Stanford University students came upon the brilliant idea of creating an app that enables people to share transient photos without having the same images permanently stored in the cloud. 
The concept of "my eyes only" caught on like a wildfire, effectively banishing many social network users' concern about personal information being stored permanently by such sites as Facebook. Just over a year after the launch of Snapchat, in November 2012, more than 1 billion pictures had been shared via the app's iOS Store, the equivalent of around 20 million photos daily.
An Android app was released soon after, as did several alterations that eventually let users share "Stories" within a chronological 24-hour timeframe. By the close of 2019, Snapchat was the decade's fifth most downloaded app, making its founders Bobby Murphy and Evan Spiegel billionaires.
2011: Picaboo, later Snapchat, is founded
Snapchat co-founders Evan Spiegel and Bobby Murphy said that they created the first Snapchat version, Picaboo while attending Stanford University. This was back in Spring 2011. They aimed to design an app that'd allow users to send pictures that would eventually vanish, and the first Picaboo app was unveiled in July in the App Store–to little fanfare.
For that reason, the founders integrated a workaround fix to the screenshot issue: users could grab screenshots on their iOS devices, rendering the vanishing effect of Picaboo photos meaningless. Instead, they created a notification to help users find out if someone screenshots their vanishing photo.
In September, the founders renamed the app Snapchat, made it able to caption pictures, and relaunched it in the App Store. The app now focused more on technological innovations, rather than marketing and branding, to make the user experience more natural and cool than conventional advertising.
2012: Snapchat Video Starts

After a year in business, the company raised the stakes and user numbers by adding video to the Snapchat app, which had just begun selling in Android's Google Play Store. Just 10 seconds long, the videos were well received nonetheless, and the launch was quite successful, pushing the number of shared "snaps" per day to 50 million.
In 2013, the company rolled two new features— "Chat" and "Stories." The chat feature helped move the app higher up the social networking pyramid. Released in May 2014, the feature allowed people to talk face to face in a chat window through a live chat.
The story feature allowed Snapchat users to upload a series of photos that would be viewable and active for 24 hours. Snapchat also rolled out "Our Story," another kind of story feature that allowed Snapchat users worldwide to post videos and photos from concerts, political rallies, ball games, as well as other public events.
By the end of 2013, Snapchat had introduced Geofilters, a feature that allowed the app's users to personalize their content and indicate their location when posting.
Snapchat was quite busy in 2014. In December, the company introduced Snapcash, which allowed the app's users to send and accept cash from fellow users and get it instantly deposited into their account. In the same month as well, Snapchat ventured into the financial world with Community Geofilters. This allowed customers to create Geofilters of their own or just purchase branded filters.
By 2015, the number of people using Snapchat per month was 75 million. Advertisements were now widespread on the website, giving Snapchat an enormous source of revenue. In fact, by 2018, Snapchat's financial records revealed that advertising accounted for 99% of the company's total revenue. 
The video remained one of Snapchat's most widely used features, with 6 billion videos a day, barely three years after the introduction of video to the site.
Soon after, Snapchat would officially put together a parent company, known as Snap, Inc., and start preparing for an initial public offering worth $25 billion, which would begin in 2017.
Snapchat Problems
Snapchat has had its fair share of growing pains, too.
In 2013, an anonymous group hacked Snapchat, disclosing the private details of 4.6 million customers. The firm apologized for the mishap, fixed it, and hasn't experienced any major security breach since.
In 2014, Snapchat was accused by the American Federal Trade Commission of exaggerating its process of securing user privacy. The FTC argued that the company couldn't guarantee that messages will be erased within a specific period of time. Snapchat wasn't formally charged, but the dispute was settled, and the company will be under observation for the next two decades.
Snapchat co-founder Spiegel landed in hot soup after company employee Antony Pompliano sued him for comments made about Snapchat being only interested in branching out into developed countries and steering clear of poorer countries such as India.
The company's stock shares dropped by 1% as a result of the suit, but it didn't suffer lasting damage. The company came out to state that the idea of restricting itself to developed countries was "ridiculous."
Despite that controversy, Snapchat continues to go from strength to strength, launching new versions and features, including an application for children under age 13 known as Snapkidz. By May 2015, usage rates hit 2 billion videos and photos daily, and a record 7 billion videos daily in 2016, worth $10 billion to $20 billion. 
The Future of Snapchat
It's projected that short-lived messaging will keep growing in popularity, and serious competition is also expected to continue between Snapchat and its rival Instagram.
Advertisers are already committing extra funds to social media marketing than TV and radio ads, and it's predicted that platforms such as Snapchat will keep devising new methods of creating effective ads for their audiences.
Final Thoughts
In the modern world chock-full of social media apps, and many more being launched almost daily, Snapchat and the Snapchat logo are among the five top social media apps, along with Twitter, LinkedIn, Google+, and, of course, the world-conquering Facebook. 
Established in 2011, Snapchat had 60 million downloads and 30 million users by the close of 2014, with more than 40% of 18-year-old Americans using Snapchat every day. The app is a relatively new entrant in the mobile social media world, but its success story is a useful read for any prospective entrepreneur.