Let's get an insight into the Rivian logo and some history behind the electric car maker.
The Rivian trademark ranked as one of the most recognizable logos in the auto industry. Often, it's called the compass logo because it took inspiration from the directional device. Moreover, the company derived its gorgeous name from the Indian River in Florida.
This modest but striking Rivian logo consists of two parts—an emblem and a wordmark. The emblem features two tilted squares, rotated about ninety degrees. Additionally, the designer placed the smaller shape in the bigger one while enhancing their personality with four arrows.
Artistically, the arrows are in two divisions—outer and inner. The outer arrows symbolize innovation and adventure. While the inner arrows represent the brand's aim – to be inspiring and inviting to all. Often, you'll find the company's inscription following the iconic emblem.
Regarding colors, the Rivian logo prefers yellow, black, and white. These official colors add to its personality and influence. So, it's no secret it looks clean, attractive, and memorable. Today, the logo is leading an innovative brand that's worth about $66.5 billion.
Rivian achieved a milestone in September by releasing the RIT pickup. With this out of the factory, it became the first automaker to unveil an electric pickup. That said, Rivian has settled the score, beating Tesla, Ford, and others in the race to become the pioneer.
Rivian Logo Evolution And Its History
Though Rivian was founded in 2009, it took nearly a decade to start making cars. Similarly, its official logo didn't appear until 2018. However, for almost three years, it has remained unchanged. Though it carries a simple personality, its symbolism merits further studying.
So, without waiting, let's delve into it.
2018—Present:
A compass inspired the Rivian trademark, hence people called it—the compass logo. This bright emblem comprised two squares, a smaller one inside a bigger one. Together, the designer skewed the shapes about ninety degrees (900), forming a kite-like figure.
Additionally, the creative director added arrows, two for the inside and two for the outside. Finally, he painted the visual asset yellow and white while escorting it with a readable wordmark. On cars, you'll find the logo on the hood, and at times silver replaces the white color.
Why Does Rivian Logo Work?
1. The Rivian Logo Is Simple:
In graphic designing, the phrase—less is more, is a daily ritual. This rule admonishes creative directors to use fewer design elements in creating their projects. The reason is the numerous benefits simple logos enjoy. Fortunately, the Rivian logo has fewer graphic elements, making it clean, eye-catching, readable, versatile, and recognizable.
2. The Rivian Logo Is Attractive:
Attractive trademarks always win hearts and make loyal friends regardless of the industry. The Rivian logo also enjoys similar treats from actual and prospective clients. The Rivian symbol has an attractive personality that magnetizes the audience with its shape and color preference. As human as we are, good-looking logos will forever entice us. Keep this in mind!
3. The Rivian Logo Is Exceptional:
The Rivian trademark is a unique piece of graphic work. Importantly, it shares no resemblance with any brand in the car industry. And this gives it the visual power to distance itself from the competition. But, again, its distinctiveness allows its target audience to figure it out more quickly. Uniqueness is another graphic design rule you should consider when creating your logo.
4. The Rivian Logo Is Memorable:
Most brands struggle to capture customers' attention, let alone remain in their minds. However, the few who have achieved this have mastered the art of branding. Your logo needs to be simple and striking to be in the league of these successful brands.
Luckily, the Rivian emblem has met this essential graphic design condition. Therefore, its audience can recall it with no hard feelings. I hope you'll embrace this in your logo project.
5. The Rivian Logo Is Scalable:
Rivian wants to reach and communicate with its audience on multiple channels. So, the company opted for a logo with a modest layout. For having this, the logo can drive on several marketing mediums without knocking any pedestrian. That's why it's easy to find on cars, flyers, t-shirts, billboards, caps, letterheads, and other promotional properties.
Rivian Logo Design Elements
Rivian's iconic and attention-grabbing trademark owes its influential personality to its graphic elements. The chosen shapes, colors, and font harmonize to convey the brand's core messages. Moreover, they speak of a project of a qualified graphic designer.
To learn more about these design elements, let's explore them further.
Rivian Logo Shape And Symbols
1. A Square:
Rivian has a tilted square as one of its design elements. Most experts associate the four sides of a square with the four elements. These are air, earth, fire, and water. In other fields, a square represents the earth's seasons. And these include autumn, spring, summer, and winter. Again, others used it to convey balance, community, direction, and stability.
2. An Arrow:
An arrow is another remarkable graphic element adopted by Rivian. An arrow, in its basic form, initiates motion. Therefore, it symbolizes reaching one's goals and achieving one's targets. Rivian has four arrows, together evoking the presence of a compass.
As a symbol of guidance, a compass signifies the earth's direction—north, south, east, and west. This sums up the brand's aim to point people in the right direction.
Rivian Logo Colors
1. A Yellow Color:
Yellow is a primary color. Also, it's a striking color that grabs attention quickly. Importantly, it's one of Rivian's official colors. And it carries the image of the squares. As the summer color, yellow symbolizes happiness, hope, imagination, and friendship. Yet, despite these good vibes, it can promote jealousy, deceit, cowardice, and betrayal.
2. A Black Color:
Black is another custom color for the automaker. Most people regard it as a neutral color. Often, it replaces the yellow color, evoking a monochrome color scheme. But, again, the color of darkness dresses the personality of the company's name. Black symbolizes power, wealth, elegance, and formality. In contrast, it can represent mystery, mourning, evil, and fear.
3. A White Color:
Rivian's third official color is white. White marks the inner shape that separates the two squares. In most traditions, it's hailed as a positive color. So, it signifies peace, purity, and simplicity. So, again, the color of winter represents innocence, humility, goodness, and cleanliness.
What Does Rivian Logo Mean?
Rivian's trademark is nicknamed the compass logo. It derives its meaning from its four arrows. Together, the arrows represent the cardinal points of the emblem. Interestingly, the inner arrows represent the brand's aim to inspire and invite all. In addition, the outer arrows signify innovation and adventure. So finally, the Rivian logo is a mark of exploration.
How Did Rivian Get Its Name?
Mainstream and Avera were the initial names for the all-electric car maker. However, Scaringe, the company's founder, adopted the brand's name—Rivian from the Indian River. According to reports, he spent his youthful years exploring this water body with his rowboat.
What Kind of Car Is Rivian?
Rivian is an all-new-electric car maker in the United States. The company aimed to be different from other competing brands. Therefore, its primary focus is on the environment and sustainability. Two of the brand's models are R1T (all-electric truck) and R1S (all-electric SUV). Operating from Irvine, CA, the brand aimed to change the auto industry with its innovation.
Who Has Invested In Rivian?
Some financial heavyweights back Rivian Automotive: In 2017, Rivian received $450 million from Sumitomo Corporation and Abdul Latif Jameel. While the former is a Japanese Investment Group, the latter is a Saudi Arabian firm.
Then, in 2019, Amazon and Ford all invested in the new electric car company. Between Amazon and Ford, Rivian received a whopping $1.2 billion. Other funders are Cox Automotive, Black Rock, and T. Rowe Price. Amazon is the largest among the investors, controlling a 22.4% stake.
This is followed by T. Rowe, the second largest with 18.8% stakes in Rivian. Currently, the electric startup has raised $11.15 billion in private capital. Thanks to Robert, its daring founder.
Does Ford Own Part of Rivian?
Ford Motor Company was one of the several companies that invested in Rivian. In 2019, Ford invested about $500 million, establishing a business relationship with Rivian. With this fund, Ford was entitled to about twelve (12%) percent stake in Rivian. However, due to the global pandemic, Ford canceled its contract, promising to work with Rivian in the future.
Does Amazon Own Rivian?
Amazon is one of the financiers of Rivian. In 2019, Amazon invested $700 million in the all-electric car maker. And unlike Ford Motor Company, Amazon kept its contract with Rivian despite the Coronavirus pandemic. Additionally, Amazon ordered 100,000 electric vans, becoming Rivian's biggest EV customer. About 10,000 of these cars will be completed in 2022, hopefully. Today, Jeff Bezos and his Amazon Empire control about 22.4% of Rivian shares.
How Many Motors Does Rivian Have?

No one can ignore the importance of motors in cars. So, to make its cars fast and reliable, Rivian introduced four motors to its electric trucks. Each axle—front and rear have two motors. While the front produces 415 horsepower, the rear produces 420 horsepower. Overall, this results in 0-60 mph of 3.0 seconds, a deserving speed by all standards.
How Is Rivian Different from Tesla?
Rivian and Tesla have lots in common. This stems from the fact that both brands focus on producing electric cars to reduce carbonization and save the environment. Rivian, though a newer entrant into the auto industry, has invested massively in this sustainable project.
For instance, Rivian has invested in hands-free, semi-autonomous driving technology and other innovations. Again, like Tesla, it has plans to develop public network charging stations in North America. The key difference between these two brands lies in the type of cars they make.
While Rivian focuses on pickup trucks and SUVs for off-road driving, Tesla focuses on cars and crossovers. Despite this, Tesla will be selling its pickup, cybertruck, shortly. Tesla announced this in 2019; however, it has been delayed until 2022 due to some challenges.
Who Founded Rivian?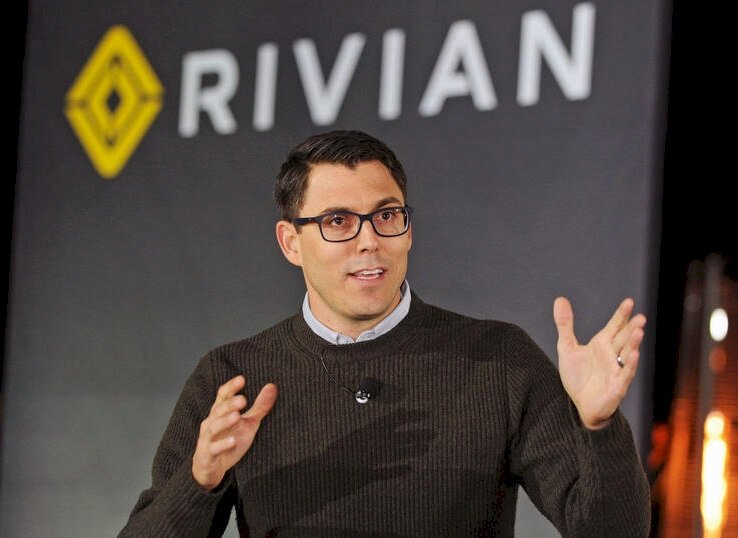 Robert Scaringe is the founder and CEO of Rivian. Born on January 19, 1983, Robert is an American entrepreneur and engineer. He grew up in Melbourne, Florida, loving cars and outdoor adventure. His love for cars can be linked to his father, Robert Scaringe, by the same name.
Robert attended Melbourne Central Catholic High School. He further went to Rensselaer Polytechnic Institute. Here, Robert graduated with a bachelor's degree in mechanical engineering. Afterward, he obtained his master's degree in the same field from the Massachusetts Institute of Technology. Then, finally, he got a doctorate from MIT's Sloan Automotive Lab.
With a background in mechanical engineering, Robert founded Mainstream Motors in 2009. However, he changed the name to Avera Automotive, then finally to Rivian in 2011. After five years of founding the company, he married Meagan McGlone in August 2014.
Robert and his wife are blessed with three children. With his company's IPO successfully launched on November 10, 2021, he is worth $1.7 billion at the close of December 2021.
Brief History About Rivian Automotive
Rivian Automotive is an American automaker that specializes in electric cars. It came into being in 2009 through the ideals of Robert Scaringe. It started as Mainstream Motors, then to Avera Automotive, before finally becoming Rivian Automotive, Inc. in 2011.
The desire to make electric cars came about when Robert learned about the harmful effects of cars. Therefore, he vowed to focus on producing sustainable and environmentally-friendly vehicles. Rivian's initial idea was to design and sell sports cars.
So, Peter Stevens designed the prototype, a mid-engine hybrid coupe for US customers. The company named it R1. Then, in 2015, Rivian received funding to open a research facility in Michigan and the Bay Area.
In January 2017, Rivian bought a production plant previously owned by Mitsubishi Motors in Normal, Illinois. The facility, which cost $16 million, became the company's main North American plant. Then, by the end of that year, Rivian disclosed its first two models.
These were an electric pickup truck and an electric SUV. Respectively, the company named them A1T and A1C. However, in November 2018, Rivian renamed these models R1T and R1S. Finally, Rivian unveiled them at the LA Auto Show.
At the beginning of 2018, Rivian had about 250 workers. However, by November 2021, it boasts of over 9000 workers. In addition, Rivian became the first car maker to bring consumers a fully electric pickup in September 2021.
Rivian has beaten Ford, General Motors, and Tesla at their own game with this milestone. Earlier, the company planned to start production in 2020. So, it wasn't surprising to see them releasing the R1T truck to the market in October 2021.
Then, after two months, it delivered the R1S to the market. To raise more funds, Rivian launched its IPO on November 10, 2021. It offered its shares at $78, offering 153 million shares to the public. Overall, it raised $13.5 billion, achieving a brand valuation of $66.5 billion.
Finally, in December 2021, Rivian won the Motor Trend Truck Award with its R1T model.
My Final Thoughts On Rivian Logo And Its History
In 2009, Robert Scaringe, a graduate of MIT, founded Rivian in the US. Initially, he named his company Mainstream, followed by Avera, then Rivian. Robert derived the company's name from the Indian River, capitalizing on his childhood experience at the riverside.
Rivian aimed to produce and sell electric cars to help save the earth. So, after several years of research and fundraising, the company unveiled its awaited models. These included a pickup truck and SUV, showcasing them at the LA Auto Show in 2018.
These tech cars reached the market in 2021. Importantly, the brand made history by launching these models. It has become the first automaker to unveil an electric pickup to the market. And beating Ford, General Motors, and Tesla will serve as motivation.
These achievements couldn't come without funding. Rivian has attracted lots of cash from several investors: Sumitomo Corporation, Cox Automotive, Ford, Amazon, etc. Then, in November 2021, it went public, raising about $13.5 billion.
Finally, its logo has been supportive, increasing its popularity. The logo consists of two tilted squares. Here, you'll spot a smaller shape inside a larger one. Also, there are four arrows adding meaning to the emblem. The logo can be yellow and white or black and white.
As it's often called, the compass logo is attractive, unique, readable, and memorable.