The new DoorDash logo was introduced in 2014, barely a year after being launched. According to the company's logo designer, Brandon Ly, the company was entering new markets. Its design language was instrumental in helping its partners understand just what the company was about and what it stood for.
To the DoorDash staff, the emblem is a badge they'll proudly wear as they represent the company. To its merchants, the logo stands for a partnership that'll move their business forward. And to consumers, it stands for an efficient, friendly service they can rely on.
History of DoorDash Logo

The new DoorDash logo was settled on after a rigorous process. The design team worked really hard to find a visual identity that appealed across the broad spectrum of DoorDash's consumer base, partners, drivers, and restaurants.
It took several weeks, and several prototypes before the team eventually settled on a design that communicated the perfect tone of expertise, professionalism, and personality. The brand new logo design was rolled out across all DoorDash platforms, replacing the previous one on the company's website, various apps, and t-shirts.
While DoorDash's services and vision of reinvented logistics stayed the same, the new emblem symbolizes the progression in the firm's maturity. As the company grew in size and standing, it was clear that a great logo design was fundamental to how it interacted with the diverse demographics it serves.
The DoorDash logo design inspiration came from something unexpected but genuinely reflects the company's core principles: Shinkansen (Japanese bullet train). The company certainly has a shared emotional response with high-speed rail—something lightning-quick, communal, utilitarian, and futuristic like DoorDash. 
Therefore, the DoorDash logotype and font signifies precision and speed with a clean and straightforward emblem that works a treat. Horizontal lines not only connote motion but also describe the pair of Ds in the company name.
The Future of the DoorDash Logo
Because DoorDash is yet to celebrate its tenth anniversary (and given how many changes the firm has undergone throughout its relatively short life), customers can very reasonably expect to see more alterations to the brand's visual identity down the road. But in the meantime, it's doing a pretty fine job of coming up with the goods! 
You couldn't ask for more from a logo, could you?
The History of DoorDash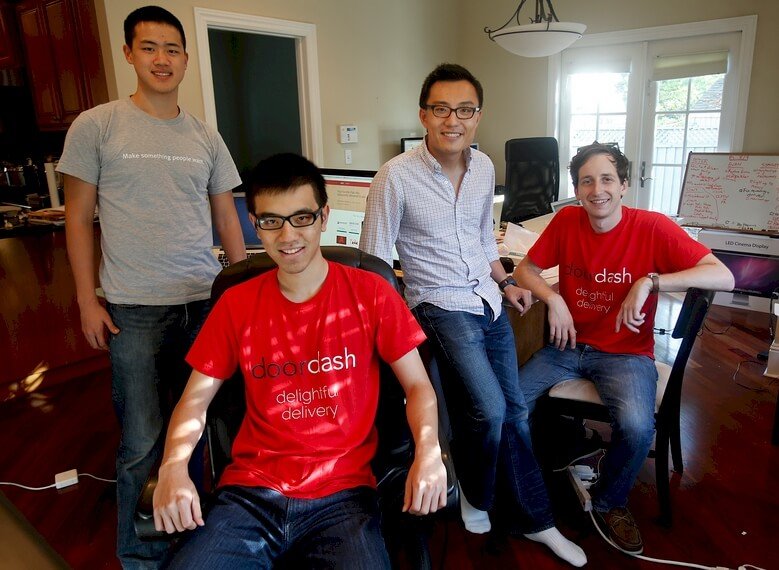 DoorDash is an online on-demand food delivery service launched in 2013 by four Stanford University students, namely Stanley Tang, Tony Xu, Evan Moore, and Andy Fang. It has since gone on to be one of America's top food delivery services.
Using the latest logistics, modern technology, and creative marketing to offer customers food directly from the diner to their door, DoorDash has grown from its humble origins as a small-time Palo Alto start-up business to a giant corporation that operates in more than 600 cities across the entire North America and Australia.
So, how did this tiny Stanford start-up end up becoming the third biggest food delivery company in the United States? Sit tight, as you're just about to learn more about its fascinating story.
Early History
In fall 2012, four Stanford Students Andy Fang, Tony Xu, Stanley Fang, and Evan Moore, received feedback about a small business owners' app when a macaroon shop owner asked for guidance about using technology to do deliveries.
So, in January 2013, the four students partnered up to start PaloAltoDelivery.com in the city of Palo Alto, California. Their first customers were predominantly Stanford University students. In summer 2013, PaloAltoDelivery.com received seed money of $120,000 from Y Combinator for a 7% shareholding. The start-up was incorporated in June 2013 as DoorDash.
In October 2017, DoorDash CFO Mike Dinsdale quit the company after less than one year of joining the firm.
DoorDash became the second best-selling food delivery service in the U.S. in December 2018, behind only GrubHub. Uber Eats was subsequently relegated to third place.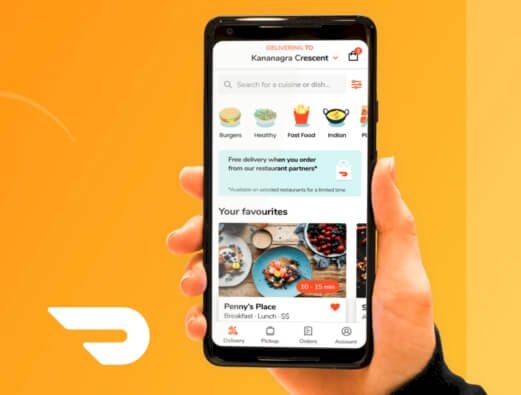 By March 2019, DoorDash had outstripped the total sales of GrubHub, boasting a 27.6% share of the food delivery market. In early 2019, DoorDash had become America's biggest food delivery service, based on consumer spending, and maintained that market share throughout 2019.
DoorDash launched DoorDash Kitchen, its first-ever ghost kitchen, in Redwood City, CA, with four restaurants running in the area.
By summer 2020, DoorDash had managed to raise over $2.5 billion following several rounds of financing from such investors as Y Combinator, SV Angel, Charles River Ventures, Sequoia Capital, Khosla Ventures, Kleiner Perkins, GIC, and SoftBank Group.
In April of 2020, in the thick of the Coronavirus Pandemic, DoorDash started offering its delivery drivers thousands of hand sanitizers and gloves for free. The firm also announced that it'd switched from the default drop-off delivery to contactless delivery. Still, in April, DoorDash became America's fastest-rising food delivery provider.
In October 2020, DoorDash introduced a program known as "Reopen for Delivery" to allow physical restaurant locations that had shut down due to COVID-19 to partner up with nearby ghost kitchens to provide food delivery as well pick-up-only service.
A month later, DoorDash announced the launch of its first brick-and-mortar restaurant, joining forces with Burma Bites, a Bay Area diner, to offer food delivery and pick-up services.
In December 2019, DoorDash became a public corporation through an initial public offering that raised $3.37 billion.
Acquisitions
DoorDash acquired Caviar for $410 million from Square, Inc. in October 2019. Caviar is a service that specializes in delivering food from upmarket urban-area diners that generally don't offer delivery services.
DoorDash acquired Scotty Labs in August 2019. Scotty Labs is a teleoperations start-up firm that deals with remote-controlled and self-driving vehicle technology.
DoorDash acquired Chowbotics in February 2021. Chowbotics is a robotics firm renowned for its salad-manufacturing robot. While the terms of the sale agreement weren't disclosed, Chowbotics was worth $46 million as of 2018.
DoorDash Marketplace Product
DoorDash's main marketplace product consists of four core components:
-A dasher app
-A consumer app
-Merchant services and software
-Backend logistics that organize everything
Much of DoorDash's core product depends on the planning layer. In fact, a high-quality delivery product relies mainly on two factors: logistical optimization and scale.
For customers, those components result in a platform with an array of options to deliver the right orders promptly. For dashers and merchants, they boost incremental earning.
Scale is the primary driver of an excellent experience, and that's why DoorDash's Sales and Marketing expenditure dwarfs that of research and development.
Dashers: DoorDash's Dasher app lets couriers keep track of financial goals and offers them complete visibility of order information before accepting. Also, it highlights that Dashers can deliver without a car and that it's possible to work for DoorDash when the platform's running.
Consumer: In 2018, DoorDash launched a membership known as DashPass, which goes for $9.99 a month and gets the consumer free delivery from eligible partner merchants. DashPass and other enhancements have allowed DoorDash to lower customer charges by 20% since the third quarter of 2017.
Merchants: DoorDash merchant tools aren't as advanced as those of other delivery services. For instance, Seller Services makes Etsy 25% of its total revenue, including packaging and mailing, a wholesale platform, and ads.
This could present DoorDash with a long-term opportunity. Currently, the platform has an analytics dashboard, promotion planning, payment processing, customer support, and consulting services. While DoorDash is presently focused on widening its market, providing more support to its merchants might prove lucrative.
Then again, it might not be wise to overinvest in merchant tools. Restaurants regularly promote their menus across various platforms to get the broadest reach. That trend looks like it's here to stay, presenting meta-players with an opportunity to simplify planning across platforms.
Other DoorDash Product Lines

Drive: Apart from its main product, DoorDash sells a fulfillment-only product meant for large restaurant chains with their own ordering platforms.
In Drive, a customer orders straight from a chain such as Chipotle, using Chipotle's website or app. Once an order has been placed, Chipotle hands delivery over to DoorDash.
Also, this is how DoorDash partners up with businesses that employ white-label ordering methods like ChowNow. In return for delivery, DoorDash takes at least $7, with an additional $1 for every mile covered after the first.
Storefront: Before COVID-19 arrived, DoorDash discovered that four out of every ten restaurant merchants didn't have a direct ordering platform. This solution allows restaurants to sell straight to their customers, avoiding steep marketplace commissions and keeping a direct marketing link.
In July 2020, DoorDash reacted to this threat by introducing Storefront, its very own white-label web ordering platform. Storefront charges a fixed delivery fee of $2 per order minus the pick-up fee. In return, restaurants pay a one-off setup fee of $199 and a recurring monthly software fee of $79, which were both waived until the end of March 2021, alongside the delivery fee.
Storefront is currently in use at a small but varied group of restaurants, including big steakhouse chains like Del Frisco's and Morton's, and local, single-location mom-and-dad restaurants. Each brand is given a subdomain on its ordering platform and allowed to exhibit its logo rather than DoorDash's.
Thanks to Storefront, the incremental price of an average order of $30 drops from the usual 20-30% marketplace commission to just 7%. This is a good alternative for many restaurant merchants and competes directly with businesses such as ChowNow.
Interestingly, Storefront's recurring revenue prototype is at odds with DoorDash main marketplace business approach, making this seem like a defensive approach as opposed to a genuine growth opportunity.
Convenience and grocery: From the get-go, DoorDash has always prided itself in being more of a logistics platform than a meal delivery service. In announcing its first seed funding, DoorDash outlined its ambitions of building the local on-demand version of FedEx.
For that reason, DoorDash moved into the convenience and grocery category in partnership with third parties along with a vertically integrated strategy. In April 2020, the firm introduced this new service in collaboration with Chevron, CVS, Walgreens, and 7-Eleven. This service covered 2,500 stores across more than 1,000 cities in the U.S.
In June 2020, DoorDash started launching its own convenience stores, selling more than 2,000 products deliverable in under half an hour. Items included everything from almond milk to over-the-counter medicine to frozen hot pockets. According to its careers page, DoorDash currently runs 15 DashMart stores and is entering 18 new cities.
This approach of running its own convenience stores mirrors the model of businesses like Amazon's Prime Now and GoPuff. In bringing a huge amount of shelf-stable products closer to customers, DoorDash has the chance to increase average order values and increase profitability without substantial inventory risk.
DoorDash also has an interest in the grocery market. In August 2020, DoorDash announced partnerships with stores like Hy-Vee, Gristedes/D'Agostino, Meijer, and Smart & Final. It promised to deliver more than 10,000 grocery items to consumers in under an hour, with Instacart having established the benchmark. 
There are considerable barriers to entry associated with inventory management, labor, and advertising. Unlike delivering restaurant foods, collecting a grocery order requires extra work.
Last Word
DoorDash, initially referred to as Palo Alto Delivery, started out with a simple goal: to help all restaurant merchants deliver meals on-demand. The original idea for the start-up was inspired by a woman called Chloe, who owns a Palo Alto macaroon store named Chantal Guillon.
In 2018, DoorDash raised funding worth $535 million under the stewardship of Softbank Group, with existing investors GIC, Welcome Trust, and Sequoia Capital taking part. GIC's Jeremy Kranz and Softbank's Jeffery Housenbold joined DoorDash's board of directors.
With that funding, DoorDash raised $971.8 million and was valued at $1.4 billion. Another fundraising round worth $250 million followed in August, valuing the company at $4 billion.
DoorDash has helped feed millions of starving people who aren't into cooking but are starving and can't wait or those who find cooking laborious. It currently operates in over 600 cities all over the United States, Australia, Canada, and in 56 markets. The Door Dash logo is recognized by millions across the country.