Let's get an insight into the Dell logo and some history behind the tech company.
Dell is one of the leading brands in the world. As a multinational tech company, it serves about 180 countries and has a staffing power of over 150,000 workers. Its products are desktops, laptops, servers, and monitors. Others include workstations, printers, software, and data storage.
Dell began business in 1984 under the name PC's Limited, initially trading personal computers from IBM. Its founder, Michael, operated the business from his campus room at the University of Texas. Then, with the venture showing promise, he left school to devote much time to it.
In 2003, the company adopted Dell Inc. as its name. Today, it operates under the parent company Dell Technologies and has a modest logo. The visual identity comprises a wordmark encased in a circular frame. It dazzles in blue and white colors, evoking the aura of loyalty and sleekness.
Dell's logotype is one of the world's most recognizable trademarks. It's readable, attractive, clean, memorable, and relevant to its industry. It can scale on multiple marketing channels because of its minimalist layout. So, it's pivotal in the brand's unique success story.
Overall, it has represented the company from its humble beginnings, uplifting the brand above its rivals. Today, Dell's revenue is about $92.15 billion, thanks in part to its iconic logo.
Dell Logo Evolution
Dell has been consistent with its logo identity. For the past thirty-seven years, it has held onto a simple wordmark. Apart from the original design, a vibrant blue beautifies the rest. In all, five designs have led the brand to a multibillion-dollar status. 
Let's explore these changes further.
1984 – Original Logo:
Dell's maiden logo lasted for three years. It was a bold wordmark of the brand's first name—PC's Limited. The designer executed the inscription in all caps and a monochrome color scheme. Beside the wordmark on its left, you'll find a geometric icon that looks like a microcircuit.
1987—The First Update:
Dell had its debut update immediately after changing its name. The updated logo featured the brand's name—Dell in caps. In addition, the designer put the black wordmark between two lines. These intense blue horizontal lines made the company's name stand out boldly.
1989—The Second Update:
In 1989, Dell resigned its visual identity. It opted for a bold standalone wordmark. It kept its official color scheme but added creativity to its letter—E. The designer skewed the letter horizontally to the left. The presence of this stylized letter made the logo more attractive.
2010—The Third Update:
Dell's third redesign featured a circular logo design. The trademark comprised the iconic blue wordmark in a circular frame. The frame also kept the official brand colors—blue and white.
2016—Today:
To celebrate the brand's successful merger with EMC, Dell asked for another design. Though the new logo kept the charisma of the previous emblem, it's easy to spot the changes. The designer reduced the thickness of the ring and the wordmark, making it look clean.
Why Does Dell Logo work?

1. The Logo Is Simple:
Modest logos are the kings in the modern era. You can't shy away from this attribute if you want your emblem to remain timeless. The Dell logo is simple because it has fewer graphic elements. That's why it's clean, appealing, and recognizable.
2. The Logo Is Memorable:
Detailed logos are tough to process. And in this fast-paced world, they provide no benefit to brands. However, clean logos offer the ultimate benefits to businesses. Luckily, the Dell logo is easy to recall because it's classic and attractive.
3. The Logo Is Readable:
A font can make or break any business. Therefore, it's a vital design element that you should pick with care. With a master touch, Dell has a clean and readable san serif font. Therefore, it can convey its message regardless of the medium.
4. The Logo Is Scalable:
No matter the marketing channel, Dell's logo can fit. It has achieved this quality because it has a modest layout. So, from business cards to advertising boards, it can display without hindering its quality.
5. The Logo Is Unique:
Avoiding design elements in the public domain is one path towards uniqueness. In short, always strive for a custom logo. Dell's logo is exceptional because it has met this design requirement. The stylized blue wordmark has no twin brother in the industry. That's why it's above its rivals.
Dell Logo Design Elements
You can't go wrong when you engage experts in your logo design. That's precisely what Dell did with its visual ambassador. With professionals handling its emblem, they focused on designing rules. The benefit is making the brand fly in the face of keen competition.
Dell Logo Shape And Symbols
1. A Square:
The first logo came with a square. You can spot it beside the wordmark. It resembles a microcircuit. In graphical design, experts used squares to represent safety and security. It's also a perfect symbol for talking about community, integrity, and stability.
2. A Circle:
In 2010, Dell introduced a circle. It enclosed its wordmark and formed its background. In simple terms, a circle represents evolution. Also, you can use it to evoke totality, eternity, and timelessness. In the practical sense, Dell used this geometric shape to convey its global presence.
3. A Line:
In 1987, Dell had a logo that featured two horizontal lines. They gave the wordmark a confident and robust charisma. You'll be right to identify these shapes as parallel lines. Most experts regard them as never-ending geometric shapes. Therefore, they represent eternity.
Dell Logo Colors
1. Blue Color:
Blue is the most cherished color among tech brands. As one of Dell's official colors, it marks the frame and the company's name. Blue represents trust, loyalty, and wisdom. Again, the color of the sky symbolizes stability, confidence, and faith.
2. Black Color:
Black communicates power, elegance, and authority. The color of mystery dominated Dell's original logo. It evoked the personality of the wordmark. Also, black is perfect for conveying fear, formality, and seriousness. In reality, the absence of light gives birth to black.
3. White Color:
The blue and black colors featured in the logo wouldn't stand out without the white color. From the original logo to the current one, white has remained the background hue. The color of snow symbolizes purity, cleanliness, and humility. Brand experts also used white to convey simplicity, protection, and brilliance.
Who Created the Dell Logo?
Dell has had five logos since it began. As expected, a single design firm did not create them. For instance, Siegel + Gale crafted the slanted—E trademark that became iconic in 1989. It's a global branding company with its headquarters in New York City.
In addition, the latest circular logo is the handiwork of the branding firm Lippincott. This is another global creative firm that operates in New York. Undoubtedly, their expertise has given Dell an influential global presence.
What Font Is Dell Using?
Dell favors readable fonts: you can't doubt this preference. But what type of font is it using? To convey its message with clarity, Dell used Futura Extra Bold. Paul Renner holds the credit for developing this geometric sans serif type.
What Does the Dell Logo Mean?
The Dell logo took its meaning from the vision of its founder, Michael Dell. Starting the company in 1984, Dell aimed to change the world with his business. He embedded this aim in one of his sayings—"turn the world on its ear." So, Siegel + Gale, the design firm, skewed the letter—E on the logo to convey his axiom. So, the logo means—turn the world on its ear.
How Did Dell Start?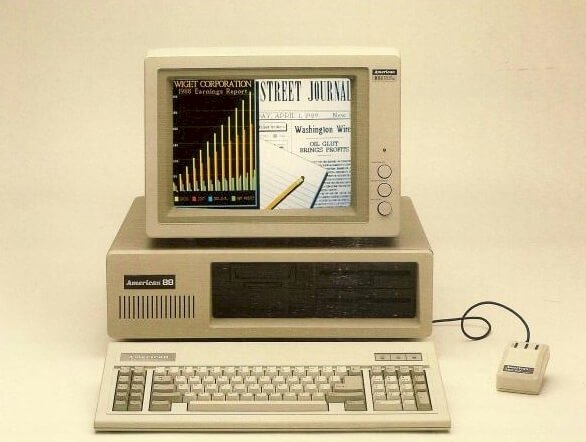 Dell Inc. is an American global tech company. It designs, manufactures, sells and supports technological products. Formerly PC's Limited, Dell Inc. was formed on February 1, 1984, in Austin, Texas, United States.
While studying at the University of Texas at Austin, Michael Dell started PC's Limited. He sold personal computers from his dormitory at Dobie Center. With the business taking off, he dropped out of school to run it full-time.
Turbo PC, the maiden computer with Dell's unique design, was unveiled in 1985. Initially, Dell pegged the price at $795. Then, to sell directly to end-users, the company advertised its product in a national computer magazine. The promotion led to revenue of over $73 million in the first year.
In 1986, Lee Walker, a 51-year-old venture capitalist, became the company's president. Also, he served as Michael's mentor and the board of directors' recruiter. After four years of stirring the company, Lee retired because of ill health. Morton Meyerson succeeded him in 1990.
In 1987, the company adopted the name Dell Computer Corporation. Then, a year later, it went public and started expanding into other markets. Its market cap increased from $30 million to $80 million after selling its 3.5 million offerings for $8.50 per share.
In 1989, Dell launched 316 LT, its debut notebook computer. It added mobile technology in 1990 and its first colored notebook computer in 1991.
In 1992, Michael Dell became the youngest CEO of a Fortune 500 company. It came at the time Fortune Magazine listed Dell Computer Corporation among the world's largest 500 companies. Four years later, Dell started selling its computers via its website.
This adoption strategy boosted its reach, making it the most prominent PC seller in the United States in 1999. In 2003, the company became Dell Inc. to reflect its offerings beyond computers. Then, in 2004, Dell resigned as CEO but kept the chairperson's status.
Kevin Rollins became the new CEO. In 2016, Dell bought EMC Corporation, a data storage firm, for $67 billion. It was the most significant technology acquisition in history. Today, Dell Inc. is a multinational tech company.
Who Is the Founder of Dell?
Alexander Dell and Lorraine Charlotte gave birth to Michael Saul Dell. He was born on February 23, 1965, in Houston, United States. Michael is an American philanthropist and an entrepreneur with a Jewish heritage. He attended Herod Elementary School and later Memorial High School.
At age fifteen, he got an Apple II, his first computer. To see how this machine works, he dismantled it. Then, as a freshman at the University of Texas, Michael started selling upgrades for personal computers from his dormitory.
In 1984, he got $1000 from his family to start PC's Limited. Two years later, he had sold $80,000 worth of computers. At age nineteen, he focused on his business by opting out of school. Later, the company became Dell Computer Corporation and eventually settled for Dell Inc.
In 1989, Michael married Susan Lieberman. Together, they have four children. Three years on, and at twenty-seven, he became the youngest CEO, ranked by the Fortune Magazine. Fast forward to 2004, Michael resigned as the CEO of Dell Inc.
Bloomberg Billionaires Index ranked him as the 25th richest in the world as of April 2021.
Wrapping Up On Dell Logo History
Dell has an inspiring story. It all started with the curiosity of Michael Dell. At age fifteen, he dismantled his first computer to see how it functions. This led to his interest in technology. Then, at 19 years, he formed PC's Limited with a $1000 seed capital from his family.
It's interesting that he started this business as a student and operated it from his dorm room. This was in 1984 when he was a pre-med freshman at the University of Texas. Before I forget, it was his parent's dream for him to become a doctor, so he tried to please them.
In 1985, Dell released its first computer, the Turbo PC. It featured an Intel 8088 processor that ran at 8MHz with a hard drive of 10MB. A year later, Dell launched a new product at the Spring Comdex trade show. It was the fastest performing personal computer in the industry.
With key strategic partners, workers, and sound decision-making, Dell has become a giant in the technology industry. Today, its merger with EMC gave birth to Dell Technologies, the biggest deal in the industry's history.
The inspiring story of Dell can't be complete without its visual ambassador. The logo is classic, attractive, versatile, and simple to carry its message. It's influential in leading a brand like Dell.