The CNN logo has maintained its classic look throughout its history and has remained virtually unchanged since it was designed. The logo instantly projects the idea of a world leader with a supremacy mentality.
In 1999, CNN introduced a new bunch of time-lapse symbols for its overseas networks. The new bunch of CNN symbols clearly communicates the news network's innovation, technology, and power. The emblems prove that CNN is a truly global corporation, creating regional identities.
The CNN logo was designed for about $2400 to $2,800. The designers wanted something in the region of $5,000, but CNN kicked off, leading to the bill's reduction.
The CNN Logo History and Evolution
1980-1984
CNN was established in 1980, and that's when its logo was also designed. The logo gives the news channel a strong, lasting identity and represents it in an iconic manner. It's now also part of the present-day global culture.
The logo continues to demonstrate its consistency and effectiveness by making the network more and more popular worldwide.
1984 — 2014
The CNN logo's contours remained unaltered in 1984, but its color scheme was changed to red and white. The new color palette had the logotype looking more conspicuous and powerful.
2014 — Today
In 2014, the color scheme of the CNN logo was again changed. It's still a red-white combo, but the red became darker, almost like burgundy. This new look added stability and professionalism to the visual identity. It began looking more energetic and fervent.
The CNN Money Emblem
The CNN Money visual identity is indeed an extended version of the usual CNN logo rendered in another color scheme. Aside from the CNN acronym, the "Money" word next to it is rendered in a noticeable sans serif font. The first character is in upper case, and the lines are thinner than those used in the acronym "CNN."
The CNN Logo Design Elements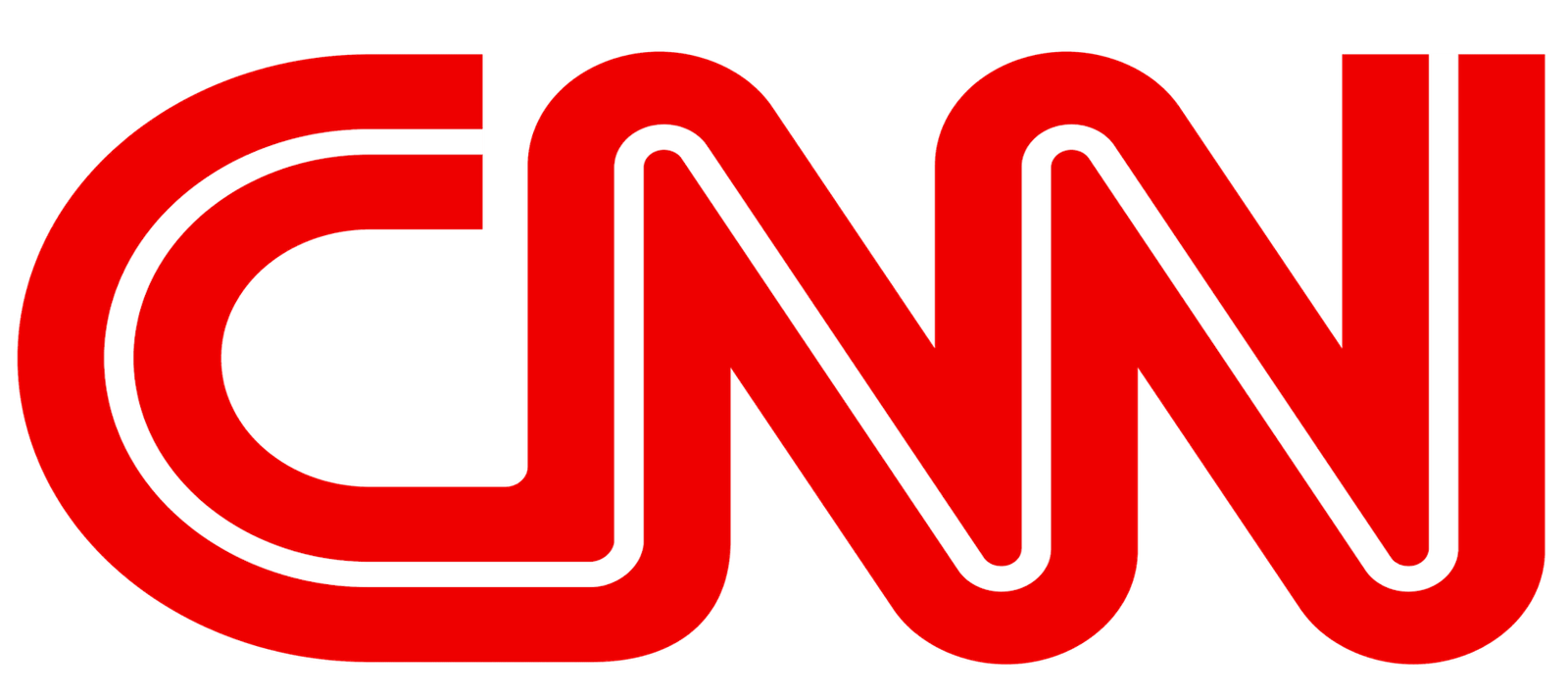 The CNN logo has remained virtually unchanged throughout the years. With some innovations in the emblem, it still rules the corporate world roost thanks to its appropriate representation. The CNN visual identity provides the network with a stylish identity, enhancing the company's reputation.
Color: The iconic CNN logo's red hue complements the impressive image of the firm's visual identity. Red symbolizes the authoritative personality of the network. The color stands for the network's ubiquity and entrepreneurial spirit, as well as its services.
Shape: The CNN emblem is made up of a very definite shape that portrays the credibility, durability, and power of the news channel. It's presented in a gracious manner, illustrating every letter of the CNN emblem. The CNN logo is undoubtedly a major symbol worldwide due to its irreplaceable and unique look.
Font: The inscribed "CNN" initials are exquisitely merged together. They also give the network a calm emotion, helping serve all races in a global village. The fonts are bold and truly portray the remarkable mentality held by the network.
The History of CNN
Cable News Network, CNN for short, was the first-ever 24-hour all-news television service in the world. It is headquartered in Atlanta, Georgia, and is a subsidiary company of WarnerMedia.
CNN was established by eccentric broadcasting legend Ted Turner in 1980 as part of his very own TBS (Turner Broadcasting Service), ostensibly because industry players had doubted if the idea could work. After being developed for four years, CNN went on air on the 1st of June 1980, with a newscast anchored by Dave Walker and his wife, Lois Hart.
Early History of CNN (1980–1989)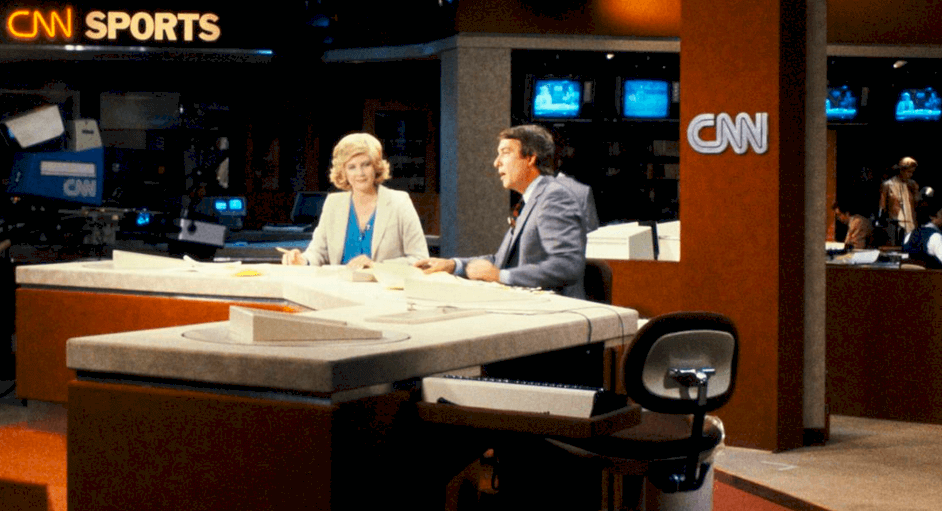 CNN was launched on Sunday, 1st June 1980, with an original workforce of 300 based at its Atlanta headquarters and bureaus in Washington D.C., San Francisco, New York City, Los Angeles, Dallas, and Chicago. At first, the station featured an image of the CNN emblem against a red backdrop with a sound followed by silence. Then Ted Turner introduced the channel to viewers.
After the introduction, a pre-recorded Star-Spangled Banner was played afterward. The husband-and-wife broadcaster team of Lois Hart and Dave Walker anchored the network's first news bulletin.
In one of the first segments, Daniel Schorr interviewed the then President of the United States, Jimmy Carter. And to allow the undecided voter to hear the matters debated by the three top candidates in the 1980 presidential race, Schorr read the questions raised in the debate to John Anderson. Then CNN aired Anderson's live answers and recorded responses from Carter and Reagan, despite technical challenges.
In 1982, CNN opened a spin-off network known as CNN2, subsequently renaming it HLN (Headline News) a year later. While CNN featured a combination of news bulletins and specialized feature and topical programs, HLN was originally designed to solely focus on 24-hour news coverage, featuring 30-minute news broadcast 24/7 with segments arranged in specific timeslots every 30 minutes.
Therefore, it was among the first news networks to employ a "wheel" schedule. HLN would downsize its 24-hour news coverage in 2005, incorporating personality-based news talk programs in its nighttime program.
After CNN's launch, other cable news networks came up in a bid to make the most of CNN's increasing success. These channels often couldn't hold a candle to CNN, though. In 1982, Satellite News Channel was among the first to compete with CNN, with a mixture of regionally- and nationally-focused news bulletins. Satellite News Channel ceased operations in October 1983, with Ted Turner buying its satellite transponder slot to expand the reach of HLN into more homes.
Five years after CNN's launch, the network outgrew its first home in midtown Atlanta. Turner acquired the Omi International multiplex from Tom Cousins and shifted CNN's head office to the complex, renaming the CNN Center. As such, Turner played a key role in the resurgence of the downtown of Atlanta.
Original Programs

Moneyline: This program started in 1980 and became CNN's key financial program for over 20 years. Lou Dobbs presented Moneyline, and it later shifted more towards everyday news and political and economic commentary.
In 2010, Lou Dobbs—the only surviving TV host from the channel's launch 30 years earlier—resigned after questioning whether it was right to consider President Barack Obama a native-born United States citizen—a requirement needed to be the President of the U.S.
Larry King Live: CNN started a primetime interview program in 1985, dubbed Larry King Live and presented by Larry King. The show featured interviews with a number of famous personalities, mainly politicians, businesspeople, and celebrities.
Larry King Live was the longest-running show on CNN, running for 25 years until 2010, when Larry King retired from the network. It was television's highest-rated news program until 2001, when Fox News Channel's The O'Reilly Factor surpassed it and has stayed the highest-rated news program on cable TV ever since.
Unlike the majority of interviewers, Larry King took a direct, non-aggressive approach to interviews. His style of interview was typically frank but laced with occasional spurts of humor and impudence. His approach appealed to some individuals who otherwise wouldn't show up.
King, who famously tended to not prepare for interviews, once boasted that he never read the books of writers who graced his show. Detractors have alleged that Larry King went a bit easy on guests compared to other interviewers, allowing him to interview guests who would otherwise be averse to appearing in "tough" talk shows.
Larry King suffered a severe heart attack in early 1987 and had to go through a quintuple-bypass surgical procedure. It was such a life-changing event because, previously, King loved smoking and was unapologetic about his unhealthy addiction.
King used to smoke three packets daily and always had a lit fag during his shows, so he wouldn't have to spark up during breaks. Following the incident, he advocated for quitting smoking to decrease the risk of heart disease.
Evans and Novak: This was a political talk show premiered in 1980, hosted by Robert Novak and Rowland Evans. It became among the channel's most-viewed talk shows. A short while later, Mark Shield and Al Hunt joined the program as occasional panelists and later became permanent panelists in 1998.
Crossfire: CNN started a late-night political talk show, Crossfire, featuring debates on political matters from opposing views and hosted by conservative Pat Buchanan and liberal Tom Braden. The show soon became a favorite of many people, consequently earning a primetime slot. Buchanan left the program in 1985 and became U.S. President Ronald Reagan's communications director.
Robert Novak, who had co-hosted the Evans and Novak political talk show, replaced him. In 1987, Buchanan returned to Crossfire, replacing Novak. Two years later, Braden left the show, and Michael Kinsley, a magazine editor-cum-liberal columnist, came in to replace him.
Variety shows: CNN has had a number of variety shows throughout its history, including:
Sports Tonight, which ran from 1980 to 2001
Business Morning
CNN Daybreak, which ran from 1980 to 2005
Style with Elsa Klensch, which ran from 1980 to 2000
People in the News
Tom Johnson's CNN Presidency (1990—2000)
In 1990, CNN named Tom Johnson as President. He previously published the LA Times for more than a decade.
Under Johnson, CNN widened its reach by launching a number of satellite and cable television networks, both locally and internationally, starting with the opening of CNN International in 1991.
A couple of specialized closed-circuit TV channels were opened in 1991: CNN Checkout Channel—which was a bespoke network designed for grocery shops that shut shop in 1993; and CNN Airport International—a channel that provides a mixture of CNN International simulcasts and original content to national and international airports.
In 1996, two specialty news networks were launched: CNNfn—a business-focused news network created to compete with CNBC, and CNNSI—a sports updates channel launched in conjunction with Sports Illustrated. CNNSI shut shop in 2002, with CNNfn following suit in 2004. Through CNNSI.com, CNN still maintains its collaboration with co-owned magazine Sports Illustrated.
In 1995, CNN unveiled its website, CNN.com, which became one of the world's most visited news websites. Several specialty sites were opened later on, including CNNMoney, launched in conjunction with another co-owned magazine, Money.
Also, CNN established a radio channel that provided news briefs and other programs to radio stations countrywide. The radio network grew to boast ten domestic and 26 international bureaus and increased its broadcast collaborations to over 900 affiliated local radio stations (which also get news and feature programs through CNN Newsource, the company's affiliate video service).
The success of CNN made founder Ted Turner a bonafide media mogul. It also laid the foundations for the eventual buyout of TBS in 1996 by multimedia giant Time Warner.
End of CNN's Monopoly
In 1996, the first major competitors to CNN were launched, beginning with MSNBC (initially a joint project between Microsoft and NBC) and Fox News Channel, owned by News Corporation. Despite this, CNN remained the highest-rated cable news channel, with Larry King Live remaining its most-watched news program.
2001–2003
Between 2000 and 2001, many famous news anchors like Anderson Cooper, Paula Zahn, and Aaron Brown were recruited by CNN. At the same time, the company also rehired Lou Dobbs. The network's management also changed. In 2000, Rick Kaplan left as President of CNN-US and, in addition, Tom Johnson retired as company head in 2001 after more than a decade in charge.
After Johnson's retirement, heightened rivalry with Fox News Channels and new management led to CNN's gradual decline throughout the 2000s.
Summing Up the CNN Logo and History
Widely referred to as CNN, Cable News Network is a top U.S. cable news TV channel with headquarters in Atlanta, Georgia. It's one of the world's most influential and most popular 24-hour news channels and boasts over 200 million customers in around 212 countries and territories worldwide. The CNN logo is recognized by people all over the world.
Owned by multimedia conglomerate Time Warner Inc., CNN also runs numerous affiliates, including CNN-IBN and CNN International. The company was established on Sunday the 1st of June 1980 at 5:00 p.m. Eastern Standard Time.