Let's take a look at the Chanel logo and some history behind the fashion business.
Big brands are often shrewd in mystery, creativity, and ingenuity. But how many fashion designers, though they design and sew clothes, can craft their emblems? And not just any logo, but ones that become incontestable even after over a century of their existence.
The highly recognizable Chanel logo, which leads the most influential fashion chateau globally, is immersed in mysteries of love tales, architectural designs, friendship, and homage. Thanks to Gabrielle Chanel, who made her artistic talent blossom in both the graphic and the fashion industries.

Who owns Chanel? Gabrielle Chanel is the founder and owner of Chanel and the designer of its iconic Chanel emblem. The company's ambassador is a double black–C alphabet which the originator has mirrored and interlaced to face opposing directions, horizontally.
The Chanel brand is worth $13.7 billion and employs about 200,000 globally. You can't talk about the giant fashion house's positive influence worldwide without a reference to its powerful and highly recognizable logo. Since 1925, it has been instrumental to the brand's achievements.
It has taken the bold steps to represent the brand on websites, social media, television, billboards, jewelry, perfumes, t-shirts, etc., and creating massive publicity for it.
The Evolution of the Chanel Logo

Almost all graphic experts advocate for brands to update or refresh their logos from time to time to reflect the modern trends, especially those that have existed for over twenty years. But in life and as in business, there are exceptions to rules and traditions.
And the Chanel logo, which has existed for nearly a hundred years, is an exception. However, before looking at the fashion empress's original logo, let's explore four situations that might have inspired her to design the most iconic emblem in the fashion world.
Her Monastery Ties:
As a child from an impoverished family, Gabrielle Chanel spent her childhood in a monastery. At the sanctuary, she got inspired by some imprinted geometrical images on a glass window. According to French Marque, she designed the trademark to pay homage to the sacred place in Aubazine, France.
Her Romantic Ties:
"His death was a blow to me. In losing Capel, I lost everything. What followed was not a life of happiness, I have to say." These were the words of Gabrielle Chanel to author Paul Morand after the death of her lover.
Gabrielle Chanel and Arthur Capel, the English aristocrat, had a romantic relationship that lasted for about nine years before the tragic car accident. He died in 1919, six years before the Chanel logo came into existence. Some people believe this could be an inspiration behind the most famous fashion emblem.
It's no surprise as both partners had names starting with the letter—C. To honor her lover and business partner, she married the two uppercase typefaces to form what the world recognizes as one of the iconic trademarks of all time.
Her Friendship Ties:
Another source of aspiration is the Chateau Cremate Castle in Nice, France. Gabrielle Chanel used to visit her friend, Irene Bretz, at the castle. According to the legend, she granted Gabrielle permission to use the intertwine shape, a decorated symbol on the castle's windows and doors.
Her Royal Ties:
The Serpent Queen, Catherine de Medici, and her mother–in–law, Queen Claude of France, used a similar symbol when they were alive. Likely, Gabrielle Chanel saw the royal icon, fell in love with it, and popularized it.
The Unaltered Chanel Logo
In 1925, the flair fashion designer, Gabrielle Chanel, craft the company's iconic logo. It's a mutual union of two opposing letters—C. The futuristic designer mirrored and interlaced the typefaces to form an eye-catching, stylized, and recognized trademark that has been a game-changer in the fashion industry.
Why the Chanel Logo Works

It wouldn't be wrong to say that the humble beginning of Gabrielle Chanel has influenced everything she touched. She desired simplicity and practicality in all her designs—logo, clothes, purses, and fragrance.
She transformed the women's fashion world with her taste of simplicity, innovation, practicality, and attractiveness, yet sophisticated, quality, modern, and timeless designs. Which women wouldn't want to associate with these positives vibes?
For over a hundred years, the iconic Chanel logo hasn't deviated from the company's core principles. It's a simple yet powerful signature to convey a sense of royalty, quality, timelessness, and sophistication. These are the values that modern career women want to associate with.
The signature logo on fragrances, bags, clothes, and jewelry inspires women's confidence, making them feel extremely important and sexy. Ask women who use Chanel products, and they would tell you it makes them feel independent, successful, and gorgeous.
The Chanel Logo Design Elements
It's a proven fact that most effective and eye-catching logos are simple. They have fewer design elements and use negative space to give clarity to their brands' personalities. Respectively, the Chanel emblem follows the same trend. It has a monogram text-icon-based logo. Both elements can exist on their own and remain recognizable.
The Chanel Logo Shape and Symbol
The Chanel Interlocking–C:
The two interlacing letters—C, though they have many other hidden meanings, can also represent the inseparable relationship between the company and its customers. Meaning, once a customer patronizes any of the company's product, she becomes an integral part of the Chanel brand and enjoys a lasting cordial relationship with the company.
The Chanel Oval Shape:
Again, there is an oval shape form from the interlocking of the two opposing typefaces. A critical look at that specific region reveals a subtle image that looks like an eye. As an eye, it stands for the brand's vision, and as an oval shape, it represents eternity.
The Chanel Circle: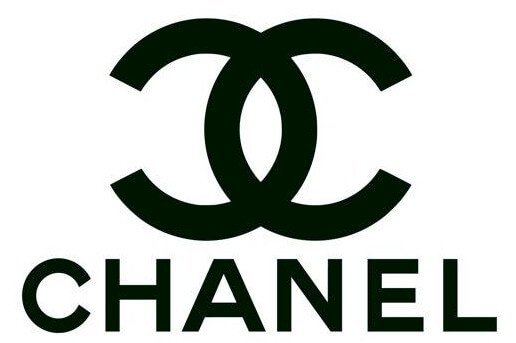 Sometimes, you will find the famous interlocking symbol resting on a neutral circular background. The circle expresses free movement, and it stands for unity, integrity, and perfection. These are good values that the iconic logo can boast with much confidence.
A Stool:
With a creative eye, the interlocking emblem appears as an abstract stool, a kingship symbol, especially in Africa. Therefore, it's no surprise that the most recognizable brand in the fashion world is associated with royals like Queen Claude and her daughter–in–law, Catherine de Medici.
The Chanel Logo Colors
The Black Color:
The Chanel logo has black as one of its colors. It's a neutral color that represents mystery, authority, elegance, and formality. It's a color formed from the complete absence of light.
The White Color:
White is the second neutral color that always comes with the Chanel logo: It's symbolism for purity, simplicity, humility, and perfection. These are positive attributes that the Chanel brand can boast.
The Chanel Logo Typography
The Chanel logo has a legible custom font called Chanel. The typographer created it out of her handwriting, and she copyrighted it. It's a clean font that is readable, versatile, and scalable—a mark of an effective logo design.
Who Started Chanel?

"Fashion is not something that exists in dresses only. Fashion is in the sky, in the street, fashion has to do with ideas, the way we live, what is happening?"
The above wisdom was from Gabrielle Chanel, the founder of her namesake, Chanel. On this day, August 19th, 1883 in Saumur, France, Gabrielle Bonheur Chanel was born.
Her parents were Mr. Albert Chanel and Mrs. Eugenie Jeanne Chanel. The father worked as a street clothing vendor, whiles the mother a laundrywoman.
After her mother's death, her father, who couldn't take care of five children, sent her to live in an orphanage, the convent of Aubazine. She was 12 years at the time. While at the orphanage, the nuns who took care of her taught her how to sew. That skill would later bring her fortunes and fame.
After six years at the orphanage, she left to stay in a boarding house for Catholic girls in Moulins. As a young lady, she worked briefly as a singer at a café–concert in Moulins and spa resort town of Vichy. The name "Coco" originated from her short music career. Since music wasn't working for her, she pursued other passions that would make her a living.
How Chanel Got Started


Chanel is a fashion empire in France. It specializes in luxury products, accessories, and ready–to–wear clothing for women. The mission is to design and sew comfortable and sporty clothing for women to enjoy active lifestyles. 
As a singer at Moulins, Gabrielle Chanel met lots of wealthy people and associate with some of them. The notable intimate ones were Etienne Balsan and Captain Arthur Edward Capel.
She secretly became the mistress of Etienne Balsan, a textile heir and a former Calvary officer, at 23. For three years, Etienne Balsan introduced her to a life of wealthy living. Later, she started seeing a friend of Balsan, Captain Arthur Capel, a prosperous English aristocrat.
With Etienne Balsan, she opened a millinery shop on the ground floor of Balsan's flat. This was in 1909 and at 160 Boulevard Malesherbes. Because the apartment had a busy salon attached, she met and sold her hats to the French hunting and sporting elites' mistresses. It was at this place that she befriended Captain Arthur Capel.
In 1910, she became a certified milliner, and with the funding from Captain Arthur Capel, she opened her first independent millinery shop called Chanel Modes, at 21 rue Cambon in Paris. Here, she made and sold only hats because there was an established clothing store in the area.
In 1912, Gabrielle Dorziate, the theatre actress, wore her hat to perform in a play entitled "Bel Ami." With this celebrity publicity, she brought the unknown fashionable hat to the limelight. And in 1913, she opened clothing shops at Deauville and Biarritz to sell sports clothes for women. 
There were shortages of materials, which affected the European fashion industry. This was during the First World War. In 1915, she launched a vast clothing shop at 31 rue Cambon, close to the Hotel Ritz, Paris.
Here, she sold millinery and clothing products. She crafted a design from jersey and tricot fabrics. Some products sold here were jackets, hats, long sweaters, and straight-line–skirts. By the end of 1915, her design and clothes had become famous throughout France.

In 1920, she crafted the "Chanel Suit," a design made up of two or three garments. It became the popular afternoon and evening wear for women of class. The design's focus is to make women maintain their feminine outlook while feeling comfortable at the same time.
In 1921, she added to her collections of fashionable products. Upon her request, Perfumer Ernest Beaux created a custom perfume for her brand, Chanel No.5. And by 1922, she started retailing it. With the popularity of Chanel No.5, Gabrielle eyed the North American Market.
She partnered with Theophile Bader (Businessman) and Pierre Wertheimer (Venture Capitalist) to leverage their business acumen and capital. Under these three business tycoons, the brand took off as expected, but Gabrielle Chanel and Pierre's relationship waned. It was because of the low percentage offered to her, a 10% share.
Throughout her professional career, she did everything possible to push the Chanel brand to the top and led the company well. She died on 10th January 1971 at age 87.
How Big Is Chanel?


Today, Alain Wertheimer and Gerard Wertheimer own Chanel. Both are the grandsons of Venture Capitalists and former Chanel business partner Pierre Wertheimer.
According to Statista, the Chanel brand is valued at about $13.7 billion as of 2020. It serves approximately 310 locations worldwide, with nearly 200,000 workers (2018). With worldwide revenue of $12.3 billion and a net income of about $3.49 billion, Chanel has the United States, China, and France has its largest markets for its assorted beauty products.
Chanel's most popular products include the little black dress, the Chanel No.5 perfume, and the Chanel suit. These are all products designed and witnessed by Gabrielle before passing away. Today, Chanel sells custom watches, clothes, handbags, perfumes, and skincare. Others include makeup, eyewear, high jewelry, and fine jewelry.
Bringing the Curtains Down
Simplicity is not just a word thrown around in branding. It's a tried–and–tested strategy that helps entrepreneurs move their brands from the unknown to the known. Once again, Chanel's logo and clothing designs have proven the effectiveness of modesty.
For a logo to be the face of a brand for 111 years without an update is practically incredible. What can you change from this iconic logo designs? The Chanel logo and its line of products have everything in common—modesty, quality, attractiveness, elegance, and many more.
For these positive values, the company and its brand will remain timeless and influence the world for the unforeseeable future.
"Remember, the big things you desire are in the little things you ignore." Wonnie Samuel.