This is a look at the Billie Eilish logo and some history behind the young pop singer.
The American pop star, Billie Eilish, has one of the weird yet unique names and trademarks in the industry. Call her Pirate, and she would respond in her typical musical tone. But it would remind her of her uncle's reservation that pirates aren't good people.
With her stage attitude and impact, Billie Eilish has shown that pirates can influence the world in more positive ways. I think she has redefined the word with her genre of music. The idolized young artist has a monochrome logo called Bloshsh.
That's yet another strange but exceptional name for her trademark. What do you think? The Billie Eilish logo is a silhouette stick figure that has bent its shoulder to the left. It appears as though winking at the ground. Bloshsh can take on various color palettes—black, yellow, and green.
Billie Eilish and Bloshsh are two celebrated names worldwide. Together, they have produced and represented award–winning songs like Bad Guy, When We All Fall Asleep, and Where Do We Go? With these epic achievements, the Billie Eilish logo is joyfully singing and dancing on all mediums. 
The Evolution of Billie Eilish Logo
From 2016 to 2021, the Billie Eilish logo has evolved twice. In 2016, she came up with two emblems—a graphic figure and a wordmark logotype. While the famous slanted symbol remained unchanged, the wordmark got refined twice. Without wasting time, let's dig briefly into the details.
2016—Today
A genderless human figure forms the brand identity of Billie Eilish. This silhouette emblem has its head slightly bent to the left on a sloping shoulder. The famed young trademark usually comes in various solid colors. These are black, yellow, and acid green.
2016—2018
Alongside the lopsided graphic figure, Billie Eilish had another logo in 2016. It was a joint of her names in uppercase sans–serif font. The bold black letters had no spaces between them, yet the wordmark was clean, readable, and classic.
2018—2019
The wordmark logotype had its first update in 2018. The singer's names were separated, italicized, and painted in a black and white color scheme. Finally, the designer placed the wordmark on a black rectangular frame.
2019—Today
Songwriters love to write, and this shows in the second logo update. Inside a black frame, you'll find the singer's name handwritten. This time, the wordmark comes dressed in an off–white color. The letters are bold, uneven, and uppercase. It follows the natural style of writing.
Why the Billie Eilish Logo Works?
1. The Logo Is Unique
Human curiosity causes people to react to awkward things quickly. Billie Eilish's emblem falls in line with unique symbols in the music industry. You can hardly find the skewed stick figure any close—It's weird and dazzling. This gives it the halo to attract smiles from the teeming fans.
2. The Logo Is Readable
Should a musician care about its brand personality? Well, I think doing so would enhance the brand's image and deepen the trust among fans. Billie Eilish's logo has passed the legibility test. The wordmark is bold, clean, and readable. Fans can hardly miss it in the crowd.
3. The Logo Is Modest:

Billie Eilish has one of the most straightforward logos in the industry. No one can disagree with this profound statement. Whether you look at its graphic icon or the wordmark logotype, you'll come to the same conclusion. None of the singer's emblems come with any detailed visual features.
4. The Logo Is Memorable:
How many musicians bear the name Billie Eilish? If not one, then I wonder about the numbers. So, it's easy to connect the famous modest logotype to the young pop star. Also, with that iconic look, its standalone graphic mark is easy to remember. It's that graphically pleasing to the eyes.
5. The Logo Is Scalable:
Compelling logos can be scalable on various advertising mediums with little effort. Emblems that meet this requirement have clean layouts that boost their transfers. Billie Eilish's logo has no intricate design elements, so it's versatile on any promotional platform.
The Billie Eilish Logo Design Elements

Billie Eilish had several graphic materials to choose from when crafting her visual trademark. This includes lines, forms, colors, space, shapes, fonts, and textures. Yet, she used few design ingredients for her logo design. These creative blends gave her an attractive and unique visual identity that's entertaining fans worldwide.
The Billie Eilish Logo Shape and Symbol
1. Human Figure:
The Billie Eilish Symbol looks like a modified version of a restroom icon. Okay! Please don't get mad at me; I get it. Seriously, we can relate the gender-neutral symbol to a person in a performing posture. Billie Eilish, the mother of this genius baby, named it Bloshsh. This icon has a rare charisma.
2. Rectangle Frame:
Two of Billie Eilish's logos had rectangles. This formed the background frames for the wordmark. Such a geometric shape represents stability. It also promotes the feeling of honesty, safety, and calmness. Graphic artists used rectangles to give a pleasing look to an object.
The Billie Eilish logo Colors
1. Black Color:
Black is a classic color in Billie Eilish's logo design. It features on its frame, wordmark, and the crooked human figure. The color represents fear, evil, and anger. On the flip side, it signifies elegance, wealth, and formality. It serves as a better balance color to the white wordmark.
2. White Color:
White is another neutral color used in the logo. It mainly reflects in the brand's name. Graphic designers used it to convey simplicity, humility, and cleanliness. Also, some cultures used it to show virginity, peace, and death. White always combines well with black in any situation.
3. Yellow Color:
You'll find the Bloshsh emblem colored in yellow. It's a color we can link to the sunshine. This happy-going color stands for joy, hope, and imagination. In a negative situation, you can use it to signify deceit, hazard, and mistrust.
4. Green Color:
Our famed little pal, Bloshsh, loves going green. As a color relating to nature, green represents luck, rebirth, and healing. If you want to portray envy and naivete, you can use the hue to convey that. Turn around, and you'll find it everywhere. It's the dominant color in the natural world.
What Font is the Billie Eilish logo?
Billie Eilish's logo has had various typefaces. The first one had Neue Helvetica family font, whereas the second logotype came close to LHF Convecta Full type. The current font is set in a custom handwritten typeface that's close to Read My Hand Pro.
Who is Billie Eilish?
Patrick O'Connell and Maggie Baird are the parents of Billie Eilish. The little girl was born in Los Angeles, California, on December 18, 2001. And her full name is Billie Eilish Pirate Baird O'Connell. While the mother is a teacher and a screenwriter, the father is a construction worker.
Billie Eilish inherited musical talent from both parents, who love music and acting. The beautiful princess with Irish and Scottish ancestral lineage was conceived through VF—Vitro Fertilization. She has a brother called Finneas O'Connell, who gave her the name Pirate.
Being a child of a teacher comes with lots of teaching goodies. That was precisely what Billie and his brother Finneas got from their mum. Instead of sending her children to regular school, Maggie Baird home–schooled her two kids.
Billie Eilish learned the basics of songwriting from her mother. In 2009, she joined the Los Angeles Children's Chorus. She wrote her first official song for her mother's songwriting class when she was eleven. This song took inspiration from the television series—The Walking Dead.
The American pop singer loves listening to Lana Del Rey, the Beatles, and Justin Bieber. Other musicians who inspired her music career are the Diamonds, the Spice Girls, and Ariana Grande. Billie Eilish loves singing, dancing, and recording background dialogues for movies.
Her voice has been used in the X–Men Series and Ramona and Beezus. Billie Eilish is a young living legend with several awards. This includes Grammy and Brit Awards.
How Did Billie Eilish Begin?
Coming from an additive music and acting family, Billie Eilish grew up taking songwriting and dancing lessons. Also, she added to her passion by listening to good music from award–winning musicians. This was the foundation for the budding innocent singer and songwriter.
Billie Eilish loved working with his brother, Finneas O'Connell, her only classmate when they were home–schooled. The siblings in 2015 recorded their first songs—Fingers Crossed and She's Broken.
She penned the first song and the brother the second one. They uploaded the song on SoundCloud. The music that shot her to fame—Ocean Eyes, was written and produced by the brother. To allow her dance teacher, Fred Diaz, access to the song, they uploaded it on SoundCloud.
The song was released on SoundCloud on November 18, 2015, and within two weeks, it had earned a hundred thousand listens. With the song's popularity, Finneas and his manager, Danny Rukasin, got Apple Music to sign Billie Eilish to A&R Company in January 2016.
After receiving glooming, Megan Thompson directed her music video for Ocean Eyes, and it got premiered on her official YouTube Channel on March 24, 2016. The song caught the attention of media houses and promoters such as Zane Lowe, BBC One, Beats 1, and several others.
The family released—Six Feet Under via SoundCloud on June 23, 2016. A week later, a music video directed by the brother and edited by their mother was launched. In August 2016, Justin Lubliner signed her to Darkroom Records.
The record label re-launched Ocean Eyes and Six Feet Under as singles for streaming and digital downloads. Billie Eilish has recorded other hit songs with her record label and has received much recognition for her tireless contribution to music. This is just the beginning for her!
How Big Is Billie Eilish?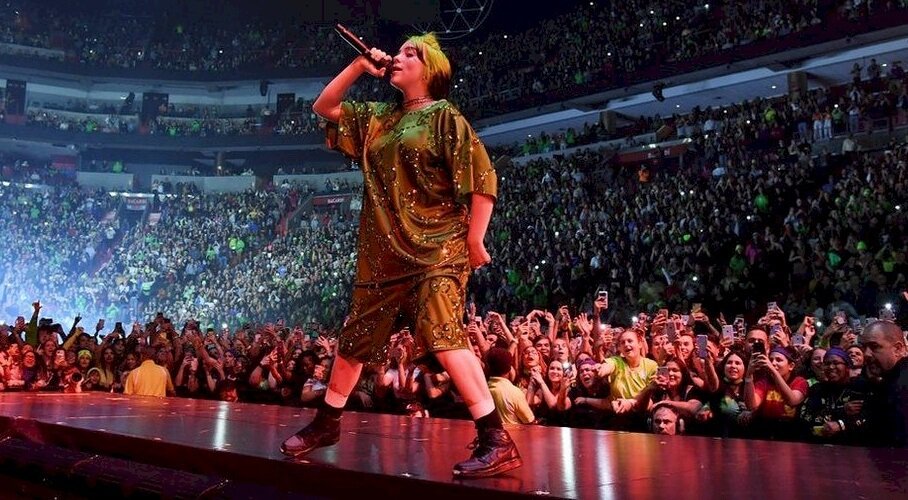 Is it easy for teenagers to achieve fame, fortune, and followers within five years? Though it's difficult, it's attainable. The music industry is one field that offers such an opportunity to people to attain success within the shortest time. But you need to be talented and work harder.
Billie Eilish is also riding in a similar path to Michael Jackson, Justin Bieber, Taylor Swift, and Beyonce Knowles. She is an American pop singer, songwriter, and fashion model from California. She has achieved so much as a teenager and only five years into her music career.
The pop star came into the limelight in 2016 when she launched her single song—Ocean Blue on SoundCloud. The sound was "dope" and attracted about ten million hits. With this publicity, she got millions of followers on her social media channels.
Billie Eilish is a five-time Grammy Award Winner, becoming the youngest and the second in music history to win the main Grammy categories—Record of the Year, Song of the Year, Album of the Year, and the Best New Artist on the same day.
The nearly twenty–year–old pop goddess has also won one Brit Award, two Guinness World Records, and two American Music Awards. Her hard work has paid off pretty well, not only in recognition but also in money. Today, she is worth $25 million.
My Final Thought On Billie Eilish

At 19, Billie Eilish has achieved a lot in a short time. It isn't easy to get a Grammy Awards nomination, let alone win five awards out of six selections. This speaks of her exceptional talent and devotion to her passion and career.
Like many young artists before her, we can point to some significant factors to her rise to stardom. These are teamwork, following her passion, and creating a unique identity. Intentional or not, she has learned to work in teams and collaborate with others from a tender age.
Billie Eilish has turned her love for music and fashion into a business. She has focused on the childhood passion she inherited from her parents. Through learning and practicing, she has refined that raw but profitable talent. It isn't easy to lose when you pursue your passions.
Finally, the 2020 Grammy Awards winner has a distinctive brand identity. She has registered her weird looks and interest in the mystical world into her lyrics, videos, and logo designs. This has created an aura of power, curiosity, and magnet around the young pop star.
If she can continue to derive inspiration from fantasies to create commercial hit songs, then the world is yet to see the best of her. Whatever the challenge she faces, Bloshsh would be by her.