Let's explore the Bentley logo and some history behind the British carmaker.
"To build a good car, a fast car, the best in its class."
Walter Owen Bentley made the quote above. It summarizes his inner desire and vision to dominate the superhighways with a superb car that defines performance. He put his thought and engineering skills into action, and Bentley was born in 1919. He was 31 years old then.
The flying brand, Bentley, is a British automaker that uses the finest materials to build unusual cars for exceptional people. Bentley is not a car for everyone; it's a superb product for the elites. Its models include the continental range, the new bentayga, the flying spur, and the Mulliner. The classic Bentley logo with the wings says a lot about the car and brand. They rise above others.
Walter Bentley's quest for a high–performance car led to the hunt for a cute mascot. He needed a visual identity that would embody the charisma of his beautiful cars. Once again, his thought came to fruition. He got one of the desirable and recognizable trademarks in the world.
For over a hundred years, Bentley has kept a sleek mascot with a mystic style and taste. The design took inspiration from an ancient old religious symbol. It comprises the letter—B, the initial of the founder, and wings around it. These wings depict the three-pointer parts of a bird.
The Evolution of Bentley's Logo

The emblem of the sky has kept its flying ability with no update. For slightly over a century, its owners seem to be content with its overall outlook and emotions. Interestingly, this century-old logo is awe-inspiring, practical, elegant, and modern.
Let's get to know it more.
1919 – Now:
The ancient look-alike emblem, Bentley, comes in the three-pointer parts of a bird. This includes the left-wing, the right-wing, and the tail wing. These winged parts are neatly featured on two oval frames, making the design style mirror the winged solar disc. To further decorate the trademark, the letter—B on a circular frame assumed the central part of the design. Bentley's logo looks exquisite, majestic, and professional.
What Font Is Bentley Using?
The design element that gives Bentley's a luxurious and mysterious identity remains unchanged for over ten decades. To keep its traditional attitude, the logo features a sans-serif typeface that is very similar to ITC Blair Bold. Jim Spiece, a typographer, designed this clean and readable font.
Who Designed Bentley's Logo?
From all angles, Bentley's emblem is a masterpiece of art and a symbol of mystery. It shows the touch of a professional graphic director. Interestingly, Frederick Gordon Crosby designed the winged logo in flight. The logo suits the personality of the British automaker.
Why Does Bentley's Logo Work?
1. The Emblem Is Readable:
One essential part of a logo design is readability. It easily connects customers to the brand's personality. Bentley's logo design is highly legible because it has a clean typeface that flies with it. You can't miss this bold sans–serif font on any marketing medium.
2. The Emblem Is Unique:

Flying above the storm is a vital requirement you shouldn't overlook with your logo design. To make it easy for customers to identify your brand from rivals, your visual assets must differ. With carefully selected graphic elements, Bentley's logo is exceptional in the market.
3.      The Bentley Emblem Is Scalable:
Customers are widely scattered. But companies need to reach them with their goods and services. To solve this challenge, a logo with a simple layout is the solution. With a modest form, Bentley's trademark is versatile. It can boldly fit any promotional channel with ease.
4.      The Bentley Emblem Is Simple:
Bentley's logo design is relatively modest. It has few graphic features, which makes it classic and easy to understand. The icons, typeface, and colors are in the correct ratio. Customers are more likely to pick a simple emblem over a detailed one because they have less time to spend.
5. The Emblem Is Consistent:
Bentley's logo is timeless. It has kept a unique identity for over a hundred years. This is not a mere achievement. It's the result of a conscious effort in its selection of elements. Consistent builds trust and, with time, makes brands authoritative. This is a feature of all iconic logos.
Bentley Logo Design Elements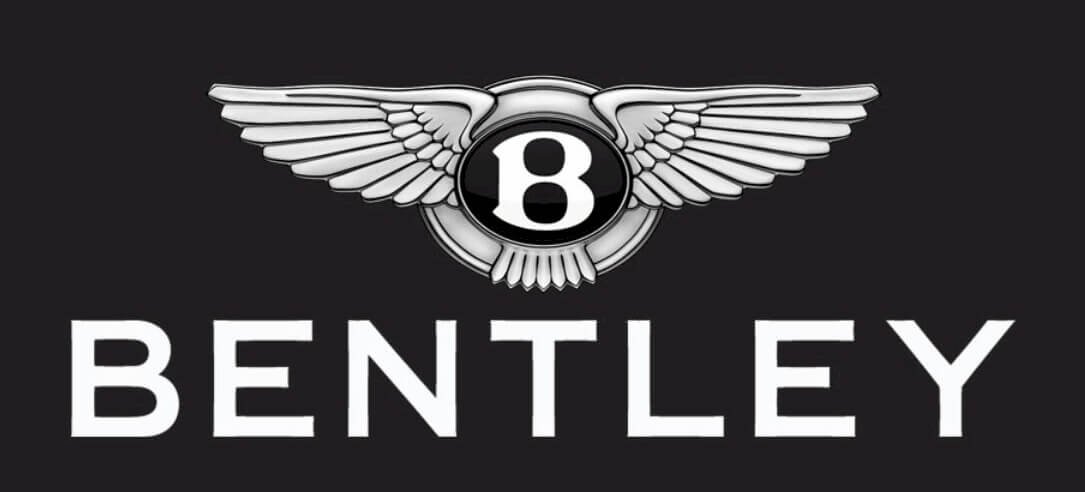 To convey the brand's unique feelings, Frederick Crosby opted for suitable graphic elements that send the right messages to Bentley's ideal audiences. To avoid complicating the design, he went for fewer design elements. Let's look at these graphic elements below:
Bentley Logo Shape And Symbol
1. The Letter B:
The boldly written letter—B is one of the outstanding graphic features in the flying logo. It stands for the brand's identity, which was coined from the founder's surname, Bentley. This second letter of the English alphabet can also convey the energy of bravery, beauty, benevolence, and the status of being a billionaire. These are the precise charisma of Bentley.
2. Wings:
Wings align with creative energy. Most people link them to the mystical world. Here, they associate them with angels, demons, and spirits. In the physical world, wings can symbolize mobility, speed, freedom, and power. As decorative elements around the initials—B, they move the brand into flight and give it the ability to soar without help.
3. Circular Frames
Oval frames adorn the emblem beautifully. They hold all the dazzling design elements in perfect positions. This includes the letter—B and the wings. An oval represents rebirth, fertility, and immortality. It can also convey community, unity, and love. An oval is gotten from ovum, a Latin word for an egg.
Bentley Logo Color Scheme
1. White Color:
Too much power isn't always good. People will perceive you as an oppressor. Often, you need to tone down this emotion to win the hearts of many. And white is the perfect color to neutralize this powerful persona. White conveys the energy of purity, protection, and humility.
2. Black Color:
The color black is a two-edged sword. It can convey both positive and negative feelings. Bentley used it to evoke the sense of elegance, power, and mystery. The color can also speak highly of fear, death, rebellion, and aggression. Black is a color of wealth and leadership.
3. Silver Color:
As a valuable metal, Silver symbolizes wealth. It's one of the lively colors that beautifies Bentley's emblem. Silver color represents mystic vision, hope, and tenderness. It can also evoke the power of unconditional love, kindness, and elegance.
4. Red Color:
Red color always finds itself in Bentley's sophisticated models. It features on the circular frame that houses the iconic letter—B. Red, an attention-grabbing and primary color is a fire–oriented hue. Bentley used this lustful color to symbolize the energy of love, joy, willpower, and strength.
5. Green Color:
In line with models, you'll find the green color on Bentley's racing cars. Unlike red, green is a secondary color that results from the mixture of blue and yellow. It's an earthly color that symbolizes adventure, health, and harmony. Green is a color of renewal.
Who Started Bentley?
Known as W.O., Walter Owen Bentley was born in London in 1888. His parents were Emily nee Waterhouse and Alfred Bentley, a renowned business person. Out of nine children, he was the youngest sibling. From 1902 to 1905, W.O attended Clifton College in Bristol.
To satisfy his love for engineering, he joined Great Northern Railway in Doncaster, Yorkshire. It was a five–year apprenticeship training that cost him £75. He was nearly 17 years of age. He learned to design, cast, and construct complex railway machinery.
Walter Bentley completed his training in 1910. At King's College London, he took lectures in theoretical engineering. Upon successful completion, the National Motor Cab Company employed him. One of his routine tasks was the maintenance of the fleets.
After spending about two years with the National Cab Company, W.O founded Bentley & Bentley Limited with his brother, Horace Bentley. The new company focused on selling French DFP cars. DFP is the initials for Doriot, Flandrin & Parant, a French car maker in Seine.
Walter Owen Bentley had some adventures with racing. He got involved with Quadrant, Rex, and Indian Motorcycles. While racing in the Indian's Motorcycle, his rear tire burst on the second lap. Because of this unexpected incident, W.O couldn't complete this race in 1910.
Walter Owen made massive improvements in designing and creating several aircraft engines as a captain in the Royal Naval Air. This effort was recognized. The Commission for Awards for inventors awarded him an MBE, which came along with £8,000.
We can say that W.O had no luck with marriage. He married three times. In 1914, Leonie Gore, who died in the Spanish flu epidemic, became his first wife. In 1920, he married Audrey Poppy, who divorced him in 1931. Finally, in 1934, he married Margaret Roberts Hutton.
Walter Owen Bentley died on the 13th August 1971 in England, United Kingdom. He had no child. W.O was inducted into the Automotive Hall of Fame in 1995.
Brief History of Bentley
The first car to wear Bentley's logo hit the road in July 1919. The British automaker manufactures and markets luxury cars across the world. From 1998, it has been part of the Volkswagen Group and headquartered in Crewe, England.
Walter Bentley was a passionate engineer who started with railways but later diverted into motor cars. Along with his brother, Horace Bentley, they started the Bentley & Bentley in 1912. The company focused on buying and selling French vehicles.
On a visit to the DFP factory in 1913, W.O spotted an aluminum paperweight. This gave him a new idea in engine piston making. Instead of using cast iron for engine pistons, he used lightweight metals. Sopwith Camel used the first Bentley pistons on its aero engines.
With this novel idea and massive potential for profit, Bentley specialized in making aircraft spare parts for the aviation industry. After World War II, the car market gave a booming signal. To take advantage of the new wave, Walter and some colleague engineers got into a serious project.
They started developing an advanced three-liter, four-cylinder engine. By October 1919, a rolling car chassis was ready, and they began testing the prototype engine at the London Motor Show. The engine was operational by December, and the first car was planned for June 1920.
However, the engineers couldn't meet this deadline as development took longer than expected. Finally, in September 1921, Noel Van Raalte took delivery of the first Bentley—a three-liter saloon car. It was built at a factory in Cricklewood, and people love its durability.
In June 1924, John Duff and Frank Clement competed in Le Mans with an official Bentley car, and they won. They had placed fourth a year earlier with a different brand. Woolf Barnato bought his first Bentley in 1925. This durable car brought him several racing successes.
He saw potential in Bentley, a profitable brand that was under financed. Initially, Barnato injected £100,000 into the business, saving it from bankruptcy. He became the company's chairperson with a controlling stake of 149,500 shares. He added more cash afterward.
From 1927 to 1930, Bentley dominated the 24 Hours of Le Mans with its iconic Bentley Boys. These British motorists included Sir Henry, Steeple George, Glen Kidston, Sammy Davis, Dudley Benjafield, and Walter Owen. They brought four consecutive victories to the company.
In November 1931, Rolls–Royce bought the company and made it a subsidiary, saving it again from another collapse. W.O stayed with his new investor until his contract expired in April 1935. Later, he joined Lagonda because he was unhappy at Rolls–Royce.
In August 1933, the maiden Rolls–Royce Bentley, the 31/2 liter, was released. It was based on a modified version of Rolls–Royce 20/25 chassis. Rolls–Royce moved its factory to Crewe, and the Bentley MkVI was launched. It was the first Bentley to have a steel body.
Fast forward to July 1998, Volkswagen AG bought Rolls–Royce for £430 million, outbidding BMW who offered £340 million. Since then, the company has kept the founder's vision of producing luxury and high-performing cars for the wealthiest people in society.
How Big Is Bentley?
The British car marker, Bentley, takes pride in designing and building splendid cars that meet the lifestyle of extraordinary people. For a little over a century, the brand has kept a heritage of power and luxury. These traits resonate well with the elites across the globe.
Its primary markets include Europe, Asia Pacific, and North America. Bentley couldn't make an inroad into these keen markets without its talented and experienced engineers. The luxury carmaker relies on these priceless pools of human capital to execute its mission of sustainability.
These over 4000 workers design and hand-build some of the most expensive sought–after cars in the world. Here, I'm talking about the Bentley luxurious models that speak for themselves. By looking at them, you'll sense the emotional pride that lures its loyal customers.
The Bentley Mulliner, Bentley Continental, Bentley Bentayga, Bentley Flying Spur, and Bentley Mulsanne are its latest models. In 2020, the company's production output was 10,693, generating sales revenue of €2049 million.
Despite the global crisis, Bentley sold 11,206 cars worldwide. The company management even claims it was their best year ever for new car sales. It was a record-breaking season for the brand, considering how the pandemic has melted down almost all industries.
This achievement placed it above its competitors, affirming the notion that Bentley is the world's leading maker of luxury cars. There is a prestige that comes with riding in a Bentley. The Bently logo is recognized by millions of people worldwide as a luxury car maker.
Summary of Bentley
Bentley Motors Limited has had its fair share of bitterness and sweetness. The brand and its founder have had to overcome a series of financial and emotional challenges. At one point, Walter Bentley became an employee in a company that he started. It was a massive blow to him.
Like most reputable brands, Bentley has passed through different hands for various reasons. With the vision of changing the world of motoring in mind, W.O started Bentley with £8000 prize money he received. It was 10th July 1919 when his childhood dream came to the limelight.
After financial challenges hit the business, it took the economic power of Woolf Barnato to turn the fortunes of the company around. However, W.O became an employee instead of a co-founder. In 1931, British Central Equitable Trust also bought the company.
Unlike its business, the winged logo has remained intact with the passing of the times. It's leading a brand noted for its prestige, craftsmanship, luxury, performance, and innovation. Bentley is truly a unique car that offers an enriching experience to an exceptional class of people.