Let's look at the Arby's logo and some history behind the fast-food chain.
"He was to roast beef sandwiches what Colonel Sanders was to Chicken."
Can you recount where this honoring statement was made and for whom? Well, let's unravel the puzzle together without wasting much time. Shall we?
In September 2008, an obituary in memory of Forrest Raffel carried the statement above. He earned the right to be linked to roast beef sandwiches because he made it famous. Together with his younger brother, Leroy Raffel, they brought Arby's fast food to millions of people.
Their creation continues to provide jobs to tens of thousands, pay royalties and taxes, and profit to shareholders. In 1964, the chain and its brown hat logo greeted potential customers for the first time in Boardman, Ohio. Then, after a period, the trademark underwent some retooling.
Despite the updates, the Arby's logo still has its original taste and flavor. It's a modest red hat with the wordmark—Arby's below it. The newest version is clean, unique, memorable, and versatile, making it one of the most recognizable logos in the industry.
Are you enjoying the recipe and craving for more?
If yes, let's enter Arby's kitchen for more treats.
Let's go!
The Evolution of Arby's Logo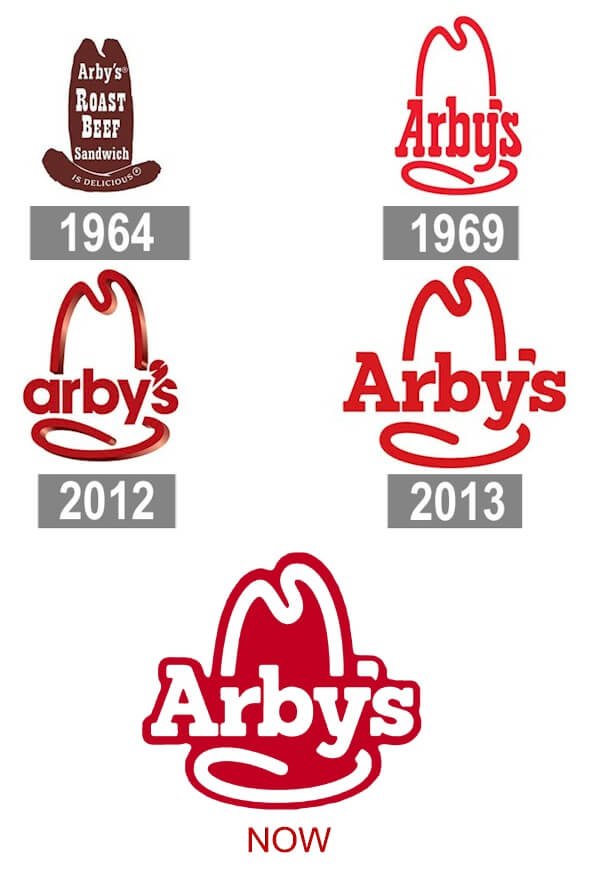 For nearly six decades, Arby's logo design has undergone three updates. However, these three retouches didn't distance the trademark from its original identity. Instead, the subsequent designs revolve around the central idea—the brown cowboy flavor. So it's safe to say that the newer version meets the flow of the modern era. To explore more, let's get into its changes below:
1964—The Original Arby's Logo:
Arby's unveiled its maiden logo in 1964. It comprises a brown hat and some letters. The hat formed the frame of the inscription—Arby's Roast Beef Sandwich in different font styles. Further, the brim of the hat featured the lettering—Is Delicious in uppercase letters.
1969—The First Update:
Arby's had its first logo updates after five years. It was a simplified version of the original. The brown hat became scarlet red, and it had the caption—Arby's. The abstract logo looks modern, classic, eye-catching, and readable with its bold serifs typeface. It reigned for almost 43 years.
2012—The Second Update:
The Arby's second update came with a new slogan—Slicing Up Freshness. It aligns well with the new apostrophe that went with the lowercase inscription—Arby's. This logotype lasted for only a year, and it took a glossy 3D form. The trademark kept a dark–red color palette.
2013—Now:
The third update ditched the three–dimensional look for a flat one. The chain went back to its 1969 reigning logo. However, the hat became shorter with one of its ends on the letter—r instead of the capital A. Overall; the logo looked clean, legible, and versatile with a modern twist.
Why Does Arby's Logo Work?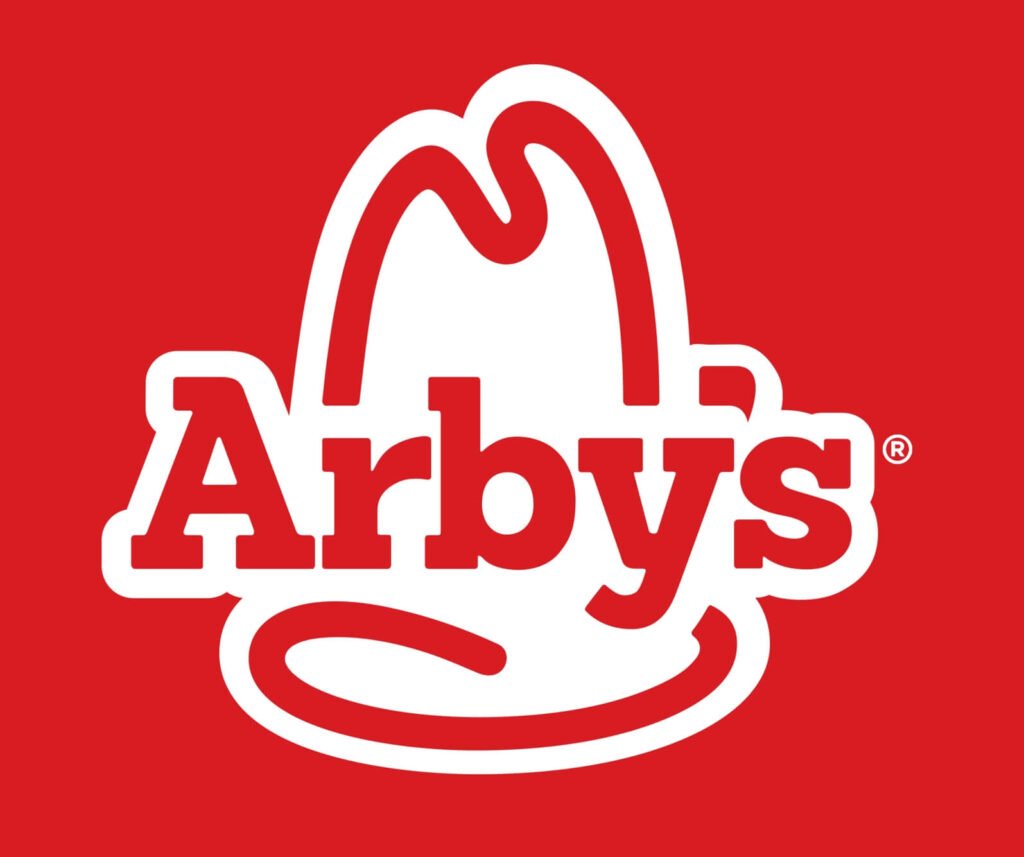 1. The Logo Is Modest:
Arby's logo is one of the simplest in the food industry. Why? This is because it's in the same league as McDonald's and Pizza Hut. Like these iconic trademarks, Arby's logo contains fewer design elements. The net effect is that customers can recognize it within the shortest period.
2. The Logo Is Scalable:
From larger screens to smaller ones, the Arby's logo is adaptable to all. It can fit billboards, vans, business cards, websites, and other marketing mediums. In addition, the logo is versatile because of its minimalist layout.
3. The Logo Is Relevant:
Arby's logo uses essential graphic elements that resonate with the food industry. The famed hat and its red color featured in the logo design align with the food business. This makes it easy for consumers to salivate upon seeing the logo in action.
4. The Logo Is Timeless:
Famous logos are timeless. Regardless of the time, these logos meet both the needs of their respective companies and consumers. For example, Arby's logo is timeless because it has kept its graphic features for over 50 years. Eventually, it has built loyal customers with its consistency.
5. The Logo Is Memorable:
Most logos that are memorable have minor design elements that express their charisma. Also, they are distinct from their rivals. Arby's logo falls in this iconic category. With this vibe, consumers can quickly recall it from memory with less effort.
The Arby's Logo Design Elements
Based on a brand preference, graphic directors can use shape, form, texture, color, etc., to meet their clients' logo design needs. For example, to grab their customers' attention, the creative artist behind Arby's emblem used three graphic elements—text, color, and symbol. Let's look at these elements that give Arby's trademark a distinct image in the industry.
The Arby's Logo Symbol and Shape
A Hat:
Chef hats are the most recognizable symbol in the food business. Yet, Arby's logo hat got its persona from a cowboy's hat. A cowboy's hat forms part of the mainstream American West pop culture. It represents heroism. In fairness, the hat symbolizes safety, cleanliness, and respect. However, it also conveys an air of power, authority, and nobility.
The Arby's Logo Colors:
1. Red Color:
The color red has a powerful emotion in the food industry. The reason is quite apparent: it stimulates people's desire for food. So, like most food chains across the world, Arby's logo adorns red in promoting its brand. Red, the color of passion, represents love, joy, strength, and energy. It also symbolizes action, confidence, and desire.
2. White Color:
Arby's logo used a white color for its background. It complements the red outline of the trademark. It's a pleasing hue for the food chain. The color of snow radiates safety, cleanliness, and humility. Also, white can convey an aura of softness, protection, and simplicity.
What Font Is Arby's Logo Using?
Arby's logo has featured different fonts over the years. For instance, the current logo has a typeface similar to Sanchez Black. It's a geometric slab serif font crafted by David Hernandez. Also, the font used in the 2012 logotype resembles ITC Avant Garde Gothic Pro Bold. It's a geometric san-serif typeface developed by Herb Lubalin and Tom Carnase.
Who Started Arby's Food Chain?

Forrest and Leroy Raffel started Arby's fast-food chain. Forrest was born on May 14, 1922, and Leroy on March 13, 1927. Their parents were Jacob and Anne Raffel. While Leroy graduated from the University of Pennsylvania, Forrest finished Cornell University.
They pursued different courses: Forrest focused on hotel management and Leroy on finance. During World War II, the Raffel brothers represented their country, the United States. While Forrest served in the Air Force, his younger brother, Leroy, worked with the National Reserve.
Forrest and Leroy used their diverse academic knowledge and skills to form Arby's Restaurant in 1964. Though Forrest kicked the bucket in 2008, he left behind his wife, Gloria, and about nine children. More so, Leroy married Shirley Balbot in 1949.
Leroy and Gloria have four children—Kenneth, Janet, James, and Nancy. Both brothers have had illustrious careers. Leroy has served as president and chairman for several organizations. A few of them are Raffel Brothers, Inc., York Mahoning Company, and Arby's, Inc.
His senior brother, Forrest, also held many positions before passing on. He was the president of Temple Israel in New Castle. He also served on the Greater Miami Jewish Federation board. Though they have retired from active work, their legacy is impacting the world positively.
How Arby's Restaurant Got Started?

With head office in Sandy Springs, Georgia, Arby's is an American fast-food chain currently owned by Inspire Brands. On July 23, 1964, the Raffel brothers in Boardman, Ohio, United States formed it. The brand sells its signature product—roast beef sandwiches.
The Raffel brothers in the 1950s bought their uncle's consulting business. They named it Raffel Brothers, Inc. The company focused on selling food equipment to restaurant owners. It was when McDonald's, KFC, and other brands were making inroads in the food industry.
While running their business, the brothers kept an eagle eye on the massive growth of the market. From this spying, they spotted an opportunity: Yes, an unserved market. So instead of copying what the key players were doing with hamburgers, they opted for roast beef sandwiches.
With the conviction of a novel product, the brothers opened their first restaurant in 1964 in Boardman, Ohio. They settled on Arby's name because their preferred name—Big Tex, was already chosen in Akron. Subtly, Arby's is derived from the initials of the Raffel Brothers.
Arby's sold its roast beef sandwiches for 69 cents to attract premium customers, a difference of 54 cents more than hamburgers. Notwithstanding the price, consumers swarmed towards the new fast food. Initially, they started with roast beef sandwiches, soft drinks, and potato chips. It was a hit!
Arby's rode on this validation and issued its first license in 1965. This permit unveiled the second chain in Akron, Ohio. With these success stories motivating the brothers, they expand quickly. By the end of the 1960s, Arby's opened about 300 chains in 40 States.
While success comes with expansion, the latter depends on capital. Initially, the brothers relied on equity and bank loans to fund their chains. But in 1970, they wanted to attract massive funding by going public. Sadly, this ambitious project didn't go through as SEC had some issues of their own.
With no funding, they fired some workers, halted royalty payments, and in November 1970, filed for chapter 11 bankruptcy. After this heartbreaking incident, the Raffels used every means to revive Arby's to its enviable status. It became profitable once again with nearly 500 locations.
After their IPO lessons, the family sold their restaurants to Royal Crown Cola for $18 million in 1976. But they didn't step down immediately. Instead, they led the food chain to massive revenue and profit. Then, in 1979, the brothers finally retired, hitting 800 locations for Arby's.
Today, Arby's sells more ranges of foods alongside its roast beef sandwiches. Also, it has expanded into multiple countries across the world. Under its stellar leadership, Paul Brown, Arby's is the second-largest food chain in the United States: This is one step behind Subway.
How Big Is Arby's Food Chain?
Arby's restaurant is one of America's most successful and innovative quick–delivery services with a presence in several countries. From a single food shop in Boardman, Ohio, the food chain has overgrown to over 3,400 locations worldwide.
Though the founders created a niche with their trademark product—roast beef sandwiches, you are more likely to find various tasty dishes being served by the chain. Together, these mouth-watering products pulled in about $3.8 billion in sales revenue for the 2020 financial year.
Arby's consistent huge revenue isn't by chance. Instead, the brand leverages its talented employees' skills, knowledge, and experiences to record sales volumes over the years. Currently, Arby's staffing strength falls between 74,000 and 80,000 workers.
Yes, you read the figure right. These are the staggering number of brains making the brand a food paradise in the world. Whenever you see the red hat, recall the passion of these workers.
My Final Takeaway On Arby's History
Here are three takeaways from Arby's evolution. First, as a potential entrepreneur, pay attention to the market's heartbeat. Maybe, without the Raffels' understanding of the market, Arby's wouldn't have been created. While most entrepreneurs were hopping into the booming food industry with hamburgers, the brothers took a different direction.
Instead of hamburgers, they opted for roast beef sandwiches. This choice led them into a less competitive niche and also differentiated them from exiting food chains. In addition, the uniqueness of their business model brought them substantial success, which reflects in their annual revenues.
Second, you must prepare for threats at all times. They might take you by surprise because the market is highly unpredictable. For instance, Arby's was doing well and expanding rapidly until the financial storm hit them. Thus, their IPO failure and other issues led them to file for bankruptcy.
Third, give serious thought to your logo before entering the market. It has many benefits. Always tap into the experience of a professional to bring your ideas into reality. Though you can update your emblem anytime, ensure your first logo design conveys your identity.
Learn from Arby's logo: It's simple, scalable, readable, unique, and consistent.