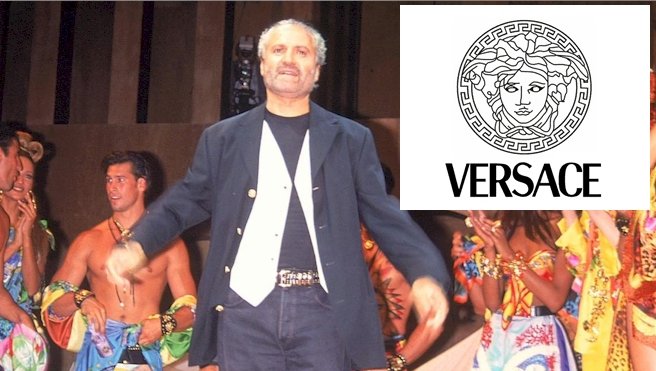 The Versace Logo Design and the History of the Company

For the past four decades, Versace has been one of the most recognizable brands in luxury fashion, selling clothing and accessories that are right at home on the red carpet and are worn by some of the most fashion-forward celebrities in the world.
Today, the name Versace and the logo that represents the company have become synonymous with this level of luxury and style. What was it, though, that earned Versace this worldwide recognition, and how has their logo become such a popular fashion statement in and of itself? Below, we'll take a look at the fascinating history of Versace and the logo that represents it.
The History of Versace

In the 1970s, Gianni Versace was an up-and-coming fashion designer living in and working out of Milan. By 1972, he had designed his first collection for Callaghan, Genny, and Complice. This collection received high praise in the fashion world, but Gianni still had dreams about starting his own fashion brand.
In 1978, Gianni Versace made that dream a reality by opening the very first Versace boutique in Milan's Via Della Spiga. At the time that he opened this boutique, Gianni was one of the only designers in the industry to control every aspect of his brand. This level of control allowed Gianni to guide Versace per his exact vision, from how his clothing was designed to how it was displayed and marketed and beyond.
For the first four years, Versace sold only designer clothing. In 1982, however, the company began to expand by offering other products such as designer accessories, furniture, and fine China under the Versace brand.
Nevertheless, it was the clothing and apparel that Versace would become famous for. While Gianni's eye for design no doubt played a major role in Versace's success, there was another factor that helped establish Versace as one of the premier fashion brands in the world – Gianni's connections to the music industry and his innovative approach to marketing.
Gianni Versace was close friends with a number of high-profile stars in the music industry, including Elton John, Eric Clapton, Naomi Campbell, Cher, Madonna, the members of Duran Duran, and many others. When these celebrity friends of Gianni began showing up for photoshoots and awards ceremonies wearing the Versace brand, people took notice. Gianni Versace became one of the first designers to link the music industry to the fashion industry, and it was a match that brought rich rewards to the Versace brand. Suddenly, everyone was wanting to wear the same dress that Cher had on or the same belt that Elton John was wearing – and that meant a flood of new customers for Versace.
In 1997, though, tragedy struck. On July 15, 1997, 50 year old Gianni Versace was returning to his Miami Beach mansion when he was shot and killed by Andrew Cunnan. Cunnan was obsessed with Gianni Versace and was known for often bragging about his close relationship with the designer. However, there's disagreement on whether Gianni and Andrew Cunnan had even met before prior to the murder, and most are quite certain that the two men did not have a close relationship. Either way, though, Andrew Cunnan robbed the world of one its most talented designers before taking his own life with the same gun eight days later.
Following Gianni Versace's tragic death, the brand was taken over by his siblings, Donatella and Santo Versace. Santo became the CEO of the company while Donatella took over the role of the creative director.
By the early 2000s, though, the company's profits had hit a decline. A couple of different CEOs were brought in to try and right the ship, but both soon left, citing disagreement with the Versace family as their reason for abandoning their role as CEO.
Nevertheless, Versace still remains one of the most recognizable and sought-after brands in the world today. Even since their early 2000 struggles, the company has been involved in a wide range of ventures, including building a luxury hotel, working with Lamborghini to produce a Versace branded Lamborghini car, working with AgustaWestland to produce a Versace branded helicopter, and of course continuing to produce clothing and apparel that is worn by the rich and famous all over the world.
Of course, anytime you look at a Versace product, from the Versace helicopter to any of their pieces of clothing, there's one thing that you are bound to notice – the Medusa head, which serves as the brand's distinctive logo. The question is, how does Medusa go from being one of the most frightening creatures in Greek mythology to the symbol of one of the most luxurious fashion brands in the world?
The History of the Versace Logo

Given that Gianni Versace was a designer first and a businessman second, it's unsurprising that he would choose to design his own logo. Growing up in Rome, Gianni Versace was heavily influenced by the Greek artwork that is common in the area. In fact, Gianni Versace claimed that the inspiration for the Versace logo came from the artwork on the floor of the ruins in Rome that he and his siblings used to play on. Gianni said that he chose Medusa specifically because of the way that she made people fall hopelessly in love with her with no chance of ever going back, and he hoped that his company would have the same effect on the people who purchased Versace products.
However, it wasn't until 1980 – two years after Versace was founded – that Gianni unveiled the first logo for the brand, and this first logo featured only Gianni Versace's name. It wasn't until 1993 that the company unveiled its famous Medusa head logo.
Since 1993, the Versace logo has changed very little. Over the years, minor modifications have been made to the logo's lettering and its border, but the classic image of Medusa's face has remained the same.
The Versace Logo's Perplexing Connotations
Gianni may have chosen Medusa as the logo for Versace due to her magnetic appeal and his own connection to Greek artwork. However, Medusa still has several connotations that make her an interesting, ironic choice for a high-end fashion brand.
The tale of Medusa is one that serves as a warning against lust and vanity. After seducing Poseidon, Medusa was punished by Athena and made to be so hideous that merely looking at her would turn men into stone.
Since Versace, like all high-end fashion brands, relies heavily on the vanity in order to sell their products, it's quite ironic for Gianni Versace to choose a woman who was made dangerously hideous because of her vanity as the logo for his company. Whether or not Gianni Versace was fully aware of this connotation is something that we'll never know for sure, but growing up in Rome means that he would have certainly heard the story thousands of times before. This leaves everyone to wonder whether or not there might be a hidden message within the Versace logo – something of an inside joke that comes at the customer's expense.
Design Elements of the Versace Logo
Despite the interesting message that choosing Medusa for the logo sends, there are several design elements of the Versace logo that make it a unique and attractive design.
The logo is simplistic and lacks a specific color scheme, meaning that it can easily be incorporated into any piece of clothing without clashing with the clothing's own color scheme.
By looking like a design from ancient Greece, the Versace logo is able to convey the idea that Versace clothing is timeless and almost mythological in its design – something that the Greek gods and heroes themselves might have worn.
Lastly, the Versace logo is certainly unique and easily recognizable by anyone who is familiar with the fashion industry.
Looking For a Logo Designer?
Thousands of businesses have trusted LogoMyWay with their logo design. We have thousands of logo designers ready to work on your new logo.
The popularity of the Versace Logo
Clothing and apparel brands such as Versace rely heavily on their logos. While it is the design of Versace products that set them apart, it's the Versace logo that comes with every piece of clothing or other product that Versace produces that lets people know where that design came from. In this way, the Versace logo serves as both a means of marketing Versace products as well as a way to trademark every piece of clothing and apparel that Versace produces.
Versace may not often feature their logo heavily on their clothing in the way that many brands do, but it's always there nonetheless. It's there on the clothing itself, and it's there on all of Versace's marketing and promotional efforts.
While the logo has stirred up some controversy given the interesting associations that come into play when a fashion brand chooses Medusa as their logo, that controversy certainly hasn't hurt the Versace image.
Given that the Versace logo has changed very little since it was overhauled in 1993, it's safe to say that the logo has served the brand very well over the years. It certainly goes down as one of the most iconic logos in the entire fashion industry.